Krakow didn't disappoint when it came to food one bit.
During my week and a half in Krakow, I tried new restaurants and revisited old favorites. Krakow has changed quite dramatically, and it's quite diverse from when I lived here as a student almost a decade ago.
There seems to be a trend with Asian food, especially sushi. It's hard to walk a few blocks without seeing a sushi restaurant. There's also Indian, Indonesian, Korean, Thai, and Chinese to name a few. The thing is that most of these foods have been adapted to Polish palates, so they often differ greatly from their original taste.
For me, I preferred to stick with mostly Polish food during my visit, with the odd green juice or bibimbap thrown in for a bit of variety.
So without further delay, here's where to eat in Krakow.
U Babci Maliny
This kitchy underground restaurant has been my favorite since I've been a student. The ongoing grandmother's cabin theme throughout, and the consistently delicious Polish food is what makes this restaurant worth coming back to. I usually get my go to mushroom and cabbage pierogi and a bowl of chicken soup or a mixed salad depending on the weather.
Note: there is a newer branch on Szpitalna, but the one time I went in was a bit bizarre, because they wouldn't allow me to go downstairs into the main part of the restaurant and because of that my loyalty will always lie with the original one.
Bar Mleczny
I plan to do a separate post explaining the historical significance of milk bars, but for now let me just point you towards this one for a simple, but delicious meal. There is a lengthy menu, plenty of seating and gruff wait staff-all perfect components of an ideal milk bar.
Przystanek Pierogarnia
While U Babci Maliny has really good pierogi, I found a place just outside the city center that only makes pierogi and it's so so good. Don't be put off by the dark street it's on if you go at night-because at the end deliciousness awaits. It has limited seating, so it's better to get take out. I got mushroom and cabbage pierogi (surprise, surprise), but they have many other types including fruit in the summertime.

Przypiecek Pierogarnia
To be honest, I have mixed feeling about this place. The first time I ordered my standard mushroom and cabbage pierogi, I couldn't finish them. I gave it another try though with meat pierogi and couldn't get enough. I think it's hit or miss with this place, but is worth mentioning because it's open 24 hours-perfect for that midnight pierogi craving.
Oriental Spoon
I was curious about this place since I'm a big fan of Korean food. It tasted different than the bibimbap I've had back in the U.S., but not in a bad way (it had added lentils and arugula). Definitely a healthy alternative to all the carbs I was ingesting.
Favorite Cafes
Krakow excels in cafes. They are often roomy, multi-room affairs that I could easily move in to if given the choice. They are usually set up where you seat yourself and someone will come and take your order (unless the menu is clearly written up front at the counter). Most have full menus and different ones for breakfast and lunch/dinner. After you're done you usually pay up front. Here's where I spent most of my time writing, eating and drinking many cups of green tea.
Charlotte
This French café has to be my favorite place to get breakfast. They have homemade jams, pastries and my favorite a smoked salmon tartine (opened-faced sandwich). There is plenty of space to spread out (including a communal table) and work alongside your breakfast feast.
Café Botanica
This is my favorite café in Krakow going back to my university days, with greenery everywhere and a beautiful sunlit interior. They have great paninis for lunch and healthy, hearty breakfast items.
Wesola Café
A bit further from the city center, but worth the short walk. I heard only Polish being spoken, and it felt like it was a place that locals often frequented. I heard their breakfast was highly recommended, but I came too late. My salmon wrap didn't disappoint though, especially because it was packed with greens.
Nowa Prowincja
Two words: hot chocolate. It's thick and far from the instant powder that accompanied me on camping trips and during Christmas. There is also a cozy area upstairs which is where I prefer to sit at one of the tables and watch the action unfold below.
Café Camelot
One Saturday morning, I went over to this café knowing I would find a memorable breakfast and I was not wrong. My vanilla French toast was the perfect excuse to linger inside among the vintage decor and wait out the passing storm outside.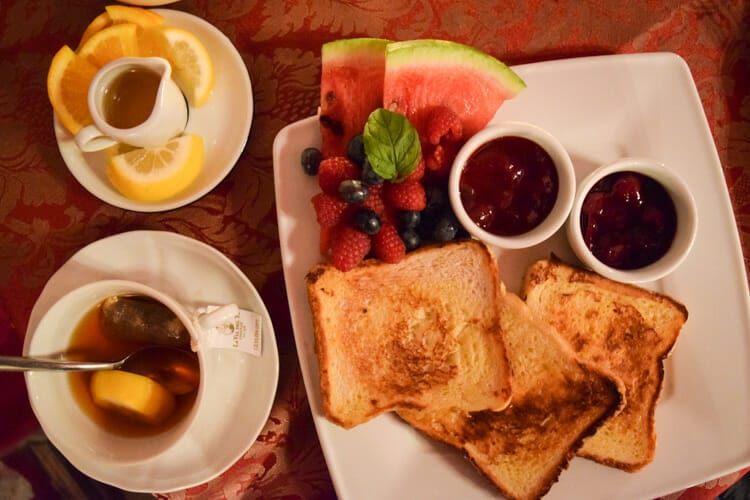 Frankie's
Maybe it's my California roots or maybe my body craved some much-needed fruits and vegetables, but I'm not ashamed to say I was a frequent visitor to this juice bar. They have a wide selection of fresh juices (I liked the Soul Beat), but their healthy sandwiches are also worth checking out too.
Now that you know where to get your vitamins, lets discuss the real important stuff-the sweets
Ciastkarnia Vanilla
This tiny bakery specializes in cakes, which are displayed proudly next to the counter. I went for carrot, and finished it even before I got home sans utensil. It was that good. There's only a few seats, so it's better to get all your sweets to go.
Gorace Paczki
I have a small confession to make: I've never had a paczki (jam filled donuts) in all the time I've spent in Poland. So naturally I made up for it on this trip after I discovered this take-away window that serves only paczki. I opted for the traditional rose flavor and was instantly addicted to the fluffy exterior and thick jam-filled interior.

Where are your favorite places to eat in Krakow?
Save
Save
Save
Save
Save
Save
Save
Save
Save
Save
Save
Save
Save
Save
Save
Save
Save
Save
Save
Save
Save
Save
Save