There are many cuisines that define Boston culinary landscape. Italian food in the North End and family-owned spots around town, Vietnamese in Dorchester, and Brazilian in Allston just to name a few. Boston is also famously known for its fresh seafood like oysters and clam chowder (you have to have a bowl of chowdah when you're in town). Here's where to eat in Boston, that will give you a solid sample of the delicious spots the city has to offer.
Café Polonia
In South Boston's Polish Triangle, there's some serious comfort food in the form of pierogi, cabbage rolls, and kielbasa. If you can't decide, get the Polish plate which has all three. Warm up on cold days with a bowl of their homemade borsch soup that come with mushroom dumplings. The interior feels like entering your Polish grandmother's home with its wooden chairs and tables, and souvenirs from the home country. Polish beers like Zywiec and Tyskie are available to wash everything down. For dessert, their chocolate babka is not to be missed. Make reservations on weekends, since it's a small restaurant and tends to fill up quickly.
Regina Pizza
If you're craving classic Boston pizza, this almost century-old favorite will not let you down. There are tons of flavors to choose from, whether you just want a plain cheese or something a bit heavier like sausage cacciatore. There's also an extensive list of veggie options as well. The prices are reasonable, where you can get a pie for under $20 or a slice for a few bucks. There are also beers on draft, as well as wine. The original is in the North End (and is worth a visit for its atmosphere, even if you have to wait in line), but there are many other branches around the city. Afterward, head to nearby Maria's Pastry Shop, which has cannoli that's on par with Mike's or Modern, but without the wait.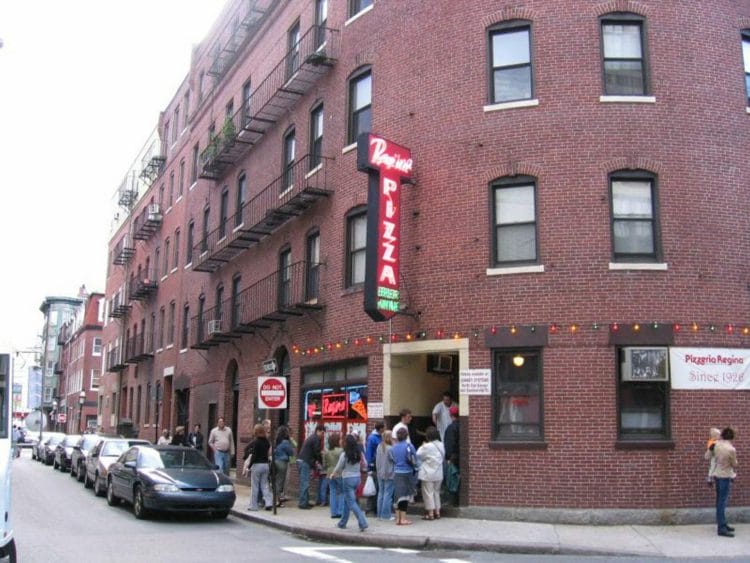 Japonaise Bakery
This casual Brookline-based bakery offers something a bit different with choices like azuki cream (a bun stuffed with velvety red bean and cream) and almost too-cute-to-eat Totoro bread (a cartoon bun with a custard crust and a chocolate pudding tummy). Make sure to pick-up their onigiri (stuffed rice triangles), with flavors like kombu (a delicious seaweed filling) that balances out all the sugar. There are also pre-package snacks like Pocky and dried squid, as well as bags of fluffy milk bread that are perfect for making French toast at home.
Flour + Water Cafe

This bakery/café is known for its insanely delicious baked goods, including their beloved sticky bun (get there early before they sell out for the day). There are also savory options like sandwiches (most of which can be transformed into a salad or grain bowl), and creative salads like the soba noodle + spinach salad. If this bakery is the first stop of your day, make sure to get one of their hearty breakfast egg sandwiches. There's a good amount of vegetarian, vegan and gluten-free options available, making it a great choice for those who have dietary needs. There are various locations around Boston and Cambridge.
Istanbul'lu
Two words: Turkish Breakfast. There are a few good Turkish restaurants in Boston, but this one in Teele Square stands out with its morning spread that includes cucumbers, cheese, tomatoes, jam, olives, and spiced sausage. They also make an excellent menemen (scrambled eggs with tomatoes) if you want something a bit heartier. Make sure to get a cup of their strong Turkish coffee and baklava as a grand finale to your meal. They also have great dinner options, including a lengthy menu of beef and chicken kebabs.
Michael's Deli
Brookline is known for its delicious Jewish restaurants, including this long-time deli that has consistently delicious bagels and lox, and corned beef sandwiches (try the Corned Beef Rachel On Reuben and you'll regret nothing). Make sure to not miss out on their sides and get an order of coleslaw or their dill pickle salad.There's nothing fancy about this place, but that's where the charm lies. Grab a seat at one of the cramped tables, and watching as deli life unfolds. On your way out order a few knishes to go. Cash only.
Atlantic Fish Co.
For a treat-yourself-meal, it's harder to find fresher seafood than this. This upscale Bay Bay restaurant offers options like the fresh catch special, where you get fish with two sides. Other memorable dishes include pan-seared sea bass or the lobster risotto. For starters, try the clam chowder as a starter that has generous pieces of meat throughout the soup. Come here during lunch hours for lobster rolls and fried fish sandwiches. If oysters are your jam, take advantage of the raw bar that offers various types farmed locally. Reservations are recommended, especially on weekends.
Tatte Café
Started by an Israeli pastry chef, everything about this café is stunning, from the rows of baked goods to the modern interior design. The brunch menu which is served all day, features global dishes like shakshuka served with homemade challah and avocado tartines. For lighter options, there are plenty of sweet treats like hazelnut halvas or pistachio croissants that go well with a matcha latte. Lunch and dinner options include seasonal grain plates, lamb kebabs, and crunch halloumi salads. There are many branches around the city, including one in Brookline with a spacious outdoor seating area.
Steve's Kitchen
Owned by a wonderful Greek family, this old-school diner has been a neighborhood staple in Allston for decades. The servings are huge, and one of the best value breakfast spots in the area. Find a table among college kids nursing their hangovers and regulars who come for the massive omelets and pancakes. If you want something different than the typical breakfast fare, the gyro plate is a great alternative. If you want the best of both worlds, get gyros as a side with your eggs. Breakfast is served all day. Cash only.
What are your favorite spots for food in Boston?
Photo source: Regina Pizza