As a movie-enthusiast, the Warner Brothers Studio Tour in Los Angeles has been at the top of my LA bucket list for quite awhile and we finally got to experience it last Labor Day weekend. I've always been curious about Hollywood behind-the-scenes, and this tour was a great way to learn about the hard work that goes into making TV shows and movies. Here's a complete recap of the tour, what I loved, and what I would have done differently.
This post contains affiliate links (with no extra cost to you). Read the full disclosure policy click here. Thank you for supporting Small World This Is.
The Warner Bros. Studio Tour in LA
TV Shows and Movies Featured on the Tour
The following is a highlights reel of sets and soundstages I encountered on my tour. That being said tours can vary with what is being shown depending on availability and guest preference.
Gilmore Girls – the Stars Hollow gazebo, Luke's Diner, Ms. Patty's dance studio, Rory and Lorelei's home
Pretty Little Liars* – lots of spots, including the Rosewood church, Rosewood high school (check out a detailed list here)
Shameless* – Albi bar, Patsy's Pies, L train
Big Bang Theory – guys' apartment, hallway outside of the apartment (with the broken elevator), cafeteria at Caltech
Friends – Central Perk coffee shop
The Conan O'Brian Show – sound stage
Fuller House* – sound stage with main living room and kitchen
Batman (1960) – Gotham City Police Headquarters
*currently on air
Starting at the Warner Bros. Studio Tour Center
Greeted by life sized statues of Roger Rabbit and Daffy Duck, we knew we were in the right place when we got dropped off at the Warner Bros Studio Tour center. After making our way through a quick security scan, we went inside and found two lines: one to the right for e-ticket guests and the longer one to the left for those who don't have e-tickets. It turns out that even through we reserved a spot online we didn't have the actual e-ticket, so we still needed to wait in the main line.
The WB studio tour suggests that you arrive 30 minutes before your tour and I highly recommend it just so you have time to wait in ticket line, used the bathroom, and not feel rushed. There's also a full-service Starbucks in the center where you can get a drink or a snack beforehand, as well as spots to sit down.
Once your tour time comes around, you will enter through the e-ticket line,  get into one of the lines outside the theater's doors, and then get ushered into a small theater for a short introduction film. Make sure to look around at the memorabilia on the wall while you wait, which includes movie and TV posters in various languages and an informative map of the entire studio.
The Warner Bros. Studio Guided Tour
The first part of our three hour tour was with a friendly and knowledgeable tour guide (shoutout to John) who took all 14 of us guests around on a tour tram around the different set areas, including "The Jungle," where they shot parts of Jurassic Park, the  Midwest Residential Street, and city sets like Chicago that is used for Shameless. Personally, as a huge Gilmore Girls fan, it was hard to contain my excitement when I spotted the Stars Hallow gazebo that sits in the middle of the town, Luke's Diner, and Ms. Patty's dance studio. Day made.
During this part of the tour we got off the tram and saw the inside of an actual house on set. It was interesting to learn about all the technical aspects of filming in a set house, and the most surprising thing for me was that it felt a lot like the stage sets for the plays I used to act in high school, where eat set is painstakingly constructed to look nice, but doesn't have any real function.
It was also surprising to learn that a single set could be used for various different shows and movies, just by changing the props around. For example Gilmore Girls' Stars Hollow, Connecticut has now been transformed into Pretty Little Liars' Rosewood, Pennsylvania. Talk about movie magic.
We also got to see costumes, and props from Wonder Woman, Harry Potter, and Aquaman, and some of the batmobiles and cars from Batman.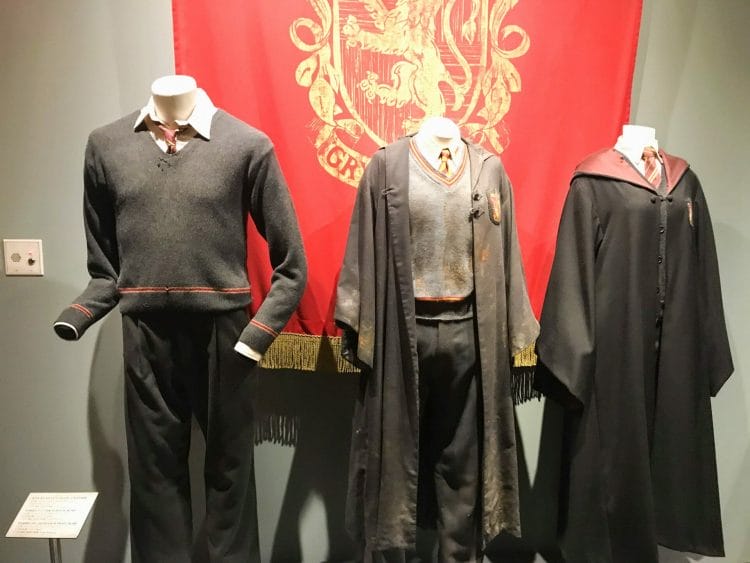 We also got to see the inside of two studios: The Conan O'Brian Show and Fuller House, both of which are still filming.
The Warner Bros. Studio Self-Guided Tour
After two hours, we were whisked off to Studio 48: Script to Screen, where we began our one-hour self-guided tour around the costume exhibits and interactive sets. A personal highlight was being able to see some of the lavish costumes from Crazy Rich Asians in the beginning of the tour.
As we continued on, we first came upon the Friends set, where you could take a photo in the Central Perk cafe. Since both Mustafa and I were not really big fans we opted to skip the photo opp, since the line was pretty long. Luckily around the corner was something that Mustafa was excited about…
The Big Bang Theory set! We got to take a photo in the guys' apartment (complete with comic books and Chinese food takeout container props), and Mustafa got to pose outside the apartment next to the broken elevator.
Afterward, we got to hold a real Oscar (it was quite heavy) and learned about green screen magic, where you could zoom around on Harry Potter's Firebolt, as well as ride the Batpod through the streets of Gotham.
Afterward, we ended up where all tours end: in the gift shop, which had everything from Stars Hollow sweatshirts to Harry Potter robes. We promise to come back again to the studio, but next time we're hoping to be part of the audience at a free TV show viewing.
Check out the reviews of this tour on Trip Advisor.
Other Warner Bros. Studio Tours
If you're interested in tours with a specific focus, the following alternative tours may be of interest:
Classics Tour – this 3.5 hour tour brings you through Hollywood's golden age of film, focusing on movies that were created in the early days of the studio.
Deluxe Tour – a 5 hour guided/1 hour self-guided tour covers all the ground of the regular studio tour, as well as a peek inside the costume department, property department, and a stop at the Warner Bros. Commissary Fine Dining Room for an exclusive lunch.
Friendsgiving – a 3-hour tour that runs on selected dates in November and focuses on studio backlots where the popular showswas filmed, as well as a holiday meal in the Warner Bros. Commissary Fine Dining Room.
Essential Info
The Costs of a Warner Bros. Studio Tour
The online price for adults is $69 (13+), and $59 for children, where you save $3 per person. It's recommended that you reserve a spot online ahead of time, since time slots do get sold out. The studio tours are offered in French, Spanish, Mandarin, and ASL upon advanced request.
To make your visit easier, I recommend purchasing the e-ticket online that will bypass the main line for the same price.
Getting To the Warner Bros. Studio Tour
There are several ways to get to the studio, including self-parking ($15), taking a ride-share option like Uber or Lyft, or if you're staying in a nearby hotel there's sometimes a free shuttle to and from the studio. If you are taking ride-share option, make sure to give the destination as 3400 Warner Blvd., Burbank, CA 91505, which is right in front of the tour center.
There is also the option of public transportation, where you can take buses from the various nearby stops on the Metro's Red Line. This is one convient way to get to the studio, especially if you're coming from Los Angeles and don't want to deal with traffic. To check routes, use the official Metro website here.
The best time to go on a Warner Bros. Studio Tour
We went during Labor Day weekend, and the only thing I regret is doing the tour on a Sunday, since the studio was quite dead. I would love to come back and see what it would be like during a weekday and see all the action of a working studio. It was also in the mid-90s and quite hot. It was fine in the beginning of the tour, but towards the end I was really starting to feel the heat. I would recommend going later in the fall, when the summer crowds die down and the temperatures are more bearable.
Where To Eat Around the Warner Bros. Studio
If you're looking for some pre or post tour fuel, here are a few solid spots to stop at nearby:
Porto's Bakery and Cafe – if you have the patience to deal with Disneyland-length lines, head over to this iconic Cuban bakery and cafe, where you can have your fill of guava and cheese strudel, Cubano sandwiches, cheese rolls,  and potato balls.
& Waffles – technically located in neighboring North Hollywood, this popular breakfast place fills up fast, but you can always order to pick-up. Their specialty is-surprise-waffles, but they do savory breakfast items like eggs and turkey bacon well too.
Wild Carvery – this restaurant was on my list, but we weren't able to make it this time around. I've heard good things about their sandwiches, and they have gluten-free options as well.
Where To Stay Around the Warner Bros. Studio

There are plenty of places to stay in Burbank, that are in close proximity to the Warner Bros. Studio Tours Los Angeles.
We stayed at this remodeled retro motel that has had its fair share of appearances in movies and TV shows. It was quite comfortable and spotless. There was also a free shuttle to nearby sights, including Warner Bros. Studio.
Check out reviews on TripAdvisor | Book your stay on Booking.com
Under the same brand as the Safari Inn, but is just a bit more fancy and has a free shuttle as well.
Check out reviews on TripAdvisor | Book your stay on Booking.com
Boutique hotel with a retro vibe and complementary breakfast pastries from Porto's Bakery. Walking distance to Warner Bros. Studio.
Check out reviews on TripAdvisor | Book your stay on Booking.com
Have you been on the Warner Bros. Studio Tour in Los Angeles?