Turkey may be known for being the birthplace of the doner, but there are lots of other dishes (including veggie ones), that are equally delicious. I've lived in and visited Turkey, and still am constantly discovering new dishes and drinks every time I go back. Turkey has many regional cuisines, but there are some commonalities that you can find throughout the country. Here's some top Turkish foods that you shouldn't miss while visiting Turkey.
Borek
This flaky, savory pastry is stuffed with a variety of fillings, including ground beef, spinach, and cheese. Borek is often baked in the oven in a large pan and then cut up into smaller pieces. Sesame seeds are often added on top for an extra nutty flavor. Over the years of visiting Turkey (and being spoiled with my mother-in-law's cooking), I come to realize that there are many different variations including sigara borek, which is thin and looks like a cigarette. A personal favorite is su borek, which is made out of dough, softened in milk and eggs, and stuffed with cheese and/or spinach. It's divine.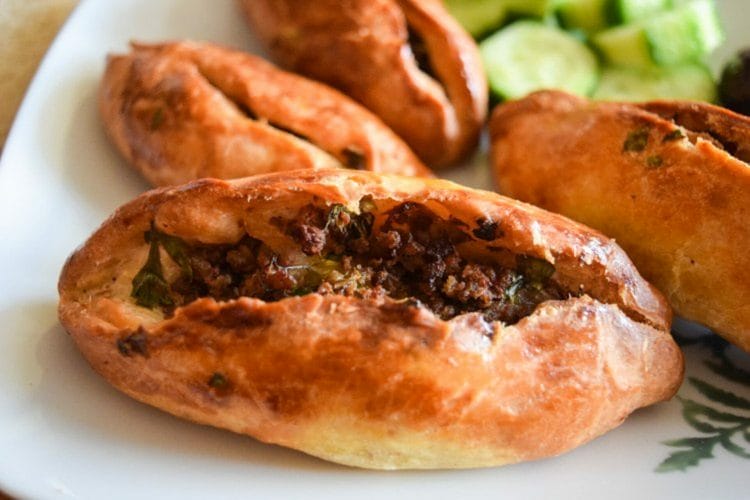 Kofte
If there would be one Turkish food that I could eat every day, it would be these grilled, flattened meatballs that are mixed with spices and onions, and usually accompanied by a large helping of buttered rice. I will forever associate the summer house in Turkey with family barbecues and kofte grilling on the mangal. Simple salads and grilled veggies like peppers and tomatoes usually round out the meal. You can eat kofte as a sandwich or just plain by themselves.
Pide
Another favorite food would be this canoe-shaped flatbread-pizza hybrid, that has toppings that range from ground beef to veggies like eggplant and melted cheese. There's nothing like that first bite into a freshly-out of the oven pide where the dough is slightly crisp on the outside and soft on the inside. Pide is served as a fast food and is great for a quick meal or a late night snack. I have many memories in Izmir of late night pide runs, eating amid families and brides and grooms coming back from their weddings.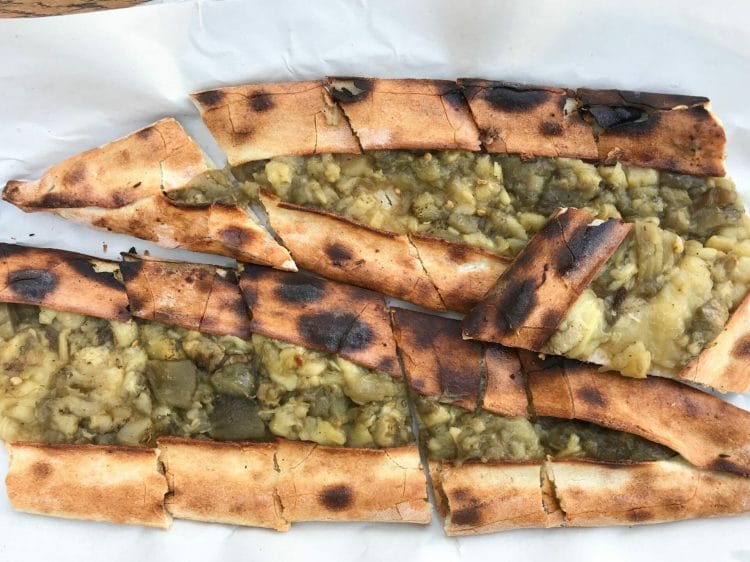 Lahmacun
Another flatbread-type dish that is topped with ground beef and spices.  The common way to eat it is by stuffing it with arugula, tomatoes, raw onions, herbs, and a squeeze of lemon, and roll it up like a wrap. This is another fast-food item that you can find for a quick and easy meal to grab in between seeing the sights.
Dolma
Stuffed bell peppers with seasoned rice (sometimes with meat or sometimes without) and baked to perfection, dolmas are a healthy alternative to heavier Turkish dishes. Dolmas can easily make up a lunch, and I've eaten my fair share of them over the years and am always surprised how quickly they fill you up. A close cousin is the sarma, which is wrapped grape leaves stuffed with rice and served hot or cold. In different regions in Turkey, there are variations like using collard green leaves in the Black Sea region and using spices and red pepper paste in the eastern part of the country.
Manti
These tiny flavorful dumplings are stuffed with beef or lamb and topped with a generous offering of yogurt and hot pepper oil. If there ever was a Turkish comfort food, this is it. I still remember traveling around Bodrum in southern Turkey and stopping for some of the best manti at this casual roadside restaurant.
Mercemek
Turks love their soup, whether they're drinking a bowl for breakfast or as a snack after a late night out. One of the most popular types is mercemek, which is a blended red lentil soup that is a hearty choice for warming up on a cold winter day. Topping can include hot pepper flakes and a squeeze of lemon.
Durum
Using the same spit-grilled meat as doner, this wrap trades in bread or a pida for soft lavash bread, and has usually beef or lamb as a protein, but sometimes chicken as well. This is a great grab-and-go snack that is cheap, filling, and delicious. Just follow your nose to find a stand, since you can probably smell the grilled meat before you see it.
Meze
Similar to Spanish tapas, these small dishes can easily make up a meal or be an appetizer to a fish or meat-centric dinner. Some common hot and cold ones are beyaz peynir, (white cheese), acılı ezme (hot pepper paste with walnuts), kalamar tava (fried calamari) and cacık (yogurt with garlic and cucumber). In Turkey, there's a whole culture around eating meze, where you often drink raki (a strong anise-seed liquor) with your meal and spend hours lingering over the table having both light-hearted and sour-bearing conversations.
Turkish Breakfast
Not really a single dish, but I couldn't pass up on one of the best parts of Turkish cuisine. On the weekend breakfast is usually an elaborate affair. Let's break it down shall we?
Olives
In Turkey, olives are a national treasure and there are endless varieties available at the local market. They vary in their saltiness and tang, and come in various shades of greens and blacks and always have pits. It is believed that if you swallow an olive pit any digestive ailments will be cured, but I have yet to confirm that personally.
Cheese
There are many varieties of cheese available in Turkey, one of the more popular ones being beyaz peynir (while cow cheese). It is salty and has a strong odor similar to goat's cheese. There are also widely available cheeses like orgu peynir (braided cheese), that has a taste similar to mozzarella cheese and has a stringy consistency and kasar peynir that also tastes like mozzarella and is often melted between bread and toasted to make a delicious breakfast sandwich.
Fresh veggies
One of the most surprising things for me with this meal was having fresh arugula, Charleston peppers (some are spicy, which I learned the hard way), tomatoes and cucumbers at the breakfast table. It's a great counterbalance to the often carb-heavy meal. Sometimes the arugula is often sprinkled with fresh lemon juice, and the tomatoes and cucumber with olive oil and a pinch of salt.
Sweet spreads
There is nothing like homemade apricot jam, a drizzle of bal kaymak (clotted cream mixed with honey) or a dallop of pekmez (grape extract mixed with tahini) on freshly made bread or eaten straight from the jar as the sweet finale to a meal.
Bread
It is not a complete meal without bread, and the fresher the better. In Izmir, there was a man who delivered a fresh baguette to your apartment every morning if you asked. It was that important. You would see little children on the weekends coming back from the neighborhood market grasping several plastic bags containing gold loaves of freshly baked bread.
Tea/Coffee
Tea reins over coffee for the national beverage of choice and it is not rare to drink your weight in tea by the time breakfast is over. There is one carmel-colored tea that is ubiquitous all over Turkey and can be sweetened with sugar cubes. Turkish coffee is always reserved for after the meal and is strong, thick and has a fortune-telling ability if you are lucky.
Main dishes
Are usually egg-based, like menemen (runny eggs with peppers and tomatoes), sucuklu yumurta (spiced sausage with egg, yumurtali ekmek (savory French toast), or egg omelets with potatoes (a personal favorite).
Week days alternatives
It's more grab-and-go style, with common items like simit (something between a bagel and a pretzel) plain or toasted along with some cheese and olives. There's also tost, made with kasar cheese and is similar to a grilled cheese sandwich in the US, sometimes with sucuk and tomatoes.
Where To Eat In Turkey

Meyhane-known as bars or restaurants in Turkey, this is where you'll find meze and plenty of raki
Lokanta-this is the most basic restaurant, where ready-made food will be self-service for a cheap price and there's no menu
Restoran-a step up from a lokanta, restoran have menus and alcohol available
Kebabci/Kofteci-quick service establishments with low-frills atmosphere that serve kebabs and kofte, usually serve soup and salads as well
Pideci-Turkey's version of a pizza parlor, pide and lahmacun are the main stars, keep you eyes out for wood-burning ovens since those places are the real deal
Borekci-a small stall that sells all kinds of borek and often also sell ayran (tart, salty yogurt drink)
Pastane-bakery where you can pick up freshly baked sweet and savory items like simit and zeytinli poğaça (olive pastry)
What are your top Turkish foods?