Orange County may be known for its beaches and mouse-themed amusement parks, but there is also a rich history to explore. This past Saturday, I visited the historic San Juan Capistrano, known for its mission and the swallows that arrive every March. There's a lot more to this city than the mission though, including a lively dining scene and a scenic walk through a street that is located in California's oldest neighborhood.
It was my first time taking the Metrolink from Irvine to San Juan Capistrano, and it was a quick and easy trip down. I haven't ridden the train since the beginning of the pandemic and it was the seamless experience that I remember from before. Masks are required and there was plenty of room to spread out and social distance.
We spent an afternoon eating and wandering around the town, here's what we got up to.

Top Things To Do In San Juan Capistrano
Visit The Mission

Mission San Juan Capistrano was built in 1776 and was the seventh mission to be founded in California by Spanish Catholic missionaries. The mission was built on land that was home to the Acjachemen, an indigenous population that lived throughout present-day Southern California at least for 10,000 years prior.
The tickets for the mission are $14 for adults and $9 for students/children 5+. It usually takes a few hours to walk around the entire grounds including the chapel, museum, and gardens. The mission is closed on Mondays.
Indulge In Texas BBQ
We timed our train ride with the opening of Heritage BBQ at 11:00 am, which we learned was actually late to arrive since there was a long line already waiting out front. The moment you step in line you feel like you're in Texas with country music blaring out the speakers, the aroma of smoked meat filling the air, and a Texas state flag fluttering in the breeze.
We waited one hour, but it was well worth it and I'm still dreaming of their brisket and their house-made pickles.
Note: get there as early as possible-preferably at least half an hour before they open at 11:00 am. The line is long, but they do take beer and wine drink orders from on-site Capistrano Brewing.
Satisfy Your Sweet Tooth With Seasonal Donuts
Located in Plaza Del Obispo Shopping Center, JD Flannel Donuts and Coffee feature regular as well as gluten-free and vegan donuts. The donut shop is owned by two childhood friends who grew up together in Orange County and were inspired to sell donuts with quality ingredients.
I got their seasonal GF vegan Apple Maple, which was delicious with bits of real apple infused into the dough and was not too heavy as donuts tend to be. The GF Vegan Apple Cinnamon Sugar also looked good too, as well as their regular Vanilla Bean. I'll definitely be back soon to try more flavors!
Wander Around Downtown San Juan Capistrano
Walk around the picturesque center of town where there are numerous restaurants, bakeries, and bars all within walking distance of each other. For entertainment, there's a movie theater that was featuring Halloween flicks during the time we were visiting.

Explore Historic Los Rios Street
Los Rios Street is California's oldest post-colonial neighborhood that is located near the mission and has homes that date back to 1794. Within this area, the first winery and vineyard in California were built.
We stopped in Hidden House Coffee, one of my favorite coffee shops in town. The cafe is a veteran-owned business that does in-house roasting and supports ethical coffee trading, including knowing exactly which farm the coffee has been grown on. Mustafa loves coffee (I'm more of a tea drinker), but he loves their coffee and often gets their espressos.
They also have tea, hot chocolate, and kombucha, as well as a small menu featuring baked goods and small bites. It's located in an old home and there is ample room to spread out on the porch and in the yard. I'm hoping to come back one day with a book in tow.
Afterward, we walked down the rest of Los Rios Street, which was lined with boutiques, private offices, and cafes/restaurants located in historical homes. Some of the most memorable stops were the original Montanez adobe that housed Native American mission laborers and Las Catrinas, a boutique selling Spanish and Mexican artwork.
San Juan Capistrano Historical Society is on this street, where you can browse the O'Neill Museum and get a glimpse into the city's rich history. There are also Historic Walking Tours that are offered on Saturdays and provide more context about the century-old adobe and stately Victorian homes around the area.
Other Places To Eat in San Juan Capistrano
Trevor's at the Tracks – located right next to the train station, this restaurant is a truly immersive experience. Find a seat in the spacious courtyard with live music or inside next to one of the windows that looks out onto the tracks. The menu is extensive and favorites include Southwest Steak Cobb and Spicy Sicilian Chargrilled Flatbread.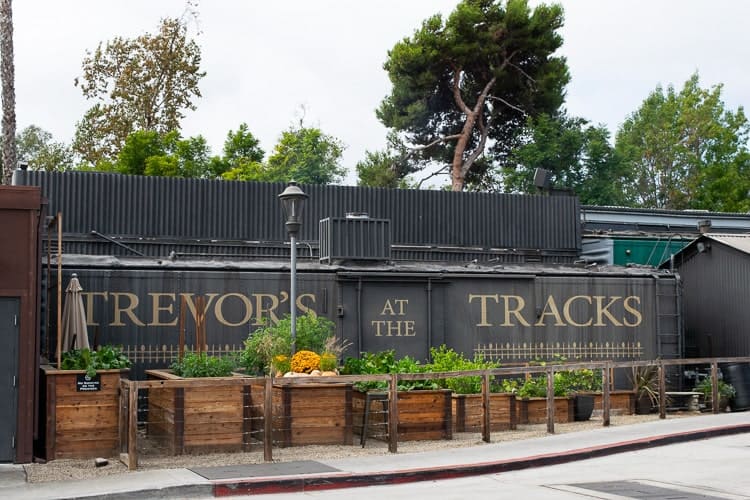 Ramos House Cafe – known for its indulgent brunch menu that is $40 on the weekends and includes two courses (one small plate and one large plate). On the weekdays, brunch is a la carte. Brunch highlights include Smoked Bacon Scramble and Warm Apple Beignets. All dining is outside, surrounding the historic Ramos House.
The Tea House On Los Rios – whether you want to go for tea or full-on brunch this is a memorable dining option that's located in a historical house. Weekend brunch includes dishes like Salmon Benedict and Fresh Garden Quiche. The daily menu includes English food like Shepard's Pie and English Pasti. There are a handful of daily High Tea Experience options that include finger sandwiches, freshly baked scones, and loose leaf tea with gluten-free/vegan options.
Ellie's Table at Egan House – this solid brunch spot serves everything from their popular Bacon Breakfast Sandwich to their Palm Sandwiches that include a veggie option. The highlight of this cafe is their fresh baked goods, including their beloved Butter Croissant. Gluten-free and vegan options are available.
Mayfield – a trendy, open-air restaurant that is located right in the heart of downtown. The menu is Modern California with Middle Eastern and Mediterranean influences. There are weekday a la carte supper menus and on weekends there is a supper club prix fixe menu as well as brunch. Highlights include Lamb Meatballs and Cauliflower Schwarma. There is also a market on-site that sells wine, cookbooks, and housewares if you care to browse.
Getting to San Juan Capistrano
The best part about taking the Metrolink is that we got to avoid traffic and the hassle of weekend parking. Capistrano Depot is right in the middle of downtown, so we could easily walk around the area without needing additional transportation. I would highly recommend taking the Metrolink if you have a station nearby. Parking was free for us in Irvine and we could leave the car overnight if we wanted to.
Another convenient option is Amtrak if you're coming from cities further away like San Diego or Santa Barbara.
If you do opt to drive, there is a giant free parking lot located at the end of Los Rios, off Mission Street.
Best Time To Visit San Juan Capistrano
Orange County has ideal weather year-round, with hot, dry summers and mild winters. During the summer, it can get quite crowded and the off-season is just as nice since you don't have to deal with the heat and crowds.
In early spring, the swallows return to the mission and on March 19 (St. Joseph's Day) the locals celebrate this event with the ringing of the historic mission bells, Native American storytelling, Live Mariachi music, and other community performances.
Places Near San Juan Capistrano
Dana Point –this beach city is quieter than Laguna and Newport, but just as beautiful. Walk to Dana Point Harbor Beach (Baby Beach) along the waterfront from Dana Point Harbor and watch the sailboats and SUPers float on by.
Afterward, head up to Doris Walker Overlook, where you can get spectacular views of the harbor from above. For an alternative activity, the Catalina Express takes off to Catalina Island from Dana Point Harbor and takes about an hour and a half to get to the island.
To refuel, head to The Shwack Beach Grill, where they make a delicious turkey burger with cranberry sauce. The casual atmosphere of this restaurant, which includes an outdoor patio to chill on and beers on tap is the perfect way to end the day.
San Clemente –this beach town is known for its Spanish colonial-style architecture and idyllic coastline that is ideal for surfers and beachgoers alike. San Clemente State Beach is perfect for those seeking a quieter experience and T-Street Beach is a surfers' paradise, especially for those who are just starting out.
The Casa Romantica Cultural Center and Garden is worth stopping by to learn about local history at this former sprawling estate. There is also the Surfing Heritage and Culture Center, where you view surfing memorabilia, including old videos and photographs.
Afterward, walk through downtown San Clemente, admiring the beautiful architecture, and then grab hearty sandwiches at Billy's and eat them in the adjacent courtyard. A delicious alternative, The Fuel Shack, offers up memorable chicken tinga and other healthy options.
Have you been to San Juan Capistrano? What are your favorite things to do there?
Train tickets to San Juan Capistrano were provided by Metrolink, but all thoughts are my own.