When you think of Pasadena, what usually comes to mind is the Rose Parade on New Year's Day or if you're a Big Bang Theory fan like my husband, it's where Sheldon and his crew work and play at Cal Tech. I did not know much about this city before we spent a long weekend there, but I fell in love with the laid-back culture, the historic architecture (so many beautiful buildings), and the stunning location at the base of the San Gabriel Mountains. Here are some fun things to do in Pasadena, CA that will allow a solid introduction to the Crown City .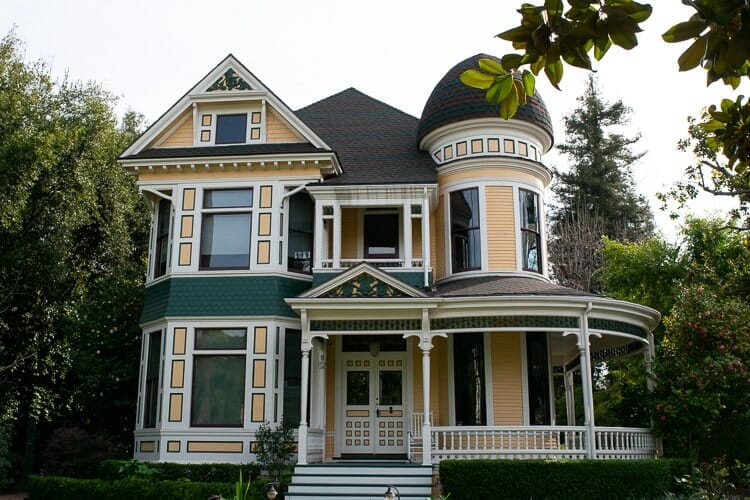 Where exactly is Pasadena?
Pasadena is located northeast of Los Angeles in the San Gabriel Valley, about a fifteen to twenty-minute drive to east LA cities like Silverlake, Echo Park, and Los Feliz.
Getting to Pasadena
LAX is about 35 minutes – 1 hour depending on notoriously bad LA traffic. Smaller Burbank Airport (BUR) is a preferred alternative to LAX by locals and only takes 20 minutes depending on traffic. You can also take the LA Metro's Gold Line from Union Station (where you can take the LAX Flyaway bus to the airport). There is also a solid bus system throughout Pasadena if you just want to stick to public transportation.
What is the best time to visit Pasadena?
Pasadena is blessed with beautiful Southern California weather year-round. Since it is a bit more inland than most of LA, it gets a bit hotter during the summers and colder during the winters. It also gets a bit more rainfall during the cooler months, due to its close proximity to the mountains. When we were there in late February it was almost eighty degrees one day and then dropped to the mid-fifties the next. Bring layers!
Essential Info for Visiting Pasadena
avoid New Year's Day – unless you are coming specifically for the Rose Bowl Parade, then book your hotel as early as possible. Also, avoid days like Caltech graduation for the same reason.
Pasadena and South Pasadena are two separate cities – it can get confusing, but South Pasadena has a more suburban feel than Pasadena.
Pasadena is located close to some of LA's best Asian food – if you travel a bit more south and east you can find a dizzying array of authentic Asian cuisines in cities like Alhambra, Temple City, Monterrey Park, and Rosemead just to name a few.
one-way streets – be aware there are many one-way streets, including Union Street and Green Street, which run parallel to the main thoroughfare Colorado Street and can often be quicker due to less traffic lights.
proof of vaccination – as of 2/25/22 some restaurants and indoor spaces require proof of vaccination (two weeks after two doses of Pfizer or Moderna or one dose of Johnson & Johnson).
Top Things To Do In Pasadena
Historic Architecture
Pasadena as a city was incorporated in 1886 and has a wealth of historic buildings to visit. Start with the Victorian homes on Millionaire's Row (South Orange Grove Boulevard). Check out 346 Markham Street, which is a prime example of some of the city's only pre-1900 homes that have been well-preserved and are located in the oldest neighborhood of Pasadena.
Walking down adjacent side streets (Congress and Bellefontaine), admire the stately homes in this quiet neighborhood where you can still see the occasional hitching post for when horse-drawn carriages were the main mode of transportation.
Another noteworthy neighborhood to visit for stunning buildings is Oak Knoll. It's home to Langham Huntington Pasadena, an iconic 5-star hotel that has been a getaway for numerous Hollywood celebrities. Book a massage in the Chuan Spa or have a meal at The Terrace, which serves up a California-bistro-style menu with seasonal ingredients.
One of the top examples of early 20th Century Craftsman architecture is The Gamble House. Book a one-hour ticket in advance for tours that take place on Tuesdays and Thursdays-Sundays. Tickets are $15 per person.
Old Pasadena
Speaking of historic buildings, another great spot to find them is in Old Pasadena. Castle Green is a popular Nationally Registered Historic Monument and is over 100 years old. It was originally a hotel but now serves as an event venue and private residency.
Pasadena City Hall is hard to miss, with its ornate Italian Renaissance-style architecture and red tile roof towering over Old Pasadena. Walk through the serene courtyard with its large fountain and depending on the time of day you may see newlywed couples celebrating on the grounds.
For lunch grab a sandwich at Union Street Sandwich Company or Paper Rice (a personal favorite that serves up make-your-own Vietnamese-inspired spring rolls and bowls).
Located right down the street from Castle Green, Wanderlust Creamery offers up unique ice cream flavors like Ube Malted Crunch and Sticky Rice + Mango. The best part is that if you are lactose intolerant or vegan, they have plenty of non-dairy options!
If you are a fan, stop by the Big Bang Theory Way sign located at the beginning of an alley that recognizes the influence the TV show has on the city in popular culture. To find the street sign, look for it on the 100th block of East Colorado, just east from Crossroads Trading Co.
For free 90-minute parking, use the Marriot Park & Walk structure on Raymond (across from Pasadena Memorial Park).
California Institute of Technology (Caltech)
Living in Cambridge, I lived down the block from MIT and was excited to see its West Coast counterpart (and friendly rival). There are plenty of historical buildings around the campus to admire including:
Neuroscience Research Building – make sure to check out the California Institute of Technology sign out front
Beckman Institute -Spanish mission-style with two fountains, including the Gene Pool
Beckman Auditorium – example of Space Age architecture by Edward Durell Stone who also designed the MoMA in NYC
Hameetman Center – the student center that houses the cafeteria as well as the Caltech Store
Throop Memorial Garden – a serene spot that features turtle ponds and shaded benches
CalTech Library and Pond – this 10 story building is the tallest on campus and overlooks a reflecting pond outside
Flemming House Cannon – originating from the Franco-Prussian War this working canon is fired for special events
Calder Arches – a stunning architectural feature created by sculptor Alexander Calder
For a detailed guide to Caltech's campus, here's a helpful blog post from Transiting Los Angeles.
NASA Jet Propulsion Laboratory
Owned by NASA and managed by CalTech, this space research and development center is an interesting place to visit and learn more about things like space exploration, including Mars missions. In-person visits are currently on pause, but when they resume it's worth seeing the inner workings of the country's premier space lab.
Rose Bowl Stadium
Home to the Rose Bowl Game that takes place after the Rose Parade, this stadium not only hosts football games but the famous Rose Bowl Flea Market as well. The flea market takes place every second Sunday of the month and costs $20 for entrance between 5 am-9 am and $12 for entrance between 9 am-3 pm. Children under $12 are free.
There are also public tours of the stadium every last Friday of the month at 10:30 am and 12:00 pm. The tour takes about 2 hours and costs $18 for kids 5-12 and $20 for adults. The tour takes visitors through this historical National Historic Landmark, including the original 1922 locker room.
You can purchase tickets for the flea market and tours here.
USC Pacific Asia Museum
I wasn't able to make it to this museum that focuses on Asian and South Pacific culture and art, but can hopefully go next time. The museum and the University of Southern California partnered to make this museum in 1977 as one of the few art museums focused on this region of the world. To gain entry you need to book a timed ticket in advance which is $10 for general admission ($7 for students with ID and seniors). Children under 17 and under are free.
Vroman's Bookstore 
Spend an afternoon in Southern California's largest and oldest independent bookstore. After browsing the shelves, stop in The 1894, a wine bar where you can order literary-themed cocktails, craft beer or wine. The bookstore is open Monday-Saturday 10am-9pm and Sunday 10am-7pm.
Visit Nearby LA Neighborhoods

Silver Lake – a trendy area that has a lot of popular restaurants like Pine and Crane for Tawainese and Bacari for scenic outdoor Mediterranean-style tapas. Walk around the Silver Lake Reservoir, which provides a clean and tranquil getaway from the hustle and bustle of Sunset Boulevard.
Echo Park – a bit grittier than Silver Lake, this vibrant neighborhood does not lack in culture. Shop at the Time Travel Mart to support 826LA, a nonprofit organization that focuses on tutoring local students after school to find their voice through writing. I've been a long-time fan of their 826 Valencia branch in San Francisco (and their Pirate Supply Store), so it was exciting to see another one down here in Southern California. Drop by Echo Park Lake, which boasts views of downtown LA as iconic swan pedal boats float by.
Los Feliz – located right next to Griffith Park, this neighborhood is a great place to grab breakfast tacos at HomeState, browse books at beloved independent Skylight Books and then walk up to the Griffith Observatory or hike around Griffith Park.