Neighboring Anaheim, this historical city in Orange County is a fun place to spend the day exploring Old Towne Orange, including the many antique shops, and nearby Chapman University. If you are in the area when it's Halloween, make sure to check out the houses surrounding Old Towne Orange, that go all out with spooky decor. Here are the top things to do in Orange that should be on your list.
Best Things To Do In Orange, CA
Old Towne Orange

Orange has the highest concentration of historical buildings in California, some of them dating back to before the 1920s. The houses in the neighborhoods surrounding Old Towne (Orange Circle as the locals refer to it) are worth checking out for their Bungalow, Mediterranean Revival, and Victorian architecture, to name a few. Old Town Orange itself has a lot of the original buildings from when the city was incorporated in 1888, including the region's oldest operating bank and soda fountain.
Here are some noteworthy stops:
Watson's Soda Fountain and Cafe – opened in 1899, this establishment serves up diner comfort food as well as nostalgic ice cream dishes like banana splits.
Plaza Park – located in the middle of the traffic circle, this small park features a decorative fountain as the centerpiece and is an ideal spot to rest on one of the benches and get a front-row seat to watching local life unfold.
Wells Fargo Bank – originally opened as the First National Bank, this building is still in operation under a different company.
Orange Circle Antique Mall – this two-story building feels like a museum with all the sections dedicated to different eras and collections. There is also plenty of Disney memorabilia due to its close proximity to Disneyland.
Lewis Ainsworth House – a restored American Craftsman-style home whose owner came to California during the Gold Rush. The address is

414 E Chapman Ave, Orange, CA 92866

.

The C.Z. Culver House – this Queen Anne Victorian home was used as overflow quarters for the Palmyra Hotel that was built in 1887. The address is 205 East Palmyra Avenue.
Chapman University
Established in 1861, this private research university consists of ten different schools, including the renowned Dodge College of Film and Media Arts. The campus is within walking distance from Old Towne Orange and is nice to wander around the beautiful grounds. Notable other stops on your self-guided tour should include Wilson Field (home of the Panthers), Leatherby Libraries (there's public access), Agora Gift Shop, Attallah Piazza, and Chapman Plaza.
Make sure to check out Hilbert Museum of California Art, which features over 1,000 paintings from the California Scene Painting movement (art depicting everyday scenes from around the state) that were created between 1930-1970. Hours are 11 am – 5 pm, Tuesday-Saturday. The museum is closed on Mondays and Sundays.
Here's a map of the campus.
Holiday Decorations Around Old Towne Orange
As mentioned before, entire blocks around Old Towne go all out with their Halloween and Christmas decorations. There are competitions held by the Old Towne Preservation Association every year for the most impressive homes. Houses worth visiting include:
552 E Palmyra

(one of my favorites-they did a great Game of Thrones Halloween theme last year)

376 S Olive

320 S Pixley

350 N Pine St
714 E Maple Ave
804 E Washington Ave
500 block of Palmyra Avenue
The Outlets at Orange
A ten-minute drive from Old Towne Orange, this open-air outlet mall has over 100 stores, restaurants, an IMAX movie theater, and an indoor Vans skate park (currently closed). Some popular outlet stores are Columbia, GAP, Old Navy, Puma, and Nike. and those stores that are not outlets usually have good deals. There are also a lot of snack kiosks that sell everything from LA-style hotdogs to Mexican snacks and drinks. Parking is free.
Where To Eat and Drink In Orange
The Filling Station Cafe – restaurant in a converted gas station that serves breakfast all day. Popular dishes include the French Toast and the Eggs Benedict. There is both indoor and outdoor seating available.
Urth Caffe Orange – offers an extensive menu with breakfast and lunch items, desserts, and drinks. Highlights include their D'lox Pizza and fruit tarts. There is a lot of outdoor seating available out front and in the back.
Taco Stand – I've been a big fan of their La Jolla location and was happy to see there is one closer to me in Orange. They have great meat and vegetarian options (try the cactus!).
Contra Coffee and Tea – serves all non-dairy coffee and tea on draft, as well as tasting flights. Big fan of the guava ice tea. Best of all it's also a small bookstore and has an entire wall full of books to browse.
Sauced BBQ & Spirits – get a taste of the South, with flavorful ribs, brisket, smoked chicken and pulled pork. There are 20 beers on tap, as well as an impressive selection of whiskeys, ryes, and scotches. There is also axe throwing, which is $30 per person for one hour and fifteen minutes and it's recommended you make reservations ahead of time.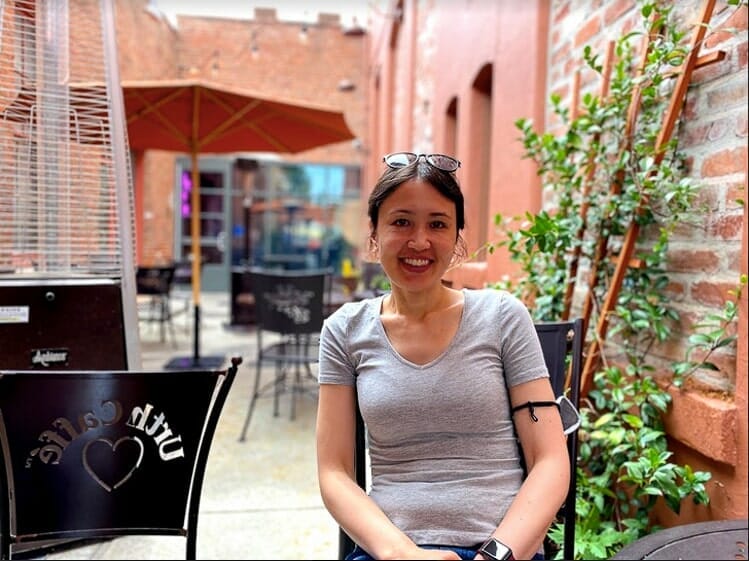 Best Time To Visit Orange
Orange has a pretty temperate climate year-round, with hot, dry summers and the occasional rainstorm in the colder months. Summertime is a good time to visit when the university is out of session and the campus is a nice quiet respite to escape to.  During the earlier summer months, June Gloom can make the area a bit chilly, but it usually burns off by midday. During September and October, the Santa Ana winds make the region especially hot and dry and it can be uncomfortable to walk around.
Getting To Orange
Getting to Orange by car is the easiest way, with plentiful street parking available in the surrounding residential neighborhoods. For public transportation, it's pretty seamless to take the Metrolink from Los Angeles or from places around Orange County, including Fullerton, Anaheim, Tustin, Irvine, and Laguna Niguel/Mission Viejo. The Orange Metrolink Station is about a ten-minute walk to Plaza Park.
John Wayne Airport is about 15 minutes from Orange and can be a great place to stop by if you have a few hours before your flight.
Things To Do Near Orange
Anaheim
About a 15-minute drive (or a quick Metrolink stop) away there's Disneyland, Disney California Adventure, and Downtown Disney. Some more low-key options are the Anaheim Packing District including the massive Anaheim Packing House, which is a multi-story food hall that offers many delicious options.
Downtown Anaheim is fun to explore, including Center Street Promenade and the Muzeo Museum and Cultural Center. Stop by Okayama Kobo Bakery and Cafe, for some Japanese baked goods and drinks. There is also Joe's Italian Ice, a local favorite that is the perfect remedy for a hot summer's day.
The classic LA-based restaurant Roscoe House of Chicken and Waffles has a branch in Anaheim if you don't want to make the trek up to the original in Hollywood. If you're craving perfectly seasoned fried chicken and waffles that have the ideal balance of golden brown crisp and soft interior, this place should not be missed.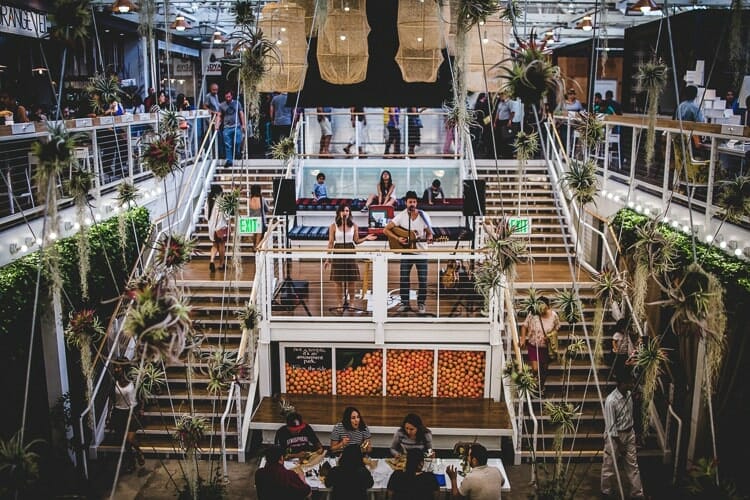 Westminister
Known as home to a sizable Vietnamese population that immigrated to the area in the 1980s, this is where you go for the best Viet food in Orange County. For a serious feast,  head to Thien An Restaurant, which is known for its seven courses of beef. Stop by in neighboring Fountain Valley at Brodard for their famed nem nuong cuon (grilled pork spring rolls). To warm up, Pho 79 in nearby Garden Grove is the place to go for huge bowls of fragrant noodle soup.
Check out the Asian Garden Mall, which is a large two-story shopping center with all Vietnamese restaurants and stores.  The first floor has a food court, including Lee's Sandwiches for bahn mi. They also have a night market during summer weekends, which is rumored to have cheap, delicious grilled food. If you are around the area during Lunar New Year, they have one of the biggest Tet celebrations in California.
For a more in-depth guide on where to eat in Little Saigon, here is an excellent guide.
Santa Ana
About a 12-minute drive south of Orange, this city has a lot to offer. Heritage Museum of Orange County showcases restored Victorian homes, Orange County Museum of Art has contemporary art and the Bowers Museum features Native American Art.
Santa Ana has a large Mexican population and has some of the best food at spots like Taqueria El Zamorano, where you can get savory carnitas and al pastor tacos wrapped in homemade tortillas. On Dia De Los Muertos in early November, there's a street fair in downtown Santa Ana that is worth checking out for the colorful altars and street food. There is also the Noche De Altares, where you can see the altars illuminated at night.
For more food options, the 4th Street Market in downtown Santa Ana is an upscale food court that has hit or miss options when it comes to entrees, but is a fun place to grab a beer or some ice cream and head to the back outside patio to play games and hang out on a warm summer night.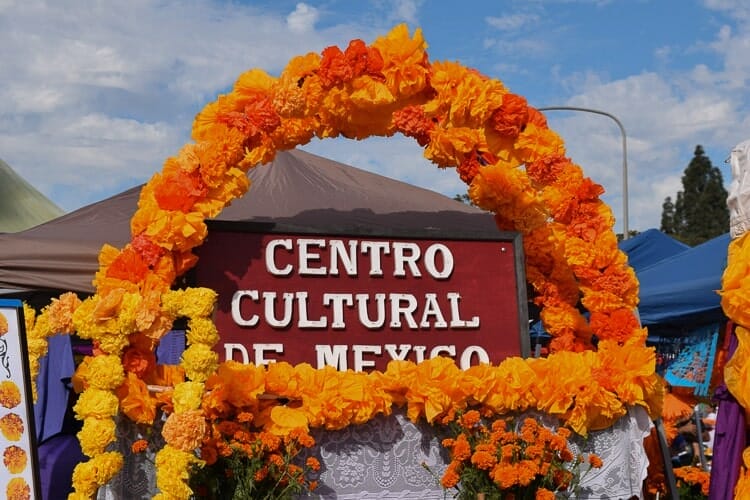 What are your favorite things to do in Orange?
Photo source: feature photo, Plaza Park, Anaheim Packing House