Having lived in the East Bay for three years, I've got some serious love for Oakland and it has quickly become one of my favorite cities in the Bay Area. The city itself is so culturally and racially diverse and has some of the best weather in the Bay Area. You could easily spend a few days exploring the different neighborhoods. Even if you just have an extra day when visiting San Francisco, taking a day trip across the Bay Bridge will only enrich your trip and allow you to see a different part of the Bay Area. Here are some of my favorite things to do in Oakland divided by neighborhood.
Best Things To Do In Oakland
Downtown
More than just high-rise office buildings (shout out to my dad in the Federal Building), this neighborhood has a lot of history and some great places to eat. To get a dose of both history and delicious things simultaneously, visit Preservation Park, which is home to relocated Victorian homes. Tucked into one of these homes is Rio California, where you can get traditional Brazilian dishes like feijoada and coxinhas. Owner Ney Araujo makes you feel at home the moment you step inside. You can take your food to eat on the shaded porch and soak in some of that East Bay sunshine.
After eating, wander around the downtown and admire historic buildings like Oakland City Hall at Frank H. Ogawa Plaza, that is honored by the National Register of Historical Places.
Stop by Joyce Gordon Gallery, that highlights artists whose work represent the rich diversity of the Bay Area. This gallery is part of Oakland First Fridays.
Pop into Oaklandish, a community-based store that gives back to local organizations. If you want to rep Oakland and support a good cause, this the place to do it at.
Old Oakland
This neighborhood has changed drastically in the recent years, with the revamping of Swan's Market (big fan of AS B-Dama's lunch sets) into a popular dining destination. Old Oakland Farmers' Market on Fridays, is one of the more affordable produce markets and offers a wide variety of Asian vegetables and delicious food stalls like Cholita Linda.
Wandering the streets of Old Oakland, make sure to look up and admire the historic Victorians that have been lovingly restored from the 1906 earthquake. I love to try and imagine what life must have been like here, when this neighborhood served as the original downtown.
Stop into Miss Ollie's, which serves up Caribbean flavors as a nod to owner Sarah Kirnon's heritage. The pan-fried chicken is worth coming here alone, as well as the jerk shrimp. The menu also has seasonal offerings, so no matter when you come there is always something new to try. 
Chinatown
One of my favorite neighborhoods for getting a cheap bite to eat, whether it's at Cam Huong Café for banh mi, Tian Jin Dumplings for take-out or Ruby King Bakery for dessert. This Chinatown is not as touristy as its San Francisco counterpart, but therein lies the beauty. Without the crowds, this neighborhood gives you a glimpse into what life is like for locals who shop and live in one of the oldest Chinatowns in the U.S.
For a sit down restaurant, Battambang Restaurant offers up a feast of crab fried rice, patanmbang noodles and roasted eggplant. This Cambodian restaurant has an impressive menu of over 70 items, whether you're craving seafood, noodles or a vegetarian-based dish.
Travel tip: A lot of bakeries and cafes have limited seating, so take your food to-go and head over to Pacific Renaissance Plaza, right next to The Sweet Booth (try the taro boba made with fresh taro), where you can often find empty benches near the fountain.
Uptown
This trendy neighborhood is right next to downtown and is a great place to experience prime Oakland nightlife. Historical Art Deco theaters like the Paramount or Fox, are great for catching a concert/performance and soak in the ambience.
If you're there earlier in the day, stop by Brown Sugar Kitchen for brunch and get their crowd-favorite chicken and waffles. Make sure to save room for their beignets that are dusted with a generous layer of powdered sugar. Taiwan Bento is an ideal place to grab a quick meal before heading to a concert. This spot offers Taiwanese comfort foods like braised pork over rice that rivals anything you'll find in Taiwan.
KONO
If you're around for the first of the month, make your way to Oakland First Fridays, which is a community event that features art galleries, local chiefs, live music and more. It feels like one giant block party on Telegraph Avenue from West Grand to 27th Street. It starts at 5 and goes until 9 p.m.
I was thrilled when I found out about Koreana Plaza Market in Koreatown Northgate neighborhood because I would now be dangerously close to pre-packaged japchae and kimbap. This market is a perfect stop to pick up a grab and go meal before hitting First Fridays.
Jack London Square
Oakland is quite picturesque and this waterfront spot is a prime example. To be honest, I think the dining is a bit overpriced and mediocre (read touristy), but I love walking along the water at dusk with the giant shipping cranes outlined against the sun sinking into the Bay. Definitely a quintessential view of Oakland that's not to be missed.
For dinner, skip the overpriced waterfront restaurants and grab a table at Souley Vegan, which serves up delicious soul food vegan dishes like po-boy sandwiches and vegan mac and cheese.
During the summertime, there's "Waterfront Flicks," where they set up a giant projector screen right by the water and as the sun sets you set up camp with various snacks/drinks. We saw Dirty Dancing and it was one of my most memorable experiences of the summer with everyone swooning over Swayze.
Travel tip: catch the San Francisco Bay Ferry at its terminal at the far end of Jack London Square for a scenic commute across the Bay.
Lake Merritt
One of the coolest places in Oakland (in my humble opinion) is this unassuming body of water and the area that surrounds it. It may not appear like much, but there's a lot going on around and on the lake. From the Gardens at Lake Merritt that are worth wandering around for an hour or two (don't miss the separate Bonsai Garden at Lake Merritt) and the highly educational Oakland Museum of California that always has high informative exhibits on local history and culture, as well as a lively Friday Nights at OCMA with food trucks, live music and dancing.
If you have a kid, make sure to take them to Fairyland, a local amusement park that is rumored to have inspired areas of Disneyland and keeps little ones entertained for hours. It was one of my favorite places to go when I was little and I definitely had more than one birthday party there.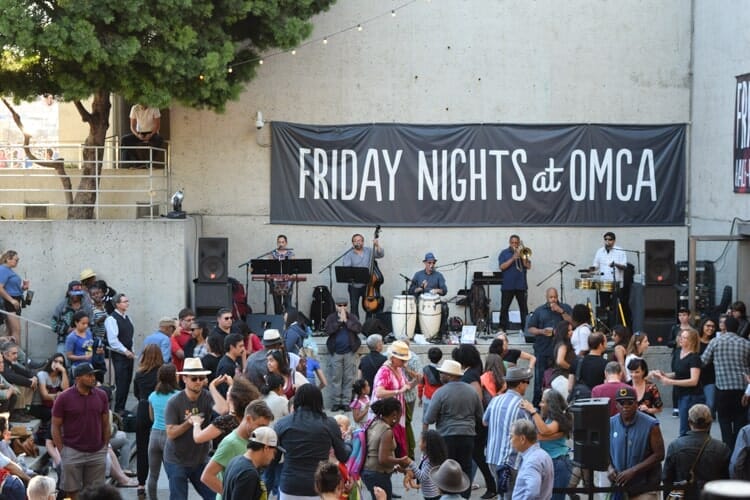 Grand Lake
If I were to choose somewhere to live in Oakland, I think this neighborhood would be a top contender. It has the feeling of a smaller town within a big city and is located right on Lake Merritt. It was also home to one of my favorite bakeries The Grand Bakery, now located in Lower Hills and is worth the trek for their bagels. Speaking of good things to eat, the Grand Lake Kitchen is worth the painful wait on a weekend morning for brunch-try their Savory French Toast.
Catch a movie in the historic Grand Lake Theater where Tuesday and matinee tickets are only $5.
Temescal
This is my preferred Oakland neighborhood to get something good to eat on and around Telegraph Avenue. There are so many choices from the bright spacious Cholita Linda for fish tacos to Homeroom for any kind of mac and cheese imaginable. Pyeong Chang Tofu House Oakland is a solid place to warm up with steaming pots of tofu soup and huge seafood pancakes.
For carb-centric treats, Lee's Donuts and Beauty's Bagel Shop (Montreal-style bagels) do not disappoint.
Stop by Marcus Book Stores, which is conveniently located right near MacArthur BART station and is a historic black-owned independent bookstore. Browse the impressive selection of titles by black authors that are not usually not available in other bookstores.
Rockridge
One of the northernmost (and priciest) neighborhoods in Oakland, Rockridge has College Ave, a pictureque street with coffee shops, restaurants and shops. A few favorite stops are Pegasus Books, La Farine Boulangerie Patisserie (get there early for morning buns), and Southie for a taste of Boston (try The Balls sandwich with beef-pork meatballs).
The Rockridge Food Hall is a fun place to browse and pick up a few things from the different stations for a picnic at nearby Lake Temescal.
Other Notable Things To Do In Oakland

Go on a mural walk – check out

this

extensive

mural list

to spot public art around the city.

Check out the urban paths – explore the

230 usable paths

including hidden staircases in the Oakland Hills.
Wander among the Redwoods – located in the Oakland Hills the Reinhardt Redwood Regional Park is a great escape from city life hiking among towering Coastal Redwoods.
Educate yourself about all things science – the Chabot Space & Science Center also located high in the hills is an excellent hands-on museum and observatory with free telescope viewings on clear Friday and Saturday nights.
Catch a game – experience some local pride at an A's game at the Oakland Coliseum (though not for long).
Explore the

Oakland Urban Wine Trail

or if wine is not your thing the

Oakland Ale Trail

is a great alternative.
Getting To and Around Oakland
Oakland is easily accessible from San Francisco and other parts of the East Bay, where you can hop on BART to zip to and around the city without worrying about parking. The central BART stations within the city include: 12th St./Oakland City Center and 19th St. and are great drop-off point for exploring downtown, and uptown.
If you want to fly directly into the city, the Oakland International Airport is a breath of fresh air compared to the much busier SFO. To be honest, sometimes I still come in through OAK when I come back to visit my parents in SF because I love the experience so much. The BART goes directly to the airport via a free train from Coliseum Station.
Oakland Weather
Oakland has some of the best weather in the Bay Area, with an average of 70 degrees year round. It tends to be less foggy than San Francisco, but cooler than cities like Walnut Creek that are only 20 minutes away, but more inland. During the winter, there is mild, rainy weather and dry, warm summers. From September through October, the weather warms up and is some of the best weather in the Bay.
How safe is Oakland?
This is a common question that come up often and speaking from personal experience I feel that Oakand as a whole city often gets misrepresented for being violent city that should be avoided. Oakland has rough neighborhoods, including areas of East and West Oakland, which should be avoided, especially at night. Though as long as you use your common sense and don't go looking for trouble, you should be fine.
Similar to San Francisco, there is a large homeless population, but if you are respectful, there should be no issue.
What are your favorite things to do in Oakland?
Photo source: Uptown