South Bay located in Los Angeles County offers the three picturesque beach cities towns of Manhattan, Redondo, and Hermosa, some of the best Japanese food in Gardena and Torrance, and the rugged coastline of Palos Ranchos Verdes. Here are the best things to do in South Bay Los Angeles.
Brief History About The South Bay of Los Angeles
The South Bay is home to numerous industries including automotive, oil, and aerospace, with large corporations like Chevron and Honda in the area. It is also known to be the birthplace of iconic Southern California rock bands like the Beach Boys, who hail from Hawthorne.
As mentioned briefly above, the largest Japanese population in Los Angeles resides in Gardena and Torrance. During World War II, many local Japanese-Americans were sent to internment camps in places like Manzanar. The Japanese American National Museum's online Remembrance Project is a great educational resource for learning more about this dark period in US history. Farewell To Manzanar is also an excellent memoir about the Japanese internment camps in Owens Valley.
Where Is LA's South Bay?

The South Bay is located in the Southwestern corner of Los Angeles and is bordered on the West by Santa Monica Bay, the Pacific Ocean in the South, West LA in the North, and South LA in the East.
If you have a few hours before your flight, Manhattan Beach is about 15 minutes without traffic from Los Angeles International Airport in the north. About 40 minutes from downtown Los Angeles.
If you are in Orange County, it's a great day trip that takes about 45 minutes or less to reach depending on traffic and location. The drive up from South OC was under an hour on a Saturday morning and we were able to arrive just in time to put in an order for a Sakea Sushi box (see number 18 below).
The cities that are included in the South Bay are:
Manhattan Beach
El Segundo
Hermosa Beach
Redondo Beach
Torrance
Gardena
Palos Verdes Estates
Rolling Hills
Rolling Hills Estates
Rancho Palos Verdes
Harbor City
San Pedro
Wilmington
Inglewood
Hawthorne
Lawndale
Lomita
Carson
several unincorporated areas
Getting Around LA's South Bay
If you plan to just stay in Manhattan Beach itself, the downtown area is pretty walkable and is a few blocks from the beach. If you do drive, there are a few public parking lots through downtown Manhattan Beach that has metered parking.
A car is recommended if you want to visit nearby cities since it's pretty spread out. You can always utilize rideshare options as well.
Best Time To Visit LA's South Bay
When we went in late May it was cold, with the highs only reaching the low-60s. We expected this since during May and June in Southern California there is a coastal fog that makes its way inland and affectionately is known as May Gray and June Gloom respectively.
Spring is a nice time to visit with fewer crowds and usually sunny skies. The holidays are also a fun alternative to see the area decked out in its holiday finest.
Top Things To Do In Los Angeles' South Bay

Manhattan Beach
We started out our first day at the city's main beach which is one of my favorite beaches in the area. It always seems well-maintained and always has numerous beach volleyball nets with games going on that are fun to watch. Public parking is always tight, especially on weekends, but we lucked out and found a spot in a nearby metered lot.
Manhattan Beach Pier
One of the main attractions of the beach is this adjacent pier that is perfect for a leisurely stroll to take in the panoramic views of the beach and the Pacific Ocean. For me, this is the most scenic pier out of the three, with its sea-green railings and Roundhouse Aquarium at the end, speaking of…

Roundhouse Aquarium
This small aquarium was created by the Oceanographic Teaching Stations, Inc. in 1979 as a marine science education center. Learn more about the local marine life that calls Santa Monica Bay home, including species like the warty sea cucumbers in the touch tanks. Currently, the aquarium is open again, but you need to make a timed reservation ahead of your visit.
The Strand (Manhattan Beach Boardwalk)
I'm always on the lookout for a relaxing stroll near the beach and this walkway right next to Manhattan Beach doesn't get any better with views of million-dollar homes on one side and the sand and surf on the other. Take a bike ride on this 22-mile bike path that is actually part of the longer Marvin Braude Bike Trail and starts in Will Rogers State Beach in Pacific Palisades and ends in Torrance Beach.

Downtown Manhattan Beach
The lively center of Manhattan Beach is a great place to get a bite to eat or just walk around and take in the sights. Manhattan Beach Boulevard is the main thoroughfare, but make sure to take the less-crowded side streets to get a feel for what it would be like if you were lucky enough to live a few blocks from the beach.
There are numerous public parking structures on the side streets if you cannot find street parking.
Nick's Manhattan Beach
If you're looking for a nice restaurant for dinner in the downtown area, Nick's will not disappoint. The menu is American comfort food like baby back pork ribs and buttermilk fried chicken. Make sure to save room for the warm butter cake. Brunch is also a great alternative with additional offers like omelets and mimosas. Bonus points for seating being mostly outdoors.
The Strand House is also a popular place to have a memorable meal that features farm-fresh fare with unparallel ocean views.
This hotel is an ideal home base that's a bit removed from the action of downtown, but still close enough to quickly drive over for brunch or a sunset stroll on the beach. On the property,  Second Story Restaurant is great for happy hour or grabbing dinner (even if you are not staying there) with small plates, signature cocktails, and entrees like the grilled skirt steak and salmon cobb salad.
Complimentary valet parking is available for restaurant guests.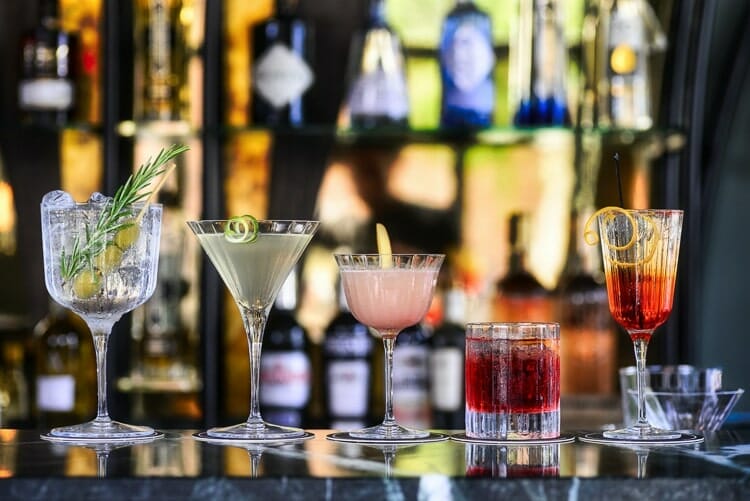 Manhattan Beach Creamery
For dessert grab a scoop or two from this longtime favorite spot that is known for its small-batch ice cream. Crowd favorites include Banana Foster and Cookie Monster. If you are craving something besides an ice cream cone they also have ice cream sandwiches, frozen bananas, cupcakes, milkshakes, and sundaes if you are looking to switch up your experience.
South Bay Farmers Markets
Every Tuesday and Saturday, 8 am – 1 pm, the Torrance Farmers' Market sets up shop in Charles H. Wilson Park on Crenshaw Boulevard. There are seasonal produce and pre-made food offerings. If you are there during the summer, the bounty of fresh fruit is reason enough to drop by.
Other notable markets in the area include the Manhattan Beach Farmers' Market (Tuesdays from 11 am – 3 pm) and the Palos Verdes Farmers' Market (Sundays, 8 am – 1 pm).
Bruce's Beach
One of the city's oldest parks, this beach is a few minutes from the ocean and is a great spot to have an outdoor meal with plenty of picnic areas. It also has a significant history from its early years as it was a beach club that allowed African-Americans access to the ocean in the racially segregated early 1900s. It was eventually turned into a city park in the 1960s.
El Porto Beach
A little bit north of Bruce Beach is the beach town of El Porto located in northern Manhattan Beach and this picturesque beach. The surf is a local favorite with surfers and bodyboarders since it's considered to be consistent, with larger waves than the main beach due to an underwater canyon. Parking can get a little chaotic and is limited, so come early.
Manhattan Beach Art Center
This small art center offers free admission with intriguing rotating exhibits, as well as community art classes and special events. It's located on the main thoroughfare and a great place to escape the bustle of downtown. There's free parking in the back or on the surrounding streets.
Manhattan Beach Botanical Gardens

Located within Polliwog Park (the largest park in the city), this blink-and-you'll-miss-it garden is a relaxing place to get away from the crowds of the pier. The lovely park features California native plants, including those that are drought tolerant and thrive in a Mediterranean climate. Admission is free.
Hermosa Beach Pier
This unassuming pier is where they filmed the pier scene from LaLa Land (the streetlights were part of Hollywood magic). Park in one of the public lots near the beach right before sunset and join the locals and visitors as the sun sinks into the Pacific. There is a lively restaurant and bar scene right at the end of the pier, including Playa Hermosa Fish & Oyster for fresh seafood.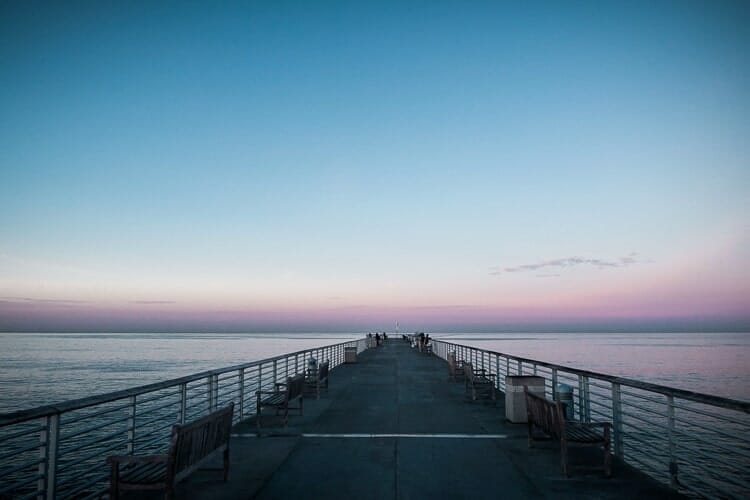 Redondo Beach Pier
Out of the three piers, this one feels the busiest, with restaurants and storefronts crowding the beginning of the pier. It kind of reminded me of Fisherman's Wharf in SF with the bustling atmosphere and seafood restaurants. It's fun to take in the sights, but in my honest opinion, there is better seafood in the South Bay (Ensenada's Surf N Turf Grill for the South Bay's best fish tacos).
Poke Bowls
If you are on the search for poke beyond the trendy chains around Los Angeles, Jus' Poke, a longtime family-owned Redondo Beach spot is the real deal. The fish is impossibly fresh and the family uses recipes from their native Hawaii. I usually keep it simple and get the shoyu poke with a side of brown rice and seaweed salad. Ali'i Fish Company is also a great option for poke, with fish flown in daily from the Honolulu Fish Auction. There are branches in El Segundo and Torrance.
Tokyo Central
Nijiya and Mitsuwa are popular Japanese supermarket chains around Los Angeles, but Tokyo Central in Gardena is on a whole other level. There is an extensive pre-made food section, a large mochi selection, all the Pocky and Japanese snacks you can dream of, as well as fresh produce and a large upper section for home/clothing items.
Sakae Sushi
One of my favorite discoveries of this trip was this tiny (but mighty) sushi shop that churns out the most beautiful sushi lunch boxes that are wrapped like presents. The thing that makes the sushi stand out is the rice, which is perfectly seasoned and melts in your mouth. Make sure to call ahead since they tend to sell out early and bring cash.
Open Wednesday-Sunday 9 am-4 pm. Closed on Mondays and Tuesdays.
Torrance Art Museum
This small, excellently curated museum has two galleries filled with contemporary art from around Southern California. The museum is housed in the Torrance Civic Center Campus, the largest art complex in the South Bay. To have a free walkthrough tour, you need to schedule one in advance with a minimum of five people per group. Rotating exhibits are listed here. Admission is free.
Point Vicente Lighthouse
On our way back home, we made a detour to this scenic lookout that includes this historical lighthouse that is rumored to be haunted. The lighthouse is now closed to the public, but walking along the path to the Interpretive Center provides plenty of panoramic views of the lighthouse and the Pacific Ocean.
Wayfarer Chapel
Known also as the Glass Church, this stunning landmark designed by Lloyd Wright (son of famed architect Frank Lloyd Wright) is nestled among the redwood trees. It's constructed out of large portions of glass that give uninterpreted views of the surrounding seaside cliffs.
The church is dedicated to Emanuel Swedenborg, who used his pursuit of scientific knowledge to help him understand Christianity.
The Chapel and grounds are open 9 am-5 pm. If the chapel is being used for a private event, it's closed to the public, but the grounds are still open.
Palos Verdes Peninsula
With stunning coastal views that rival those of Malibu, drive along Palos Verdes Drive from Torrance Beach to White Point Beach. There are plenty of spots to pull off and take in the view or go on a hike along one of the many seaside trails. Check out this post for the best hikes in the area.
South Coast Botanic Garden
With 87 acres of gardens in the scenic Palos Verdes Hills, this outdoor space is a great spot to get some fresh sea air and enjoy the extensive flora collection. This botanical garden is one of the first to be built over a sanitary landfill. Highlights include the Japanese Garden, Mediterranean Garden, Rose Garden, and Tropical Display Greenhouse. General admission is $15 for adults and every third Tuesday of the month is free.
Porsche Experience Center
For those who want to see what it feels like to slip into a luxury vehicle and drive it around the safe confines of a 53-acre driving development course in Carson, this experience center will fulfill your curiosity. The driving course has sections like the 1.3-mile handling circuit where a driver can practice on a realistic windy country road. All sessions are with an experienced driving instructor. There are also simulator experiences and a young driver's academy.
Korean Bell of Friendship
Located in San Pedro's Angel Gate Park, this massive bronze bell was gifted to the U.S. from South Korea as a symbol of friendship between the two countries. It was declared a Los Angeles Historical-Cultural Mounument in 1978. The bell is rung thirteen times on the first Saturday of the month at 11:30 am, as well as on American and Korean holidays. The pavilion that houses the bell is called the Belfry of Friendship and was built by South Korean craftsmen.
Whale Watching
Between December through April, gray whales migrate from Alaska to the warmer waters of Baja and it is a treat to see these majestic mammals in action. Most tours are around two hours and include sightings of orcas, blue whales (summertime), and bottlenose and common dolphins depending on the time of year. The San Pedro Harbor is one of the best places in the South Bay to book a whale-watching cruise, as well as nearby Long Beach.
Photo resources: The Strand, Bruce's Beach, Point Vicente Lighthouse, Wayfarers Chapel