Krakow is a city that is magical to visit no mater the time of year. I may be biased because I studied abroad there, but it feels like stepping into a real-life fairytale with the historic Main Square and the nearby Wawel castle on a hill. Of course history is not the only highlight of this vibrant city, where you can spend the night exploring the trendy bars of Kazimieriz or the revitalized neighborhood of Nowa Huta. It's also a city that is great for visiting whether you are with a group or traveling solo to Krakow. Here's a list of things that will fill 3 days in Krakow, though of course you can always mix and match to cater to your personal needs.
This post contains affiliate links (with no extra cost to you). Thank you for supporting Small World This Is.
3 Days In Krakow
Here's how to spend 3 days in Krakow, stopping at main sights that are mostly within walking distance of each other.
Day 1
Morning
Start your first morning in the stunning Main Square. Your first stop is at Saint Mary's Basilica, where a trumpeter marks every hour from the window of one of the two towers with his melody. The interior is unsurprisingly beautiful, but make sure to not miss climbing to the top and seeing the city and the Main Square from above with a separate ticket. The stairs are a bit strenuous if you are in questionable shape like me, but once you see the aerial views of the city, trust me everything else falls away. Please note that a separate photo pass is required to take photos (I learned the hard way).
Afterward, walk around the perimeter of the Main Square, and admire buildings like the historic Cloth Hall in the center.
Late Morning
Collegium Maius, Jagiellonian's oldest university building is quite stunning, and even more impressive when you learn that alumni include Copernicus (the university was founded in 1364 and is the the oldest one in Poland). Make sure to time your visit with the musical clock that you can watch spring to life every hour in the courtyard. Fun fact: this was my university when I studied abroad in Krakow, and will always have a special place in my heart. I'm still in disbelief that I got to attend class in beautiful buildings like Collegium Novum (New College).
Afternoon
Spend a few hours touring Wawel, the impressive home of former Polish royalty. The Wawel Royal Castle and Wawel Cathedral are two separate areas to visit on the property. A visit to Wawel  is not complete without a visit to the Dragon's Den. Just look for the signs and head into the underground cave where the city's unofficial mascot is rumored to live.
Evening
Kino Pod Baranami,  a small independent cinema in the Main Square is one of my favorites in Krakow, and is always showing movies in English (including Polish ones with English subtitles). One of my go-to activities on a colder night is to get snacks at a nearby Carrefour Express and catch a late night screening in this historic residence transformed into a movie theater. It can be hard to find, since the entrance looks like a traditional apartment with a large wooden door.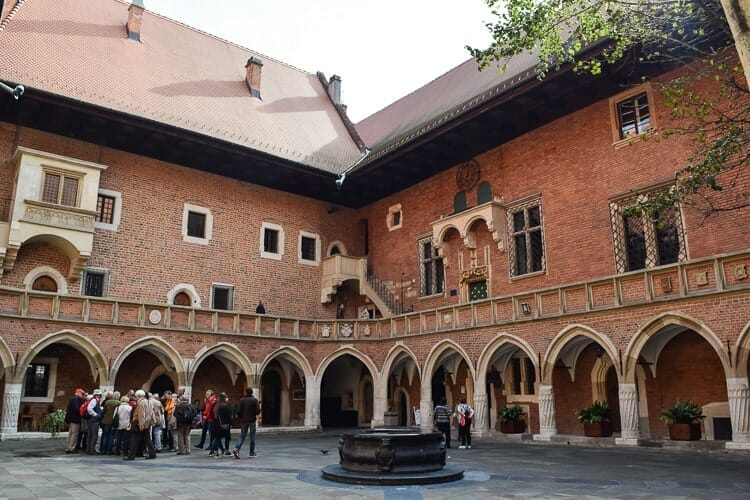 Day 2
Morning
Take a tour of Schindler's Factory, where they filmed the award-winning movie and have now turned the buildings into a museum. The factory is located near the former Krakow Ghetto during World War II and was the hiding place of many Jews who were able to escape the Nazis. You can either take a guided tour or do an individual tour.
Afternoon
Head over to Kazimierz, the Old Jewish Quarter of Krakow, which is filled with a rich, but dark history. Stop by the Galicia Jewish Museum to view evocative exhibits that represent the past and present Jewish presence in this area of the city. Afterward, make sure to also check out Remuh Synagogue, one of two active synagogues in the city and the adjacent Remuh Cemetery, which is the final resting place of many notable Polish Jews.
Evening
Once nighttime falls, head over to Hamsa, for delicious Middle Eastern food, including their popular humus platters and beautiful decor. Now that you've had some food, meander out to one of the many chill bar/cafe hybrids. Moody Alchemia and Singer with old sewing machines at the tables, are good places to start. For late night munchies, make sure to stop at Plac Nowy for the carb-heavy zapiekanka (a large halved baguette topped with cheese and other toppings) at Endzior.
Day 3
Morning to Evening
Auschwitz is located in the town of Oswiecim, about an hour from Krakow and the remains of this former concentration camp should not be overlooked. It's sobering to say the least, but the tours are very informative and help visitors understand the different factors that contributed to such a unfathomable time in history. Give yourself a day to visit, whether you take the train in by yourself or go with a private tour that can pick you up right at your hotel.
Alternative Sights For 3 Days In Krakow

Cafes-Krakow is known for its cafe culture, and are ideal spots for not only a wide selection of drinks, but also if you're looking for good places to eat in Krakow. Cafes are ideal for spending a few hours lost in a book or chatting with friends in the usually spacious interiors. For brunch, Cafe Camelot is a solid choice with its delicious French toast and a cozy multi-roomed interior. Cafe Botanica is a personal favorite, where you can get a delicious panini and find a seat among the greenery.
Murals-Krakow has its fair share of street art worth checking out, where entire sides of buildings are covered with vibrant murals. Don't miss M-City 658 (Krupnicza 26) created by Mariusz "M-City" Waras, one of Poland's most recognized street artists. For a guide to some of the city's best murals, check out this Krakow mural guide.
Walking Tours-there are plenty of tours around the city (just look for the ubiquitous golf carts), but the Free Walking Tour company is a personal favorite that has several excellent walking tours around the city. I took the Macabre nighttime tour and was highly entertained, and learned a lot from our engaging guide. There are also paid tours like the food tour which is next on my list.
Nowa Huta-this once Communist-ruled neighborhood is experiencing a rebirth, and quickly becoming an exciting place to visit with microbreweries located in warehouses and hip cafes. The historical sights are also worth stopping by like the Plac Centralny with the looming statue of Lenin in mid-stride. Visit the Museum of Poland Under Communist Regime, before heading down the main thoroughfare of Roses Avenue to the Nowa Huta Museum. The Lord's Ark is a church worth stopping by to see the first place of worship that was built in this neighborhood. Head to Restauracja Stylowa, for a sample of 1970s Krakow from the food to the decor. For an excellent private tour of Nowa Huta, look into Crazy Guides.
Planty-the green park that encircles the entire Main Square is a great place to escape the crowds for a bit. Buy an obwarzanek (a cross between a bagel and a pretzel) from a vender nearby, grab a seat on a park bench and spend an hour or two people-watching. The are plenty of historical sights along the way, including the Barbican, a historic gateway that once lead into the Old Town via St. Florian's Gate.
Wisla River pathway-take a walk along the banks of this river that includes beautiful views of Wawel and the city. This path along the river is also popular with cyclists and visitors can rent bikes in Krakow for the day. Make your way to the Father Bernatek Pedestrian Bridge, which was built in 2010 and links Kazimieriz to the neighborhood of Podgórze. You'll notice there are many locks attached to the bridge's wires and legend has it that when couples put a lock with their names on it and throw away the key, their love will last forever (or something like that).
Salt Mines – if you are spending another day or two in Krakow, definitely consider this fascinating sodium-centric spot that is about a twenty minute taxi ride outside of the city. One of the many highlights is the impressive St. Kinga's Chapel. Note that similar to the St. Mary's Basilica, a photo pass is a separate ticket.
The Best Time To Visit Krakow
The summer time can be hot and is not ideal to go if you're crowd-adverse. That being said mid-September through October is a good time to visit with mild temperatures right before the freezing winter weather settles in. If you don't mind braving the cold, December can be a fun time to visit, since Krakow doesn't hold back when it comes to Christmas festivities.
Getting To Krakow
There are several ways to get to Krakow. I usually fly into Warsaw if I'm coming from abroad since it's cheaper, and then either take a cheap LOT flight to Krakow or if I have more time take the train (around 2 hours). If you are taking the train from Warsaw, you'll have to take the subway to the train station in the city center, which can be confusing. There are also buses that go from Warsaw to Krakow, which are the cheapest option, but will take about 8 hours. Of course if you want to fly straight to Krakow, you can go directly.
Getting Around Krakow
The beauty of Krakow is that most of the sights are within walking distance of each other. The Main Square is about a 20-minute walk from the main train station. From the airport, there is a tram that connects to the train station. To reach further flung neighborhoods, there is a solid network of tram and buses to get you where you need to be. I didn't know this until my cousin pointed it out, but you can actually buy train tickets in the covered underpass with all the shops on the way to the mall from the Main Square (versus going all the way to the main train station). Coming from the Main Square, enter the underpass and turn right where you'll see a small ticket window labeled "kasa."
Where To Stay In Krakow

Staying within walking distance to the Main Square is ideal, and there are plenty of choices at reasonable prices for your 3 days in Krakow. Depending where you're coming from luxury hotels in Krakow tend to be much cheaper, especially if you are coming from places like Western Europe or the U.S.
Right in the heart of the city center, this luxury hotel is in a great location being right across the street from the Old Town, and a short distance to popular sights like Wawel Castle. There are two restaurants available on-site, which offers breakfast for an additional fee. Rooms are modern and have all the creature comforts of home.
Check out reviews on TripAdvisor | Book your stay on Booking.com
This five-star hotel is conveniently located steps from the Old Town, and the Planty, the city park that surrounds the Main Square. An airport shuttle is available, that brings guests to their departure gates with a quick 20-minute ride. Friendly staff, a well-stocked restaurant/bar, and spotless rooms make a memorable stay.
Check out reviews on TripAdvisor | Book your stay on Booking.com
A quick walk from the Main Square and Wawel Castle, this beautiful luxury 5-star hotel blends historical and modern decor effortlessly, and provides amenities like an indoor pool located in an underground vault. On property there's a restaurant/bar, a full-service spa, and rooftop terrace for guest to enjoy.
Check out reviews on TripAdvisor | Book your stay on Booking.com
What would be on your itinerary for 3 days in Krakow?
Save
Save
Save
Save
Save
Save
Save
Save
Save
Save
Save
Save
Save
Save
Save
Save
Save
Save
Save