As Turkey's third largest city, Izmir has a lot going for it within the city limits. Whether you want to enjoy a Turkish coffee by the sea, or explore historical ruins, this city offers a little of something for everyone. Izmir is noticeably more laid-back than its northern neighbor Istanbul, where slowing down and enjoying life is key. It's also a pretty liberal city in terms of religious beliefs, and it's quite common to see women wearing tank tops and shorts, and men wearing t-shirts and shorts. Here are the best things to do in Izmir that should be on your itinerary.
This post contains affiliate links (with no extra cost to you). Thank you for supporting Small World This Is.
Weather In Izmir
Weather-wise Izmir has a Mediterranean climate with mild, rainy winters, and hot, dry summers. The summers can reach triple digits, and the best time to visit is during September and October when it cools down a bit, but the weather is still warm and the rain is minimal.
How to Get Around Izmir

Izmir has an extensive transportation system, which includes a wide-reaching bus network, a metro that goes all the way to the airport and costs a flat rate no matter where you go, and ferries that are an easy and scenic way to get across the city. There are also dolmuş (shared vans) that are a cheap and common way to travel.
Kordon
No trip to Izmir is complete without walking along this waterfront promenade that is at the heart of the city, and goes through Alsancak and Konak. There are tons of cafes and restaurants along the waterfront, but they are often more touristy than not. If you walk inland a bit further, there are better options. At sunset, buy some nuts or boiled corn from the vendors and join families and couples picnicking on the grass as the sun sets into the Aegean.
Kibris Sehitleri
A quick walk from the kordon is Alsancak's main street Kibris Sehitleri, filled with sit-down restaurants, shops, kebab cafes and tons of English language schools (including the one I use to teach at!). For nightlife, Gazi Kadinlar Sokagi right off this main thoroughfare comes to life with numerous sidewalk bars and dance clubs that are open well into the early morning. If you want to be in the middle of the action, this is where you should go.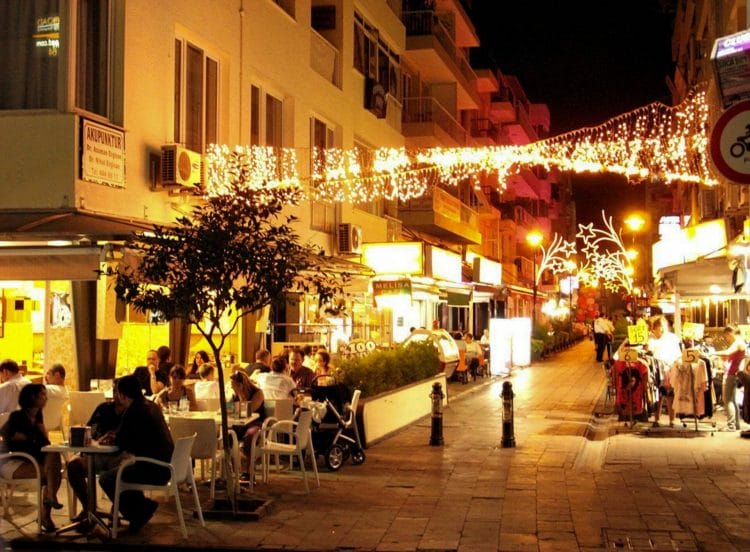 Archeology Museum
This museum is worth stopping by if you are interested in local historical artifacts. Highlights include bronze statues, ancient pottery, and gold jewelry from the time Izmir was Smyrna when it was founded by the Greeks to the Ottoman era. The museum is located a short walk up a hill from Konak Square.
Konak Square
Make your way to Konak Square where the famous clock tower is located. This iconic sight is decorated in elaborate Ottoman-style architecture and gifted to the city from Germany in 1901. Buy a simit from a local vendor (with or without white cheese) and take a seat on one of the benches and enjoy one of the prime people-watching spots in the city, due to the never-ending crowds coming from the nearby Konak ferry port and government buildings.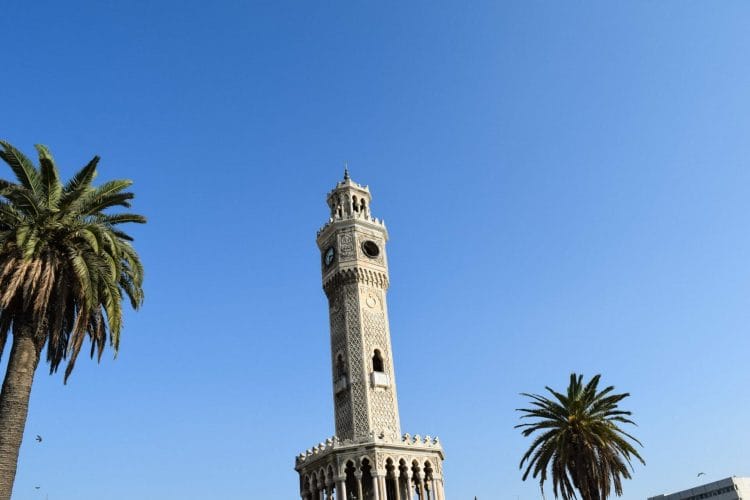 Agora
These historical ruins date back to the 4th century BC, when it was a bustling marketplace. It was destroyed in an earthquake in 178 AD, but rebuilt by Roman emperor Marcus Aurelius. The cisterns and vaulted ceilings in the basements of the ruins allow for visitors to picture what the structure looked like in its prime. Fun fact: it's still currently an active archeological sight.
Kemeralti Bazaar
if you want to see where the locals go shopping, head to this impressive marketplace, and get lost in the maze of side streets. This market is one of the city's oldest, and has a little of everything from dried fruit to discount clothing. There are also plenty of cafes where you can stop for a strong cup of Turkish coffee, or kebab spots where you can refuel after shopping.
Bornova
With Ege University nearby, this area has a lively feel with the bars, cafes and restaurants within the main area of Kucuk Park. If you're looking for some serious shopping, Forum Bornova, is a beautiful outdoor mall to walk around, with plenty of Turkish and international stores. Head to Leman Kültür nearby for an extensive menu of international and local eats and colorful decor.
Bostanli
Venture a bit further from the city center to this lively, seaside neighborhood. Catch a ride on a ferry during sunset, from Alsancak or Konak, and start your evening at one of the many casual restaurants (try Kofteci Remzi for kebabs). Afterward, head to one of the numerous coffee shops (La Puerta for a unique travel-themed bar), where you can sit back with an ice cold Efes.
Ataturk Museum
Learn more about the significance of one of the country's most beloved leaders, Ataturk, through this informative museum. Located in Alsancak, in a restored waterfront mansion that was built in 1880, this building was once home to Ataturk on and off from 1923-1934. Highlights include, Ataturk's clothing, books, furniture, and other miscellaneous items. The museum is pretty small and an hour is plenty of time to see everything. Admission is free.
Asansor

Located in Karatas (Old Jewish Quarter), this historical elevator is worth visiting for the stunning panoramic view of the city and bay from the top. The elevator was built by a wealthy Jewish banker in 1907 who wanted to create easier access from the neighborhood's seaside area to its hillside. There's a popular restaurant/cafe that is an ideal place to get a hot cup of tea or coffee. The actual menu can be hit or miss. Free admission.
Where to eat in Izmir
For where to find the best kebabs and coffee shops, check out my Where To Eat In Izmir post.
Where to stay in Izmir
The best place to stay is in the city center which will give you easy access to major sights including the kordon (waterfront) and Cumhuriyet Boulvard. Alsancak and Konak are both central neighborhoods that have many great lodging options that won't break the bank, including luxury hotels that often are cheaper depending on the exchange rate.
Centrally located, this hotel is a mere 150-feet away from the Alsancak Izban Train Station, which provides a direct line to the city's airport. The rooms are spotless and modern. The location is a quick walk to many bars, restaurants and the waterfront in the city center. A buffet breakfast is available for an extra charge.
Located in Konak, this luxury hotel has plentiful amenities including a full-service spa with an indoor swimming pool and gym with a view of the city, a restaurant/bakery, and a rooftop bar. The surrounding neighborhood has excellent coffee shops and restaurants to take advantage of.
A five-star hotel located in Konak that has everything at your fingertips, from an indoor and outdoor pool, three restaurants, nightclub, rooftop terrace, and a full-service spa. The waterfront is just minutes from the hotel, as well as excellent restaurants and cafes. An impressive breakfast buffet is available for an extra cost.
Have you been to Izmir? What were your favorite sights?
Photo source: Kibris Sehitleri