Alameda is an island city that is adjacent to Oakland, but has less of a city feel and more of a large town vibe going on. Historically, it used to be a naval base, but now it's a thriving community that has plenty to do and notable places to eat. It has an easily walkable downtown core and a beach that boasts panoramic views of the Bay and the San Francisco skyline. It serves as the ideal getaway in the East Bay, when you want to slow down and embrace the local laid-back pace of the island. Here are seven noteworthy things to do in Alameda.
Best Things To Do In Alameda
2nd Friday Art Walk
Running for a decade in various guises, this art walk features art galleries and business through downtown Alameda and Jingletown in neighboring Oakland, every second Friday of the month. The owners of Studio 23, a funky local art studio are the head organizers of the walk, and their gallery is always guaranteed to have something going on these Friday nights as well as other nights as well. Check the official website for a line-up of participants and hours of operation. Admission is free, but donations are recommended.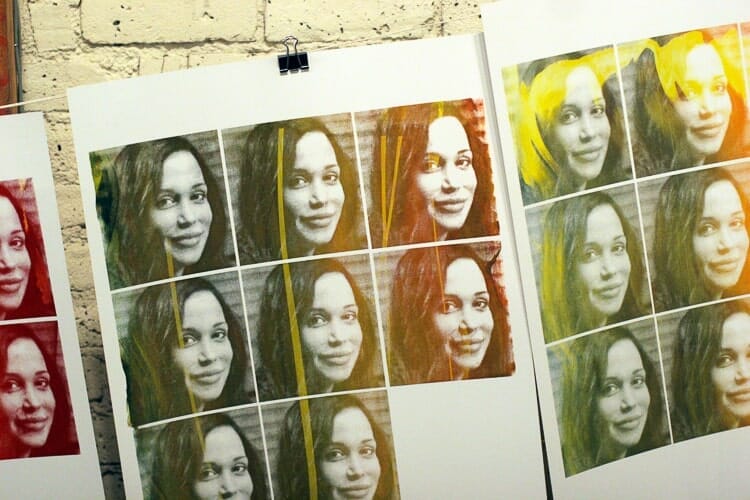 Crown Memorial State Beach
One of the best things about Alameda is that its mild temperatures are ideal for a beach day. This state park boast views of San Francisco and the Bay on a clear day. With its coarse sand, Crown Beach is by no means a perfect beach, but is desirable with a low tide and family-friendly atmosphere. There is a whole stretch of the beach that is dedicated to kite surfers and it's always fun to watch them do their thing.
Get there early in the morning if you want to stake out prime real estate, especially on warm weekend days. There are public restrooms and picnic tables available as well. Parking costs $5, but if you come early enough you can always find nearby (free) street parking.
USS Hornet Museum
Tour this naval aircraft carrier-turned-museum to learn more about the significance of the island as a naval base. There are two rotating galleries on board, as well as permanent exhibits featuring artifacts from life on the ship to historic aircraft located on the flight decks. Take a tour of the restored spaces where you can find living and working quarters reflecting their original condition. Most of the ship is self-guided with an audio tour and map, but there are certain areas like the Engine Room, that provide a guided tour depending on availability. A visit usually takes 2-3 hours on average. Open daily, except Tuesdays from 10-5 p.m., which is when a 6-hour behind-the-scenes VIP tour is given of the ship.
Pacific Pinball Museum
This space offers a chronological selection of pinball machines, from antique 1940s-50s games you can try your luck at to modern-day games with all the bells and whistles. Don't let the small interior fool you, since the museum consists of two larger rooms and three smaller ones filled with pinball machines (a total of 90+ playable games). Play your favorite oldies on one of the coin less jukeboxes for a background soundtrack.
They also have a separate party room, as well as a kids room in the back with coloring books and Legos. Pay $20 for all-day play, including re-entry which allows you to grab a bite around Webster Avenue. Every Tuesday and Thursday it's 2 for $20.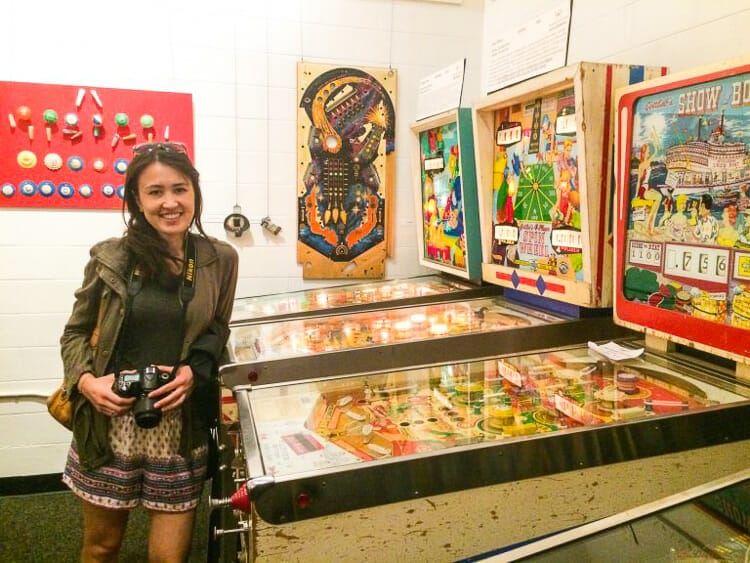 Downtown Alameda

Park Street has plenty of shops, restaurants and cafes to spend half a day meandering though. Some shops worth stopping by are Rocket Reuse for vintage clothes and used books/CDs, Therapy for gifts and novelty items, Toy Safari for the kids in your life, Books Inc. for a well-curated collection of books, and Modern Mouse for a stationary store that supports local artists. You can usually find parking in the nearby neighborhoods, where there are plenty of beautiful historic homes to admire. Speisekammer is one of my favorite restaurants right off Park Street that serves up some delicious German food on a spacious, dog-friendly patio (read full review below). 
Alameda Theater & Cineplex
This isn't your typical movie theater, since it's one of the last movie palaces built in the San Francisco Bay Area. Constructed in 1932, this art deco theater shows blockbuster films, including a select few in the beautifully restored main theater. The historical interior is combined with modern-day theater comforts (no hard theater seating). Come on Discount Tuesday for half-priced tickets.
If you want to grab a bite to eat, there's in-theater dining with a full menu available with finger food options like pizza, chicken tenders and sliders. There is also an extensive drink menu that includes beer, wine and cocktails. Check out the official website for special events like summer and classic movie series.
High Scores Arcade
This "interactive arcade museum," is filled with classic video games from the 80s and 90s like Ms. Pac-Man, Donkey Kong, and Frogger. There are 45 game cabinets that feature over 400 games. This is a great place to spend a nostalgia-filled afternoon, where you can pay $12 for unlimited games for the day, while listening to 70s and 80s hits playing on the jukebox. If you just want to sample the games, you can pay $6/per hour to play. Make sure to check out the  scoreboard to see the scores you need to beat to get a coveted spot. There's only street parking available, including metered parking that's free after 6 p.m.
Alameda Point Antiques Fair
The largest antique show in Northern California, this fair features over 800 booths. Admission ranges from $5-$15 dollars, depending on the time you go (the earlier you go the more it costs, but the better selection you'll have). The benefit of going later in the day is that vendors will often give you an end-of-the-day discount. You can find anything including vintage home decor, art, jewelry, and collectables. Food trucks and vendors give you plenty of options to stay well-fed and hydrated. Bring cash since most of the vendors don't accept credit cards. Be prepared to spend at least a few hours browsing the goods. There's free parking and a shuttle to the fair. Open every first Sunday of the month.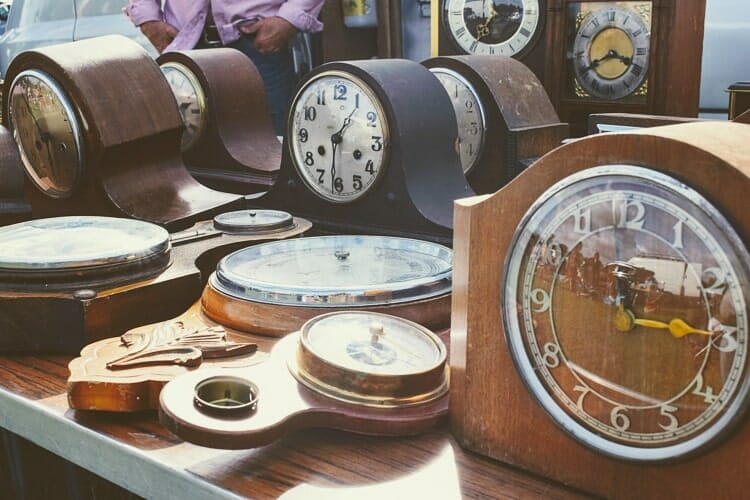 Alameda Restaurants
Alameda may have a small town feel, but it doesn't lack in diversity when it comes to restaurants, whether you're craving a kebab plate or hearty German comfort food. Most of the restaurants are located on Park Street, that stretches on for a few blocks. The are also a few spots located on Webster Street in West Alameda, an area that is worth venturing away from the main downtown area to explore. Here are some Alameda restaurants that are worth checking out.
Speisekammer
One of my favorite spots to go in Alameda. There's a large dog-friendly patio, where you're bound to see quite a few pups and their owners on a sunny day. Traditional German dishes abound on the dinner menu, whether you are craving grilled bratwurst with sauerkraut or wiener schnitzel that is served up with a hearty side of roasted potatoes. To balance it all out order the trio of German salads, which include shredded cabbage, dill cucumbers, pickled red beet, and marinated red carrot. If you want the sausages and wiener schnitzel in sandwich form, the lunch menu has a great selection of sandwiches and burgers. There is a full bar on site and the drink menu has something for every taste, whether you want a classic German beer, cider, wine or a cocktail.
Island Taqueria
Located on busy Park Street, this casual family-owned Mexican spot is great for a quick meal. The menu offers dishes that are incredibly fresh and flavorful, including options like giant steak burritos, an array of enchiladas, and complete meals like their carnitas plate. If you want something a bit lighter, they have tacos with meats ranging from ground beef to carne asada. Make sure to order a side of their guacamole to dip your complementary chips into, which is always freshly made. Closed on Sundays.
Abigail's Moroccan Cuisine
Located off the beaten path, this spot boasts a patio with a view of the San Francisco skyline and the Bay on a clear day. The interior is decorated with vibrant colors and offers a casual, but lively atmosphere. The stars of the menu are the kefta (spiced meatballs), Moroccan chicken with lemon and olives, and lamb with couscous. End the evening with a cup of mint tea and Moroccan pastries. On Saturday nights, there's bellying dancing and a $25 pre-fixe menu, so make sure to make a reservation ahead of time.
Julie's Coffee & Tea Garden
If you're looking for a non-chain cafe with excellent coffee and tea, this place should be on your short list. For tea enthusiasts there's an extensive tea wall with all the flavors you could ever dream of and then some. If you want something a bit different, the Mexican hot chocolate offers a perfect balance of sweet and spicy. There's an outdoor patio that is ideal for those mild East Bay days and is a great spot to get some work done (no laptop on weekends until 2 pm though). This cafe also has a great selection of food, including baked eggs and their homemade scones.
Mosley's Cafe
For a bit of quiet away from the bustle of Park Street, this waterfront cafe is a great place to grab a bite with a view of the Marina. The cafe specializes in a menu using local and natural ingredients, offering sandwiches, crepes, and an assortment of sweet and savory baked goods, including gluten-free options. There are also breakfast choices like the three-egg scramble and cinnamon french toast for early risers. Local Bicycle Coffee from neighboring Oakland is also available.
Forbidden Island Tiki Lounge
Fitting for this city island, this tiki bar does not skimp on atmosphere or its impressive list of cocktails. Choose your poison from either the Golden Age (pre-1960s) if you're feeling especially nostalgic, and get a drink like the dangerously deceiving 151 Swizzle. For a taste of modern times, try the Planet of the Apes, a creamy concoction that blends fresh banana, coconut, cream and rum. If you come with a group, the Virgin Sacrifice pulls out all the theatrical stops. If you want to go the classic route, the bar's signature drink: the Forbidden Island, comes in a kitschy mug. The drinks are the main star, but they do have a small selection of bar bites like coconut shrimp and boneless chicken wings to soak up all that booze. There limited seating, so get there early.
East Ocean Seafood Restaurant
If you're craving dim sum, there's no need to leave the island and go to Oakland to get your fix. The pushcarts rolling by have all the basics including shrimp dumplings, egg tarts, and shu mai, and you can also order from a la carte menu like the salted fish and chicken fried rice. This restaurant is a great place to go with a group, where you can sample their extensive menu together. The dinning area is massive, so the wait on the weekend is not as painful as smaller dim sum spots, but it is still advised to get there on the early side.
Q Halal's Chicken
For solid, affordable Mediterranean food, this is the place to go in Alameda. There are plenty of kebab plates with your choice of meat (get the chicken), and falafel for those that prefer a delicious non-meat alternative. All the plates come with salad, rice, pita, and a few dipping sauces and are big enough to bring home leftovers. There are also gyro wraps that are filled with generous portions of fragrant lamb and beef slices. If you want to try something a bit different, the gyro Philly wrap comes with mayo, bell peppers, and Swiss cheese-a twist on the Philly classic sandwich. If it's warm outside, grab a seat on their spacious patio.
Getting to Alameda
There is no Alameda BART that goes directly to the city, but you can take the BART to Oakland and then take a ride share or a bus to the island. There is also the San Francisco Bay Ferry that you can take from the Ferry Building or Pier 41, which drops you off on Main Street in Alameda. Check out the Alameda ferry schedule here. From there you can take a ride share to anywhere on the island. If you're driving to Alameda, it's about a 30-minute drive over the Bay Bridge, depending on traffic.
What are your favorite things to do in Alameda?
Photo source: Art Walk, Alameda Theater, USS Hornet