It has been exactly one year since we moved from Northern California down to Southern California. It hard to believe that we've been here an entire year in Orange County. It was no surprise that I quickly embraced the Southern Californian lifestyle. Warmer weather, access to a stunning coastline and a generally more laid-back culture all around. One of my favorite places to escape to on the weekend is Dana Point, which is located right under Laguna Beach and usually less crowded. Here are some of my favorite things to do in Dana Point, whether you are there for the weekend or just a day.
Top Things To Do In Dana Point
From stunning ocean views atop seaside cliffs to learning about local conservation, plenty of adventures await in this scenic Orange County city.
Dana Point Harbor
Start your day at the lively waterfront, where you can park for free in the spacious lot for a few hours. There's plenty to do, from browsing the boutique shops to partaking in outdoor water activities like kayaking or paddle boarding. One of my favorite things to do is walk along the harbor and check out all the sailboats and the occasional yacht.
For water adventures further afield, there is whale watching and taking the ferry over to Catalina Island.
Baby Beach
This beach is very family-friendly with warm, calm waters and is centrally located next to the harbor. There is a small free parking lot next to the beach itself, but I usually walk from Dana Harbor main parking lot, since it makes for a nice walk. There are also clean showers and restroom facilities as well. Adjacent to Baby Beach, is a little park to have a picnic or just take a breather with some prime views of the harbor.
Ocean Institute
Located next to Baby Beach, this educational organization is an interesting place to stop by to learn about ocean science and local maritime history. The Ocean Institute offers weekday tours  as well as admission on the weekend to walk around the institute and check out the different exhibits. For those who want to experience the sea close up, there are tallship sails where you can board a replica of a 1770s ship used during the American Revolution. Cruises are offered as well including the bioluminescence night cruise where you can see the ocean come alive at night.
Dana Cove Park
Past the Ocean Institute sits this more remote beach that you will find at the bottom of a staircase of concrete steps. The dramatic cliffs that frame the beach make it one of my favorite spots in Dana Point. Sometimes people will be taking wedding photos, sometimes you will have this place almost all to yourself depending on the day and time. If you want a bit of adventure, make your way to the other end of the beach, where you can explore the Dana Point Sea Cave when the tide is low. Make sure to bring sturdy shoes since the pathway can get quite rocky.
Dana Point Headlands Conservation Area
High up on the cliffs above Dana Cove Park is this beautiful wildlife area where if you are lucky can spot a whale or two in the distance. There is an easy hiking trail loop that zigzags through wildflowers and native plants. There are actually four conservation parks that this area is comprised of: Dana Point Preserve, South Stands Conservation Park, Harbor Point Conservation Park, and Hilltop Conservation Park. Stop by the Dana Point Nature Interpretive Center, where you can learn more about the area, as well as join a nature walk.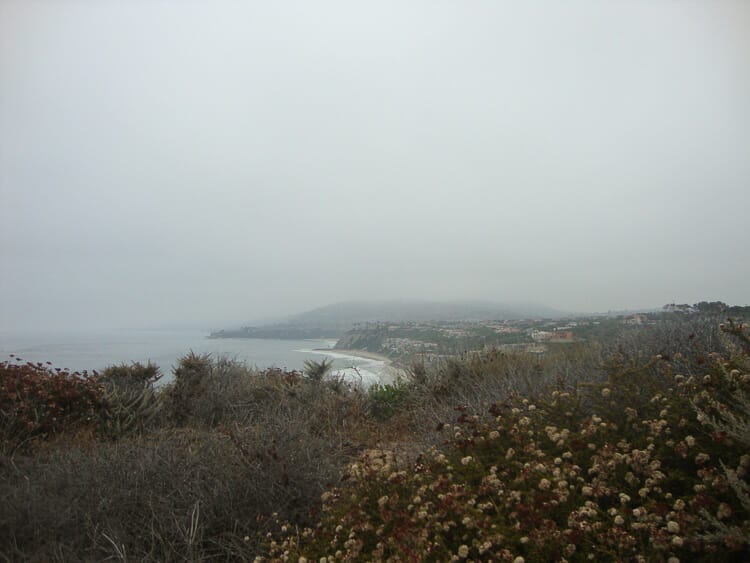 Dorris Walker Overlook

There are many overlooks throughout Dana Point, but this one is the most popular, with its wide platform. It is located in Heritage Park, which is a lovely hilly park that is great for a picnic or just walking through with plenty of friendly dog sightings. It is also fun to walk around the neighborhood and look at the architecture of the different homes and the historic lanterns. My favorite is the "pirate house" one street over on Santa Clara Ave, which looks right outside of a movie and goes all out during Halloween.

Dana Point Arches (Bluff Top Trail)

One of my favorite things to do in Dana Point is this overlook at this historic sight, which has the remains of the Dana Point Inn. It provides walkways that offer stunning views of the harbor and ocean far beyond. Go during sunset when everything is golden. Continue on the Bluff Top Trail, with the blooming bougainvilleas along the walls and be rewarded with another lookout point at the end.
Salt Creek Beach
This popular surf spot is a great place to spend a few hours sunbathing or wading in the surf. It's quite clean and there are plenty of restrooms available. There is also a spacious grassy area to laid out on as well. Parking is plentiful and cost $1/per hour. There is a bit of a hike to and from the beach, but there is a beach shuttle for $1 that you can take if you get tired. If you want to get a few steps in before, the Salt Creek Trail starts at the Street of the Golden Lantern and ends at the beach.

Dana Wharf Whale Watching
The coast of Dana Point is a prime spot for whale watching, where you can Join this local company, which is one of the top-rated with its an engaging crew, free parking and a return ticket if you do not see any whales or dolphins. The most popular tour is two-hours long and open to all ages. Spot Gray Whales during the colder months and the larger Blue Whales in the summertime. Save on Half-Off Tuesdays, if you are around the area earlier in the week.
Dana Point Restaurants
Shwack Beach Grill – one of my favorite local spots to grab a turkey burger (topped with a delicious cranberry and apple compote). The interior has laid-back surf shack vibes and has both indoor and outdoor, pup-friendly seating. The menu is quite extensive and includes breakfast, salads, tacos and plenty of beers on tap.
Kawamata Seafood – if you're craving fresh poke that rivals what you can find in Hawaii. Order one of the reasonably priced bowls where you can choose from ahi tuna, salmon, octopus or a combo of the three. Make sure to also grab a spam musubi for extra protein.
Lupe's Mexican Eatery – for solid burritos (get the surf and turf) and tacos (al pastor), make sure to stop by this popular quick service spot.
Central Kitchen – for something a bit fancier, head over to this local favorite for jumbo crabcakes and baby back ribs. Don't miss the butter cake with vanilla bean ice cream if you still have room.
Where exactly is Dana Point?
It is located about twenty minutes south from downtown Laguna Beach and about ten minutes north of San Clemente. It is about an hour from San Diego, and makes for a scenic trip up the coast. Fun fact: it is the official end of the Pacific Coast Highway! Start at Malibu and drive down the coast all the way to Dana Point for a day road trip that is not short of stunning views.
The Best Time To Visit Dana Point
Dana Point has an ideal climate being on the coast. It can get hot during the summer, but with the sea breeze it's definitely more tolerable than inland. September through October are the warmest months, when California has its second (blazing hot) summer. During the winter there are less crowds, but there is also the occasional rain storm that you need to keep your eye out for and it can cool down considerably so bring a jacket.
Things To Do Near Dana Point
If you want to explore the region surrounding Dana Point in South Orange County, there is plenty to do.
San Juan Capistrano – a historic town that is home to Los Rios, the site of California's oldest residential neighborhood.
1000 Steps Beach – located in neighboring Laguna, this public beach gives you your daily workout with a view. Thankfully the steps are 225 instead of 1000, but you will still definitely feel the burn.
San Clemente Pier – make your way along this scenic pier before grabbing some drinks at Fisherman's Restaurant and Bar located at the beginning of the pier and get a front row seat to some of the best ocean views in the area.
Las Ramblas Trail Head – located in San Juan Capistrano, this family-friendly trail allows for stunning views of the valley. The trail is 6 miles, but you can always take one of the shortcuts to shorten the duration.
There you have it, some of the best things to do in Dana Point. Let me know your favorites in the comment section below!
Photo source: Dana Point Headlands, dolphins
Updated: 2/12/21