Now that I live in sunny Southern California, I'm trying to take advantage of all the things to do locally from putting my Disneyland annual pass to good use (my younger self would be so proud) to exploring the stunning beaches along the coast. Living in Orange County, I feel fortunate to live in such a great climate with seemingly endless activities in every direction. It still blows my mind that during the winter I can go to the beach one day and the snow-capped mountains the next. There is such a wonderfully diverse climate in the southern part of the state, including desert landscapes inland. Here's a list of things that should be on everyone's Southern California bucket list.
The Complete Southern California Bucket List
Whether you want to explore nature in all its various guises here in Southern California, or deep dive into local culture,  here's some good places to start your exploration.
Los Angeles
I have a separate LA bucket list so I won't get too detailed, since there are so many places within the city itself to see. One of my favorite places is Griffith Observatory, where you can really see how sprawling the city is. There is also star gazing most nights, where they set up telescopes to see the night sky.
Another personal favorite is during the summer when the Hollywood Forever Cemetery is transformed into an outdoor movie theater showing classic films under the stars. I'm not sure there is a more LA way to celebrate summer.
Malibu
No matter how many times I visit Malibu with its winding Pacific Coast Highway, multi-million dollar beach homes, and pristine beaches, I could never get tired of this stretch of stunning coastline. It feels like miles away from the bustle of Los Angeles, but is only half an hour north.
As far as beaches go, Point Dume is a personal favorite, but El Matador is a close second with its distinct bluffs. Vintage Grocers is a local grocery store that I always make a point at stopping by before heading to the beach for some snacks and drinks.
Huntington Beach
Your first stop in this surf-obsessed beach town should be to catch all the action and watch the surfers riding waves from the iconic Huntington Beach Pier. If you stay until sunset, make sure to come back to the beach to see the pier as a backdrop against a sky filled with vibrant color.
For a bit of local history, learn all about why this town has been nicknamed Surf City, USA, at the International Surfing Museum and view the world's largest surfboard. Head to Pacific City, an open air mall that could not be more Southern Californian, with restaurants and bars that boast views of the ocean across the street.

Newport Beach
One of my favorite things to do on Newport Beach is to hop on the ferry to Balboa Island, and walk around the town with a frozen banana in hand from Sugar 'N Spice. Back on the mainland, there is Newport Beach Pier, which is a bit touristy and I personally prefer Balboa Pier, which is a bit quieter.
For a local adrenaline rush, head to the Wedge, where you can watch surfers ride up to 20 foot waves. It's not Newport Beach without a bit of high-end shopping and prime people watching at Fashion Island.
Laguna Beach
As a major art community, Laguna Beach is home to many notable galleries like the Laguna Art Lounge, and popular summertime festivals like the Sawdust Art & Craft Festival, which displays local art in an outdoor setting. The Laguna Art Museum is worth visiting to view an impressive collection of art from around the state.
Soak in the coastal beauty of the town by heading to Main Beach, just steps away from the city center. For a more remote experience, go to Crystal Cove State Park, and explore hidden coves and vibrant tide pools. Visit the Pacific Marine Mammal Center to encounter sea lions on the mend.
Disneyland
I may be a bit biased since I grew up going to Disneyland, but as a grown woman my love for the Happiest Place on the Earth still runs deep. That being said I also believe that Disneyland is way overpriced now, as well as overcrowded, but it's still worth it if you want to feel a bit of Disney magic for a day.
The newest addition of Galaxy's Edge is also quite impressive, and this is coming from someone who feels indifferent about Star Wars. Disney California Adventure also has improved over the pass decade as it;s host to all the seasonal food festivals, a Pixar-themed boardwalk, and a very festive Cars Land during Halloween.
San Diego
San Diego is a calmer, but still equally beautiful alternative to Los Angeles and is always a spot that tops my Southern California bucket list. I personally think that some of the best beaches after Orange County are here with La Jolla and up in North County like Del Mar. There's also plenty of delicious food, from casual fish tacos stands to the fancier sit-down spots with everything from Japanese to fresh seafood.
Little Italy is a popular neighborhood for going out to get something to eat or drink, and has been built-up rapidly within the past five years. Whatever you do, Balboa Park should be at the top of your list where you can spend at least half a day wandering around the beautiful grounds, and checking out the museums.
Coronado Island
This charming island feels like a world away from San Diego, but is just across the bay. Head to Coronado Beach, where you can take off your shoes and walk along the pristine, gold-flecked sand. Walk around the hotel property and admire its wooden Victorian beach resort style (one of the only surviving examples in the country).
Afterward, wander down Orange Avenue, the main drag where there are one-of-a–kind boutique stores and Clayton's Coffee Shop, where you can get buttery French toast and spicy chorizo breakfast burritos.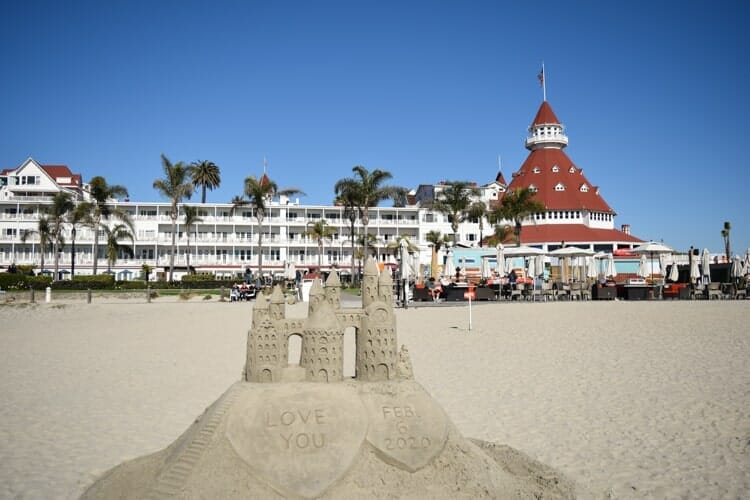 San Diego's North County
North County is a great place to get away from city life and explore the small beach towns that each have their own character. Carlsbad may be known best as the home of LEGOLAND California but there is a lot more to do in this area, including during the springtime the Flower Fields of Carlsbad Ranch boasts 50 acres of vibrant blooms.
Del Mar City Beach is ideal for spending a lazy day on a picturesque beach, where the northern part of the beach is full of some of the happiest dogs in the area playing in the surf. Afterward, head on over to the quaint downtown area where you can get a bite to eat.
Palm Springs
Spend a day cooling off in this glam dessert town at the Arrive Hotel, where anyone can use the pool if you pay a small day fee. Walk along Palm Canyon Drive to browse the art galleries, antique shops, and retro-themed furniture stores, and some prime-people watching.
Hop on the rotating Palm Springs Aerial Tramway to take in panoramic views of Coachella Valley below and hike on the trails once you reach the top. For an excellent introduction to the local architecture, The Modern Tour, is well worth the price tag if you're at all interested in the mid-century modern homes that the area is known for.
Salvation Mountain

Located an hour and half southeast of Palm Springs, is this colorful, art instillation created by the late Leonard Knight. It's rumored that over 100,000 gallons of paint was used to create this religious masterpiece. It's located in the middle of nowhere and is like nothing I've ever seen, and is worth stopping by whether you are religious or not.
Salvation Mountain is located in the middle of seemingly nowhere, with the closest town being Slab City. It can get pretty hot during the summer, since it's in the middle of the desert, so keep that in mind.
Joshua Tree
If there's anything that should be on your Southern California bucket list, this national park should be it. Joshua Tree is such an unexpectedly beautiful part of California, where the rugged landscape often feels more like a remote planet than a desert that is a two hours's drive east from Los Angeles. The best way to experience Joshua Tree is to get out and explore it on your own two feet on the numerous hiking trails of all exercise levels.
There are also various campgrounds throughout the park that you can reserve and let the howls of coyotes lull you to sleep. Visit one of the four visitors centers in Joshua Tree, where you can learn more about specific hiking paths from the park rangers, and use the flush toilets and picnic tables.
Big Bear
The beauty of LA is that you are close to both the beach and the snow-covered mountains. Big Bear, located on the Big Bear Lake is known for its ski resorts like Bear Mountain and Snow Summit. During the summertime, explore the surrounding San Bernardino National Forest, which has plenty of scenic mountain trails to choose from. Castle Rock Trail is another excellent hiking trail that is short and boast spectacular views of the lake. For downtime, Big Bear Lake Village has a main street that is perfect for poking around the shops and getting a bite to eat.
Ventura
This coastal city is an easy hour's drive (without traffic) from LA, and is a great jumping off point for exploring Channel Island National Park, where you can reserve a campsite on one of the five islands under the stars and miles from civilization. To get to islands like Santa Cruz and Anacapa, it's around an hour boat ride from Ventura Harbor.
If you prefer to stay in town, there's plenty to do there from exploring all the shops and restaurants in Downtown Ventura (make sure to also stop at the Ventura City Hall and San Buenaventura Mission) to walking along the lengthy Ventura Pier and popular San Buenaventura State Beach where you can spend the afternoon people watching and soaking in that warm California sun.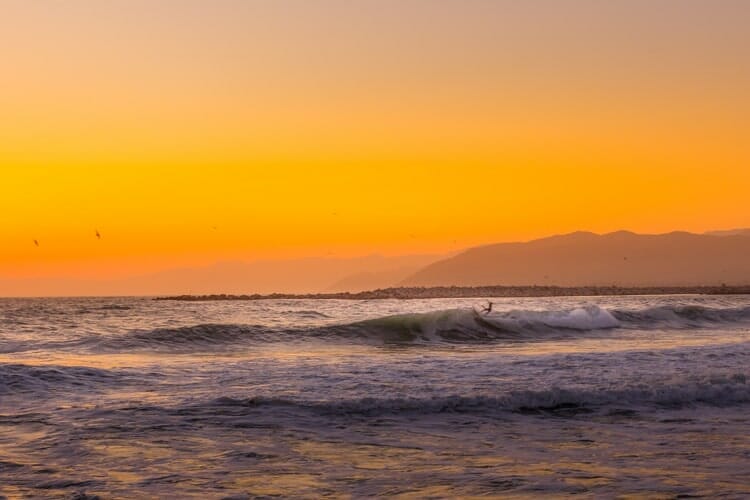 Ojai
For a complete change of pace, head to this close-knit community nestled in between the Topatopa Mountains. With a strong art scene and plenty of New Age-centric shops, the stress of LA will quickly melt away. There are plenty of outdoor activities including the nearby Los Padres National Forest, that offers many hiking trails of all levels including the easy Rose Valley Falls hike that ends at a waterfall.
Take a free tour and tastings at Ojai Olive Oil Co. and sample some of the purest olive oil in the region. To get a historical viewpoint of the area and to experience local artists' work, make your way over to the Ojai Valley Museum of History and Art.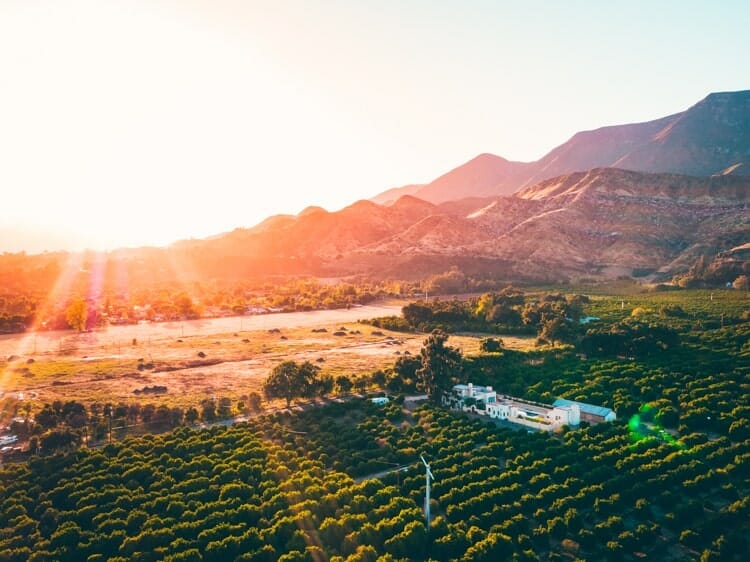 Temecula
Head inland to indulge in a day of wine tasting in Temecula Valley Wine Country, with over forty wineries to taste some of the region's best vino. This destination is well worth the detour. Walk along the historic Old Town where you can browse shops and cafes that are housed along the wooden boardwalk and get a glimpse of the town's Old West roots.
Go up in a hot air balloon at sunrise to see the expanse of vineyards from above or stay on ground and play a round of golf. If you want to be a bit more active, rent a bike and spending the day biking through the vineyards.
Kelso Dunes
These massive sand dunes are located in the Mojave National Preserve, and reach 700 feet in elevation. If you want to hike up the dunes which is 3-miles round trip, you are rewarded with panoramic views of the surrounding desert. The hike is a bit strenuous since you are walking on sand and there's a unique echo as you make your way up the dune due to the warmer sand breaking over the cooler sand below. It can get quite hot especially during the summer, and early morning or early evening hikes are ideal.
Anza-Borrego Desert State Park
Located in the Colorado Desert, this state park provides more than 600,000 acres of desert preserve and is California's largest state park. Start your trip at the park's visitor center, just a bit northwest of the small town of Borrego Springs. Keep a lookout for the bighorn sheep, which are often seen on the trail to Palm Canyon.
During the springtime, fields of vibrant wildflowers are on display, where the second week of March is often the peak bloom depending on weather conditions. Take a self-guided hike or join a guided hike with a naturalist to learn about the land.
Inspiration Point
Part of the Channel Islands, Anacapa is a tiny island that measures only 12 miles and is a great spot to explore for an afternoon, including the scenic Inspiration Point often known as one of the most beautiful views within the islands. This vista allows you to see the two small Anacapa islets and the Santa Cruz Island beyond.
To get to the Channel Islands National Park you need to take a concessionaire boat (Island Packers) from Ventura or Oxnard, which takes about an hour. Make sure to bring motion sickness meds if you're prone to being seasick, since the waters can get choppy.
Catalina Island
Hop on the Catalina Express and head to this classic island getaway that is only an hour away from the mainland and is often accompanied by dolphin and whale sightings on your way out. Explore the scenic towns of Avalon or Two Harbors, where there are plenty of outdoor (parasailing) and indoor (food tours) activities to fill your day.
For boats you have two different options, either the Catalina Express which departs from ports in San Pedro, Long Beach (shortest trip), and Dana Point, or the Catalina Flyer which departs from Newport Beach. If you're prone to seasickness, the morning rides tend to be less choppy.
Best Time To Visit Southern California
Southern California can get quite warm during the summer. It's a dry heat usually, so there's little humidity involved which can make it a bit more bearable. If you are right next to the ocean it can be temperate, but once you start going inland it can be scorching, especially in the desert where it can reach triple digits. September through October is especially hot, when the rest of the county is staring to cool down, but can be a good time to visit since the crowds are less.
The winter and spring are also good times to visit since it's usually sunny year round, with only the occasional rain storm (unlike rainy Northern California winters).
Getting around Southern California
Car is king in the Southland. There is public transportation, but it pales in comparison to the SF Bay Area. If you don't feel comfortable braving LA traffic, ride shares are abundant and great especially for short distances. There is also a Metro in Los Angeles and the Trolley in San Diego, but they have limited routes and are not the most efficient way to get around.
Getting to and from Southern California
There are numerous major airports as well as smaller ones throughout the region. Los Angeles International and San Diego International are the two main airports, but there are also smaller ones that can be easier to manage including Palm Springs International, Burbank, Long Beach, Ontario in the greater Los Angeles area and John Wayne in Orange County.
What is on your Southern California bucket list?