To me Seattle is magical. We just got back from a week in the Emerald City, and summer there is near perfection. No rain, no endless gray skies. The weather was in the mid 70's most days, except for the unusual heat wave that we experienced, where it reached the mid 90's, thankfully without humidity. We didn't mind too much though, because that gave us an excuse to be beach bums in West Seattle. I loved exploring the different neighborhoods, where each area is known for its distinct personality. Here's a Seattle neighborhood guide with brief introductions to popular local areas to help you map out where to go on your next visit.
The Complete Seattle Neighborhood Guide
Ballard
A former fishing-centric neighborhood with Scandinavian roots, we had one of the most unexpectedly delicious lunches in this area: shrimp and salmon open-faced sandwiches at Scandinavian Specialties. This specialty market also has lots of imported Nordic items to browse, including pickled herring and Danish cheese. I cannot wait to go back to stock up on lingonberry jam.
The Ballard Sunday Farmer's Market was a much welcomed opportunity to take it slow and wander through the booths of fresh produce and prepared foods, watching daily life unfold and daydreaming about how we would visit this market every week if we lived here.
Cafe Besalu is a great place to get something sweet (or savory), and their almond croissants are something that makes my mouth water every time I think about them.
The Ballard Locks allow you to get a true feel for industrial part of the neighborhood, where you can watch the boats and salmon transition from the fresh water of Lake Union to the saltwater of Puget Sound.
Fun fact: Ballard was a separate city from Seattle until 1907, and still has a strong community feel.
Fremont
This was one of my favorite neighborhoods, known for its artistic atmosphere. The Fremont Troll, might be its most recognizable landmark, but there is plenty of other art that brightens up this area. Make sure to drop by the Statue of Lenin, brought over from Communist Czechoslovakia and the Fremont Dinosaurs that are hanging out by the shores of Lake Washington Ship Canal.
Theo Chocolate Factory was a childhood dream come true for me, mostly because ample chocolate consumption was encouraged during our tour and I learned an encyclopedic amount of knowledge about one of my favorite food groups.
Wallingford
Another delightfully eclectic neighborhood, Wallingford borders Fremont to the east. My first stop is always Archie McPhee, which is filled with gag gifts and knick knacks you never knew you wanted. Just keep your eye out for the giant unicorn out front.

My favorite nautical-themed hangout, The Octopus Bar, is currently in the process of moving to a bigger space within the area and was the only place I've ever been served goldfish on my pizza (not mad about it).

Gas Works Park is a personal favorite local park with its sweeping views of the Seattle skyline and Lake Union. It's on the former grounds of the Seattle Gas Light Company, and you can see remnants of the abandoned structures.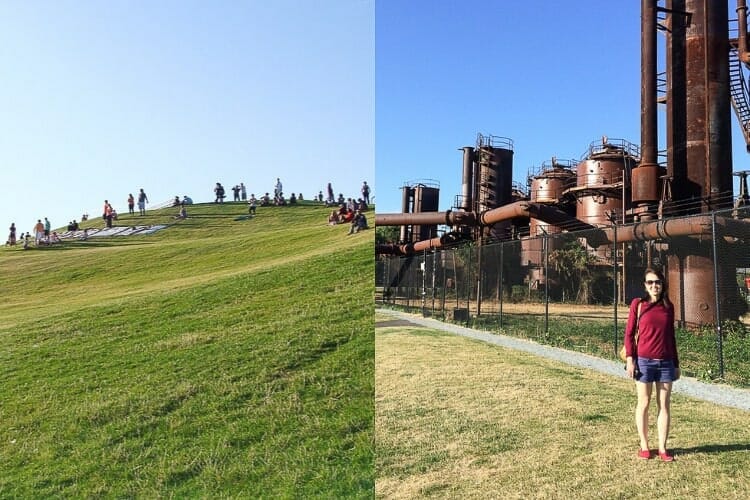 University District
The U-District revolves around University of Washington, and its campus is worth stopping by for its ivy-covered buildings and stunning view of Mount Rainer on a clear day from the Red Square. If you go during the spring or autumn you'll be treated to cherry blossoms in the Quad or fall colors in Washington Park Arboretum on campus.
University Way is the main thoroughfare, where you can find inexpensive spots to eat.
We came back the next morning for the insane breakfast biscuit sandwiches at Morsel where we devoured our "The Spanish Fly" (prosciutto, fried egg, and arugula with pepper aioli) and "The Goat" (herbed goat cheese, roasted tomato jam and cucumbers). Get there early to avoid the long line.
Magnolia
This scenic residential neighborhood is home to Discovery Park,  the city's largest park and boasts some of the best views of Puget Sound. Stepping into the forested area, it's hard to believe you are still in Seattle. For someone who loves urban hiking, it doesn't get much better than this.
Daybreak Star Indian Cultural Center is located within the park and is worth stopping by to see Native American art. There are 11.81 miles of trails to choose from, including the Loop Trail, a three-mile path that connects to other paths that go all the way to the beach and the West Point Lighthouse.
Queen Anne
Named after the stately Queen Anne homes that fill this historic neighborhood, this area is divided into two areas: Queen Anne (on the hill) and Lower Queen Anne (at the base of the hill). The main attraction (beside the views and architecture) is the Seattle Center, which is home to the Space Needle,  EMP Museum (a personal favorite), and the Chihuly Garden and Glass.
To get your daily workout, make your way over to one of the Queen Anne Stairs that provide plenty of panoramic views of the waterfront below.
Belltown
This central neighborhood is tucked in between Queen Anne and downtown and is one of my favorite areas to wander. It has been transformed in the last few decades into a lively waterfront area full of cafes, indie boutiques and galleries.
Late one afternoon, we were craving something sweet and Top Pot Doughnuts gave us the pick-me-up that we needed. The interior of the doughnut shop was in an old car warehouse and had a spacious second-story loft where we spent a few lazy hours savoring our treats and chatting.
To walk off our recently acquired calories, we made our way to Olympic Sculpture Park, which spoils with panoramic views of Elliot Bay and has larger-than-life sculptures operated by the Seattle Art Museum.
Downtown

Pike Place Market is touristy, but I always try to stop by every time I come back to visit. There's nothing like the bustle of a waterfront market that is filled with fresh seafood that allows you to truly feel like you are in Seattle.  Summer time means double the crowds, but we patiently lined up for coffee and a chicken bao, before hightailing it out of there to a much quieter Wallingford.
For a much quieter experience, the Central Library (that is an easy walk from Pike Place Market), is an ideal place to get away from the bustle of the city. It's architecturally stunning with light-filled rooms and you can easily spend a hour or so about exploring the quirky details.
It is hard to miss the Seattle Art Museum (SAM), with the giant Hammering Man out front, complete with an automated arm. Inside there are a few different floors that are dedicated to classic and modern art from around the world.
Capital Hill
With its rainbow crosswalks and hip bars, Capital Hill is a food-filled paradise. Looking back, most of the things we ate in this neighborhood would qualify as dessert, but there is nothing wrong with that in my book. One of my favorites was Pie Bar, which is a tiny shop that serves homemade pie and cocktails.
For an actual meal, Serious Pie, located inside the giant Starbucks Reserve Roastery & Taste Room, hit the spot for with its truffle cheese and mushroom pizza. After dinner, Mustafa was in coffee heaven as he wandered around testing coffee and admiring the machinery.
For a non-food related activity, Elliot Bay Book Company is a great stop to spend an afternoon browsing the impressive collection and finding new books recommended by the helpful staff.
West Seattle
On the day that we felt like we were melting, this neighborhood was a godsend. We had lunch at Seattle Fish Company, where the fish and chips were enjoyed on their front patio.
Afterward stroll down California Avenue, and make your way to Easy Street Records & Cafe, a local musical institution that features live music in its record shop and excellent brunch in its cafe.
Nearby Alki Beach was an ideal place to cool off, where it felt like we had been transported to somewhere in Southern California. To take in the full experience, hop on the water taxi that goes from downtown straight to West Seattle.

Pioneer Square
This is the oldest neighborhood in Seattle, located just south of downtown. In its heyday it was the center of pioneer Seattle. It's filled with historic buildings and tree-lined streets. There is an actual Pioneer Square that features turn-of-the-century street lamps, a bust of Chief Seattle and a Tlingit totem pole.
To get a real good feel of the city's history, join Bill Speidel's Underground Tour, that showcases a buried city when Seattle was rebuild on top of the city's ruins after the Great Fire 1889.
International District
Located walking distance from Pioneer Square, this hybrid Chinatown/Japantown/Little Saigon has been a culturally-rich neighborhood that has been home to immigrants since the 1880's. Learn more about the Asian Americans who called Seattle home at the excellent Wing Luke Museum of the Asian Pacific American Experience, which is home to informative exhibits and neighborhood tours.
For food choices you are spoiled with solid choices in this neighborhood, from picking up pre-made sushi at Uwajimaya or steaming bowls of wonton soup at Mike's Noodle House.
Seattle Neighborhood Guide Travel Essentials
When is the best time to go to Seattle?
Summer in the Pacific Northwest is perfection, with mild temperatures and the occasional heatwave. The rainy weather is also at a minimum. Of course rates go up and crowds are at a maximum. Autumn is a nice alternative to visit, with vibrant fall foliage and cooler temperatures. In the winter, it's quite rainy and freezing, and there is even the occasional snowfall.
Getting around Seattle
Seattle has a light rail that provides access to Seattle International Airport and the downtown area. It's not as extensive as other nearby cities like Portland, but there's also a bus system that you can take all around the city. You don't really need a car, and can always use ride share programs and public transportation to get everywhere without the hassle of having to worry about parking. There are also inexpensive Washington State ferries that you can hop on to take to nearby islands like Bainbridge.
Read next: Where To Eat In Seattle
Where to Stay in Seattle
Staying near the downtown/waterfront area is ideal for visiting Seattle, since you'll be in walking distance to most of the major sights on your Seattle neighborhood guide. Central neighborhoods include, downtown, Bellmont, Queen Anne, and South Lake Union.
This chain hotel is a great option for those looking for a cheaper lodging option that is centrally located. The Space Needle is an easy walk away, as well as the waterfront. The clean, spacious rooms (including suite options) are ideal for a home away from home. A hot breakfast is included.
Check out the reviews on TripAdvisor | Book your stay on Booking.com here
If you want to stay in the middle of it all, this boutique Belltown hotel doesn't get more central with the waterfront, Space Needle, and Pike Place Market all within walking distance. This quirky hotel chain makes guests feel right at home with pineapple cupcakes and bedding that feels like sleeping on a cloud. A free area shuttle is available.
Check out the reviews on TripAdvisor | Book your stay on Booking.com here
This mid-range hotel in the Queen Anne neighborhood boast a prime location where main sights like the Space Needle and Museum of Pop Culture are a quick 6-minute walk away. Among the hotel's amenities are the rooftop terrace, which boasts views of the city skyline and Elliot Bay.
Check out the reviews on TripAdvisor | Book your stay on Booking.com here
What places would be in your Seattle neighborhood guide?