Confession: Seattle is one of my favorite cities and I would live there in a heartbeat if it weren't so cold and rainy most of the year (definitely spoiled here in Southern California). Surrounded by stunning natural beauty, it is a city that's hard not to fall quickly for. The coastal location means plenty of fresh-out-of-the-ocean seafood, not to mention exceptional coffee in every neighborhood and rich cultural scene to entertain you for days.
Seattle may have its fair share of rainy days, but there's plenty to do indoors that will allow you to experience the city to its fullest. Three days is a good amount of time to have an introduction to the city and not feel rushed. Here is a Seattle 3 day itinerary that is filled with top well-known and lesser-known sights.
This post contains affiliate links (with no extra cost to you). Read the full disclosure policy click here. Thank you for supporting Small World This Is.
Seattle 3 day Itinerary-Day 1
Morning

It's true Pike Place Market is quite touristy, but it's also an essential part of Seattle's waterfront and I try to stop by every time I visit to just take in the sights. There's a lot to see within the actual market, as well as in the general area. Begin at the produce and seafood stands (just look out for the flying fish), and then make your way down into the subterranean levels of the market with specialty shops selling everything from Polish pottery to magic tricks.
Check out the Gum Wall, that's located right underneath Pike Place Market. You'll probably smell it before you see it.
Across the street from the market, you can visit the first Starbucks: 1st and Pike Store. The food booths across the market have some delicious offerings including Piroshky Piroshky for their savory and sweet baked goods, Mee Sum Pastry for steamed buns, and Bavarian Meats for grilled meats and every Haribo gummy imaginable.
Afternoon

The Museum of Pop Culture is one of my favorite spots in Seattle. I love everything from the whimsical architecture by Frank Gehry to the engaging exhibits that include a deep dive into rare Nirvana artifacts. So much thought and detail is put into each exhibit and they are all incredibly interactive. Make sure not to miss the Sky Church, a giant room with music videos projected on the wall.
Last time I was there, Michael Jackson's Thriller came on and you could feel the enthusiasm from the crowd as generations of fans watched this 80s classic together. There was even a guy busting out some of the moves at the very front of the crowd.
Nothing is more iconic Seattle then the Space Needle, which offers great aerial views of the city, Puget Sound, and the Olympic mountain range beyond. Your ticket allows you to go to two different levels of observation decks, including tilted benches that lean you backward into floor-to-ceiling window for unique views and a glass floor that actually rotates.
There's also a cafe to grab a cup of coffee, as well as a wine bar to get a drink 500 feet above the ground if you fancy that. The ticket may be pricey, but it's worth it, especially if you buy it within an attraction package like City Pass.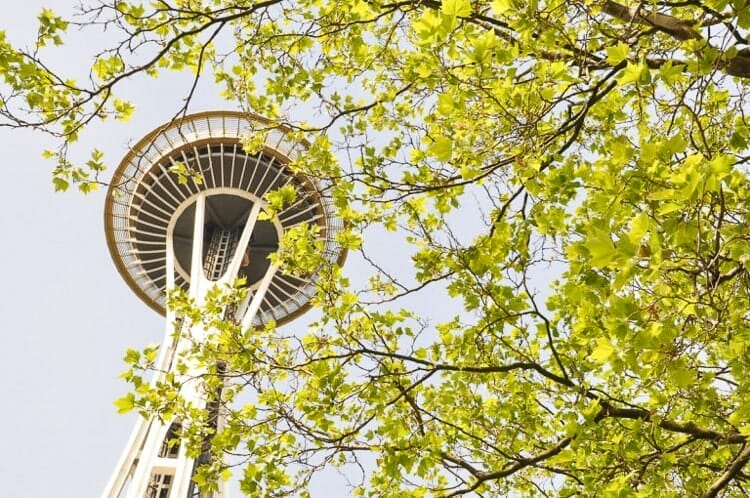 The Chihuly Garden is worth a stop to see the impressive glass art of Dale Chihuly, with eight exhibits, including the main glasshouse and  garden. Make sure to double check that the glasshouse is open when you visit, since it can close for private events. If you are planning to go to both the Space Needle and the Chihuly Garden, you can get a discounted ticket for both attractions.
Early Evening

If you still have energy, make your way over to Olympic Sculpture Park (about a 10-minute walk from the Space Needle) that boasts scenic views of Elliot Bay and various sculptures which are owned by the Seattle Art Museum (another museum worth checking out if you're into art). There are free tours of the park, where you can learn about the park and its art. It's a great place to watch the sunset, especially on a clear evening.
Seattle 3 day Itinerary-Day 2
Morning
Spend the morning walking around scenic Ballard, which has an excellent Sunday farmers' market. Grab coffee and a breakfast pastry or two at Cafe Besalu. Afterward, stop by the Ballard Locks and watch the boats transition from the fresh water of Lake Union to the saltwater of Puget Sound.
There is also a fish ladder where visitors can watch different types of salmon head out into fresh water to spawn throughout the year. Next to the Locks, visit the Carl S. English Jr. Botanical Garden that serves as a tranquil getaway from the bustle of city life.
Afternoon

For another local neighborhood exploration head to Fremont, an area that unabashedly embraces its eccentric character. The most famous piece of art is the giant Fremont Troll, that lives under the George Washington Memorial Bridge, and is inspired by Scandinavian folklore.
Interesting fact: this art piece was part of an effort to rehabilitate the area, which had become a gathering place for drug dealers. Other art in the area includes the nearby Statue of Lenin, brought over from Communist Czechoslovakia.
Late Afternoon
There's nothing better than a real life chocolate factory, and the Theo Chocolate, located in Fremont is an excellent destination for chocolate fans of all ages. Take the informative tour, where you learn about the production of fair-trade chocolate, as well as tour their facilities. Best of all, there are plenty of free samples. They also have a gift shop where you can continue to sample their unique flavors and bring home some sweet souvenirs if you wish.
Early Evening

Head to the Wallingford neighborhood, and drop by Archie McPhee, a whimsical novelty store that sells gag gifts and trinkets, and fun to just poke around for awhile.
Afterward, go to nearby Gas Works Park, that is located on the old site of the Seattle Gas Light Company and has some of the best sunset views of the Seattle skyline across Lake Union. Find a seat on the hill, and watch as the kayakers and sea planes make their way through water and air. There is also a children's playground, as well as the remains of the gas work structures to explore.
Seattle 3 day Itinerary-Day 3
Morning
For your last day in your Seattle 3 day itinerary, head out on the water, and take the ferry to Bainbridge Island, which is a quick, scenic half an hour ferry ride from Seattle. Once you get off the ferry, you'll find yourself in the town of Winslow, where there's a main stretch of shops and restaurants to browse.
Afternoon
Get lunch from Hitchcock Deli, where they make excellent classics like BLT and egg salad sandwiches. Stop by Mora Iced Creamery, for dessert, where you can choose from flavors like Swiss chocolate and lavender. Afterward, work off your meal with a leisurely bike ride (Classic Cycle is a great spot for rentals) and soak in those stunning island views.
Evening
Head back to the city and make your way into the bustling neighborhood of Capitol Hill, where you can eat dinner at one of the many excellent restaurants (Kedai Makan for delicious Malaysian food and Pie Bar for dessert and a drink) and then walk around later just to soak in the lively atmosphere. Stop by independently-owned Elliot Bay Book Company to browse the impressive selection of well-curated books and get recommendations from the helpful staff.
Read next: Where To Eat In Seattle
Alternative things to do in Seattle
Alki Beach – located in West Seattle, this lively beach is a great half-day getaway. You can take a water taxi from downtown right up to its sunny shores.
Pioneer Square – historic center of downtown that is fun to explore and has an informative and fun Underground Tour.
Seattle Central Library – the city's flagship library is one of my favorite buildings in Seattle, it's architecturally stunning and you can easily spend an hour (or more) wandering its different floors.
University of Washington – I love visiting local universities in the places I visit, and this one doesn't disappoint with picturesque views of Mount Rainer in the distance and stately buildings covered in ivy. Go huskies!
When is the best time to go to Seattle?
Summer in the Pacific Northwest is perfection, with mild temperatures and the occasional heatwave. The rainy weather is also at a minimum. Of course rates go up and crowds are at a maximum. Autumn is a nice alternative to visit, with vibrant fall foliage and cooler temperatures. In the winter, it's quite rainy and freezing, and there is even the occasional snowfall.
Getting around Seattle
Seattle has a light rail that provides access to Seattle International Airport and the downtown area. It's not as extensive as other nearby cities like Portland, but there's also a bus system that you can take all around the city. You don't really need a car, and can always use ride share programs and public transportation to get everywhere without the hassle of having to worry about parking. There are also inexpensive Washington State ferries that you can hop on to take to nearby islands like Bainbridge.
Where to Stay in Seattle
For your Seattle itinerary 3 days, staying near the downtown/waterfront area is ideal for visiting Seattle, since you'll be in walking distance to most of the major sights. Central neighborhoods include, downtown, Bellmont, Queen Anne, and South Lake Union.
This chain hotel is a great option for those looking for a cheaper lodging option that is centrally located. The Space Needle is an easy walk away, as well as the waterfront. The clean, spacious rooms (including suite options) are ideal for a home away from home. A hot breakfast is included.
Check out the reviews on TripAdvisor | Book your stay on Booking.com here
If you want to stay in the middle of it all, this boutique Belltown hotel doesn't get more central with the waterfront, Space Needle, and Pike Place Market all within walking distance. This quirky hotel chain makes guests feel right at home with pineapple cupcakes and bedding that feels like sleeping on a cloud. A free area shuttle is available.
Check out the reviews on TripAdvisor | Book your stay on Booking.com here
This mid-range hotel in the Queen Anne neighborhood boast a prime location where main sights like the Space Needle and Museum of Pop Culture are a quick 6-minute walk away. Among the hotel's amenities are the rooftop terrace, which boasts views of the city skyline and Elliot Bay.
Check out the reviews on TripAdvisor | Book your stay on Booking.com here
What is your ideal Seattle itinerary for 3 days?
Photo source: Space Needle, Chihuly Garden and Glass, Bainbridge Island