Santa Cruz is a laid-back college town that is known for its surf-friendly (but chilly) waters. From the famous boardwalk, to the vibrant downtown area, there's plenty to see. The beautiful coastal setting is also perfect for hiking in the nearby Santa Cruz hills or taking a scenic drive. The best time to visit is in late summer to early fall when the weather is warm, but the crowds have thinned out. Here are some Santa Cruz attractions that should be on your list.
Santa Cruz Beach Boardwalk
This famous retro boardwalk is worth checking out for its old school rides like the Big Dipper, an almost century-old wooden roller coaster. Walk along the boardwalk, people watch and drop in the arcades at the far end of the walkway. See all the action from above (and get a break from all the crowds) and ride a gondola above the length of the boardwalk. Grab some food, and make your way to Main Beach and Santa Cruz Wharf just mere steps away when you need a break from it all. During summertime there are free Friday Night concerts and movie nights that are worth checking out. Admission is free, but you need to buy separate ride tickets. Parking is $10-$15, but you can find metered parking for less.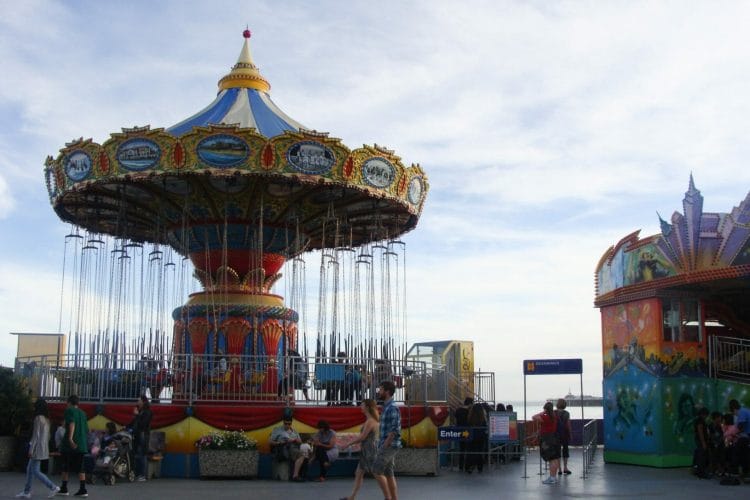 University of California Santa Cruz
This public university situated high in the hills is known for its beautiful campus (think redwood groves), and views of the surrounding area and ocean beyond. The university is known for its progressive approach to education, where student activism is a prominent feature on campus. Other highlights on campus include the Arboretum that features an extensive collection of plants from South Africa and the South Pacific; two major art galleries: the Sesnon Art Gallery (Porter College) and the Eloise Pickard Smith Gallery (Cowell College), and the 30-acre Farm, where the Center for Agroecology & Sustainable Food Systems does most of its research. The Seymour Marine Discovery Center that's three miles from  campus on the Pacific Ocean is open to the public and very informative for learning about the local marine life. Go slugs!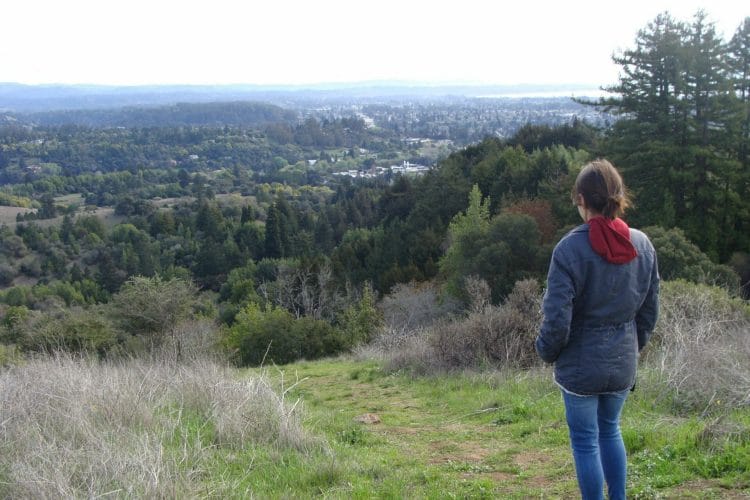 Downtown Santa Cruz
Stop at the center of town and walk down Pacific Avenue, the main stretch and the side streets that branch off of it. Get some fuel at The Buttery, which is a local institution known for their sandwiches, desserts, and bread. For a more Italian deli-oriented lunch, Zoccoli's Delicatessen is a great place to pick up a chicken parmesan sandwich. Pop into unique shops like Paper Vision for stationary and cards, Streetlight Records for vinyl records and used CDs, the Patagonia Outlet for discounted outdoor gear and sports gear, Bookshop Santa Cruz, an excellent indie bookstore, and the Homeless Garden Project Gift Shop, that's a non-profit store that supports programs to help individuals get off the street. Parking can be difficult, but there a few parking garages scattered around the area.
Mystery Spot
You will probably see bumper stickers of this site around town that showcases local pride, and though it's touristy it's worth checking out for yourself. Opened in 1940, this spot located on a steep hill 4 miles from downtown Santa Cruz, continues to entertain with its mysterious force that controls everything in its path, including a wooden building on the property. Make sure to reserve a spot ahead of time, otherwise you might have to wait for a tour (especially on weekend and holidays). If you get there early or want to hang out afterward, there's a beautiful hiking trail that takes 30 minutes to complete nearby. Tickets are $8 per person (ages 3+). Parking is $5.
Santa Cruz Surfing Museum
Overlooking the ocean, and conveniently located near the famous Steamer Lane surf spot, this education museum is full of interesting artifacts and photos, including a surfboard that was bitten by a shark. Learn about Santa Cruz's surfing community with history that spans over a century. Located in the Mark Abbott Memorial Lighthouse, the scenic coastal drive itself is worth the visit. It takes about 30-minutes to see all the exhibits, and admission is free, but donations are encouraged. There is free public parking nearby. Afterward, with a newfound respect for surfing, check out the surfers in action down below.
Harbor Beach
A great alternative beach to people-watch and enjoy the views without the noise or crowds from the boardwalk in the background. Bring a picnic basket for lunch with a view. Wade in the (freezing) Pacific if you dare, or just stay on land and admire the surfers do their thing at Pleasure Point from afar. There's also an active volleyball community and there are always games that are going on. Take a stroll to nearby Walton Lighthouse, where you can't enter, but can still enjoy the exterior and views of the ocean. If you're around for sunset (or sunrise), make sure to stop by this beach for a stunning natural show.
Sanctuary Exploration Center
Run by the Monterey Bay National Marine Sanctuary, this small, but educational museum is located mere steps from the Santa Cruz Wharf and Main Beach. The museum features interactive multimedia exhibits on topics like watershed conservation, local marine eco-life, and high-tech underwater exploration that are great for kids and adults alike. This is a great spot to visit before heading down to the beach with a new admiration for the ocean. Admission is free. If you're coming from downtown, there's a 25 cents trolley that goes straight to this museum.
What are your favorite Santa Cruz attractions?
Photo source: Mystery Spot, Santa Cruz Surf Museum, Harbor Beach