Ah, San Francisco, the city whose weather is unexpected and follows no traditional seasons. The most important tip is to bring layers, since weather can change from sunny to foggy in a few hours. It also depends where you are in the city, since the neighborhoods closer to the Pacific Ocean tend to be foggier (Richmond, Sunset) than those further away (The Mission, SOMA). Furthermore, there are micro-climates around the Bay Area, where you can drive for half an hour away from the city and it will be 10-20 degrees warmer. Here's a detailed San Francisco packing list to help you understand what to bring during each season and be prepared for any type of weather in the City by the Bay and the Bay Area in general.
The Best Time To Visit San Francisco

SF stays mild year round, with the fog bringing added chill. There are no four seasons, but rather a cool, dry summer and a rainy winter. The biggest mistake about what to wear in San Francisco is that it will be warm during the summer like the rest of the country and you forget to pack layers. The truth is that you will probably need a down jacket, since San Francisco tends to have the heaviest fog in July and August. The best weather is during September and October, when the city has mild temperatures and clear skies. In the late fall through spring expect a significant amount of rain and cooler temperatures, though some days can be unseasonably warm.
San Francisco Airports
There are three major airports in the Bay Area. You will most likely be flying out of SFO, the main international airport located 13 miles south of downtown San Francisco. BART is the cheapest way to get into the city, where you can go directly from the airport to downtown. Oakland International Airport is another option that is right across the Bay, and can provide a more sane experience andis easily reachable by BART. The third airport is San Jose International, which is the furthest from San Francisco (an hour or more) and only makes sense if you're staying in the South Bay.
Getting Around San Francisco
The main public transportation systems in the city are Muni and BART. Muni has an extensive bus and street car system, where BART has only a few stops in the city. Renting a car in San Francisco is usually much more of a headache than it's worth, especially if you plan to just stay within the city. That being said having a car is nice for road trips to destinations in the Greater Bay Area, especially in the North Bay where Bart and Caltrain do not go. Since San Francisco is a small city, ride share companies like Uber and Lyft are great ways to zip around the city carless. San Francisco is also an easy city to walk around, just be prepared for those steep hills.
Here's how to get around the different regions of the Bay Area via public transportation:
San Francisco – BART, Muni buses, cable cars
Peninsula – Caltrain, limited BART
South Bay – Caltrain
East Bay – BART, San Francisco Bay Ferry
North Bay – Golden Gate Transit buses and ferries
Note: all of these transportation systems are separate and require different passes, though you can get a Clipper card for both the BART and Muni.
San Francisco Packing List
down coat (all seasons)
hoodie (all seasons, great for layering and protecting your head against the wind)
gloves (all seasons)
scarf (all seasons)
warm hat (all seasons, this makes a BIG difference against the chill)
waterproof boots (late fall, winter, spring)
light rain coat (late fall, winter, spring)
comfortable walking shoes (all seasons, this is a walking city with serious hills, try to avoid open-toed shoes)
sunscreen (all seasons, since the fog can be deceiving)
What not to bring:
if you're visiting during summer the most important thing to remember is not to bring a traditional summer clothes, otherwise you'll end up needing to buy pants and sweatshirts when you arrive.
fancy shoes, especially those with heels
nice clothes-SF and the Bay Area in general is a casual city, where dressing up for a nice dinner is a collared shirt/blouse, jeans and a Patagonia, no joke. Leave your dinner jackets at home.
Bring A San Francisco-Appropriate Suitcase
San Francisco's hills are no joke and you'll want a suitcase that does not put extra strain on your body. A sturdy rolling suitcase is an excellent option for a city that has a natural workout built into its streets. It's important thought to invest in the right type of rolling suitcase, where you will not put added strain on your shoulders and arms from pulling your suitcase. From my personal experience, I've found it's better if you find a suitcase where you can push it alongside your body and not have to deal with lugging anything behind you, especially on a hill.
I recently upgraded my trusty two-wheel rolling suitcase to a four-wheel rolling Travelpro Maxlight 5 and have never looked back. The biggest difference is that I do not have to strain my arm muscles when I'm pulling my new suitcase, since it basically pushes itself. I also can easily maneuver my way through an airplane aisle without awkwardly trying to drag my two-wheeler through a narrow space. I just wish that I would have made the change sooner.
Essentials
toiletry bag

insulated reusable water bottle

– SF is a walking city and it's important to stay hydrated on those hills.
reusable coffee mug – there's nothing better than a warm cup of coffee (or tea) on a foggy morning and some cafes give you a discount for bringing in your own mug (plus you'll fit right in with SF's eco-friendly mindset).
first aid kit – including

bonine

(non-drowsy seasickness medication) and plenty of band-aids for those inevitable blisters you will get from all that hill-climbing.
electronics chargers
neck pillow
reusable bags – the entire SF Bay Area requires customers to pay $ 0.10 for plastic bags anywhere from grocery stores to take-out at restaurants.
sunglasses
wireless bluetooth headphones (great for blocking out noise)
Bay Area Packing List
If you plan to visit the greater Bay Area, it's important to know the different microclimates in each region. It can be foggy and freezing in San Francisco, but sweltering up in San Rafael, no joke. Even within the East Bay, once you go through the Caldecott Tunnel, from Orinda to Berkeley, there's a dramatic change from balmy weather to at least 10 to 20 degrees lower. Microclimates, gotta love them.
Here are some further guidelines for packing divided up by the different regions throughout the Bay Area.
Peninsula
Places of interest: Mountain View, Half Moon Bay, Pacifica, Palo Alto
The area between San Francisco and the South Bay tends to stay pretty cool since most of its cities are located near or on the ocean. The weather is similar to San Francisco in places like Daily City and Pacifica with a lot of fog, especially during the summer. If you go further down to Palo Alto, the weather can get hotter during the summer with a few heatwaves in the high 80s and low 90s, and colder during the winter than the coast.
down coat (winter and summer if you are near the coast)
hoodie (all seasons if you are near the coast)
gloves (all seasons if you are near the coast)
warm hat (all seasons if you are near the coast)
sandals (summer, especially inland)
waterproof boots (late fall, winter, spring)
light rain coat (late fall, winter, spring)
sneakers or boots (winter, and summer if you are near the coast)
South Bay
Places of interest: San Jose, Santa Clara
The South Bay can get hot during the summer, with temperatures reaching in the high 80s or more. During the late fall into winter it starts cooling down significantly, with cooler temperatures especially noticeable in the mornings and evenings. Even when it's hot in the summer, dress in light layers, since it can be warm during the day and then it cools down during the night.
t-shirts (summer)
shorts/skirts (summer)
down coat (late fall, winter, spring)
waterproof boots (late fall, winter, spring)
warm sweaters (late fall, winter, spring)
light rain coat (late fall, winter, spring)
North Bay
Places of interest: Napa, Sonoma, Sausalito, Point Reyes, Mount Tam, Muir Woods
If you are going to Napa or Sonoma during the summer, it will mostly likely be hot or borderline unbearable. If you stick closer to the coast in places like Sausalito, the fog tends to cool things off during the summer. During the winter, the North Bay gets the most rain out of all the regions in the Bay Area and can get quite chilly, especially the further away from the water you get.
t-shirts (summer)
shorts/skirts (summer)
down coat (late fall, winter, spring, summer if you're by the coast)
warm sweaters (late fall, winter, spring)
waterproof boots (late fall, winter, spring)

light rain coat

(late fall, winter, spring)
East Bay
Places of interest: Oakland, Berkeley, Walnut Creek, Alameda
Oakland and Berkeley have some of the best weather in the Bay Area year-round, ranging between low-60s to mid-70s. As mentioned above, the further north you go in the East Bay, the warmer it's going to get. During the summer it can easily reach high 80-low 90s in Contra Costa country. During the winter, in Contra Costa county it can get quite chilly, dipping into the 40s and high 30s in the mornings.
t-shirts (summer)
shorts/skirts (summer)
waterproof boots (late fall, winter, spring)
warm sweaters (late fall, winter, spring)
warm puffy coat (late fall, winter, spring)
gloves (late fall, winter, spring)

light rain coat

(late fall, winter, spring)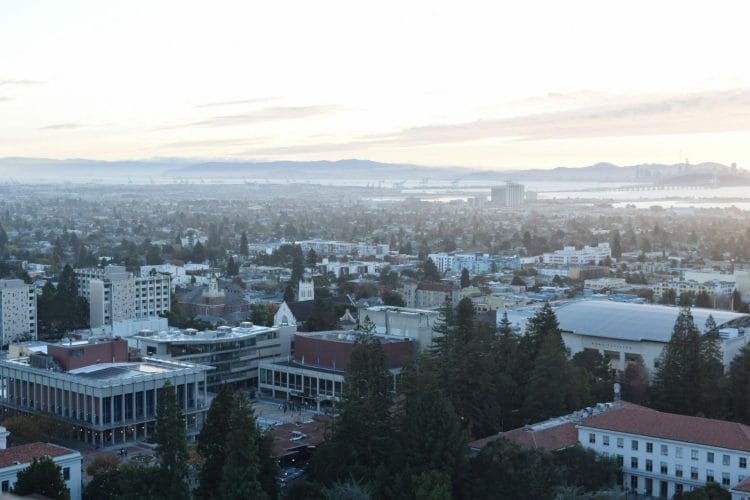 Additional Things To Prep For A San Francisco Trip
If you are planning on seeing popular sights like the California Academy of Science, Alcatraz and the Exploratorium, or the San Francisco Museum of Modern Art, CityPass is a great option to save significantly on the cost if you were to pay for the activities individually. The pass also includes unlimited three-day rides on Muni, which include cable car rides, as well as a Blue & Gold Fleet bay cruise.
Buy your San Francisco CityPASS here
If you're interested in seeing a show, whether it's stand-up or a top-rate theatrical production, make sure to check out Goldstar to get discounts on everything from shows to tours and cruises.
Where To Stay In San Francisco

San Francisco can be quite pricey when it comes to finding accommodations, especially if there's a huge tech conference or concert (Outside Lands) that takes over the city. That being said, there are reasonable options that can be reasonable for a San Francisco itinerary for 5 days, especially if you go in the spring or late fall.
Holiday Inn Express and Suites Fisherman's Wharf
It's harder to get more central than this, with Pier 39, Fisherman's Wharf, Ghiradelli's Square, and the Alcatraz ferry within walking distance of your room. A quick cable car ride away is Union Square and Chinatown. Amenities include: clean, spacious rooms and a twenty-four hour diner on-site.
Check out reviews on TripAdvisor | Book your stay on Booking.com
Marriott Courtyard San Francisco Downtown
Great downtown location that is a 15-minute walk to Union Square and a 20-minute walk to the Embarcadero and the waterfront. Other nearby highlights include the SF MOMA and Yerba Buena Gardens. This hotel is less than a 10-minute walk to the Montgomery BART station, which goes straight to the airport and other popular destinations.
Check out reviews on TripAdvisor | Book your stay on Booking.com
Fairmont San Francisco
For the ultimate SF getaway, stay in this historic hotel located in Nob Hill, right on the edge of downtown. The property is walking distance to Union Square, Chinatown, and a quick cable car ride to Pier 39. Whether you're a guest or not, drop by the legendary Tonga Room and the life-sized gingerbread house if you're there for the holidays.
Check out reviews on TripAdvisor | Book your stay on Booking.com
What would you add to this San Francisco packing list?
Photo source: Bay Area map
Save
Save
Save
Save
Save
Save
Save
Save
Save
Save
Save
Save
Save
Save
Save
Save
Save
Save
Save
Save
Save
Save
Save
Save