The beautiful seaside city of San Diego is located in the ideal location. There is Los Angeles to the north which provides the benefits of a large city, the solitude of the desert and mountains to the east when you want to get away from it all, an assortment of national parks in all directions, and plenty of cultural experiences across the border in Mexico. With all these diverse options, road trips from San Diego are seemingly endless. The choice is yours. The hardest part is deciding where to go.
Best San Diego Road Trips

Starting just North of San Diego, here's where to go on weekend getaways from San Diego whether you crave the coast or the desert.
Northern County
A mere half an hour away from San Diego is a whole other world, even through you are technically still in the San Diego area. This is the perfect opportunity for planning San Diego day trips where you can spend the day beach-hopping the picturesque seaside towns that dot the coast.
Del Mar

One of the wealthier communities of North County, this glitzy beach town is known for events like the Del Mar Horse Races and San Diego County Fair located on the Del Mar Fairgrounds during the summertime. Spend the afternoon at picturesque beaches like Del Mar City Beach, and pup-friendly Dog Beach. Every year in September, the city hosts the Taste of Del Mar, which features local artists in a free art walk, along with culinary highlights from nearby restaurants and live music.
Solana Beach

For a quick San Diego day trip, this coastal beach town boasts a strong community feel. A whole afternoon can easily be spent at the Cedros Design District, where you can shop for home interior goods, stop into a café for a quick pick-me up or browse the numerous art galleries. For outdoor adventures, Fletcher Cove Beach is a sheltered inlet where you can take a swim or surf. Every summer, the Fiesta De Sol marks the beginning of the season, with live music, local art, and specialty foods.
Encinitas

This eclectic seaside surf town has stunning beaches like Moonlight State Beach and Swami's to spend a lazy afternoon lounging on and watch surfers do their thing. Further inland, the San Diego Botanic Garden has over 4,000 different plants from around the world, including rare bamboo groves and an intriguing undersea succulent garden. Head back to town and walk along historic downtown Encinitas to browse the boutique stores and cafes.
Carlsbad

LEGOLAND California may be this coastal city's claim to fame, but there is a lot more than this popular theme park to do in the area. Every spring, the Flower Fields of Carlsbad Ranch boasts 50 acres of vibrant blooms. There is also the Omni La Costa Resort & Spa, where you can indulge in an afternoon of self-care or perfect your swing on the golf courses. For music enthusiasts, the Museum of Making Music, is a great spot to learn about how instruments are made, as well as try your hand at making your own music.
Oceanside

One of the northernmost coastal towns in North County, this town is known for its historical sights like Mission San Luis Rey, California's largest mission. There is also the California Surf Museum, where you can learn all about the state's surf culture and history. To see surfers in action, head to Oceanside Pier, where if the weather is clear you can see all the way to La Jolla and the Coronado Islands. In August, the Annual World Bodysurfing Championships take place at the Oceanside Pier and Beach, where bodysurfers compete against one another with only a pair of swimming fins at their disposal.
Escondido

This city in North County has a diverse range of activities to fill a day, from art to outdoor recreation. For a dose of wildlife, head to the massive San Diego Zoo Safari Park, where you can scope out animals in their natural habitats. Check out Queen Califia's Magical Circle, a huge sculpture garden in the city's KitCarson Park. If earth science is more your jam, the Roynon Museum of Earth Science and Paleontology is the place to go to learn about dinos and the world they inhabited.
East of San Diego
Drive a few hours east of the city and you find yourself in the desert and the mountains, where you can explore desert cities or spend a day hiking in a state or national park.
Anza Borrego Desert State Park

Located in the Colorado Desert, Anza Borrego Desert State Park provides more than 600,000 acres of desert preserve and is California's largest state park. Start your trip at the park's visitor center, just a bit northwest of the small town of Borrego Springs. Keep a lookout for the bighorn sheep, which are often seen on the trail to Palm Canyon. During the springtime, fields of vibrant wildflowers are on display, where the second week of March is often the peak bloom depending on weather conditions. Take a self-guided hike or join a guided hike with a naturalist to learn about the land.
Cuyamaca Rancho State Park

With over 100 miles of trails for hiking, biking and horseback riding in the Cuyamaca and Laguna Mountains, this park is an ideal day trip to get away from it all. Although the park is popular for its camping, day visitors can use the picnic area (BBQs, tables and restrooms) at the campgrounds for $10 per vehicle. For an easy self-guided hike, the Paso Picacho Nature Trail is a great way to take in the landscape. For a slightly more challenging hike, try the popular Stonewall Peak Trail for arguably the best views.
Palm Springs

Head to this glam dessert town to spend a day cooling off at the Arrive Hotel, where anyone can use the pool free of charge. Hop on the rotating Palm Springs Aerial Tramway to take in panoramic views of Coachella Valley below and hike around the trails once you reach the top. Walk along Palm Canyon Drive to browse the art galleries, antique shops, and retro-themed furniture stores. Make sure to stop by the Cabazon Dinosaurs on your way to Palm Springs to snap a pic with the life-sized dinos.
Death Valley National Park
Located in the Mojave Desert, this otherworldly park is one of the best places to go and experience the remote beauty of this area. Late autumn through the winter is one of the best times to visit since the weather is bearable with mild days and cool nights. Make sure to check out highlights like the Badwater Basin's salt flats (North America's lowest point), the vibrant desert hills of Artist Palette, and the park's most popular lookout Zabriskie Point.
Salton Sea
This highly saline body of water is twenty-five percent saltier than the Pacific Ocean and there are few life forms that can survive the environment due to the toxic water. The Salton Sea was created from the Colorado River flowing into the Imperial Valley. Nearby Salvation Mountain is a must-see, with its colorful rock formations covered with half a million gallons of latex paint. It was created by local Leonard Knight, with God is Love as the central message.
Las Vegas
Sin City is around a five-hour drive from San Diego and is a fun road trip to take for a long weekend. If you want to have the classic Vegas experience, stay at one of the hotels on The Strip (Aria is a great central option). Make reservations at one of the highly-rated restaurants, go to a show, and then get a cocktail or two at the many bars or clubs. Whatever you do, make sure you have plenty of time to just walk around and people-watch in this weird and wonderful city.
Temecula

Head inland to indulge in a day of wine tasting in Temecula Valley Wine Country, with over forty wineries to taste some of the region's best vino. Walk along the historic Old Town where you can browse shops and cafes that are housed along the wooden boardwalk and get a glimpse of the town's Old West roots. Go up in a hot air balloon at sunrise to see the expanse of vineyards from above or stay on ground and play a round of golf. If you want to be a bit more active, rent a bike and spending the day biking through the vineyards.
Los Angeles and Orange County
Just an hour or two north you can spend the day driving along the scenic Pacific Coast Highway and stop at beach towns in Orange County and Los Angeles. Of course, if you're craving some big-city vibes, LA is just two hours away.
Laguna Beach

As a major art community, Laguna Beach is home to many notable galleries like the Laguna Art Lounge, and popular summertime festivals like the Sawdust Art & Craft Festival, which displays local art in an outdoor setting. The Laguna Art Museum is worth visiting to view an impressive collection of art from around the state. Soak in the coastal beauty of the town by heading to Main Beach, just steps away from the city center. For a more remote experience, go to Crystal Cove State Park, and explore hidden coves and vibrant tide pools. Visit the Pacific Marine Mammal Center to encounter sea lions on the mend.
Newport Beach

Known for its picture perfect piers: Newport Beach Pier and Balboa Pier, there is no shortage of activities to fill your day. For an adrenaline rush, head to the Wedge, where you can watch surfers ride up to 20 foot waves. For a dose of good-old fashion family fun, head to the Balboa Fun Zone, where the Ferris wheel can provide one of the best views of the coastline. For some high-end shopping and prime people watching, there's Fashion Island. Escape to Balboa Island on the ferry and walk around the town with a frozen banana in hand from Sugar 'N Spice.
Huntington Beach

Your first stop in this surf-obsessed beach town should be to catch all the action and watch the surfers riding waves from the iconic Huntington Beach Pier. Afterward, learn all about why this town has been nicknamed Surf City, USA, at the International Surfing Museum and view the world's largest surfboard. A brief walk inland from the pier, take you to Main Street's surf shops and sidewalk cafes.
Dana Point
This quieter Orange County beach town is a great place to explore for a day or two. Walk along Dana Harbor, past Baby Beach and stop by the Ocean Institute and then continue onto the beach for some of the best ocean views with towering cliffs. The Doris Walker Overlook is a great option for an aerial view of the harbor.
San Clemente
This beach town is known for its Spanish colonial-style architecture and stunning coastline that is ideal for surfers and beachgoers alike. San Clemente State Beach is a great spot for those seeking a quieter experience and T-Street Beach is a surfers' paradise, especially for those who are just starting out. The Surfing Heritage and Culture Center is an informative place where you can view surfing memorabilia, including old videos and photographs.
Disneyland

A trip to Disneyland for a day is always a good idea, but make sure to get an early start. Choose either the original Disneyland Resort or Disney California Adventure, depending on if you want to go classic Disney or a more modern California-themed experience. Try to avoid summer and holidays if you want to keep your sanity (the crowds are not for the faint of heart). Make sure to utilize the fast pass system and download the official Disneyland app for ride wait times.
Long Beach

Tour the historic, ocean liner Queen Mary, that is permanently docked and even has cabins where you can spend the night. To learn more about the surrounding aquatic life, the Aquarium of the Pacific is a great place to spend an hour or two. Walk along (or bike) Belmont Shore Beach walking paths, and take in the classic SoCal beach views.
Los Angeles
From the sunny beaches of Santa Monica to the historical downtown area, there is never a dull moment in Los Angeles. Take in a museum like the impressive Los Angeles County Museum of Art or hike up to the top of Griffith Park for a view of the expansive city below. Head to Venice Beach to experience the funky atmosphere, before heading to the Venice Canals for a bit of quiet reflection and picturesque views.
Big Bear
Located on Big Bear Lake, this popular mountain getaway is known for its ski resorts like Bear Mountain and Snow Summit. During the summertime, explore the surrounding San Bernardino National Forest, which has plenty of scenic mountain trails to choose from. Castle Rock Trail is an excellent hiking trail that is short and boasts spectacular views of the lake. For downtime, Big Bear Lake Village has a main street that is perfect for poking around the shops and getting a bite to eat.
Mexico

The U.S./Mexico border is less than an hour away from San Diego, and you can explore Mexican beach towns, eat your weight in tacos, and then be back in San Diego for dinner.
Tijuana

One of the best things about San Diego is that you can cross over to Mexico easily for a day. This border town is more than its famous party scene and the main drag of Avenida Revolucion with its tourist shops. Visit a traditional market like the Mercado Hidalgo that is centrally located, and sells everything from local cheeses to Mexican candies.
Rosarito

Head a bit further south to reach one of Baja's popular coastal beach towns. Relax at the Rosarito Beach Hotel, where Old Hollywood personalities like Frank Sinatra and Marilyn Monroe uses to frequent and drink poolside margaritas. If you want to head to where all the action is, Rosarito Beach (steps from the hotel) is there for soaking in the sun and local culture.
Ensenada

This major port city is a popular docking spot for both commercial and cruise ships. Walk on the malecon (waterfront promenade) and admire the dancing musical fountains. Visit the seafood Mercado Negro (Black Market), and view the day's catch from blue fin tuna to jumbo shrimp. Tour the Rivera del Pacifico, a beautiful historic hotel, where Lucille Ball and Desi Arnaz (of I Love Lucy) used to stay.
Valle De Guadalupe

This impressive wine region boasts over 100 wineries, making this scenic valley a great place to take a day trip and sample the local wine. Learn about the history of the area at the Museo Comunitario del Valle de Guadalupe, how the wine industry began, and why a majority of Mexico's wine is produced in this area. With so many good wineries to choose from, start at a well-love spot like the Vinicola Torres Alegre y Familia or take in the stunning views from Monte Xanic's tasting room.

Central and Northern California
Santa Barbara
Known for its Mediterranean-style buildings and wineries, Santa Barbara is a great getaway from San Diego. Start your day on State Street, where a few blocks away you can walk to the Santa Barbara Courthouse and admire its Spanish-Colonial-style building and gardens. Make sure to stop at McConnell's for ice cream and try one of their unique flavors like Turkish Coffee.
The Funk Zone is a great place to grab a bite to eat and embark on one of the largest parts of the Urban Wine Trail, stopping in working wineries like Whitcraft Winery, where you can sample small-production chardonnays and pinot noirs.
San Luis Obispo
This walkable college town has a beautiful downtown area that has a creek running right through the middle of it. There are a number of delicious meal options in San Luis Obispo including gyros at Petra or tri-tip sandwiches at Old San Luis BBQ Company. Afterward, head up to Cal Poly and explore the grounds of this public university that is known for its top-notch engineering, business, and science programs.
San Simeon
Hearst Castle is the main attraction in this coastal town and worth a visit to get close and personal with the insane wealth of William Randolph Hearst, a newspaper tycoon. The property boasts stunning Southern Spanish Renaissance, Revival, and Mediterranean architecture, including the impressive Casa Grande centerpiece that was inspired by a Spanish church. Make sure to reserve tickets ahead of time, especially during the summer when it can get quite crowded.
Solvang
This town was formed by a group of Danish settlers who were tired of Midwest winters and were looking for sunnier prospects out west, hence the name Solvang (sunny field). Stroll down Alisal Road to admire the Danish architecture and make sure to pick up aebelskivers (Danish pancake puffs) at Solvang Restaurant's to-go window. Stop at Copenhagen Sausage Garden to counteract all that sugar with a cold beer and savory sausages.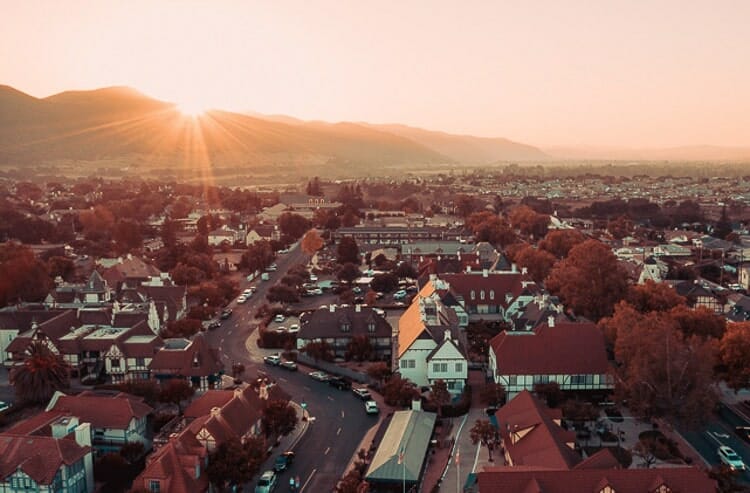 Sequoia National Park and Kings Canyon National Park
These two adjacent parks are located in the southern Sierra Nevada Mountain range and feature towering sequoia trees. Giant Forest (Sequoia) is home to around 8,000 trees, the largest grove in the park is located between the Marble and Middle Forks of the Kaweah River. Grant Grove Village (Kings Canyon) is home to the Grant Grove tree (nicknamed the Nation's Christmas Tree) and the Kings Canyon Visitor Center, as well as lodging, a restaurant, and a market to stock up for your hike.
Big Sur
This stretch of Highway 1 may be one of the most scenic routes, but make sure to take your motion sickness meds if you are prone to carsickness (those windy roads are no joke). Bixby Creek Bridge is as stunning in real life as it is in photographs and is one of the most iconic views in Big Sur. For excellent comfort food and equally good views, Nepenthe is a good place to stop nearby.
San Francisco
San Francisco has a lot of culture and delicious food within its 7×7 mile perimeter. Favorite views of the Golden Gate Bridge are from Crissy Field (East Beach) for views from the bay side and Lands End, which gives a view of the bridge from the ocean side. Head into the Inner Richmond for some dim sum (get takeaway at Wing Lee Bakery on Clement Street) before heading to Golden Gate Park and visiting either the de Young Museum or the Academy of Sciences.
Photo sources: Cuyamaca Rancho State Park, Palm Springs
Updated: 12/22/22