Sacramento may not get the same attention as other Californian cities, but it holds it own, especially since it's surrounded by some of the state's most stunning landscapes. With its close proximity to the Sierra Nevada foothills and being situated in the wide-open plains of California's Central Valley, there is no shortage of desirable day trip destinations. There are plenty of seasonal activities year-round, from apple picking in the orchards of El Dorado County, to every winter sport imaginable high in the Sierra Nevada mountain range. Here are some of the best day trips from Sacramento that are around two hours or less from the city limits.
The Best Sacramento Day Trips

Reno
Head over the state line to a city that has been called a mini Las Vegas with its array of casinos that have everything from indulgent buffets to traditional slot machines. If you want to place some bets, Eldorado/Circus Circus/Silver Legacy casino complex is a good place to start. For some fresh air, head over to the Riverwalk, a scenic walking path along the Truckee River. For car enthusiasts, head over to the National Automobile Museum, which has an impressive collection of models spanning the decades.
Auburn
Known as the gateway to Gold Rush Country, this town is filled with plenty of historical sights as well as beautiful natural scenery. Start out at the historic old town that feels like stepping back in time to when it was at its height as a gold rush boomtown. The Auburn State Recreation Area is known for its scenic hiking trails along the American River. After you work up an appetite head to Joe Caribe Bistro & Café for fish tacos and Ikeda's for homemade pie.
Davis
This college town has plenty to explore, from the UC Davis Campus itself, to a lively downtown area that is walking distance from the university. If the weather is nice, take a stroll in the beautiful UC Davis Arboretum. Browse Newbeat for unique gifts, sweets, and every magazine you could ever imagine. Head to Burgers and Brew, a local favorite for craft beers and Niman Ranch beef burgers. If you want to get some snacks for the road, head over to Kim's Asian Market for Pocky and homemade sushi.
Folsom
Stop at BJ Cinnamon for some sweet substance in the form of cinnamon rolls and donuts, before heading to the Folsom State Prison (of Johnny Cash fame) where you can visit the informative on-site prison museum. Afterward, head to Folsom's historic downtown and pop into Snooks Candies and Chocolate Factory for some fudge. For some actual food, Salsa's Taqueria doesn't disappoint with a self-serve salsa bar and delicious shredded beef tacos.
Fairfield
Whether you are a fan of jellybeans or American beer (or both), this city houses both the Jelly Belly Factory and Anheuser-Busch Brewery, which offer informative tours (and samples) of their facilities. Beyond these two main attractions, there is also the beautiful Rockville Hills Regional Park with plenty of hiking trails and unspoiled nature. Make sure to make time to walk around downtown Fairfield, and get some solid kebabs at Q's Halal Mediterranean Comfort Food.
Sutter Creek
A charming town located deep in Amador County (aka Gold Country), this is a great place to spend the day wandering the picturesque streets. For lunch, there's no better place than Gold Dust Pizza, where you can enjoy a slice at one of the outdoor tables, along with a local brew. Next to Sutter Creek, there are other gold rush towns worth exploring, including Jackson, which has the Amador County Museum for a dose of local history, and The Serbian Bakery for memorable morning buns.
Marshall Gold Discover State Historical Park
Located on the historic Highway 49, this park is the location where John W. Marshall first discovered gold at Sutter's Mill. Visit the museum and the beautiful grounds, including views of the American River. If you want, try your hand at gold panning (not an easy task-especially in the hot sun). There is also a walking tour, which brings the history of the area to life. Take advantage of some of the beautiful hiking paths around the park. Afterward, eat lunch at Argonaut Farm to Fork Café in Coloma, which offers fresh sandwiches, salads and gelato.
Apple Hill
During fall, the traffic to Apple Hill doubles as families from the surrounding areas descend on the local apple orchards, fueled by homemade apple pie and apple cider donuts. Autumn is not the only time to come down, since there are local wineries to enjoy and Christmas trees to cut down during other times of the year. If you do go during fall, here's an Apple Hill guide to where to go to pick apples, and get the best pie.
Lake Tahoe
One of the perks of the Sacramento area is that you are close to world-class slopes, whether you want to snowboard or ski. Head to North Lake Tahoe for a quieter, more local experience, and eat lunch at Fire Sign Cafe, a local institution in Tahoe City. South Lake Tahoe is where all the action is, whether you are looking for restaurants, bars or casinos. Artemis Lakefront Café is a must-stop for Mediterranean cuisine on the South Shore.
Nevada City
This bohemian city nestled in the Sierra Nevada foothills, has lots to explore from crystal shops to an earth-lover's gift shop. For lunch, head over to Three Forks Bakery & Brewery Co., and join the locals for some homemade pizza and local brews. Later, walk off all the carbs, by heading up the hill and into the residential neighborhoods that boast beautiful Victorians. During the fall, it's especially beautiful with all the vibrant foliage that is a result of the higher elevation.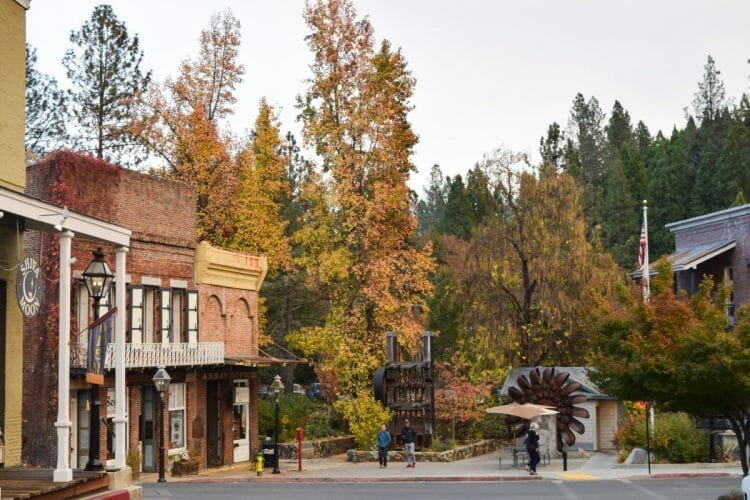 What are your favorite Sacramento day trips?
Photo source: Marshall