Orange County has been my home for a year now and it's still hard to believe that this scenic Southern California region just south of Los Angeles is where I get to call home. Known for its famously gorgeous beaches and home to Mickey Mouse, the OC also has a lot of culturally rich cities inland where you can spend the day on a delicious food crawl. One of my favorite things is the more relaxed vibe down here, where you can escape from the bustle of LA. From beach towns to favorite food spots, here are the top things to do in Orange County.
Top Places To Go In Orange County

Anaheim
Disneyland is the main attraction here and is worth spending a day (or two) being filled with childhood nostalgia in the main park and Disney California Adventure. Spend the day exploring distant lands like Galaxy's Edge or the whimsical Cars Land. Seek out ALL the treats: dole whip, churros, Mickey Mouse pretzels, and that highly addictive popcorn to name a few. I'm not a Disney diehard, but still managed to convince myself that I needed an Annual Pass now that I live 30 minutes away. I have no regrets.
Just outside the parks, Downtown Disney that has places like Salt & Straw ice cream and Sprinkles cupcakes, as well as World of Disney, where you can pick up souvenirs. The Disneyland Hotel is a great alternative to grab drinks at Trader Sam's Enchanted Tiki Bar or grab a Loco Moco Burrito at Tangaroa Terrace for brunch.
If you want a break from the Happiest Place on Earth, there is plenty to do beyond the park's perimeters. The Packing House is a transformed food hall that was once a Sunkist warehouse. There are plenty of delicious choices spanning the two-story warehouse, including the speakeasy The Blind Rabbit (make reservations beforehand) for cocktails and dinner or a fried chicken sandwich from The Kroft.
The classic LA-based restaurant Roscoe House of Chicken and Waffles has a branch in Anaheim if you don't want to make the trek up to the original in Hollywood. If you're craving perfectly seasoned fried chicken and waffles that have the perfect balance of golden brown crisp and soft interior, this place should not be missed.
Buena Park
For a more local alternative theme park, Knott's Berry Farm is your place. Opened in 1920, the park's theme is the Wild West, complete with areas called Ghost Town that is a recreated old Western town. I remember going as a little girl and eating Ms. Knott's fried chicken and freshly-baked boysenberry pie. Fun fact: Knott's was built on a former berry farm, hence the boysenberry everything.
Go on a warm California day and get soaked on the Timber Mountain Log Ride or get your adrenaline racing on the Silver Bullet coaster. For an elevated level of excitement, go during holidays like Knott's Scary Farm during Halloween and Knott's Merry Farm during Christmas.
Close to Knott's, the uber popular Southern California cafe/bakery hybrid Porto's is a must in Buena Park. There is usually a line, but it's worth it for the feast of guava pies, chicken croquettes and potato balls.
Huntington Beach
The Huntington Beach Pier is where you can get your orientation in this surf-centric beach town. Walk the length of the pier, which is one of the longest on the West Coast. Back on dry land, make your way to Pacific City, an open-air, beachfront mall that has Lot 579, a food court with some fan favorites like Popbar for handcrafted gelato on a stick and Bear Flag Fish Co. that serves up seafood with ocean views.
To learn more about the importance that surfing has had locally, head to the the International Surfing Museum and the adjacent Surfing Walk of Fame. Learn about Duke "The Duke" Kahanamoku, who is considered the father of surfing and  don't miss the 42-foot surf board right outside the museum.
One of my happy places to go in Orange County is Huntington Dog Beach, where some of OC's happiest pups are playing in the surf. The dog beach is located right off the Pacific Coast Highway and offers some spectacular views especially at sunset. There is a walking path right above the actual beach that is ideal for strolling and admiring the action from afar.
Westminster

The first time I ventured into Westminster was when I was visiting LA/OC from the Bay Area in December and we had just gone to the Huntington Dog Beach and were cold and hungry. A quick Yelp search revealed numerous bowls of noodle soup nearby that couldn't have been more welcomed. We headed inland to this predominately Vietnamese-American community and made our way to the Asian Garden Mall (Phuoc Loc Tho) to Pho 79.
They also have a night market during summer weekends, which is rumored to have cheap, delicious grilled food. If you are around the are during Lunar New Year, they have one of the biggest Tet celebrations in California.
For a more in-depth guide on where to eat in Little Saigon, here is an excellent guide.
Santa Ana
Located a bit inland, this city has plenty of cultural destinations to explore like the Heritage Museum of Orange County that showcases restored Victorian homes, contemporary art at the Orange County Museum of Art and the Bowers Museum that features Native American Art.
Santa Ana has a large Mexican population and has some of the best food at spots like Taqueria El Zamorano, where you can get savory carnitas and al pastor tacos wrapped in homemade tortillas. On Dio De Los Muertos in early November, there's a street fair in downtown Santa Ana that is worth checking out for the colorful altars and street food. There is also the Noche De Altares, where you can see the altars illuminated at night.
For serious comfort food, Munchies Diner is a vegan restaurant that offers up solid options like chicken parm sandwiches and tuna melts for vegans and non-vegans alike.
For more food options, the 4th Street Market in downtown Santa Ana is an upscale food hall that has hit or miss options when it comes to entrees, but is a fun place to grab a beer or some ice cream and head to the back outside patio to play games and hang out on a warm summer night.
Irvine
Home sweet home. This rapidly growing area has transformed from fields of orange groves to a city that is now headquarters to companies like In-N-Out and Blizzard Entertainment. Irvine is different than any city in Orange County, because it's a master planned city, where neighborhoods are divided into "villages" and have different architectural themes, so it can feel like you are in Italy one moment and Spain the next.
UC Irvine is worth stopping by to check out the beautiful campus, including the Arboretum (free entrance) and the University Center for some In-N-Out. The Irvine Spectrum is a giant outdoor mall complex that is designed with Moroccan flair and is fun to just walk around and people watch. Besides the usual stores and restaurants, there is a movie theater, giant Ferris wheel, and improv theater. They also do awesome community events like summer movie nights.
One of the best parts of Irvine is the outdoor space, where there is over 16,500 acres of parks and dedicated open space to explore. Turtle Rock Viewpoint, is a popular hiking trail, where you can see all the way to Downtown LA on a clear day. The Sinks (Limestone Canyon) is an impressive limestone canyon formation that earned it the nickname OC's miniature Grand Canyon and is just a short drive from the center of Irvine. Bommer Canyon is a great place to hike along picturesque rolling hills. For a better visual of Irvine's outdoor spaces, this map is a great resource.
Newport Beach
This is the quintessential OC beach town with million dollar oceanfront property and miles of stunning shoreline. There are two piers a few miles apart: Balboa Pier and Newport Pier, both great spots to get a feel for the laid-back local lifestyle. For witnessing some serious waves and the surfers who are brave enough to face them, head over to The Wedge, at the very eastern end of the Balboa Peninsula ( 2172 E. Ocean Front). Wedge-shaped waves can get up to an impressive 20 feet high.
My absolute favorite spot in Newport is Balboa Island, which feels a bit less frantic and reminds me of Cape Cod or Martha's Vineyard, with its cute beach houses and Main Street that sells frozen bananas at Sugar 'N Spice. Once you take the boat over from the mainland, walk through the quieter neighborhoods instead of the waterfront path to get a close look at the beautiful homes. In December, there is the popular Newport Beach Christmas Boat Parade, where illuminated boats bob around the island.
Laguna Beach
If Newport Beach is the ritzy beach town, Laguna is its more artsy counterpart with a walkable downtown where you can easily access the Main Beach and Heisler Park, which is one of the most beautiful places to go in Orange County, with views high above the surf. Laguna has a lot of breathtaking beaches, from the adrenaline-inducing Thousand Steps Beach to the insta-famous Victoria Beach with its pirate tower. Crystal Cove State Park has 3.2 miles of shoreline and 18 miles of hiking trails. The Historic District is a personal favorite spot to wander around and see the 1920/30 cottages that are available to stay overnight in.
The Top of the World is an excellent place to hike along the many miles of trails with views of the Pacific. Just be careful that some trails are very steep as experienced firsthand by yours truly.
For art-based activities, the Laguna Beach Art Museum is a good place to start. The Sawdust Summer Festival and the Winter Fantasy Festival are also worth stopping by to see local art and musical performances in action. The Pageant of the Masters is a summer show, where famous paintings are recreated with live people and it draws a large crowd.
Dana Point
One of my absolute favorite things to do in Orange County is this idyllic beach town that is a bit quieter than Laguna and Newport. I love walking to Dana Point Harbor Beach (Baby Beach) along the water from Dana Point Harbor and watch the sailboats and SUPers float on by. Beyond Baby Beach is the Ocean Institute where you can learn more about the intricacies of the ocean, and Dana Cove Park, a scenic beach with rugged cliffs. Later on, head up to Doris Walker Overlook, where you can get spectacular views of the harbor from above.
For an alternative activity, the Catalina Express takes off to Catalina Island from Dana Point Harbor and takes about an hour and a half to get to the island.
To refuel, head to The Shwack Beach Grill, where they make a mean turkey burger with cranberry sauce. The casual feeling of this restaurant, which has outdoor patio to chill on and plenty of beers on tap is the perfect way to end the day.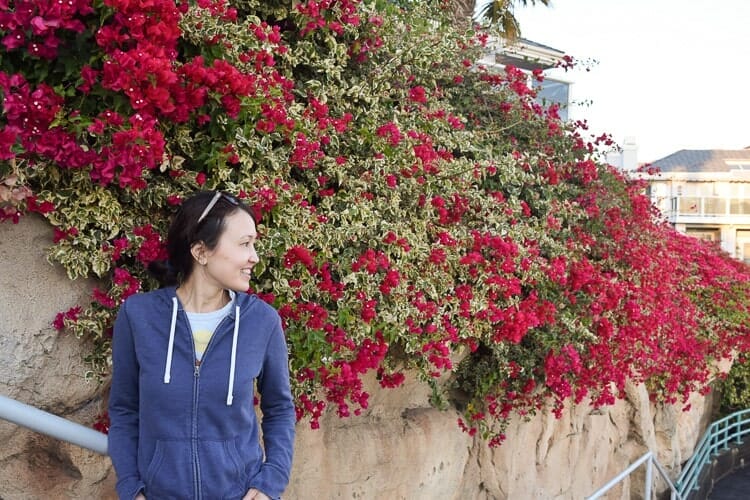 San Clemente
This beach town is known for its Spanish colonial-style architecture and staggering coastline that is ideal for surfers and beach goers alike. San Clemente State Beach is ideal for those seeking a quieter experience and T-Street Beach is a surfers' paradise, especially for those who are just starting out.
The Casa Romantica Cultural Center and Garden is worth stopping by to learn about local history at this former sprawling estate. There is also the Surfing Heritage and Culture Center, where you view surfing memorabilia, including old videos and photographs.
Afterward, walk through downtown San Clemente, admiring the beautiful architecture and then grab hearty sandwiches at Billy's and eat them in the adjacent courtyard. A delicious alternative, The Fuel Shack, offers up memorable chicken tinga and other healthy options.
Additional Places To Go In Orange County
Costa Mesa-stop by Sidecar Donuts for gourmet donuts and strong coffee and then walk around the LAB Anti-Mall, an outdoor mall with a cool retro vibe.
Seal Beach-a small beach town that is not as crowded as neighboring Huntington Beach
Orange-walk along the 6th Street Promenade and stop in Bookman to browse used books.
Where are your favorite Orange County destinations?
Photo source: Knott's Berry Farm