Portland is a city that does not skimp on good food (or drinks). Whether you want to treat yourself to a sit-down meal or prefer to grab a meal for $10 or less, there's something delicious for every price point. From numerous food carts for casual take-out meals to some of city's best ice cream that's worth braving the long lines for, here are the best places to eat in Portland that should be on your list.
Food Carts
Unlike food trucks, Portland is known for their food carts that are stationary and can usually be found in groups called pods, which makes it much easier to locate and sample from a wider variety of choices in one convenient location. The popular downtown 10 Ave. and Alder Food Pod (which was home to the original Nong's Khao Man Gai food cart) will soon be replaced with a five-star hotel, but these food carts are still open as of February 21, 2019 and worth trying: Shawarma Express, Eggy Pocket, Bing Mi, Number One Bento, Altengartz, and The Frying Scotsman.
There's no seating, but head to Director Park a few blocks away for public tables and prime people-watching. Other food pod locations include Pioneer Courtyard Square (try Burger Stevens), and a bit further out Cartlandia, which has indoor seating, bathrooms and plenty of round the world eats (try Thai food at Anything Else?). For a comprehensive guide to Portland's food carts, check out the Food Carts Portland website.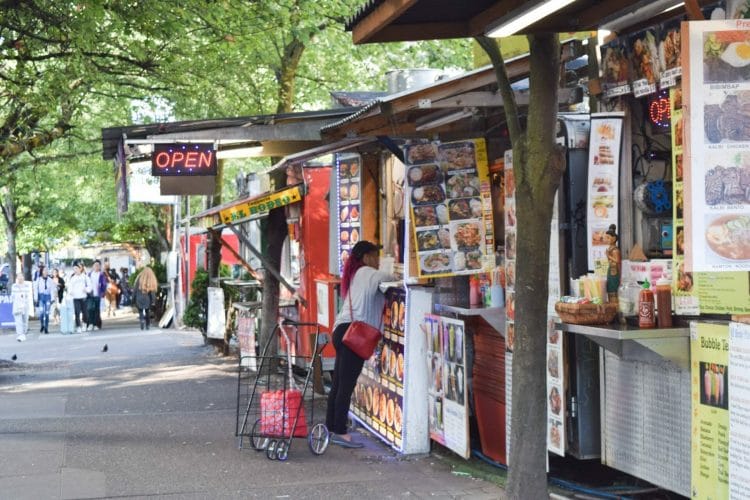 Piazza Italia

The moment you step inside this Pearl District restaurant you will most likely get a hearty "buena sera" from one of the waiters. This cozy traditional Italian spot is known for its pasta (made from scratch), as well as its impressive wine list of imported wine. Every dish from a simple garlic and olive spaghetti to the rich lasagna is excellent. Make sure to save some room for dessert, and try their homemade tiramisu. The interior is decorated with soccer memorabilia, including a ceiling filled with colorful autographed jerseys of Italian soccer stars that reflects the owners' obsession with Italian soccer. Take advantage of the outdoor patio on warm summer days. Book reservations, especially on weekends, since there's limited seating and it fills up quickly.
Stumptown

As one of the city's most famed coffee roasters this is a solid local spot to go to for morning fuel. During warmer weather, try the cold brew on tap that's infused with nitrogen and has a silky smooth taste. Stumptown has a small menu that focuses on classic coffee drinks (no fancy Starbucks concoctions), but what they serve they excel in. There is also baked goods, as well as breakfast sandwiches available in the morning. There are branches all around the city, including one in the trendy downtown Ace Hotel, where you can grab a doughnut (or two) from Blue Star around the corner and enjoy your treat with Stumptown coffee in the hotel lobby. For non-coffee drinkers, there's hot chocolate, tea and ice tea.
Blue Star Doughnuts

Voodoo might have the most iconic doughnuts in the city, but let's be honest it's also mostly for tourists and Instagram, not the flavor. Blue Star's doughnuts are a good alternative local doughnut shop with quality ingredients that aren't so heavy. There are always creative flavors available, from blueberry bourbon basil (one of their most popular) to a decadent lemon poppyseed buttermilk. Try their newest creation, the CBD chocolate hazelnut custard, which infuses locally grown hemp-derived CBD into the dough. There are branches all around the city, including one at Portland International in the main terminal before security.
Broder Nord
This Nordic-style restaurant is worth waiting in line for brunch. Forget your traditional pancake and eggs benedict brunch fare, the menu offers delicious alternatives like Danish pancakes (a personal favorite), lost eggs and Swedish hash. Lunch is equally delicious in the form of open-faced sandwiches and Swedish meatballs. Broder Nord is located in an industrial area of northeast Portland, and the interior has a cool industrial vibe to it. There is a MAX stop conveniently located right outside the door. There are other branches around the city including Broder Cafe, Broder Soder, and Broder Ost, each with their own distinctive character.
Salt & Straw
With a West Coast cult following (there are branches throughout California, Seattle and Washington), this Portland-based ice cream shop is known for its unique seasonal flavors that are handmade in small batches from organic, local ingredients. Popular regular flavors include Sea Salt With Caramel Ribbons and Almond Brittle With Salted Ganache. For those who are vegan/dairy intolerant, there are always a few memorable non-dairy flavors as well like the classic Roasted Strawberry Coconut. If you can't decide on which flavor to get, try an ice cream flight that has four kid-sized samples. There are numerous locations around the city, including the Wiz Bang Bar, which features soft-serve. There's usually a line, but it's always worth the wait.
Nong's Khao Man Gai
This restaurant is known for the Khao Man Gai dish, which is a popular Thai poached chicken dish that is served with broth-infused rice, spicy fermented soybean sauce, and a cup of refreshing chicken broth. Originally a food cart, there are now two brick-and-mortar locations in southwest and southeast Portland, where you can get the beloved chicken dish, vegetarian dishes, as well as pork and rice, and chicken rice soup. Thai beer and an assortment of specialty cocktails are available to wash it all down. When you get to the restaurant there will be two lines, one for ordering, one for seating, which makes the whole process very efficient and you don't have to hover and wait for a table.
Elephant Delicatessen
This Alphabet District gourmet deli is a great option for a take-out lunch before heading to nearby Washington Park and the International Test Rose Garden. There are different sections, including a pre-packaged salad and sandwich area, sandwich station (try the pastrami with coleslaw on homemade dark rye bread), a pizza oven, cheese and meat counters, a prepared food counter and bakery. There is also seating if you prefer to eat your meal inside. If you want to linger awhile, try their hand-selected charcuterie boards with a glass of wine or beer. The prices are a bit higher than a regular deli, but you can definitely taste the quality.
Ken's Artisan Bakery
Whether you are stopping in for their flaky croissants (get the chocolate one) or morning bun for a morning pick-me-up or their delicious sandwiches for lunch, it's hard to go wrong with anything at this bakery. Their freshly-baked loaves can be easily packaged up and stowed in your carry-on. There's lots of both indoor and outdoor seating. If you're around the Alphabet District on a Monday night, stop by for the ever-popular pizza night from 5:30-9:30 p.m. There's also a Ken's Artisan Pizza in southeastern Portland that focuses solely on pies.
Where are your favorite places to eat in Portland?