The Pacific Coast Highway (PCH) is arguably one of California's most scenic roads. Even as a native Californian, I never get sick of driving along the coast and soaking in the view. Covering this road in a day or two is doable, but it's best to spend longer making your way down the coast to get the most of your trip, and trust me you will want to take your time on this iconic drive. Here is a Pacific Coast Highway itinerary for 7 days, that will allow you time to exploring beach towns, eat plenty of seafood, and get a taste of two major California cities to bookend each end of the trip.
This post contains affiliate links (with no extra cost to you). Thank you for supporting Small World This Is.
Pacific Coast Highway Itinerary for 7 Days
San Francisco – 2 Days
Big Sur – 1 Day
Santa Barbara – 2 Days
Los Angeles – 2 Days
Where Exactly Is The PCH?
Let's get a bit technical for a moment, and discuss the name Pacific Coast Highway. This main stretch of coastal road is officially called California's Highway 1 (starting a bit north of San Francisco in Mendocino County), where the Pacific Coast Highway, is the portion that starts from roughly Oxnard all the way to the end in Dana Point in Southern California.
The Pacific Coast Highway and Highway 1 are often used interchangeably and will be done so in this post.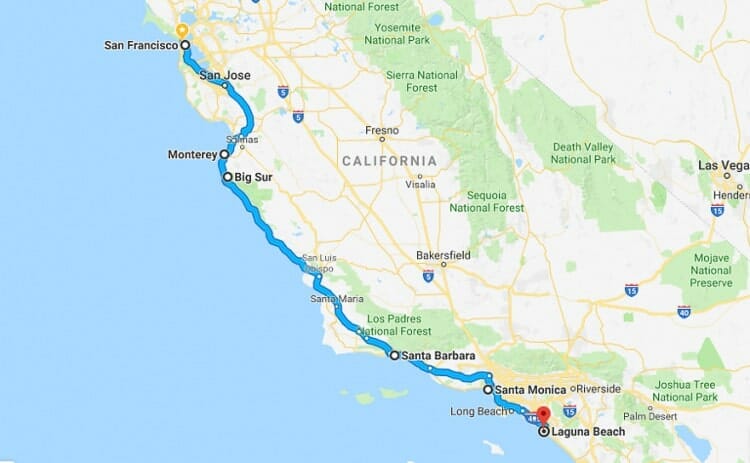 Which Pacific Coast Highway route is the best?
Going from north to south is ideal, since you'll be in the lane closest to the ocean, and therefore have the best view without having a lane of traffic in the way. Of course, going the opposite way is not bad as well, and it all depends on what works best for your personal travel plans. This article goes north to south, with San Francisco as your ideal starting point.
What is the best time for a PCH road trip?
Contrary to popular belief it's not always sunny in California. The best time to go is in September or October, when the summer crowds have gone home, and the weather is still warm.
If you do decide to plan a Pacific Coast Highway trip in the late spring/early summer there's a good chance the coastline will be foggy, especially in Southern California, which the locals lovingly refer to as June Gloom. Winter and spring can also be an option if the weather is sunny, but be forewarned that if it's rainy there can be road closures due to dangers like mudslides.
Renting A Car For Your PCH Road Trip
The best rental car prices are at the airport (SFO or LAX in this case) and I usually do a search on this site that sorts through top companies like Hertz, Enterprise, and Avis to get the best deal. You can rent a car in San Francisco and then leave it in Los Angeles, though it will cost a bit more it's well worth it.
Okay, now that we've gotten logistics out of the way let's plan the perfect PCH road trip.
San Francisco (2 days)

There's no better place to start than San Francisco, where you can rent a car from San Francisco International Airport (cheaper than in the city), and spend the day wandering around to your heart's content. Make sure to pack a warm coat, since San Francisco can get chilly year-round from the fog, especially during the summertime.
Things to do in San Francisco
hike in Lands End for unparalleled views of the Golden Gate Bridge, the Pacific Ocean and the Marin Headlands in the distance
spend a day in Golden Gate Park, museum-hopping between the neighboring Academy of Science and de Young Museum
indulge in a dim sum brunch at Dragon Beaux in the Outer Richmond
go mural-hopping at Balmy Alley in the Mission and then grab a massive Mission-style burrito at La Taqueria
Where to stay in San Francisco
A central location near the waterfront, Pier 39, and North Beach.
Check out reviews on TripAdvisor | Book your stay on Booking.com
A great location close to Union Square, Chinatown, and SOMA
Check out reviews on TripAdvisor | Book your stay on Booking.com
Big Sur (1 day)

San Francisco to Monterey

The first stop on this road trip is Big Sur, which is known for its winding roads, sweeping ocean views and cliffs that rise dramatically over the Pacific.
Stops along the way to Big Sur
pick up a sweet treat in the form of derby cake (chocolate and vanilla cake with whip cream and fruit) at Mazzetti's Bakery
stop at Half Moon Bay State Beach and witness the waters where the revered Maverick surf competition takes place every year
take in the views at the rugged Pescadero State Beach
walk around downtown Santa Cruz and grab lunch at The Buttery amid surfers and college students
visit the Santa Cruz Beach Boardwalk and ride the Giant Dipper, a historic wooden roller coaster
meet the local aquatic life including cute otters at the

Monterey Bay Aquarium

make your way down 17-Mile Drive-a drive that features dramatic coastal views and lavish seaside mansions
visit downtown Carmel, including the Carmel Coffee & Cocoa Bar for strong coffee and hearty sandwiches
Things to do in Big Sur
pull up to one of the vantage points for the iconic Bixby Bridge that towers high above Bixby Creek
explore the numerous hiking trails and stunning views in Pfeiffer Big Sur State Park
walk along Pfeiffer Beach which feels almost otherworldly with its lavender-colored sand and key hole rock formations jutting dramatically out of the Pacific Ocean
witness the majesty of McWays Falls in Julia Pfeiffer Burns State Park that cascades into the ocean
Where To Stay In Big Sur
If you plan on staying overnight there are numerous campground options both in Pfeiffer Big Sur State Park and Julia Pfeiffer Burns State Park that you can reserve ahead of time. If you want something a bit more substantial, here are three alternative options.
Located in Pfeiffer Big Sur National Park, these cottage-style rooms are a great spot to spend the night at the beginning of your trip (especially if you've driven from somewhere like the Bay Area).
Check out reviews on TripAdvisor | Book your stay on Booking.com
For a taste of luxury, this adult-only, 5-start resort just outside of Pfeiffer Big Sur National Park is where you go to get properly pampered.
Check out reviews on TripAdvisor | Book your stay on Booking.com
Santa Barbara(2 days)

Big Sur to Santa Barbara

This day is going to be a long one, and it's recommended that you start as early as possible. It's also one of the most scenic portions of the road trip, since you are passing through the rest of Big Sur in all its regal beauty, and ending in the beautiful seaside city of Santa Barbara. You definitely don't want to rush your way through.
Stops along the way to Santa Barbara
tour the palatial Hearst Castle in San Simeon
make a stop at Morro Bay to witness the gigantic Morro Rock looming at the entrance of the harbor
visit the charming college town of San Luis Obispo, where the tri-tip is not to be missed at Old San Luis Barbecue Company
walk around the Danish-inspired town of Solvang and get some aebelskivers (pancake puffs) at Solvang Restaurant's to-go window.
Things to do in Santa Barbara
stroll down State Street downtown and then drive to nearby Los Agaves for some solid Mexican food
sip local wines on the Urban Wine Trail, including the Funk Zone, which is a revitalized industrial area of town that has numerous wine tastings, cafés, and galleries
get some sun at the city's East Beach, while enjoying panoramic views of the Pacific
wander around Ganna Walska Lotusland, a botanical garden located on the Montecito estate of a Polish singer
get a scoop or two of ice cream at McConnell's on State Street (Turkish Coffee or Eureka Lemon and Marionberries)
Where to stay in Santa Barbara
Located close to downtown, spotless, and comes with a complimentary breakfast
Check out reviews on TripAdvisor | Book your stay on Booking.com
A cozy boutique hotel that is a few blocks from the beach and includes a free continental breakfast
Check out reviews on TripAdvisor | Book your stay on Booking.com
Los Angeles (2 Days)

Santa Barbara to Santa Monica
Welcome to Southern California! This is one of my favorite drives because it passes along the scenic coast of Malibu before entering Los Angeles. There is something about driving along the winding roads of the Pacific Coast Highway that always makes me daydream about driving it in a convertible. It's one of those roads.
Stops along the way to Santa Monica
walk along the Ventura Pier, where on clear days you can see the Channel Islands, and stop for fish tacos at Beach House at the end of the pier
stretch your legs on Point Dume, a classic Malibu beach if there ever was one
stop for fresh seafood at Malibu Seafood and eat your fish and chips al fresco with a view of the ocean across the street
spend a few hours at the Villa Getty (reservations recommended) admiring the art and architecture (admission is free, but $15 parking)
Things to do in Santa Monica
stroll along the Santa Monica Pier and the adjacent beach
people-watch on the colorful Venice Beach Boardwalk
browse boutique shops on Abbot Kinney Boulevard including Toms Venice for shoes and Burro for gifts
find solace from city life in the beautiful homes along the Venice Canals
grab fuel in the form of a lox bagel or egg sandwich from Gjusta
Where to stay in Santa Monica
A mid-range hotel less than two miles from the beach and Santa Monica Pier, free parking
Check out reviews on TripAdvisor | Book your stay on Booking.com
A luxury hotel right on the beach with a pool that has a front-row seat to sunsets over the Pacific
Check out reviews on TripAdvisor | Book your stay on Booking.com
Additional Pacific Coast Highway Stops

If you have three more days, take advantage of a leisurely road trip down the coast ending up in beautiful Orange County. Choose a home base (Laguna Beach is a solid choice) and then take road trips around the area.
Laguna Beach (3 days)

This final stretch for your Pacific Coast Highway road trip is Orange County's stunning coastline. California has beautiful beaches all along its coast, but this area of the state is particularly breathtaking.
Stops along the way from Santa Monica to Laguna Beach:
explore the

Queen Mary

in Long Beach, a permanently docked ocean liner that also has an on-board hotel and restaurant
stop for some authentic poke at Jus' Poke in Redondo Beach where you can mix and match flavors like spicy and shoyu (soy sauce)
walk along the Huntington Beach Pier and watch the surfer in the waves below
Things to do in Laguna Beach
spend a day at Main Beach, steps away from the center of town
head to Crystal Cove State Park if you want a more secluded beach
learn how injured sea lions are nursed back to health at the Pacific Marine Mammal Center
spend an afternoon at the Laguna Art Museum which features exclusive art created in California
head over to Nick's Laguna Beach for a classic brunch that features things like short rib benedict and warm butter cake for dessert
hike to the Top of the World nestled in Laguna Canyon high above the Pacific
Where to stay in Laguna Beach
A stunning central beachfront property that is just steps from downtown Laguna
Check out reviews on TripAdvisor | Book your stay on Booking.com
A short walk away from the beach and the center of town, complimentary coffee to start the day
Check out reviews on TripAdvisor | Book your stay on Booking.com
Day Trips Around Laguna Beach
Newport Beach
This is the quintessential OC beach town with million-dollar oceanfront property and miles of stunning shoreline. There are two piers a few miles apart: Balboa Pier and Newport Pier, both great spots to get a feel for the laid-back local lifestyle.
For witnessing some serious waves and the surfers who are brave enough to face them, head over to The Wedge, at the very eastern end of the Balboa Peninsula ( 2172 E. Ocean Front). Wedge-shaped waves can get up to an impressive 20 feet high.
My absolute favorite spot in Newport is Balboa Island, which feels a bit less frantic and reminds me of Cape Cod or Martha's Vineyard, with its cute beach houses and Main Street that sells frozen bananas at Sugar 'N Spice. Once you take the boat over from the mainland, walk through the quieter neighborhoods instead of the waterfront path to get a close look at the beautiful homes.
In December, there is the popular Newport Beach Christmas Boat Parade, where illuminated boats bob around the island.
Huntington Beach
The Huntington Beach Pier is where you can get your orientation in this surf-centric beach town. Walk the length of the pier, which is one of the longest on the West Coast. Back on dry land, make your way to Pacific City, an open-air, beachfront mall that has Lot 579, a food court with some fan favorites like Popbar for handcrafted gelato on a stick, and Bear Flag Fish Co. that serves up seafood with ocean views.
To learn more about the importance that surfing has had locally, head to the International Surfing Museum and the adjacent Surfing Walk of Fame. Learn about Duke "The Duke" Kahanamoku, who is considered the father of surfing and don't miss the 42-foot surfboard right outside the museum.
One of my happy places to go in Orange County is Huntington Dog Beach, where some of OC's happiest pups are playing in the surf. The dog beach is located right off the Pacific Coast Highway and offers some spectacular views especially at sunset. There is a walking path right above the actual beach that is ideal for strolling and admiring the action from afar.
Dana Point
This idyllic beach town is a bit quieter than Laguna and Newport. Walk along the Dana Point Harbor and watch the sailboats and SUPers float by. Beyond Baby Beach is the Ocean Institute where you can learn more about the intricacies of the ocean, and Dana Cove Park is a scenic beach with rugged cliffs. Later on, head up to Doris Walker Overlook, where you can get spectacular views of the harbor from above.
For an alternative activity, the Catalina Express takes off to Catalina Island from Dana Point Harbor and takes about an hour and a half to get to the island.
To refuel, head to The Shwack Beach Grill, for an extensive menu of burgers, tacos and sandwiches. The casual feeling of this restaurant, which has an outdoor patio to chill on and plenty of beers on tap is the perfect way to end the day.
San Clemente
This beach town is known for its Spanish colonial-style architecture and staggering coastline that is ideal for surfers and beachgoers alike. San Clemente State Beach is ideal for those seeking a quieter experience and T-Street Beach is a surfers' paradise, especially for those who are just starting out.
The Casa Romantica Cultural Center and Garden are worth stopping by to learn about local history at this former sprawling estate. There is also the Surfing Heritage and Culture Center, where you view surfing memorabilia, including old videos and photographs.
Afterward, walk through downtown San Clemente, admiring the beautiful architecture, and then grab hearty sandwiches at Billy's and eat them in the adjacent courtyard. A delicious alternative, The Fuel Shack, offers up memorable chicken tinga and other healthy options.
Updated 4/12/22