San Francisco is a compact city, where you can see a whirlwind of highlights in a day if you have limited time. Although not ideal, if you make a solid plan, you can see plenty of top city sights, from waterfront views to exploring the city's largest park. Here's an itinerary for an ideal one day in San Francisco, that will give you a full day of sightseeing throughout the city.
This post contains an affiliate links (with no extra cost to you). Thank you for supporting Small World This Is.
The Perfect One Day In San Francisco
This itinerary was created with the idea that it will start out around 10am and take around 1-2 hours in each area. It will definitely be a busy day, but it's doable!
Morning-Dragon Beaux

Start your one day in San Francisco, brunching the way locals do-with a delicious dim sum feast. This restaurant is more upscale and is a nice change from the slightly chaotic dim sum carts at other spots. Instead you order by marking your choices on a piece of paper beforehand. All the classics like shrimp dumplings, pork buns, and egg tarts are on the menu, as well as more inventive dishes like the colorful 5 guys xiao long bao, which are soup dumplings each with a different filling.
Make sure to line up 20-30 minutes before 10:00am on the weekends to beat the rush.
Late Morning-Golden Gate Park
Afterwards, head over to the city's largest park (over 1000 acres to be exact) to walk off brunch. Start out at the de Young's Hamon Tower, where you can get a 360 aerial view of the park and the city and ocean beyond, especially if the fog lifts. The entrance to the tower is free, and is separate from a museum entrance ticket.
Afterward, walk across the way, to the California Academy of Sciences, which is an innovative natural history museum with a live rainforest, a living eco-roof and an impressive 75-foot dome planetarium.

Early Afternoon-Crissy Field
Stop by Crissy Field, where you are treated to one of the best views of the Golden Gate Bridge and the bay.  This restored marshland is the perfect place to walk along the water and people/dog watch. Make sure to bring a jacket, since it can get windy and foggy near the water.
A great place to go is Crissy Field East Beach, where there are plenty of postcard perfect views of the bridge. If you want to get close and personal, the walking path from the Warming Hut to Fort Point brings you right up to the base of the bridge.
Afternoon-Fisherman's Wharf
From Crissy Field, head to Fisherman's Wharf, where you can see sights like Ghirardelli Square, a real-life chocolate factory where you can share a massive sundae, and the Musee Mecanique (a personal favorite since childhood), which features antique penny arcade games.
Afterward, take the streetcar or walk to Pier 39, and see the noisy, but lovable sea lions. Walk along the boardwalk and browse the shops, and admire the historic carousel in the center that includes beautiful hand-painted panels of famous SF landmarks.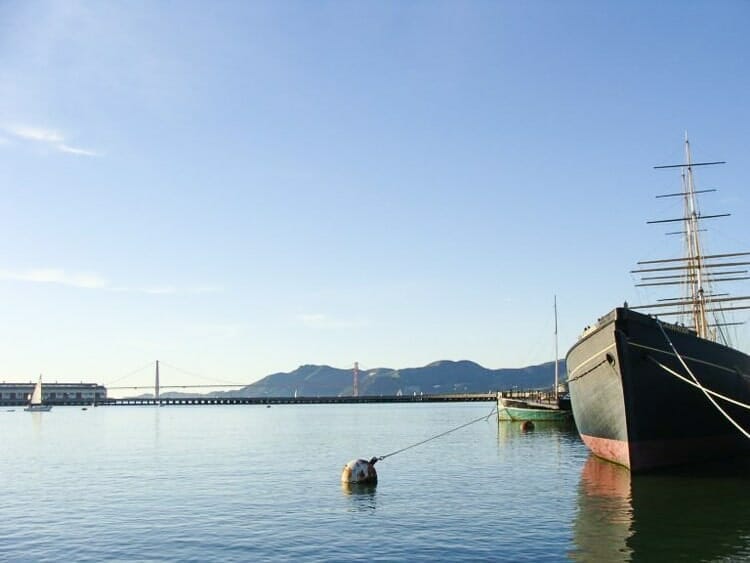 Late Afternoon-Chinatown
If you have the time (and energy), you can take a quick Uber to one of the oldest Chinatowns in the U.S. Start at the Dragon Gate, and wander along Grant Avenue with the colorful lanterns, and numerous souvenir shops. Sample tea at Vital Tea Leaf, where you can do tastings with no pressure to buy anything.
For a little pre-dinner snack, stop by the iconic Eastern Bakery, that has been here since the 1920s and has had presidential visitors like Bill Clinton stop by for their famous egg tarts. Cash only.
Early Evening-North Beach
For dinner, head to North Beach, the city's historic Italian neighborhood, and snag a spot at the uber popular Tony's Pizza Napoletana for memorable pies and lively atmosphere. For dessert, Stella Pastry & Cafe, an old school bakery is the place to go for a dizzying array of Italian cookies, cakes, and cannolis.
Walk down Columbus and stop in City Lights (open until midnight every day) which is known for its progressive views, including publishing the controversial Allen Ginsberg poem Howl in 1956.
Evening-Union Square
Save downtown for the finale, where you can wander around the city square and admire all the lit up department stores. Head up to one of the top levels of the Macy's department store, and be treated to an aerial view of Union Square from one of the many floor to ceiling windows. Stop by at Neman Marcus across the street to admire the beautiful stain glass ceiling.
Afterward, walk along busy Powell Street, and end your one day in San Francisco at the glitzy Westfield Mall, where you can grab a Japanese-style cream puff from Beard Papa's.
Alternative Activities For One Day In San Francisco
Lands End and Sutro Baths – located in the Outer Richmond, this scenic hiking trail has some of the city's best views of the Golden Gate Bridge and the Pacific Ocean.
Alcatraz – touristy yes, but I am a big fan of this self-guided tour. The views of the city from the island are unparalleled. They also have a nighttime tour for those who want to give themselves extra chills.
Ferry Building – a great place to grab a snack or drink from one of the many booths, including Blue Bottle Coffee and enjoy it with a view of the Bay Bridge. The

Ferry Plaza Farmers Market

is open on Tuesday, Thursday, and Saturdays.
Lombard Street – one of the most curvy streets in the world, this street is fun to check out and snap a few photos.
Painted Ladies – the most recognizable landmark after the Golden Gate Bridge, these Victorian homes are located in Alamo Square and worth it to stop by to see these historic beauties up close.
San Francisco City Hall – in my humble opinion this is one of the most beautiful buildings in the city, with its light-filled rotunda and grand central staircase.
Twin Peaks – drive up to the top of this hill to be treated to a panoramic view of the city.
Best time to visit San Francisco

SF shines best during the early fall in September and October. The weather is seasonably warm and the rainy season is still a month or two away. The summer crowds have gone home, and high season prices are going down. That being said bring a warm jacket no matter the time of the year, since you never know when the fog will roll in.
It's important to remember that SF doesn't have typical seasons.  It can be sunny in the morning, but then the fog can roll on in during the afternoon. Or it can be foggy all day. The general rule through is that the closer to the ocean you are the foggier it will be. It can be warm in the Mission, but freezing in the Sunset.
Getting Around San Francisco
The main public transportation systems in the city are Muni and BART. Muni has an extensive bus and street car system, where BART has only a few stops in the city. Renting a car in San Francisco is usually much more of a headache than it's worth, especially if you plan to just stay within the city.
Since San Francisco is a small city, ride share companies like Uber and Lyft are great ways to zip around the city carless. San Francisco is also an easy city to walk around, just be prepared for those steep hills.
San Francisco Airports

There are three major airports in the Bay Area. You will most likely be flying out of SFO, the main international airport located 13 miles south of downtown San Francisco. BART is the cheapest way to get into the city, where you can go directly from the airport to downtown.
Oakland International Airport is another option that is right across the Bay, and can provide a more sane experience and is easily reachable by BART.
The third airport is San Jose International, which is the furthest from San Francisco (an hour or more) and only makes sense if you're staying in the South Bay.
How safe is San Francisco?

Another common concern visitors have when they come to SF is how safe is the city? Like any mid-sized city there are parts that you should be extra vigilant in, especially during the night. Those areas including the Tenderloin, Civic Center, parts of the Mission (stay west of Mission Street), Western Addition, and areas of SOMA (around 6th and Mission). Be extra careful to never keep valuables in cars, since car break-ins are very common.
Homelessness throughout the city is unfortunately a major issue and can be quite disheartening to witness. Many homeless individuals struggle with mental issues, and/or drug addictions. If you respect their space, they will respect yours.
If you're curious about organizations that help the homeless, St. Anthony's, Glide Memorial, and Raphael House are a few great places to start.
Where To Stay In San Francisco

San Francisco can be quite pricey when it comes to finding accommodations, especially if there's a huge tech conference or concert (Outside Lands) that takes over the city. That being said, there are reasonable options that can be reasonable for a one day in San Francisco stay, especially if you go in the spring or late fall.
It's harder to get more central than this, with Pier 39, Fisherman's Wharf, Ghiradelli's Square, and the Alcatraz ferry within walking distance of your room. A quick cable car ride away is Union Square and Chinatown. Amenities include: clean, spacious rooms and a twenty-four hour diner on-site.
Check out reviews on TripAdvisor | Book your stay on Booking.com
Great downtown location that is a 15-minute walk to Union Square and a 20-minute walk to the Embarcadero and the waterfront. Other nearby highlights include the SF MOMA and Yerba Buena Gardens. This hotel is less than a 10-minute walk to the Montgomery BART station, which goes straight to the airport and other popular destinations.
Check out reviews on TripAdvisor| Book your stay on Booking.com
For the ultimate SF getaway, stay in this historic hotel located in Nob Hill, right on the edge of downtown. The property is walking distance to Union Square, Chinatown, and a quick cable car ride to Pier 39. Whether you're a guest or not, drop by the legendary Tonga Room and the life-sized gingerbread house if you're there for the holidays.
Check out reviews on TripAdvisor | Book your stay on Booking.com
What is on your ideal one day in San Francisco?
Photo source: Neiman Marcus
Save
Save
Save
Save
Save
Save
Save
Save
Save
Save
Save
Save
Save
Save
Save
Save
Save