San Diego is one of my favorite cities to visit in California and fingers crossed if all goes well I hope to one day make it my permanent home. It has all the highlights of a Southern California coastal city, with plenty of stunning beaches, year-round warm weather, and delicious Mexican food. If you only have 24 hours, here's what to do with one day in San Diego that will give you a great introduction to America's Finest City.
This post contains affiliate links (with no extra cost to you). Read the full disclosure policy click here. Thank you for supporting Small World This Is.
San Diego Itinerary

Start your one day in San Diego in the lively Hillcrest neighborhood, where you can eat breakfast at Bread and Cie, a French bakery/cafe known for their freshly baked goods and delicious sandwiches. This is one of my favorite casual brunch spots where you don't have to wait an hour for a place and order at the counter.
They have extensive breakfast options like the Smoked Salmon Platter (a personal go-to), and Breakfast Pizza topped with bacon, Parmesan cheese and green onions. Make sure to grab a loaf of their freshly baked bread to snack on later. There is one hour parking for free available in the lot behind the cafe.
If you are in San Diego on a Sunday, make sure to check out the Hillcrest Farmers Market, where you can wander around the city's largest farmers' market. There are over 175 vendors selling everything from food from around the globe to fresh produce, and it's a great way to get a feel of life in San Diego from a local's perspective.
Spend the rest of the morning exploring Balboa Park, where there are plenty of museums and sights to keep you occupied for a few hours. This is the largest park in the city and is home to the San Diego Zoo, which is worth checking out if you have more time in the city, since you can easily spend half a day there.
First make your way over to the California Tower located in the Museum of Man, where you can go up with a tour (make a reservation beforehand) to see an aerial view of the park and the city beyond.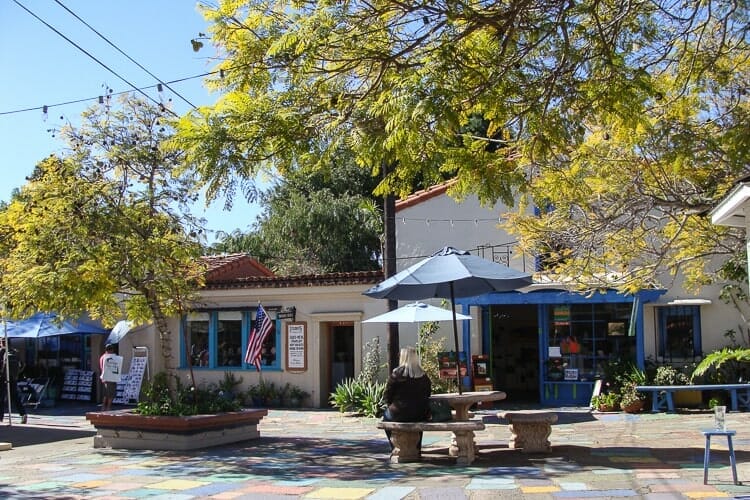 Depending on your interests there are a lot of museums to choose from:
Get your dose of art at the San Diego Museum of Art (The Timken Museum of Art is a good alternative and has free admission) or if you're more science-oriented the San Diego Air and Space Museum has a solid collection of aircraft and space vessels, along with engaging commentary on their significant roles in WWII and the Space Race.
To see local artists and their work, head over to the Spanish Village Art Center. The House of Pacific Relations International Cottages is left over from the 1935 Expo to promote cultural awareness, and every Saturdays and Sundays the cottages open their doors to teach visitors about different cultural traditions from their respective countries.
Head to La Jolla for a midday pick-me-up at the Taco Stand. Be prepared for a line and limited seating, but the food is definitely worth the wait. The tacos are large and filling, and some solid options are the Carne Asada, the Al Pastor and the Sonora with Angus steak with a generous helping of melted cheese. Whatever you do, make sure to order the freshly made churros that come with a sugary dipping sauce.
Famous for its panoramic waterfront views, La Jolla is an ideal area for spending an hour or two by the ocean and mingling with the local sea life. The views never get old. The biggest draw is La Jolla Cove, a scenic stretch of coastline that has a walking path along the water and where you can spot the smelly, but adorable sea lions. Scripps Park is located right next to the cove and is perfect for stopping to take a break on its grassy lawn or have a picnic at one of the provided picnic tables with a hard-to-beat view.
Get even closer to the ocean by heading to the La Jolla Underground Park, a small protected beach where you can snorkel, scuba dive, or just admire the tide pools. If you're up for a bit of adventure the Sunny Jim Sea Cave is the only sea cave in California that is accessible by land.
Explore one of the numerous La Jolla Tide Pools, which you can read more about here.
Head to Little Italy, where you can eat dinner at Ristorante Illando, a cozy family-owned spot that serves homemade pasta, including the ever-popular lobster ravioli alongside an extensive wine list. It's a bit hidden above Landini's Pizzeria, which is a neighborhood favorite spot to get pizza-by-the-slice. Make sure to book a reservation ahead of time, since seats are limited. Afterward, make your way to Caffe Italia, which is open late and is a great place to get a delicious tiramisu and a strong espresso.
Alternative Sights For 1 Day In San Diego
Here are a few other things that you can consider to mix and match for your one day in San Diego, or if you're staying longer than a day.
Coronado Island – this charming island feels like a world away from San Diego, but is just across the bay. Head to Coronado Beach, where you can take off your shoes and walk along the pristine, gold-flecked sand. Walk around the hotel property and admire its wooden Victorian beach resort style (one of the only surviving examples in the country). Afterward, wander down Orange Avenue, the main drag where there are one-of-a–kind boutique stores and Clayton's Coffee Shop, where you can get buttery French toast and spicy chorizo breakfast burritos.
North County – there are many quick road trips from San Diego you can take, including a 30-minute drive up the coast where you can explore picturesque beach towns. The ritziest beach town of them all is Del Mar, home of the Del Mar Horse Races and where you can spend an afternoon at the Del Mar Beach. Nearby Encinitas has a decidedly more relaxed feel than its upscale neighbor, where you can spend a lazy afternoon at Swami's beach or go further inland to see the impressive collection of plants from around the world, at San Diego Botanical Gardens. Head to Carlsbad for the famed LEGOLAND California, as well as the more serene Flower Fields of Carlsbad Ranch, where fields of vibrant blooms are on display from March to May every year.
Best time to visit San Diego
With year-round ideal temperatures, you're bound to get some good weather no matter when you go. That being said, summer time can be a pain, since the city is crowded with tourists and hotel prices are at their peak. Beware of the uber-popular Comic-Con in mid-July, where hotel rooms are sold out well in advance and it feels like the city's population has doubled.
In May, and especially June, the weather can be overcast due to the coastal fog that locals affectionately refer to as May Gray and June Gloom. Shoulder seasons like March to May, and September through October are good times to visit, where you can enjoy the sights without having to deal with the crowds. It rarely rains in Southern California, but when it does it's during the winter through the spring, and it can get a bit chilly during this time, especially at night.
Getting Around San Diego
The best way to get around is by renting a car at the airport, especially if you plan to go on day trips to beach towns up north. There are plenty of ride share options for going out at night or if you want to avoid the hassle of parking in areas like downtown. There is also the Trolley that connects the eastern and southern areas of the city with downtown and stops at places like Seaport Village, and the Gaslamp Quarter.
Where To Stay In San Diego

Central neighborhoods like the Gaslamp District, Little Italy, and downtown are ideal for a home base for a night in San Diego, especially if you don't have a rental car. Be aware of major events like Comic-Con which happens every year in mid-July, and cause hotel prices to go up and sell out quickly.
This fun boutique hotel is great if you want to stay in the middle of it all in the lively Gaslamp Quarter, which has a wide selection of restaurants, bars and clubs. Amenities include beach cruiser bikes, afternoon snacks, and a local shuttle. A light grab-and-go breakfast is included.
Check out reviews on TripAdvisor | Book your stay on Booking.com
This boutique hotel features individual suites with kitchenettes and is a great option if you want to stay close to Balboa Park (as in right across the street close) and away from the bustle of downtown, but still close enough to reach with a quick drive. There is plenty to do in the nearby neighborhoods of Hillcrest and Little Italy, including restaurants and bars.
Check out reviews on TripAdvisor | Book your stay on Booking.com
In a central downtown location, this luxury hotel is worth the splurge. Beautiful amenities include an outdoor pool, a rooftop terrace, full-service spa, 3 bars and 3 restaurants/lounges. The hotel is walking distance to Seaport Village, the USS Midway Museum, and the Gaslamp District.
Check out reviews on TripAdvisor | Book your stay on Booking.com
What would be on your one day in San Diego itinerary?