Boston is one of those mid-sized cities that is easily accessible, where you can see a lot of the city's highlights in a day if you really want to. I called Boston home for 3 years on and off, first as an undergraduate student and then a graduate student, and am always thrilled to show people around a city that I love deeply. Whether you are coming for the rich history or the thriving restaurant scene (or both), here's what to do when you have only one day in Boston.
This post contains affiliate links (with no extra cost to you). Read the full disclosure policy click here. Thank you for supporting Small World This Is.
One Day In Boston

Start your day in Boston downtown, where you get a good dose of the city's history.
Morning-Freedom Trail
Do as the locals do and grab a coffee and breakfast sandwich/donut from Dunkin Donuts in downtown Boston to fuel your morning. One of my favorite things to do is take my breakfast sandwich and eat on a bench in Boston Common for some prime people-watching.
Afterward begin your one day in Boston with this storied trail that features 16 historical sites. Highlights include the Massachusetts State House, Granary Burying Ground, King's Chapel & King's Chapel Burying Ground, Old South Meeting House, Old State House, and Faneuil Hall.
The tour can easily be done self-guided, starting at Boston Common in downtown Boston and just follow the red-bricked trail to each sight. The marked trail itself is 2.5 miles long and usually takes about a whole day to complete, but you can personalize it to fit your schedule by making it a few hours and ending the tour at Fanuel Hall.
Check out a complete map of the trail, as well as all 16 stops here.
A great alternative for those pressed for time is the Walk Into History guided tour given by the Freedom Trail Foundation, where tour guides dress up in full period costumes and embody a certain historical character. The tour stops at 11 of the 16 sights, and is 90 minutes long. Tickets are $14 for adults/$12 for students.
Early Afternoon-Faneuil Hall
You will find yourself at Fanueil Hall just in time for lunchtime, where you can take advantage of all the different casual food offerings. For a taste of Boston, try the Boston Chowda Co. where you can order clam chowder in bread bowls and lobster rolls. Regina Pizza is also a great local option if you're craving a solid slice of pizza.
Afterward walk around to stop and admire the numerous street performers and people-watch to your heart's content. For a dose of history, make sure to check out the Faneuil Hall Visitor Center on the first floor, as well as the Great Hall, which is on the second floor of Faneuil Hall and is where many significant political meetings and debates have been held throughout the city's history. Free tours of the Great Hall run every half hour from 9:30 am-5pm.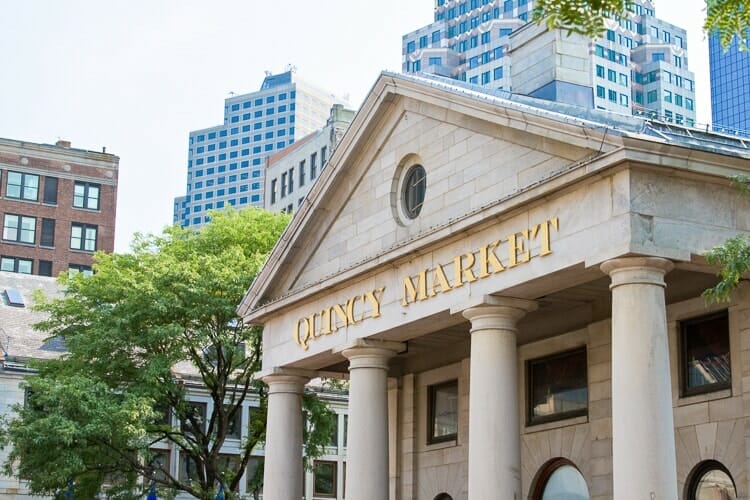 Afternoon-North End
Spend the rest of the afternoon in one of the city's most historic neighborhoods. The Freedom Trail continues through this part of the city, stopping at sites like 1680 Paul Revere House, and the Old North Church, which both played key roles in the Revolutionary War. Walk through Hanover Street, that is the main street in the North End with bakeries, old school delis and family-owned restaurants aplenty.
Whatever you do, make sure to pick up cannoli at one of the bakeries, Mike's Pastry or Modern Pastry across the street. The choice is yours: Mike's is the more well-known, touristy spot that tends to be a bit chaotic, and Modern is a local favorite that has equally good treats.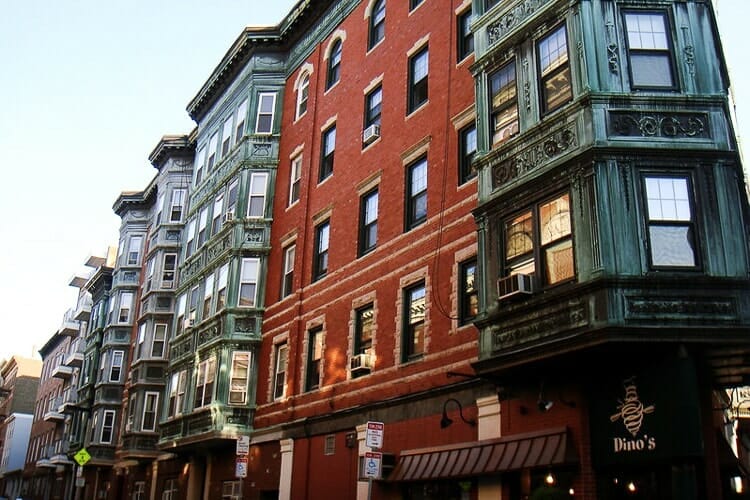 Early Evening – Back Bay
Jump on the T and get off at Copley station, where you will exit right next to the Boston Public Library. Walk around one of the oldest libraries in the country. This is one of my favorite libraries in Boston, and I have many memories of spending hours studying  in Bates Hall (also known as the green lamp room). Other highlights of the library include the grand staircase with the lions, and the courtyard between the older and newer part of the library.
Afterward, walk one block over to Newbury Street, where you can admire the brownstone homes and tree-lined streets. The street has high-end boutiques, as well as major chain retail stores. A personal favorite is Newbury Comics, which has an extensive collection of comics, music and gag gifts.
Evening-South End
Head over to nearby South End, where you can grab dinner at one of the many excellent restaurants in the area. A wise choice is Kava neo-taverna, which specializes in Greek comfort food like uvetsi (braised short ribs over orzo) and plates of grilled octopus. This spot does get busy, and takes no reservations, but the wait is well worth it.
After dinner, walk for 5 minutes to the The Beehive for a solid cocktail and wine menu and live music that makes this final stop an excellent finale to a busy one day in Boston.
Other Activities For One Day In Boston
If you have already been to Boston and seen the main tourist sights like the Freedom Trail and Faneuil Hall, here are a few alternative things to see. One of my favorite ways to spend one day in Boston is to cross the Charles River on the Red Line, and head over to Cambridge, where I can wander around Harvard University and MIT for hours.
Harvard University -take a guided tour or self-guided tour of one of the country's most storied universities. Afterward do not forget to browse the shelves at the Harvard Book Store in Harvard Square.
MIT – my favorite campus to visit in the area for it scientific innovation, make sure to check out the Stata Center which looks like something out of a Dr. Seuss book. Afterward, cross the Harvard Bridge to Back Bay for a picturesque view of the Charles River and city skyline.
Isabella Gardner Museum – one of my favorite museums in the city, which houses art in a former private residence with a beautiful interior courtyard. It feels like you are visiting someone's home and not an art museum.
Fenway Park – if you want to see a true Boston institution, this baseball park is it. To get the full experience, go for a game during baseball season that runs from late March to late October. There are also summer concerts held in the park that are worth attending. Year-round public tours are given as well, check out the schedule

here

.

Boston Public Garden – right across the street from Boston Common, this park is a bit quieter (and cleaner) and is home of the famous swan boats.
Beacon Hill – one of the most photographed areas in Boston with its narrow cobblestone streets, including Acorn Street and stunning historical homes.
Essential Info
Best Time To Visit Boston

Located in the Northeastern corner of the country, Boston gets its fair share of four seasons. Winter is not the ideal time to come unless you don't mind freezing temperatures and the occasional snow storm where the city shuts down and you are stuck inside. Summertime is when the city comes alive and there are plenty of outdoor activities to enjoy, though it can get quite humid and hot. That being said the best time to come is during late spring to see the city in full bloom or in mid to late autumn when fall foliage is at its peak.
Getting Around Boston
Boston has the MBTA, an excellent public transportation system, including the T, a wide-reaching subway that you can catch at the airport and ride to downtown Boston. All main sights in this itinerary can be reached by the T. Renting a car can be a lot more hassle than it's worth, since parking is difficult and the city's layout can be confusing for visitors. Ride sharing like Uber and Lyft are plentiful as well if you want to get somewhere quicker.
Where to Stay in Boston
Boston is an easy city to navigate with public transportation and your own two feet, but it's always good to stay somewhere central like Back Bay, which is one of the city's most scenic neighborhoods with Newbury Street and Copley Square. Hotel rates can be pricey in this area, but there are some excellent mid-range options available as well.
This South End boutique hotel is a great value for the central location and comfortable rooms that feature quirky touches (think lots of pineapple decor) and beds with double duvet European bedding (think clouds). Amenities include beach cruisers, and the Trophy Room, a beloved local restaurant with a full bar. Copley Square and Newbury Street are a 10-minute walk away.
Check out reviews on TripAdvisor | Book your stay on Booking.com
Located directly on Newbury Street, this hotel gives you a feel of what it would be like to be a local living in the historically beautiful Back Bay neighborhood. Some of the city's best restaurants are a quick walk from the hotel, as well as La Voille, an excellent restaurant located in the hotel's ground floor. A complementary hot breakfast is included. Copley station is only a short walk away.
Check out reviews on TripAdvisor | Book your stay on Booking.com
This four-star hotel is all about location, being centrally located in Back Bay, just a few blocks from Boston Public Garden, Boston Common, Copley Square, and Newbury Street. The interior is stunning, with 2 restaurants and 3 bars on property, as well as an impressive fitness center that puts those dingy hotel gyms to shame. A subway station is conveniently just across the street.
Check out reviews on TripAdvisor | Book your stay on Booking.com
What is on your itinerary for one day in Boston?
Photo source: North End, Faneuil Hall