Driving down scenic Highway 1 may be a popular California road trip but exploring Northern California by car is equally as breathtaking and boasts a lot of noteworthy sights that should not be missed. From fog-shrouded coastlines to towering redwood trees, the northern half of the state is characterized by landscapes that are unique to this portion of California. Here's a Northern California road trip to make the most of your time on your trip through this stunning part of the  Golden State.
This post contains affiliate links (with no extra cost to you). Read the full disclosure policy click here. Thank you for supporting Small World This Is.
5-Day Northern California Road Trip

Here's a detailed itinerary on which cities, small towns, and national state parks are a must stop on your week-long road trip.
Day 1-San Francisco
Start in San Francisco, a city that is a great launching point for this whirlwind tour of Northern California. You can either fly into SFO or OAK (easily accessible to SF via BART). This city is famously 7×7 miles and is manageable to visit before you head out on the road. You can take advantage of the excellent public transportation and your own two feet, and not have to worry about the headache of having a car.
Head down to Fisherman's Wharf and Pier 39 to see the sea lions. Learn about the city's seafaring history at Hyde Street Pier where you can tour the historic boats. Make sure to drop in the Musee Mecanique, which boasts tons of antique coin-operated arcade games that are all in working condition.
Afterward, head to the Mission district, where you explore the colorful murals of Balmy Alley and explore eccentric shops like the Pirate Supply Shop, which sells exactly what its name implies.
Noteworthy fuel:
Grab coffee at Blue Bottle and a vegan donut from Donut Farm at the Ferry Building in the Embarcadero to jump start your day.
Warm up with a bowl of clam chowder in a sourdough bowl at Boudin Bakery's flagship location in Pier 39.
Get a  massive Mission-style burrito at La Taqueria, an iconic food of SF that will keep you full for days.
Travel tip: plan to take the BART back to San Francisco International Airport (SFO) and pick up your car the following morning, since it's a big hassle to have a car in the city with limited parking (plus you'll save money). If you stay near downtown, BART will never be too far away for a quick ride to the airport in the morning.
Where to stay in San Francisco:

Holiday Inn Express and Suites Fisherman's Wharf – affordable and central to main sights.
Check out reviews on TripAdvisor | Book your stay on Booking.com
Marriott Courtyard San Francisco Downtown – great affordable downtown location.
Check out reviews on TripAdvisor | Book your stay on Booking.com
Fairmont San Francisco – stay in this historic luxury hotel located in Nob Hill, right on the edge of downtown.
Check out reviews on TripAdvisor | Book your stay on Booking.com

Day 2-Mendocino
Drive up the Highway 101 to the beautiful seaside town of Mendocino. This scenic drive should take a little over 3 hours, the last portion of the drive can be a bit windy, so take motion sickness meds if you need them.
Walk around the town to admire the colorful Victorian homes. Start at the Kelley House Museum to get oriented. Afterward, head to Mendocino Headlands State Park, where you can enjoy a view of the coastline, explore the numerous trails and if you're lucky spot a gray whale.
If you still have energy head to the small town of Fort Bragg, which is an easy 16-minute drive from Mendocino. On the way you can stop at the Mendocino Coast Botanical Gardens (worth it for it coastal views and 47 acres of plants) or just continue on to the famed Glass Beach, which is located in MacKerricher State Park and is filled with colorful sea glass as far as the eye can see.
Noteworthy fuel:
Pick-up a sandwich from the Mendocino Market, to eat picnic-style at Mendocino Headlands State Park.
For a casual dinner, go to Frankie's for solid pizza and a scoop or two of ice cream for dessert.
Where to stay in Mendocino:
There are plenty of bed and breakfasts throughout Mendocino and Fort Bragg that won't break the bank.
Blackberry Inn – a reasonably priced motel that has uniquely themed rooms.
Check out reviews on TripAdvisor | Book your stay on Booking.com
Seagull Inn – a small, cozy B&B that is located near the beach.
Check out reviews on TripAdvisor | Book your stay on Booking.com
Agate Cove Inn – a luxury B&B that is near the beach and has a excellent cooked to order breakfast.
Check out reviews on TripAdvisor | Book your stay on Booking.com
Day 3-Humboldt Redwoods State Park
The drive from Mendocino to Humboldt is a little over 2 hours, and although the scenery is stunning beware the roads are quite windy.
Drive through the Avenue of the Giants, a 31-mile stretch of road (officially called State Road 254) that runs adjacent to Highway 101 and is part of Humboldt Redwoods State Park. Stop by the Humboldt Redwoods Visitor Center located in the town of Weott, where you can have a picnic, and learn about the area through informative exhibits.
The Eel River provides many great swimming options and there are plenty of picnic tables to have lunch at. If you want to go on an easy hike the Founder's Grove is a breezy ½ mile self-guided walk among the redwood groves.
Noteworthy fuel:
Along the route there are small towns, including the largest small town of Miranda where you can get a solid meal:
Get your fill of carbs at Avenue Cafe, where you can indulge in their homemade calzones and pizzas.
For a fancier meal, try the Redwood Palace, which is a gastropub that features local food like Humboldt Bay oysters, as well as a wide selection of local craft bars and wines.
To pick up snacks, drinks and deli foods (try their tri-tip) the Miranda Market is a well-stocked convenience store option.
Where to stay in Humboldt Redwood State Park:
There's nothing better than camping under the redwoods in this state park, but be sure to book well in advance, especially during the summertime. If you're traveling with an RV, there are also plenty of RV parks available as well.
If having four solid walls are more your style, the following are recommended places to call home for a night:
Comfort Inn (Fotana)– this reasonably priced hotel overlooks the Eel River and has a complementary continental breakfast.
Check out reviews on TripAdvisor | Book your stay on Booking.com
Miranda Gardens Resort – cozy cottages right in the middle of the redwoods.
Check out reviews on TripAdvisor | Book your stay on Booking.com
Myers Country Inn – a quaint B&B that serves as a quiet retreat after a long day in the state park.
Check out reviews on TripAdvisor | Book your stay here

Day 4-Lassen Volcanic National Park

This is the biggest travel day, so it's good to get up as early as possible. Drive to the historic town of Ferndale and grab breakfast burritos at Poppa Joe's (they're open bright and early at 6 am) before continuing on to Lassen.
Spend the rest of the day exploring this active volcano park, either by foot or by car. Pick up an in-depth auto-touring or hiking guide at either the Loomis Museum or the Kohm Yah-mah-nee Visitor's Center. Make sure to stop by the hydrothermal spots in the park like the Sulphur Works, which is one of the easiest areas to access steam vents alongside a sidewalk pathway.
Bumpass Hell is a 3-mile hike round-trip, but as of writing this article portions of this trail are closed until the end of 2018 for a rehabilitation project.
Noteworthy fuel:
Within the park there are limited food options that include Lassen Café & Gift that offers sandwiches and stunning patio views.
Where to stay in Lassen Volcanic National Park:
Just like Avenue of the Giants, Lassen is a great spot to camp overnight, but make sure to book the campsites early, especially during the busy season.
A nearby alternative to camping is:
Manzanita Lake Camping Cabins – located at the northwest entrance to the park these rustic cabins are reasonably priced and comfortable.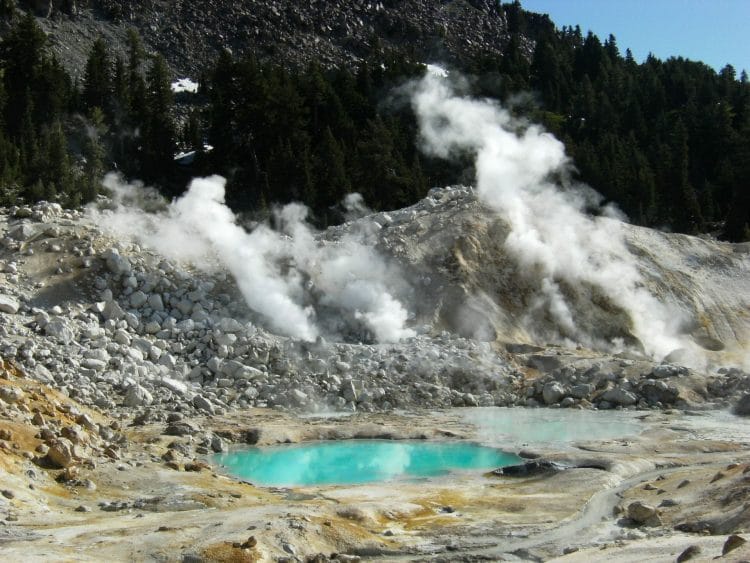 Day 5-Redding
The drive from Lassen Volcanic National Park to Redding is about an hour. From Redding back to San Francisco is about 3 and a half hours depending on traffic into the city.
Make your way slowly back to the SF Bay Area, but first stop in Redding, a city that is known for its obsession with outdoor adventures.
After getting some morning fuel, it's on to the pedestrian glass Sundial Bridge in Turtle Bay. It was designed by Santiago Calatrava as one of the world's biggest sundials and provides stunning views of the Sacramento River as you cross it. On the other side you can walk along the walking path and get some scenic views of the bridge and the river.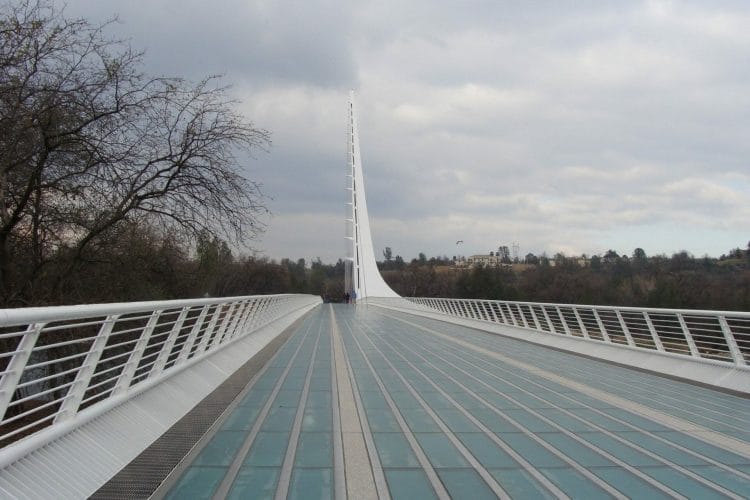 Best Time To Go To Northern California

The ideal time to go on a road trip through Northern California is late summer/early autumn, when the crowds are gone, but the weather is still warm and not rainy. Another concern to take into mind is that California has been especially ravaged by forest fires in the past few years. Although no major highways are affected as of this time, it's important to still check up on the roads you're planning to go on to make sure they're all clear.

Car Rentals For A California Road Trip

Rent your car from SFO, which has the best rates. To get to the rental car center, you can take the BART to SFO and then take the free automated people mover right to the center.
*
There you have it, a road trip that includes one of the largest redwood forests in the state and stunning coastal views of the West Coast. If you want to extend the trip you can add on a day or two and stop in Napa for wine tasting or soak in the natural hot springs of Calistoga in Marin Country. It's completely up to you. What would be on your ideal Northern California road trip?
Photo sources: foggy Redwood grove, Mendocino, Avenue of the Giants, Lassen, Google map
Updated: 7/7/23