From the large family banquets in San Francisco's Chinatown to receiving red envelopes filled with money, Chinese New Year was one of my favorite childhood memories. As an adult, moving around California, I've always tried to seek out Lunar New Year festivities in each area I've lived, from Sacramento to Orange County. For 2020, the ruling zodiac is Year of the Rat, which  characterizes individuals as clever, content, and are happy living quiet lives. Those born under the sign of the rat were born in 1960, 1972, 1984, 1996, 2008, and 2020. Here's a list of Lunar New Year celebrations in California, throughout the San Francisco Bay Area, Sacramento, Greater Los Angeles Area, and San Diego.
Lunar New Year Celebrations in California
Here's the major festivals and celebrations throughout the state going north to south. Although Chinese is often associated with lunar new year, there are other countries that celebrate this holiday that include Vietnam's Tet, Korea's Seol, and Tibet's Losar.
San Francisco Bay Area Lunar New Year Celebrations
With a large Chinese population (mostly Cantonese), in San Francisco, as well as large Vietnamese communities in San Jose, the Bay Area has plenty of opportunities to celebrate the Lunar New Year.
San Francisco
As a kid, attending the San Francisco Chinese New Year Parade in downtown SF was thrilling and terrifying with the large dragon and strings of firecrackers. If you're in town during this time of year, it's worth checking out as it's one of the largest Chinese New Year parades outside of Asia. I took Mustafa to it a few years ago and bought tickets for the general bleachers, and it was worth it just to be up close and personal to the dragon (bring ear plugs for the fireworks). You can of course always watch for free on the streets along the parade route, just make sure to get there early. The weather is not always ideal, ranging from freezing to rainy (or both), so make sure you bring a down jacket, gloves, and a warm hat.
This year's parade is on February 8, 2020, starting at 5:15pm. The parade begins at Second and Market, and winds along downtown streets, ending up at Kearny and Columbus on the edge of Chinatown.
Oakland
In the East Bay, the Oakland Museum of California (an excellent museum that is worth seeing any time of the year), there is the 19th Annual Lunar New Year Celebration, that helps ring in the Year of the Rat with various different Asian cultural traditions like lion and dragon dancing, traditional Bhutanese dancing, making traditional Tibetan prayer flags just to name a few family-friendly activities. Best of all there are a variety of food trucks representing the vast array of Asian cuisine throughout the East Bay (and Bay Area).
The festival dates are February 8 and 9th, running from 12-4:30 pm. Museum admission includes the festival. Limited flat-rate parking is available for $7, otherwise public transportation is encouraged (the Lake Merritt BART is a block away).
San Jose
The San Jose New Year-Tet Festival takes place at the Eastridge Mall, and includes live entertainment, Miss Vietnam California crowning ceremony, lion and dragon dancing, carnival games and rides; and food booths. There are also lively dancing, cooking, and singing competitions that make for some memorable entertainment.
The festival dates are January 24, 25, 26, 31, and February 1 and 2nd. Admission is free, as well as the parking in the adjacent lot.
Sacramento Lunar New Year Celebrations
Sacramento has a large Chinese community that dates back to the Gold Rush, and though the festivals are not as big as San Francisco's, there's still plenty going on to ring in the new year in California's Capitol.
The Chinese New Year Cultural Association (CNYCA) puts on the Year of the Rat Celebration at Hiram Johnson High School, that include stage performances, business exhibitions, and children's games. This event is one of the largest in the Sacramento area, with the goal to celebrate local cultural diversity with traditional Chinese lion and dragon dancing, martial arts demonstrations and traditional Asian cuisine.
The festival takes place on February 8, 2020. Entrance is $6 for adults and $1 for children 12 and under. Parking is free. The festivities run from 11 am – 5:30 pm.
***
The Vietnamese American Community of Sacramento and the Greater Sacramento Vietnamese American Chamber of Commerce puts on the Lunar Flower Tet Festival 2020, that has a parade, live performances, carnival games, and food vendors.
The festival is free and takes place on January 25 and 26th, starting at 11 am.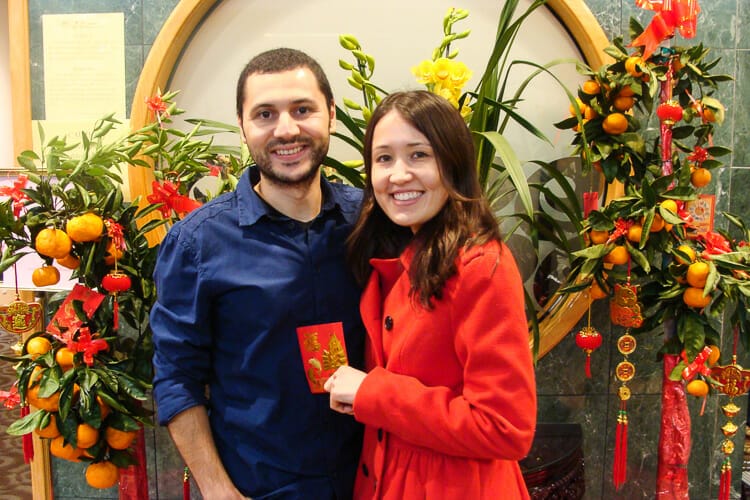 Los Angeles
Celebrate the Year of the Rat around town with various festivals, including major celebrations in San Gabriel Valley (a major Chinese enclave), and Chinatown in downtown Los Angeles.
The Alhambra Lunar New Year Festival is one of the largest with a street festival that has over 250 craft and food stalls, all day performances including dragon dancing, and kung fu demonstrations over five city blocks. This area of LA is home to the most concentrated Chinese-American commercial district in Southern California and San Gabriel Valley in general is a great place to visit for some of the best Chinese food in Los Angeles.
The one-day street festival takes place February 1, 2020 on Valley Boulevard between Vega and Almansor and is free to attend.
***
Another worthwhile Chinese New Year celebration is the 121st Golden Dragon Parade & Chinese New Year Festival in Chinatown Central Plaza in downtown LA. There are performance stages featuring music acts and martial arts demos, but the highlight is the Golden Dragon Parade, which has run for over a century.
The parade takes place on February 1, 2020 at 1 pm and begins at Hill Street on Temple (towards Bernard).
***
For something a bit different, the Thien Hau Temple a popular Taoist temple in Chinatown, has a Chinese New Year Midnight Temple Ceremony on January 24th. Locals come to burn incense, and making offerings to deities for the coming year ahead. There is also lion dancing complete with firecrackers to ward off lurking evil spirits.
The ceremony starts at 10 pm.
Orange County
In neighboring Orange County, there are a few events that kick off Lunar New Year around the area, including a sizable tet celebration due to the large Vietnamese-American community who calls Garden Grove and Westminister home.
The Union of Vietnamese Student Association has been holding the UVSA Tet Festival since 1982. The festival has taken place in Garden Grove until 2013, when it moved over to the Orange County Fair & Event Center in Cosa Mesa to accommodate it quickly growing in popularity. There are Asian food vendors, a cultural village with many photo ops, carnival games, and traditional lion dancing.
The festival takes place on January 24, 25, and 26th. Admission is $6 and $9 for parking. There's a ceremonial special for free admission on January 25th, from 11 am -1 pm if you wear traditional Vietnamese attire or a military uniform.
***
In the recent decades, I've noticed that Disney has become a lot more inclusive in celebrating various cultures, and Disneyland is no exception. Disney California Adventure (DCA) puts on a lively, Disney-fied verson of Lunar New Year, celebrating the "Year of the Mouse." Festivities include Mulan's Lunar New Year Celebration, a Mulan-themed nighttime water show, and a selection of Asian-inspired dishes that you can sample around the park and can get the Sip and Savour pass for.
The Lunar New Year in DCA runs from January 17-February 9th, and it's definitely a fun fun twist to the traditional DCA events.
San Diego
Celebrate the 38th Chinese New Year Fair in downtown San Diego that is hosted by the Chinese Consolidated Benevolent Association-San Diego (CCBA). This organization is one of the oldest Chinese associations in the country and was started in San Francisco during the 1850s to help immigrants navigate a hostile foreign environment. This fair is the oldest Lunar New Year celebration and it takes place in the city's Asian Thematic District (formerly the city's old Chinatown) with over 50 booths featuring food and local businesses, as well as continuous live performances like dragon and lion dancing.
Admission is free and takes place on February 3rd and 4th from 10 am -5 pm downtown on Third and J Street.
Have you been to any Lunar New Year celebrations in California? What has been your favorite?
Photo source: featured photo, LA Golden Dragon Parade, DCA Lunar New Year