Los Angeles is a city in California that never ceases to surprise in the best way possible, from the wide range of restaurants to the diverse neighborhoods. To create a well-rounded Los Angeles itinerary for 3 days, it is recommended that you mix popular sights with lesser-known spots to get a better understanding of this city.
The truth is that planning a trip to LA, whether it's for 2 days or an entire week can be overwhelming, and trying to fit a hundred things into one visit just isn't practical. Instead focus on a few main sights a day, ideally within the same area (because otherwise, you will just spend your time in the car, most likely in traffic).
This post contains affiliate links (with no extra cost to you). Read the full disclosure policy click here. Thank you for supporting Small World This Is.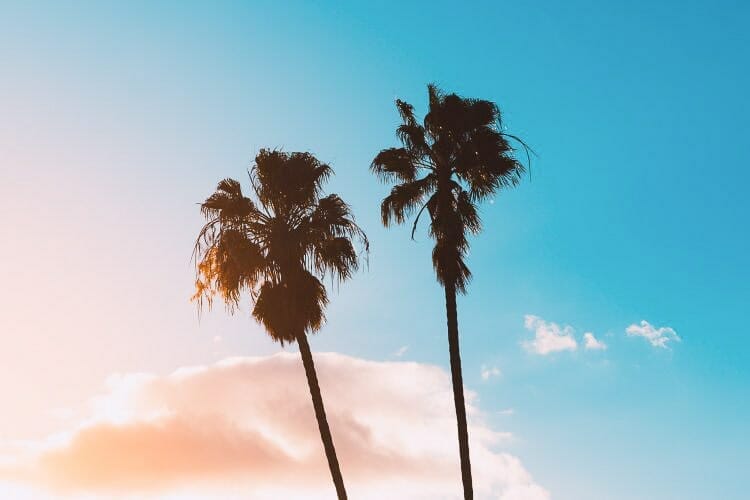 Getting To and Around Los Angeles
Los Angeles Airports
Los Angeles has a few different airport options within the city, each with its own list of pros and cons.
Los Angeles International Airport (LAX)-the city's main airport located on the west side. Crowded, chaotic, and likely where you'll be coming through, especially if you are on an international flight. The upside is that there are some good food and drink options, like Shake Shack, Umami Burger, and Angel City Brewery.
Long Beach (LGB)-the opposite of LAX, where rumor has it you can get there a mere hour before and easily make it to your gate without breaking a sweat.
Hollywood Burbank Airport (BUR)-located in the land of film and TV studios, this smaller airport usually promises a pleasant experience. Coincidentally, it is the shortest distance to Hollywood.
John Wayne Airport (SNA) – even though it's located a bit further in Orange County, it is worth mentioning. It's about an hour away from LA and is a breeze to fly into, but can be inconvenient if your staying in Los Angeles and don't want to deal with traffic (though it's a great home base for Disneyland trips).
Los Angeles Orientation
Los Angeles is roughly divided up into 6 major regions. There are of course many more neighborhoods within these areas, but these are the ones that will most likely be included in your 5 day Los Angeles itinerary. Let's start with the neighborhoods closest to the ocean and move east.
West (Santa Monica, Venice, Beverley Hills)
Central (Hollywood, West Hollywood, Fairfax)
Downtown (Koreatown, Little Tokyo, Chinatown)
East (Los Feliz, Silver Lake, Echo Park, Pasadena, East LA, San Gabriel Valley)
The Valley (Burbank, Studio City, North Hollywood)
South (Long Beach, Manhattan Beach)
The LA sprawl is real, and renting a car at the airport is your best bet to getting around with relative ease and will allow you to visit all the destinations on your Los Angeles itinerary.
There are public transportation options like the Metro, which can be great for getting to various destinations like downtown where it can be difficult to find parking. If braving Los Angeles freeways are not your thing (I hear you) car-sharing services like Uber and Lyft, are aplenty and also a great option for when you want to go out at night.
Best Time To Visit Los Angeles

Los Angeles has near-perfect weather, with mostly sunny days year-round. There is of course an odd rainy day, especially in the winter. It can also get chilly in the winter, especially at night.
The weather in June is famously known as June Gloom, because of the fog that rolls in off the ocean and keeps the city cool. The ideal time to visit is in March-May or September-November when the weather is a bit cooler, the air clearer, and there are fewer crowds.
Where To Stay In Los Angeles
Ideally, the central part of the city is a good spot to call home. A home base in the greater Hollywood area for example will give you easier access to the west and east parts of the LA, instead of staying on the Westside and having to drive all the way across town to sights on the Eastside or vice versa.
A smaller independently-owned hotel that is centrally located in Hollywood. Walking distance to Hollywood Boulevard (Hollywood Walk Of Fame, TCL Chinese Theater), but not right on it. A great alternative to the bigger chains in the area. Great value for the location, and amenities.
This reliable hotel chain offers an excellent option in Hollywood, that is a short walk away from Hollywood Boulevard, as well as a short drive (or Metro ride) from other popular attractions like Sunset Boulevard and Universal Studios. The rooms are spacious and a hearty breakfast is included in your stay.
If you want to treat yourself to classic Hollywood glamour, this is the hotel to stay in. Once home to stars like Marilyn Monroe, this 4-star hotel is located right on Hollywood Boulevard, and pulls out all the stops. Highlights include a rooftop terrace, the hotel's famous outdoor pool, and notable restaurants and bars.
3 Days In Los Angeles

Start on the Westside, where you can explore classic LA beach towns like Santa Monica and Venice.
Day 1 – Westside

Head to Gjusta for their in-house smoked lox on an open-face bagel or a breakfast egg sandwich. Don't be scared off by the homeless encampment nearby or the complicated ordering system. Venice is indeed a city of contrasts.
Walk the few blocks to the beach and wander around the Venice Beach Boardwalk for some prime people-watching. Afterward, drive to the Venice Canals for some solitude and serious waterfront house envy.
For lunch, Café Gratitude is as West LA as it gets with its creative vegan food (try the popular macrobiotic bowl). Afterward, stop by Moon Juice across the street for an array of juices and powders that will cure anything, just not sticker shock.
In the afternoon, make your way to Santa Monica Pier and after you get your fill of the sights, walk over to the adjacent beach and stick your toes in that warm California sand.
For dinner, Milo and Olive, has no shortage of carbs in the form of pizza and pasta. The garlic knots and burrata prosciutto pizza are highly recommended. The Urth Caffe, is a great after-dinner spot to hang out on the heated patio with a pot of herbal tea and a fruit tart if you still have room.
Day 2 – East LA and Hollywood
Start your day off at Kismet with a Turkish-ish breakfast, a sharable platter of small dishes including soft-boiled egg with sumac and marinated Persian cucumbers with labneh. Take a short hike up to the Griffith Observatory and soak in the spectacular views of this sprawling city.
Take a stroll down the Hollywood Walk Of Fame. It's not at all like it's portrayed in the movies, but it's worth checking out the different celebrities' stars. Historical sights like the TLC Chinese Theater and Roosevelt Hotel are also worth stopping by.
For dinner, the iconic Roscoe's House of Chicken & Waffles is a must in Hollywood, get the Obama special (1 waffle, 3 pieces of chicken). For night owls, the iconic Hollywood Forever Cemetery hosts movie nights or get your fill of comedy at the Upright Citizens Brigade Theater on Sunset Boulevard.
If you're tired and just want a sweet treat, Yogurt Stop is the place to go for frozen yogurt with homemade baked goods toppings.
Day 3 – Central LA and Beverley Hills

Stop at the Little Amsterdam Coffee Shop in Mid-City to help fuel your morning with killer coffee, friendly service and vibrant artwork.
Afterward, head over to the Original Farmers Market for donuts at Bob's Coffee and Doughnuts. For all the juice shops and grain bowls in LA, there are cult followings for donuts shops and this one has stood the test of time.
After breakfast the choice is yours: for art enthusiasts, the Los Angeles County Museum of Art is one of the largest art museums in the western U.S. or for archeology fans, the adjacent La Brea Tar Pits is not to be missed.
Come back to the Farmers Market for lunch, where you can choose from food stalls like Pampas Grill for Brazilian BBQ. For another essential LA experience, head to The Grove for dessert, and grab a Sprinkles cupcake on your way out to the (overpriced) parking lot.
Walk along Rodeo Drive, and be prepared to see wealth on full display. If you want to get away from the commercial madness, head to the quieter residential neighborhoods behind the Beverley Hills fountain, to get a glimpse of where the rich and famous live.
The Paley Center is worth stopping by to learn more about film and television, and is free to enter, with donations accepted.
For dinner, stop by Jon and Vinny's for pizza and pasta that will not disappoint. Make sure to make reservations in advance. Afterward, walk down Melrose Avenue for some shopping, and then pick up dessert nearby at Milk, a dessert spot known for their macaron ice cream sandwiches in flavors like Thai ice tea and red velvet.

Additional Day – Downtown

There's nothing better than a classic diner in downtown LA and Nickel Diner has it all: a retro interior, memorable diner fare, and most importantly delicious maple bacon donuts.
Afterward, take a free audio tour of the Walt Disney Concert Hall and admire its impressive architecture by Frank Gehry that optimizes the interior acoustics. Head out to the shaded elevated garden for a break and a view of downtown.
For lunch, go to Grand Central Market, a trendy food court that offers everything from tacos at Villa Moreliana to Thai Street food at Sticky Rice. Walk off lunch by taking the cable car up to Angels Flight (across the street from Grand Central Market), and take in the view of downtown from above.
Make your way to Japantown, in the late afternoon to walk around this historic neighborhood of LA before dinner. Pop into Fugetsu-Do, one of the oldest mochi shops in the area. Get in line early for Daikokuya for ramen, because there will be a line. For dessert get freshly made imagawayaki (red bean cakes) at Mitsuru Café.
The 24-hour Wi Spa in Koreatown is a great place to unwind in the various sauna rooms and single-sex hot tubs (be prepared for a strict no swimsuit policy). There's also a rooftop area for lounging amid the skyscrapers of downtown.
Additional Day – Malibu

Grab breakfast at Bagel Nosh Deli in Santa Monica on your way out to Malibu. The bagels are some of the best on the Westside, and they also offer heartier options like eggs, bacon, and pancakes.
Visit the stunning Getty Villa (if you want to get technical it's actually in Pacific Palisades). Admire the impressive collection of art and an enviable view of the ocean. A tour of the grounds can be done in about an hour and it's recommended that you go before noon to beat the crowds. Entry is free, but reservations are recommended. Parking costs $15.
If you're going to be in Malibu, you should definitely take advantage of the fresh seafood. Malibu Seafood is a popular spot known for its fish and chips, clam chowder, and ahi tuna burgers. Seating is limited to outside, so make sure to bring layers in case the sea breeze picks up.
Since you're on the coast, you might as well go beach-hopping. Start at Point Dume, afterward head to Zuma, and finish off with the rugged El Matador that tends to be less crowded than the other two (with limited parking as well).
Get dinner at Malibu Farm Restaurant, where you'll have a beautiful view of the Pacific Ocean, and can enjoy a California-style menu with fresh produce and locally-sourced ingredients in the form of salads, tacos, and small plates.
Afterward, go for a drink at The Surfrider Malibu's rooftop bar and soak in yet another view of the Pacific, because honestly it never gets old.
Additional Things To Do In LA

If you have a full week in Los Angeles, here are some more things to do around town.
California African American Museum – located in Exposition Park (home also to the noteworthy Natural History Museum of Science), this free museum provides thought-provoking exhibits on African-American culture past and present.
Universal Studios Hollywood – head up to the Valley for a day of fun that includes an interactive studio tour and immersing yourself in the Wizarding World of Harry Potter.
Getty Center -for its impressive architecture, sprawling grounds, and view of Los Angeles, this expansive art museum is worth a visit. Admission is free, but the parking is $20 ($15 after 3 pm).
Visit

the South Bay

– wander around Manhattan Beach Pier and then get some Japanese food in nearby Gardena.
*
There you have it, a Los Angeles itinerary for 3 days and a brief introduction to this complex and fascinating city. Once you have your first visit under your belt, if you come back again continue to dig a little deeper beyond the main sights. There's so much the city has to offer if you are willing to take the time to explore.
Photo source: title photo, LAX, Metro map
Updated 3/8/22