One of the best parts of living in Southern California is that now I can take a day trip up to Los Angeles. Even after living there during college and visiting often I feel like I have only scratched the surface of this diverse city. From the scenic hiking trails that offer panoramic views of the city skyline to exploring downtown LA's cultural center, there is so much to explore in this vibrant city. Here's a Los Angeles bucket list of sights that should not be missed, from well-known Hollywood landmarks to lesser-known highlights.
The Ultimate Los Angeles Bucket List
This LA bucket list is in no particular order, and includes a wide range of activities from outdoor adventures to cultural destinations that help define the city.
Hollywood Bowl
A historic concert venue that is worth going to just for the atmosphere, where the amphitheater is tucked into the scenic Hollywood Hills. Concerts include live orchestras recreating popular movie soundtracks, mainstream artists as well as LA Philharmonic performances. One of the most popular shows is on the Fourth of July, which includes a firework spectacular timed to music.
Korean Spa
Spend a few hours relaxing in Koreatown, where you can get away from the bustle of the city, while still being in the middle of it. There are several different options, but I personally love the co-ed Wi Spa that has a heated common area, separate hot tubs (bathing suits are strictly forbidden), a cafe, and a rooftop lounge. Admission is $25 for 24 hours and yes you can technically sleep there.
The Getty Villa
Located near Malibu, this art museum boast spectacular views of the Pacific Ocean, stunning architecture, and peaceful gardens. This is a great alternative to the larger Getty Center in the city if you are pressed for time. The museum focuses on ancient art from Rome, Greece and Etruria. Entrance is free, but you must purchase timed tickets ahead of time online. Parking is $15.

La Brea Tar Pits
One of the most unexpected sights in urban LA is these natural tar pits that date back to the Ice Age and are actively being excavated. You can view the bones that were trapped in the tar and are currently being researched by paleontologists. Stop by the Lake Pit to see a reenactment of a woolly mammoth being trapped in the tar.

The Last Bookstore
Located in an abandoned bank, this multi-level bookstore is a great place to spend a few hours on one of those rare LA rainy days. Among the shelves of new, used, and vintage books, there's plenty of book-themed art-keep your eye out for the book tunnel and the original vault that now houses numerous books.
Grammy Museum
This interactive museum is an immersive place to learn about the history and winners of the Grammys. Highlights include behind -the-scenes from live performances, interactive recording booths, outfits worn by performers/presenters, and specific exhibits on popular artists. Tickets are $12 for general admission.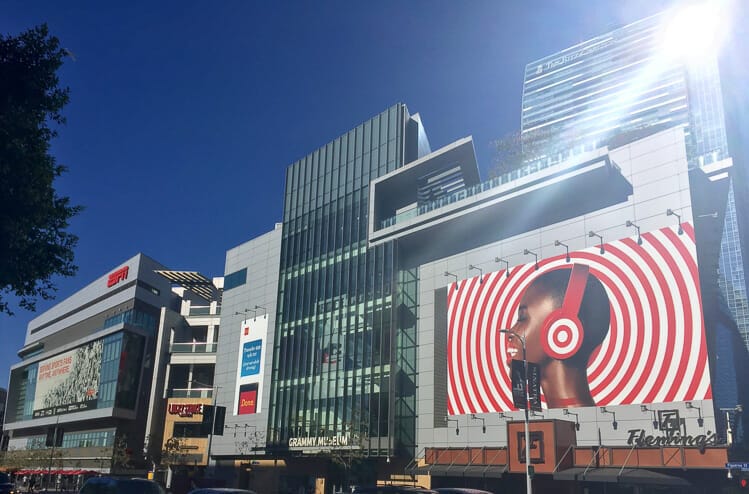 Walking Tour of Downtown Los Angeles
One of my favorite parts of the city is the historical center of Downtown LA. Learn about this area's rich history with the Los Angeles Conservatory's Historical Downto-+wn Walking Tour that will take you to sights like the famed Bradbury Building and a ride on the historic Angels Flight, the world's shortest railway. Tour is $15.
Griffith Observatory & Park
It's hard to go wrong with this classic view of LA. Anytime of the day provides unparalleled views of the city, but going during sunset elevates the experience. If you want to get some exercise while you're in Griffith Park, take a hike from the observatory to Mt. Hollywood that gives you views of the Hollywood Sign, the observatory and the city below.
Los Angeles City Hall
One of my favorite spots to get a view of downtown LA and the surrounding area is by climbing to the top of the historic City Hall. Wander around the beautiful interior, and look at all the city's previous mayors' portraits as you make your way to the top. Entrance is free, including the observation deck which is open Monday-Friday until 5pm.
Santa Monica Pier
This iconic pier never gets old, with its mix of tourist and locals. During the summertime there are free concerts on Wednesday nights called Twilight on the Pier that are worth checking out. Whatever you do, you're never too old to ride the Ferris wheel that provides stunning aerial views over the ocean and city.
Upright Citizens Brigade
Known as one of the best performance spaces in the city to see live comedy for an unbeatable price. Whether you want to see improv, sketch, or stand-up, you are bound to have a laugh and possibly see a surprise A-lister make an appearance.
Union Station
Located in downtown, this historic train station is worth a stop just for the architecture alone, with its high ceilings and dramatic windows. This station is also a great spot to catch the the LA Metro, Metrolink (that goes down to Orange County), and Amtrak.
Cinespia's Hollywood Forever Cemetery Outdoor Movies
I recently experienced my first Cinespia movie night (Harry Potter!) and loved it. Yes, seeing a movie in a cemetery is a bit odd, but I honestly forgot where we were once we got there. It has a festival vibe, with a live DJ, free food, and themed-photo shoot for a take-home souvenir. Don't forget to bring your own wine/beer and a picnic spread, because Mustafa bought a beer for $16 and I almost fainted.
Museum of Tolerance (MOT)

This museum focuses on racism and prejudice around the world, with a heavy focus on the Holocaust (including an Anne Frank exhibit). Definitely not light subject matter, but the MOT presents these difficult topics well and gives you a lot to think about long after you leave the grounds.
Universal Studios Hollywood

If you cannot make it down to Disneyland in Orange County, this theme park is a great alternative. Highlights include The Wizarding World of Harry Potter, studio tour, and plenty of thrill rides, including Jurasic World-The Ride and the Simpsons Ride. For things that nightmares are made of, go during Halloween Horror Nights.
The Grove
I'm a sucker for pretty outdoor malls, and the Grove is no exception. Sure it's crowded, but its the atmosphere that is worth wondering around for and fighting it out for a coveted parking spot. Head to the central fountains for a prime photo opp. If you're around during Christmas time make sure to stay for the (fake) snow.

Warner Bros. Studio Tour Hollywood
There are several options when taking a studio tour in LA, but Warner Bros. Studio Tour is a long-time favorite. Go on a 3-hour tour that covers the sound stages and sets of popular TV shows and movies, and learn about the history of one of the biggest movie studios in the area. If you want, book a live taping on the studio lot beforehand and watch a show like Ellen or Conan.
California Science Center

Located in Expo Park, right next to the Natural History Museum, this is one of the few spots in the country that you can see a retired space shuttle. Space Shuttle Endeavour is located in the California Science Center, and you can avoid waiting in line by ordering tickets online that include entry to the museum's exhibits and the IMAX theater as well.
The Broad
The insta-famous Yayoi Kusama's Infinity Mirrored Room is a must-see installation at this contemporary art museum. Timed-tickets to the museum are free, but you need to get a separate ticket to the exhibit by waiting in line in the lobby. Travel tip: Tuesdays and Thursdays are less busy if you get there before 1pm.
Point Dume
An escape to Malibu is always a welcome break from city life, while only being half an hour away from Santa Monica. Grab your beach bag, and head to this popular white sand beach with stellar views. Grab picnic provisions at nearby Vintage Grocers, a gourmet market with pre-made food and plenty of snacks.
Natural History Museum of Los Angeles
The largest natural history museum in the Western U.S., there are over 35 million artifacts within these walls. From the Dinosaur Hall to the Nature Gardens with plenty of local California flora and fauna. Entrance is $14 for general admission, not including the special exhibitions.
Venice Canals
Venice Canal Historic District is worlds away from the lively Venice Beach, with its tranquil neighborhood vibe. Walk along the canals and daydream about living in one of the million-dollar homes along the water. The canels were created to bring Italy to Southern California.
Echo Park Lake
For prime-people watching, this is a great place to get a front row seat to a neighborhood favorite locale. Have a picnic, walk around the lake's perimeter, or take a swan petal boat for a spin. This is an ideal outdoor destination to take a breather from city life when you're in the area and enjoy the views and relaxed atmosphere.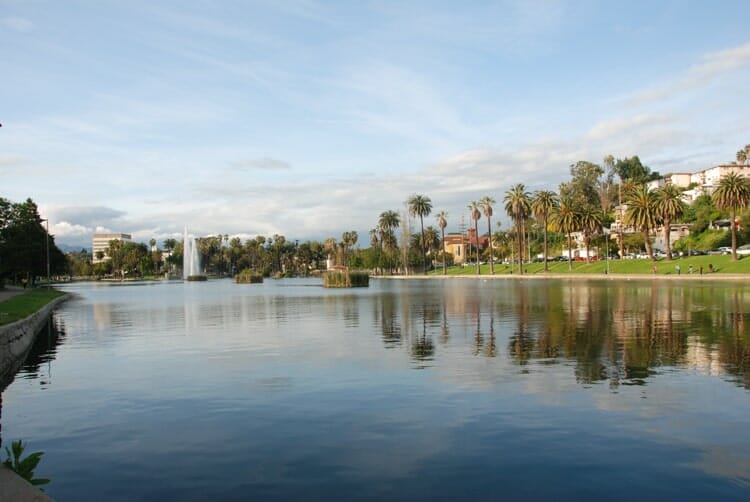 The Magic Castle
This highly-exclusive magic club only allows members and their guests, and it has always been a dream of mine to receive an invitation (a girl can dream). This private nightclub is part dining room, part performance venue with a whole lot of magic taking place everywhere you look. A dress code is strictly enforced and a secret phrase is required to reveal the hidden entrance of the castle. Fun fact: you must be a practicing magician in order to audition for one of the coveted membership spots.
Santa Monica Farmers' Market
Los Angeles has excellent farmers' markets and there is no better spot to get fresh produce and mingle with local chiefs than the one in Santa Monica on Wednesdays. This market spans three city blocks and is unparalleled when it comes to the range of produce. Get there early for the top of the crop, when the market opens at 8:30am.
Chateau Marmont
This iconic West Hollywood hotel located on Sunset Boulevard, is a fun place to grab a drink at the hotel bar and possibly rub shoulders with a star or two. The hotel and bungalows have had their fair share of stories of the rich and famous, including the tragic death of John Belushi, who overdosed there in 1982.
Runyon Canyon
Nothing screams Los Angeles bucket list more than this frequent celeb-sighting, hiking area with spectacular views of the city. There are hikes for all fitness levels, from an easy 15-minute workout to more intense hikes that last for a few hours. If you love dog-watching, this is a prime location, since there is a relaxed, no-leash policy on the trails.
Queen Mary
Tour this retired British ocean liner, which was launched in 1934 and was retired in 1967. The Queen Mary now serves as a hotel, museum, and restaurant. You can take a self-guided tour or hop on one of the guided tours that are available (including ghost tours after dark). Travel tip: visit after 6pm and admission is only $10.
The Huntington

This art museum/botanical gardens/library is an impressive space where you can spend at least half a day. Explore the stunning outdoor gardens and botanical collections, browse the hundreds of rare materials in the Library Exhibition Hall, and American and European artwork. Entrance is $25.

Mulholland Drive
Cruise one of LA's most famed streets, which stretches across the eastern Santa Monica Mountains for 21 miles. Along the way you'll be treated to some breathtaking views, including the starting point of the Hollywood Bowl Overlook. Mulholland Drive ends at Leo Carillo State Beach in Malibu, where it meets with Highway 1.
Planning Your LA Bucket List
Los Angeles is a huge, sprawling city, and to truly get a feel for the different neighborhoods, I recommend spending at least 5 days here checking off items on your bucket list Los Angeles. Plan each day by exploring a different part of the city, which will be more efficient than trying to battle the notorious traffic zigzagging through the different neighborhoods.
Best Time To Visit Los Angeles

Los Angeles has near perfect weather, with mostly sunny days year around. There is of course the odd rainy day, especially in the winter. It can also get chilly in the winter, mostly at night. The weather in June is famously known as June Gloom, because of the fog that rolls in off the ocean and keeps the city cool. The ideal time to visit is in March-May or September-November when the weather is a bit cooler, the air cleaner, and there are fewer crowds.
What are your favorite things to do in Los Angeles?
Photo sources: Hollywood Bowl, Grammy Museum, Upright Citizens Brigade, Museum of Tolerance, Natural History Museum of Los Angeles, Echo Lake Park, Chateau Marmont, Runyon Canyon, Mulholland Drive