Southern California, especially around the Greater Los Angeles Area is home to a diverse range of museums. From art to science to culture, there is something for everyone. The best part is that a lot of these cultural institutions are free, have a free museum day, or have free tickets for certain demographics. Here is a list of the top free museums in Southern California that should not be missed.
Museums That Are Always Free

Griffith Observatory
Location: Griffith Park (East LA)
Hours: Wednesday – Friday 12:00 pm – 10:00 pm, Saturday – Sunday 10:00 am – 10:00 pm, closed on Mondays and Tuesdays
This iconic observatory offers stunning views of the Los Angeles Basin, including Downtown LA and the Hollywood Sign. It has increased greatly in popularity since it was featured in La La Land in 2016. Catch a live show in the Samuel Oschin Planetarium, gaze at the night sky through public telescopes, and experience the educational exhibits including the Ahmanson Hall of the Sky which explores the sun, moon, and earth.
There are several options for getting to the observatory. If you are driving, your best bet is the free public parking lot next to the Greek Theater (open when there is no concert) and you can make the trek up to the Observatory on E Observatory Rd. Public transportation is a great alternative with the DASH Observatory/Los Feliz public bus that stops at the Vermont/Sunset Metro Red Line Station and drops passengers off in front of the Observatory every 20-25 minutes.
Getty Villa
Location: Pacific Palisades
Hours: daily 10 am – 5 pm, closed on Tuesdays
Located right off the Pacific Coast Highway, the Getty Villa with its iconic re-created roman country house is known for its impressive collection of Greek and Roman art and an enviable view of the ocean. The tranquil gardens are worth a stop here alone. A tour of the grounds can be done in about an hour and it is recommended that you go before noon to beat the crowds.
Admission requires a reserved timed entry ticket. Parking costs $20, $15 after 3 pm. Complementary parking for active military and veterans. Visitors can enter on foot only if they take public transportation (Metro bus 534 stops at the Pacific Coast Highway and Coastline Drive, right across from the museum's entrance).
Getty Center
Location: Brentwood (West LA)
Hours: Tuesday – Friday, Sunday 10 am–5:30 pm, Saturday 10 am–8 pm, closed on Mondays
Another product of the Getty Trust, this museum boasts views of LA, has picturesque grounds (don't miss the Cactus Garden), and an impressive collection of historic and contemporary European art. Famous pieces include Vincent Van Gogh's Irises and Rembrandt's self-portrait Rembrandt Laughing. Center of Photographs is not to be missed, which features some of the earliest photography up to modern-day photos.
Like the Getty Villa admission requires a free timed-entry ticket. Parking is $20 per vehicle ($15 after 3 pm). Park underground and then take the tram up to the museum.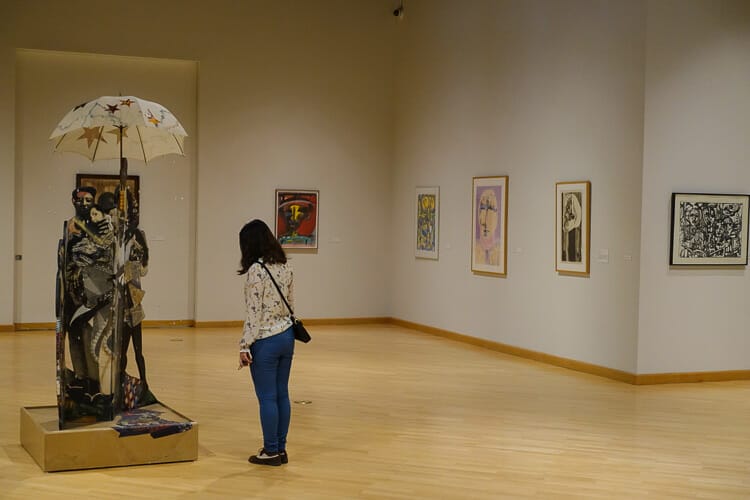 California African American Museum (CAAM)
Location: Exposition Park (South LA)
Hours: Tuesdays- Saturdays 10:00 am – 5:00 pm, Sundays 11:00 am -5:00 pm
Located in a historical city park that is home to a handful of museums, CAAM provides thought-provoking exhibits on African-American culture past and present. There are also lectures given (free, but an RSVP is required), check out the latest lineup here. Stop in the impressive Research Library, where visitors can browse through books, periodicals, and records that highlight the African-American experience (currently closed due to renovation).
Parking in Expo Park is $15.
California Science Center
Location: Exposition Park (South LA)
Hours: open daily 10:00 am – 5:00 pm
Another noteworthy museum in Expo Park, the California Science Center is one of the few spots in the country where you can see a retired space shuttle. The Space Shuttle Endeavour was the first shuttle to complete a mission to the Hubble Space Telescope and has completed twenty-five missions into space. It was first launched on May 7, 1992 and its final mission was in May 2011.
Permanent galleries including the Space Shuttle Endeavour are free to the public and do not require a reservation. If you want to watch an IMAX movie or do an additional activity like the simulators, you must purchase a timed ticket ahead of time. Parking is $15 within Expo Park.
La Brea Tar Pits
Location: Hancock Park (Central LA)
Hours: Monday-Sunday 9:30 am -5:00 pm, closed the first Tuesday of every month
One of the most unexpected sights in urban LA is these natural tar pits that date back to the Ice Age and are actively being excavated. You can view the bones trapped in the tar, which some are currently being researched by paleontologists. Stop by the Lake Pit to see a reenactment of a woolly mammoth stuck in the tar and wander around the spacious grounds afterward.
Entrance to the tar pits is free, but not to the museum ($15 for adults). Street parking is available.
The Broad
Location: Downtown LA
Hours: Tuesday, Wednesday, and Friday 11 am – 5 pm, Thursday 11 am – 8 pm, Saturday 10 am – 6 pm, Sunday 10 am – 6 pm
The insta-famous Yayoi Kusama's Infinity Mirrored Rooms is a must-see installation located on the first floor. The artist also has an exhibit on the third floor that does not require a reservation. Browse the extensive collection of contemporary art from the 1950s onward (check out Tulips by Jeff Koons) while admiring the unique architecture of the building that expertly merges the exhibition space with the museum's art storage. The honeycomb design of the exterior allows natural light to filter in.
Timed tickets to the museum are free, but you need to get a special ticket for the Infinity Mirrored Rooms exhibit that is available at 10 am during the monthly ticket release. Travel tip: Tuesdays and Thursdays are less busy if you get there before 1 pm. Parking is $17 (3 hours with validation) and $5 for each extra 15 minutes ($27 daily maximum). There is a $17 flat rate after 5 pm on weeknights and through the entirety of the weekends.
Hammer Museum
Location: Westwood (West LA)
Hours: Tuesday–Sunday 11 am – 6 pm, closed on Mondays
Located in Westwood Village right outside of UCLA's campus, this art museum focuses on historical and contemporary art that sparks conversations and explores the culture it comes from. Past social justice exhibits have included an exploration of the Watts riots and black artist and their connection to civil rights and Black Power movements. Stop by Lulu, an onsite restaurant that was created by the iconic chef and food activist Alice Waters and specializes in local, sustainable dishes.
Paid underground parking is available under the museum for $7 (first three hours with museum validation) and $3 for each additional 20 minutes ($20 daily maximum). After 6 pm on weekdays, and all day on weekends there is a flat rate of $7. Valet parking is available for $10 (enter on Lindbrook Drive).
Wende Museum
Location: Culver City (West LA)
Hours: Friday, Saturday, and Sunday 10 am – 5 pm
Wende translates to "turning point" in German and reflects this museum's mission to educate the public about the change that was brought on by the Cold War. Exhibits feature artifacts and art from this era that give more insight into how the war was perceived by the Soviet Union. The museum also offers events including coursework, talks, and film series as well.
There is free parking in the lots adjacent to the museum.
Museum of Contemporary Art
Locations: Downtown LA
Hours: Tuesday – Friday 11 am – 5 pm, Saturday – Sunday 11 am – 6 pm, closed on Mondays (both for the MOCA Grand and Geffen)
The MOCA is spread out in two different locations (with an art installation in the Nevada desert): MOCA Grand Avenue and The Geffen Contemporary at MOCA (including WAREHOUSE). The MOCA Grand is the main location of the museum and houses the main exhibits, as well as the Lemonade cafe, museum store, and staff offices. The MOCA Geffen, the largest branch is located in a former police car warehouse in Little Tokyo and was renovated by famed architect Frank Gehry.
Advanced timed tickets are required and are released every two weeks on Tuesday at noon. The permanent collection in each museum is free, but special exhibits are $18. Parking for MOCA Grand is available at California Plaza and costs $4.40 for every 10 minutes ($44 maximum until 5 am). There is a $15 flat rate for weekdays (5 pm to 5 am) and all day on weekends. Metered parking is available on Grand Street.
Parking for MOCA Geffen is available in Parking Lot 2 (300 E. Temple St.) which is a $9 flat rate on weekdays (closed on weekends and after 4 pm on weekdays) and in Parking Lot 7 (140 N. Judge John Aiso St.) which is a $7 flat rate. There is also metered street parking on Temple St.
Museums With Free Days
Los Angeles County Museum of Art (LACMA)
Location: Hancock Park (Central LA)
Hours: Monday, Tuesday, and Thursday 11 am- 6 pm, Friday 11 am – 8 pm, Saturday 10 am – 7 pm, closed on Wednesdays
Easily recognizable from popular culture with its rows of illuminated lampposts out front, the LACMA is the largest art museum in the Western U.S. It features over 150,000 pieces of artwork from around the world, from ancient to present times. Besides its art exhibits, it holds film and concert series. Past and present exhibitions have included a spotlight on the designer Alexander McQueen and modern Korean art.
Free entry for all visitors is on every second Tuesday of each month. Bank of America cardholders have free entry on the first full weekend of every month. On-site parking is $20. Limited street parking is available.
USC Pacific Asia Museum (PAM)
Location: Pasadena (San Gabriel Valley)
Hours: Wednesday – Sunday: 11-5 pm, closed on Mondays and Tuesdays
Focusing on Asian and South Pacific culture and art, this museum is a partnership with the University of Southern California. It was created in 1977 as one of the few art museums focused on this region of the world. Self-guided tours as well as docent-led tours of the museum are available. Permanent exhibits include art from ancient Japan, Hindu and Buddhist statues, and preserved art from China, Korea, Nepal, India, and Southeast and Central Asia.
Every second Sunday of every month is free. Every Thursday is pay as you wish. Adult tickets are $10. A parking lot adjacent to the museum is free of charge.
Huntington Library, Art Museum, and Gardens (The Huntington)
Location: San Marino, CA (San Gabriel Valley)
Hours: Wednesdays – Monday 10 am – 5 p.m., closed on Tuesdays
This property contains a research library with over 11 million works within its walls, an art museum featuring European, American, and Asian pieces, and botanical gardens spanning over 130 acres and housing plants from around the world. It is easy to spend a day wandering the grounds and browsing the extensive collections of art and research materials.
The first Thursday of the month is free and requires advanced tickets that are available the last Thursday of the month for the following week. Free parking is provided.
Museum of Latin American Art (MOLAA)
Location: Long Beach, CA
Hours: Wednesday – Sunday 11 am – 5 pm, closed on Monday and Tuesdays
The only museum in the U.S. that focuses on Latino and Latin American contemporary art, this art institution is worth checking out if you are in the area. The museum also hosts festivals, including the Afro-Latinx Festival and Dia De Los Muertos Festival. It usually takes about an hour to complete the exhibits and there are sometimes music and food trucks in the courtyard.
Free every Sunday. Advanced timed tickets are required. Free parking is available.
Museums with Limited Free Entry
Natural History Museum of Los Angeles County – the largest natural history museum in the Western U.S., there are over 35 million artifacts within these walls. From the Dinosaur Hall to the Nature Gardens with plenty of local California flora and fauna. Free entry is available to the following with ID: CA EBT cardholders, CA teachers, and active or retired military.
Santa Barbara Museum of Natural History Sea Center – an interactive aquarium featuring sea creatures from Santa Barbara Chanel and is located on Stern's Wharf. Highlights include moon jellies, giant pacific seahorses, and two-spot octopuses. It is a member of the Blue Star Museums (free for active-military members Memorial to Labor day).
Museum of Tolerance (MOT) – focusing on racism and prejudice around the world, with a heavy focus on the Holocaust (including an illuminating Anne Frank exhibit). Definitely not light subject matter, but the MOT presents these difficult topics well and gives you a lot to think about long after you leave the grounds. Every Wednesday at 1 pm PST guests can hear a Holocaust survivor speak about their experience (currently moved to Zoom – register here). Active military receives free entry.
Photo sources: La Brea Tar Pits, CAAM