Downtown Los Angeles (DTLA) may not be what first comes to mind when you think of visiting Los Angeles. It's a bit gritty and there's a significant number of homeless people, but it's the cultural and historical heart of the city and an important place to visit if you want a better picture of LA. After all it's where the city first started. Here's a list of the best things to do in downtown LA, to help you make the most of your time in this vibrant part of the city.
Downtown LA History

Walking around DTLA, one of the first things you notice is the ornate historical buildings everywhere. The downtown core during the Victorian Era was a thriving area with major banking institutions giving it the nickname "the Wall Street of the West" and the wealthy living in lavish Victorians up on Bunker Hill (I'd love to time travel back to this time in the city's history). With this economic growth came the need for lavish hotels like the Biltmore, the Alexandria and the Rosslyn, and entertainment in the form of Broadway's many theaters.
Slowly the downtown area declined after World War II, with the invention of the freeway and the mass migration to the suburbs, and the Victorian homes were replaced with low-income housing.
In the early 2000s there was a revitalization of DTLA, breathing life once again into the city's oldest neighborhood.
Now, without further delay, here's where to go when you're in Downtown LA.
The Broad
Located across the street from the Walt Disney Concert Hall, this contemporary art museum has an impressive display of over 2,000 pieces. The building is a work of art in itself, with its unique veil-and-vault structure that features extensive gallery space, while at the same time allowing visitors to view the collections in storage, instead of hiding them away from the public. Admission is free, but doesn't include special exhibits like the popular Yayoi Kusama's Infinity Mirrored Room, where you have to get a separate (free) ticket once you enter the museum.
Walt Disney Concert Hall
As a fan of Disney and Frank Gehry, the self-guided tour of this concert hall held my undivided attention for well over an hour. I couldn't get enough of the fascinating antidotes, like how hard it was to get the acoustics just right in this unconventional building or how Gehry knew exactly what to build when Disney's widow Lillian mentioned she wanted something warm and inviting for this concert hall. There's an elevated, shaded garden that makes the perfect alternative spot if you can't find seating at Grand Central Market or are just looking for a moment of quiet.
Angel's Flight
This historic landmark has been in downtown's Bunker Hill neighborhood since 1901. There are two funicular cars, Sinai and Olivet that originally carried passengers from the downtown core up to their homes in Bunker Hill, but are now mainly a tourist attraction. The views of downtown from the top are an added bonus to this historic ride, which was recently opened in 2017 after safety upgrades were made to the cars and the tracks.
Grand Central Market
Celebrating its 100th birthday, this food hall has a dizzying amount of good things to eat. Egg Slut may be the stair of the show (with lines to prove it), but don't overlook other older options, like: Tacos Tumbras A Tomas, Wexler's Deli, China Café or La Huerta for dessert. The hall can get quite hot during the summer months, and the best seating is in the back where it's open to the street. During weekdays, try to avoid the lunchtime rush caused by the downtown workers and go earlier around 11 am or later around 1 pm.
Grand Park
An oasis of green in the middle of a concrete jungle, this park is the ideal space to take a break among the pink chairs and tables and central fountain. There's a Starbucks in the park that is a perfect spot to grab coffee or use the clean public restrooms. During holidays like July 4th and NYE there are lively celebrations with fireworks, food trucks, and live music. If it's a nice day, grab something from the Grand Central Market, a few blocks away and have an impromptu picnic.
LA City Hall
One of the best free observatory decks in the city is on top of this iconic building. The structure itself is steeped in so much history, from the photos of the city's past mayors and their accomplishments to the torch from when the city hosted the 1984 Olympics. Also, don't forget to look up, especially when coming out of the elevators into the Rotunda, with its decorated mosaic ceiling.
The visitor entrance is on Main Street and you need to go through security and check in to be allowed up. To get to the deck you need to take the first elevator to the 22nd floor and then the second one to the 26th floor (this is how you know the building has history). Finally, walk up the stairs to a room that has the entrance to the deck.
The Last Bookstore
Part bookstore, part art gallery, this is a space that I could easily spend half a day in if I lived locally. Located in a multi-level downtown loft, it's the largest used and new bookstore in California. Along with books on every subject imaginable, there are also vinyl records and graphic novels. The building itself is magical with lots of cozy reading nooks, a book labyrinth, and a horror vault for books that will keep you up at night. Make sure to check out their events schedule that range from specialized book clubs to poetry readings.
LA Public Library
A must-stop for anyone who loves a historic public library. Built back in 1926, this stunning building boasts ancient Egyptian-inspired architecture like the central tower that has a mosaic pyramid on the top and several sphinxes statues inside.There are daily-guided tours and self-guided tours of the library that allow you to fully appreciate all the artwork that is displayed around the building.
Arts District
A revitalized area that houses some of the city trendiest restaurants and bars like Bestia for memorable Italian food and Angel City Brewery for local brews. If you are looking to browse some art, the Southern California Institute of Architecture has some public events, including films that are worth checking out. The Art Share Los Angeles, a local community space that provides emerging artists with the tools to create art, is a great spot to check out the current exhibits. Art Share LA also  has public events, including a variety of performance art.
Grand Central Station
I'm a sucker for historical train stations, which are not too common on the West Coast. There's something about those high ceilings and large cathedral windows in this station that makes me swoon and romanticize train travel. Never mind that the trains are never on time and that the women's bathroom near the front has been a place where I've seen things I cannot unsee (go to the much cleaner, usually empty ones in the back instead).
If you have a few hours to kill before your train, go across the street to visit Olvera Street, which can be super touristy, but also has some interesting historical sights like the oldest house in LA. You can also take the metro one stop to Little Tokyo for lots of delicious pre-packaged food that you can bring back to the station.
Fashion District
This area is home to more than 2,000 retail and wholesale businesses that specialize in apparel, accessories and footwear. There is Santee Alley, a lively outdoor two-block stretch that is known for its bargain shopping with over 150 stores (think a lot of knock-offs and some opportunities to haggle). Another worthwhile stop in this neighborhood is the Original Los Angeles Flower Market, where with an entry fee you get access to both warehouses filled with over six blocks of flowers of all shapes and sizes. The prices are super affordable and it's best to get there early, since a lot of local businesses come here to pick up the cream of the crop. Closed on Sundays.
El Pueblo de Los Angeles Historical Monument

As one of the city's oldest neighborhoods there is a lot of historical sites to see in this area, including the Avila Adobe, Penlanconi House and the Sepulaveda House. As you head down the street, there are numerous booths selling arts and crafts, and touristy trinkets on the lively Olvera Street. It's especially fun to go during special celebrations like Dia De Los Muertos. For food head to Mr. Churro for stuffed churros (try the chocolate) and Cielito Lindo for taquitos.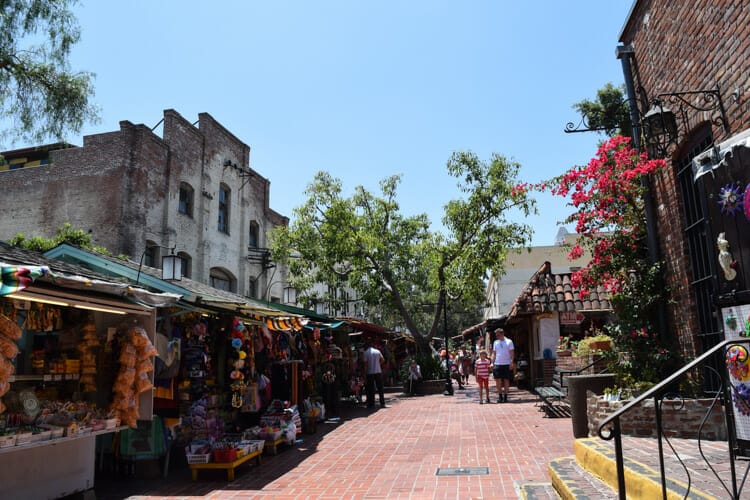 Chinatown
A small, but vibrant neighborhood that is centered around Chinatown Central Plaza. This central square is known for its neon lights and lively Chinatown Summer Nights, which is a music-centric festival held once every month from June-August. To sample delicious local bites, Chinatown After Dark allows chiefs to try out new dishes in the Far East Plaza, a popular food court. In the same food court, try out Roy Choi's Howlin' Ray for addictive fried chicken or go for some fusion Filipino-American food at Lasa. For a dose of history, head over to El Pueblo de Los Angeles Historical Monument, where the first Chinatown was located and learn about Chinese-American history at the Chinese American Museum.
Little Tokyo
One of the best spots for food is this historic Japanese neighborhood, where there are many delicious eats within this small, easily walkable neighborhood. Join the line for some of the city's best ramen at Daikokuya or get sashimi at Sushi Gen, known for their $17 lunch special. For dessert, there's equally as many options with places like Fugetsu-Do, that has been making homemade mochi for over a century and Mitsuru Café that doles out imagawayaki (red bean cakes) fresh from the griddle. Head over to the Japanese Village Plaza Mall, where you shop for anything from Japanese beauty products to home goods. For an insightful history lesson, head over to the Japanese American National Museum, which covers over 130 years of history, including homemade movies by Japanese Americans from the 1920s -1950s.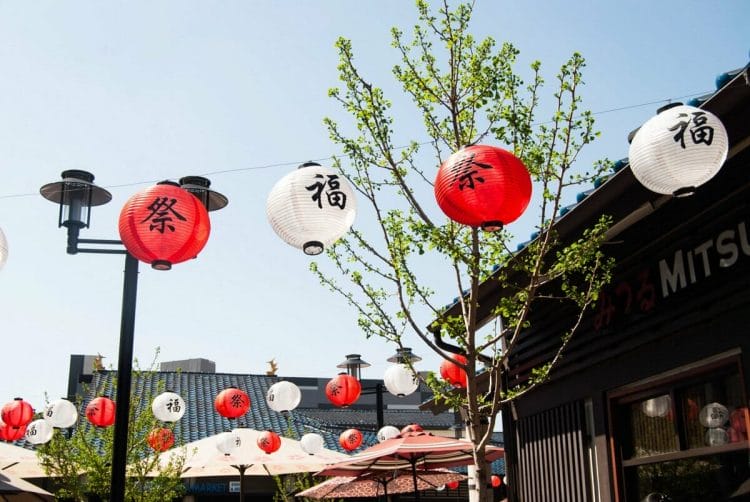 What are some things to do in downtown LA that you would recommend?