Joshua Tree features otherworldly landscapes dotted with its namesake tree, towering rock formations, and abundant cactus gardens. It is a California National Park that sits at the crossroads of where the Mojave and Colorado deserts meet, promising a variety of wildlife and native flora. Whether you want to go on a leisurely hike or a challenging trek, there are outdoor activities for every fitness level, not to mention prime stargazing and scenic desert drives. Here are the best things to do on a day trip to Joshua Tree that should be on your bucket list.
Getting To Joshua Tree
Joshua Tree is easily accessible by either air and/or driving. Here are the driving times from nearby cities :
Palm Springs – 55 minutes
Los Angeles – 2 hours, 15 minutes
Santa Ana – 2 hours, 20 minutes
San Diego – 2 hours 45 minutes
The following airports are ideal if you are flying into the area and where you can rent a car to drive to the park:
Palm Springs International Airport (PSP) – the closest airport with limited flights.
John Wayne Airport (SNA)– a smaller more manageable airport in Santa Ana, Orange County.
Los Angeles International Airport (LAX) – biggest airport in Southern California.*
San Diego International Airport (SAN) – a major city airport that is a good alternative to larger LAX.
*There are additional smaller airports in the LA area that include Burbank, Ontario, and Long Beach, which could be an alternative option to LAX and will be much easier to navigate.
Getting Into and Around Joshua Tree
The best way to access the entirety of Joshua Tree is by car since there are no shuttles that take visitors to various points throughout the park. The main roads Park Boulevard and Pinto Basin Road are paved, but there are some dusty, unpaved roads that you may need to drive on, depending on your itinerary.
Joshua Tree Entrances and National Park Passes
Joshua Tree Entrances
West Entrance (Joshua Tree) -the main entrance that is usually the most crowded.
North Entrance (Twentynine Palms)  – a less crowded alternative that is about 30 minutes away from the main one.
South Entrance (Indio)  – best for those coming from the southeast direction of the park, though it's the least commonly used.
No matter which entrance you use, all will lead to the two main roads, with the Southern Entrance being the furthest away from Park Street and the main sights there.
The entrance fees are as follows and you can buy them online (for no additional cost), at the Oasis at Mara Visitor Center, or at the entrances themselves. On busy days, park rangers often let those with pre-purchased passes skip the line.
National Park Entrance Fees Options
7-day Private Vehicle Pass (there is no daily pass) – $30
Annual Pass – $55
Annual American The Beautiful Pass (covers all national parks) – $80
On the following days, entrance to the park is free:
Martin Luther King, Jr. Day (third Monday in January)
First Day of National Park Week (third Saturday in April)
Great American Outdoors Act Signing Day (August 4)
National Park Service Birthday (August 25)
National Public Lands Day (fourth Saturday in September)
Veterans Day (November 11)
Best Time to Take A Day Trip to Joshua Tree
The desert climate of Joshua Tree has hot summers and cold, dry winters. Crowds are significantly less in between June-October when temperatures can reach triple digits. There are also afternoon thunderstorms during mid-late summer and the area can be prone to flash-flooding.
Late fall to early spring daytime weather is ideal in the low 70s but can dip into the 40s and below at night and it's important to plan accordingly for the cold, especially if camping.
Be wary of crowds on holidays weekends (Thanksgiving weekend was pure chaos for us where each sight was swarmed with visitors) and free entrance days.
Joshua Tree Packing List
3-4 liters of water per person/per day, depending on the season and the activities planned
Plenty of food including salty snacks and electrolyte powder/blocks (there is no place to buy food in the park)
Wide-brimmed hat (even in the winter the sun can be deceiving)
Sunglasses
Layers (especially during the colder months)
Sturdy close-toed shoes
First aid kit (complete with tweezers to remove cactus spines)
Emergency whistle
Important Things To Note About Joshua Tree
Portable water is scarce – Oasis at Mara Visitor Center in Twentynine Palms, the West Entrance Station, Black Rock Campground, Cottonwood Campground, and Indian Cove Ranger Station are the only spots in the park where you can fill up.
Few flush toilets – within the park there are mostly pit toilets, but there are flush toilets at all of the visitor centers and at some campsites like Black Rock and Cottonwood.
Limited/no cell service in the park – don't forget to pick up a complimentary paper map of Joshua Tree at any of the visitors' centers to help you navigate around the park.
Download the NPS App – this helpful app allows you to download essential park info offline like a list of amenities, what to see/do, and self-guided tours.
Check the official U.S. government Joshua Tree National Park website – right before you head to the park to check on any road/hiking trail closures or severe weather warnings that may impact your trip.
Evening/nighttime entry is free – the entrance stations to the park are not manned after they close at 5 pm, so it's free to enter after that time. The park is open 24/7.
Where To Stay in/near Joshua Tree
The only way to stay overnight in the park is by camping and the 500 campsites fill up fast, so reserve one well in advance on Recreation.gov. The following campsites are available for reservations: Jumbo Rocks (most popular), Black Rock, Indian Cove, Ryan, and Cottonwood.
There are also campsites located outside of the perimeters of the park that can be a great alternative if the others are full. Check out this list provided by the National Park Service.
The nearby towns of Joshua Tree and Twentynine Palms have some good lodging options:
Joshua Tree Inn & Motel-located a mere five miles from the West Park Entrance, this hacienda-style inn has a lot of historical charm and each room has a patio to relax on after a long day of exploring.
Spin and Margie's Desert Hideaway-a family-owned spot in Joshua Tree that is filled with personality and hospitality, and boasts clean spacious rooms with kitchenettes to prepare a packed lunch for the trails.
Fairfield Inn & Suites by Marriott – Twentynine Palms – close to the North entrance, this all-suite hotel includes a complimentary breakfast and separate living/sitting areas.
Day Trip to Joshua Tree Itinerary
Catch the Sunrise at Cholla Cactus Garden
Get there early and be treated to a sea of cholla cacti bathed in the golden light of sunrise. Make sure to arrive 30-45 minutes before the actual sunrise to have time to park and hike out on the path to find the optimal photo spot. This is a popular destination, but at sunrise, it feels like you have the place (mostly) to yourself. The garden has a dirt path that is an easy half a mile loop to spot the cacti from different viewpoints.
Be careful with the cholla cactus spines since they tend to easily dislodge themselves onto anything close enough to leap onto.
Be on the lookout on your way back for pullouts on Pinto Basin Road to view the meeting of the Mojave and Colorado Deserts.
Admire Skull Rock
Make your way up to Park Boulevard and stop at one of the most popular photo ops in the park: Skull Rock. If there's no parking in the small lot, find parking alongside the road. The rock is right at the entrance and can be seen towering over the road. The skull's eye sockets were created from decades of enduring rain that molded the stone. If you want to have more of a hike, the 1.7-mile loop to the Jumbo Rocks campground is a great option.
Trek Up Ryan Mountain
For a challenging hike, this 3-mile loop includes a steep incline with a 1000 foot elevation gain when you reach the summit. At the top, you are rewarded with a panoramic view of the park below. This is a popular hike, so doing it in the morning is the best option, especially in the warmer months.
Explore Hidden Valley Nature Trail
This easy one-mile loop is a great alternative if Ryan Mountain is not your style. The trailhead starts at the Hidden Valley Picnic Area and inclines gently in a total of a 100-foot elevation gain. This area was rumored to have once held stolen cattle within the valley. Be aware that the trail has little shade.
Eat Lunch at Live Oak Picnic Area
Right down the road from Skull Rock is this scenic picnic area with a few tables and a pit toilet. There are two parking areas: the first one is for the picnic tables and the second one is for the bathroom and overflow parking. When we ate lunch there, we could not find any empty picnic tables, so we just ate in the car, which was not a bad option.
Hike Around Baker Dam
An easy one-mile loop that is one of the most popular hikes – and with good reason – the path winds through stunning desert vistas dotted with Joshua Trees. If you go after the rainy season, the dam will be full of water, otherwise, it will be empty.
Make sure to note which parking lot you are parked in. There are two lots: Baker Dam and Echo, and you will have a much longer hike if you follow the wrong turn-off on the trail.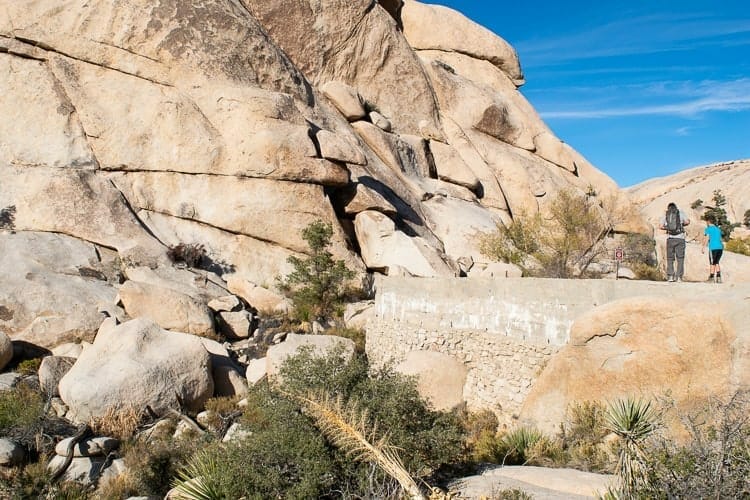 Take In The Sunset From Keys View
The prime area to catch a classic desert sunset is from the Keys View parking lot. Make sure to get there at least 45 minutes earlier to secure a parking spot. This vista point offers stunning views of the southern side of Joshua Tree. On a clear day, it is possible to see 90 miles south of Signal Mountain in Mexico. Starting at the parking lot, you can take the paved .25 mile Keys View Nature Trail that provides you with more insight into the local flora and fauna with educational signs.
Stargaze In An International Dark  Sky Park
Joshua Tree is known for some of the darkest nights and visitors can often see the Milky Way and other star constellations quite clearly. If you are staying overnight in a park campground then you already have a front-row seat to the night skies, but even if you are not camping you can still use one of the many pullouts on the road to stargaze. Cottonwood Campground has the darkest skies in the park.
Additional Activities in Joshua Tree
If you have more than one day in Joshua Tree, here are some other things you can do:
Arch Rock – a popular hiking trail and photo spot in the park, this .8-mile path is an easy add-on to any itinerary. The trail starts out in a straight line and then merges into a loop. You can hike the loop in either direction but counterclockwise is often recommended for its easier approach to Arch Rock.  The trailhead is in the Twin Tanks Parking Lot.
Lost Palms Oasis – for a challenge, this hike is 7.5 miles round-trip with a 500-foot elevation gain. The majority of the hike is through rolling hills until it dips down into the Los Palms Canyon where the oasis is situated. The last portion of the hike is the most difficult and includes a rocky climb out of the canyon. The trail starts at Cottonwood Spring.
Wall Street Mill – home to a former mill and homestead, you can view artifacts from this time on a two-mile hike. The hike is pretty easy, with an 80-foot incline and sandy terrain. The trailhead is located to the east of Barker Dam, just off a dirt parking lot off of Queen Valley Road.
Split Rock – a trail that goes over rocks and past towering boulders in a 2.5-mile loop. The terrain can be uneven with rocky and deeply sandy areas and hikers should be equipped with the proper gear and ability. The trail begins at Split Rock Trailhead and can be extended into a longer hike (5-6 miles) by connecting to the Face Rock Spur Trail onto Discovery Trail and finally ending at Skull Rock Trail, though this is only for advanced hikers who are confident in their navigation.
Indian Cove Nature Trail – this easy .6 mile hike has a 50-foot elevation gain and includes informational panels on the native plants and their medicinal use by Native Americans. The trailhead begins at the west end of the Indian Cove Campground, where you can only enter through the Indian Cove Ranger Station.
Nearby Trips to take from Joshua Tree
Palm Springs
One of my favorite places to visit in the desert, Palm Springs is filled with modern art, mid-century modern architecture, and a lively dining and nightlife scene. Spend the day at one of the many pools (Arrive Hotel has day passes), visit the innovative Palm Springs Art Museum, drive around Vista Las Palmas neighborhood to spot Elvis Honeymoon Hideaway and for dinner eat at the ever-popular Tropicale for global-inspired cuisine and strong drinks.
Greater Southern California
There are many nearby So Cal destinations like Los Angeles, San Diego, Laguna Beach, and Temecula, that are worth visiting if you have more time. Mixing the quiet desert landscape with a livelier city can help you experience some of the best that the Golden State has to offer!
Planning a trip to Joshua Tree? Check out these related posts!