The City of Angels is well-known for its atmosphere of possibility which creates the perfect setting for romantic excursions, whether you want to go out on a day date or a nighttime rendezvous. Whether you want to cozy up to a rooftop movie or learn more about the historic buildings downtown, the options are endless. Here is a list of memorable date spots in Los Angeles that are sure to not disappoint.
Santa Monica Pier
Some of the best date ideas involve the city's most iconic landmarks and this lively pier never gets old, with its mix of tourists and locals. During the summertime, there are free concerts on Wednesday nights called Twilight on the Pier that is worth including in your date night.
Whatever you do, do not miss the Pacific Wheel (the first solar-powered Ferris wheel in the world), which provides stunning aerial views over the Pacific Ocean and the city. Keep your eyes out for special light shows across the wheel's surface, whether it is in honor of a Dodgers big win or celebrating holidays like Dia de la Muertos. For those who prefer a thrill, the West Coaster (a classic steel roller coaster) guarantees a great time. Single rides for both the Ferris wheel and roller coaster are $10.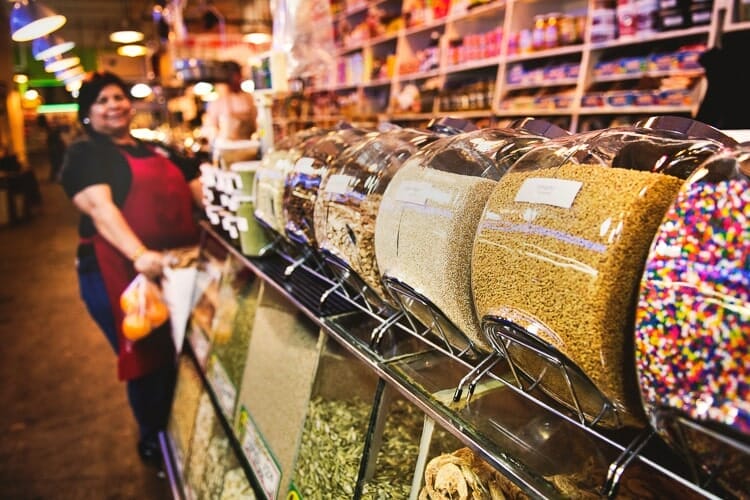 Downtown Los Angeles (DTLA)
DTLA is chock full of unique date ideas, including historic Little Tokyo, and eating your way through a food hall. Here are some crowd favorites:
Last Bookstore – located in an abandoned bank, this multi-level bookstore is a great place to spend a few hours together. It makes for the perfect rainy day date. Among the shelves of new, used, and vintage books, there's plenty of book-themed art-keep your eye out for the book tunnel and the original vault that now houses numerous books.
Walking Tour of DTLA – for a couple who shares a love of history, the Los Angeles Conservatory's Historical Downtown Walking Tour is the perfect activity and will take you to sights like the famed Bradbury Building and a ride on Angels Flight, the world's shortest railway. Tour is $15.
Grand Central Market – head to this iconic food hall for lunch or dinner. A few excellent options are Tacos Tumbras a Tomas for their carnitas and Sticky Rice for Thai food. For dessert, check out La Huerta, which is one of the original booths and offers a dizzying array of candy, including a wide range of Mexican sweets to tickle your taste buds. Walk off lunch by taking the cable car up to Angels Flight across the street and take in the view of downtown from above.
Little Tokyo – pop into Fugetsu-Do, one of the oldest mochi shops in the area. Get in line early for Daikokuya for ramen, because there will be a line. For dessert get freshly made imagawayaki (red bean cakes) at MitsuruCafé.
Walt Disney Concert Hall – take a free audio tour of the Walt Disney Concert Hall and admire its impressive architecture by Frank Gehry which optimizes the interior acoustics. Head out to the shaded elevated garden for a break and a view of downtown (also a great spot to have an impromptu picnic if Grand Central Market is too crowded).
Rooftop Bars – downtown has a dizzying array of places to grab a drink with a view of the LA skyline. Some tried-and-true favorites are Perch, one of the prettiest spaces and complete with a bistro, and Upstairs at the trendy Ace Hotel is a Moroccan-themed oasis in the city.
Arts District – a revitalized area that houses some of the city's trendiest restaurants and bars like Bestia for memorable Italian food and Angel City Brewery for local brews. If you are looking to browse some art collections, the Southern California Institute of Architecture has some public events, including films that are worth checking out.
Smorgasburg Los Angeles – for a mix of delicious food and a lively atmosphere, this Row DTLA event takes place every Sunday from 10 am – 4 pm and has a beer garden, food trucks, and clothing/jewelry booths.
Escape Room LA – a great double date option where you choose from themed puzzle rooms like The Pyramid and Atlantis. A minimum of 3 people is required. Booking in advance is highly recommended. Each room takes around one hour.
West Hollywood
Adjacent to Hollywood, this trendy neighborhood is a lot less touristy and much more local. WeHo as it is called by the locals is known for its lively nightlife, including LGBTQ+ clubs and makes a memorable date setting for dinner and drinks, as well as some noteworthy museums. Here are some recommendations:
ONE Archives – as one of the largest LGBTQ+ organizations in the US, the ONE National Gay & Lesbian Archives has an impressive collection of artifacts including books, art, photos, and personal papers. Entry is free, but $5 donations are suggested.
Los Angeles County Museum of Art (LACMA) – easily recognizable for its outdoor lamppost installation, this impressive art museum is located on Museum Mile. The adjacent La Brea Tar Pits are also highly recommended.
Connie and Ted's – get your fill of New England-inspired seafood dishes like Jo's Wicked Good Chowda' Sampler and lobster rolls.
Night + Market – head over to this popular Thai spot for pork toro and crispy rice salad, just be warned that they don't hold back on the spice.
Carney's Sunset Strip – a solid spot to grab hot dogs or hamburgers in an actual train car when on the Sunset Strip. A bonus is that they're open until 3 am.
Chateau Marmont – a famed hotel where there are frequent celebrity sights at the bar.
Whisky A Go Go – an iconic night club that opened in 1964 and has since hosted rock 'n' roll royalty like Led Zeppelin and The Doors. See the current line-up here.
Amoeba Music
Located on Hollywood Boulevard, this beloved independent record store is a great place to spend time browsing its impressive collection of new and used CDs, vinyl, and DVDs. Whether you are looking for classic 80s rock or something a bit more obscure, you are bound to find it within the impeccably organized rows or from a knowledgeable staff member. There is also free live music on select days.
Afterward, walk along the Hollywood Walk of Fame and admire the front of the TCL Chinese Theater, and then head over to Jitlada in Thai Town nearby for some seriously spicy and delicious Southern Thai food.
Long Beach
This South Bay city is a great spot for a day date, grab a beer from one of the breweries downtown (Beachwood Brewing is a personal favorite for their brews and BBQ) and then walk down to the vibrant waterfront with views of the Queen Mary (currently closed) and Shoreline Village. If you want to go to brunch, Blackbird Cafe, located in Long Beach's historical California Heights neighborhood, boasts a Mexican-inspired menu with items like huevos rancheros and migas.
For art enthusiasts, the Museum of Latin American Art (MOLAA) is a well-curated museum that is dedicated solely to contemporary Latin American art. Best of all entrance and parking is free on Sundays.
Venice Beach
Venice Canal Historic District is worlds away from Venice Beach, with its tranquil neighborhood vibe and makes for a great romantic date spot. Walk along the Venice Canals and point out your favorite million-dollar homes along the water to each other. The canals were created in 1905 by developer Abbot Kinney to bring Italy to Southern California.
Afterward, walk along Abbot Kinney, and get some Gjelina Take Away (a great option for gourmet pizza and sandwiches) and some ice cream at either Jeni's Splendid Ice Creams or Salt & Straw to round out the perfect date.
Huntington Library (The Huntington)
This impressive property in San Gabriel Valley's San Marino houses a research library, art museum, and botanical gardens, and is the perfect spot to spend quality time together away from the bustle of the city. Explore the 130 acres of gardens including the Chinese Garden and the Japanese Garden, browse the hundreds of rare materials in the Library Exhibition Hall, and American and European artwork in the museum.
The entrance fee is $25/$29 on weekdays/weekends. Weekend reservations are required and weekday reservations are highly recommended. The first Thursday of every month is free (find out how to get tickets here). Parking is free.
Silver Lake
A trendy area that has a lot of popular restaurants like Pine and Crane for Tawainese and Bacari for scenic outdoor Mediterranean-style tapas. Walk around the Silver Lake Reservoir, which provides a clean and tranquil getaway from the hustle and bustle of Sunset Boulevard. At night, head over to Zebulon to hear live bands play in an intimate indoor/outdoor space.
If you want a more mellow vibe, head to a local coffee shop like Silverlake Coffee, where good strong coffee (get their iced matcha latte) and a patio are perfect for intimate conversations.
Griffith Park
This expansive city park is the perfect place to impress a first date or a longtime partner. It is hard to go wrong with this classic view of LA. Any time of the day provides unparalleled views of the city, but going during sunset elevates the experience. If you want to get some exercise while you are in Griffith Park, take a hike from the observatory to Mt. Hollywood which gives you views of the Hollywood Sign, the Santa Monica Mountains, the observatory, and the city below.
Another ideal place for romantic dates is the Griffith Observatory, where you can use the telescopes on the observation deck to watch the night skies. Make sure to stop in the observatory itself to admire the Central Rotunda and learn more about our solar system. Park for free in the Greek Theater parking lot (when not being used for concerts) and hike up to the observatory via East Observatory Road.
Hollywood Bowl
One of the city's most memorable date ideas is this historic concert venue that is worth going to just for the atmosphere, where the amphitheater is tucked into the Hollywood Hills. Outdoor concerts include live orchestras recreating popular movie soundtracks, mainstream artists as well as LA Philharmonic performances. For an unforgettable date night, the Fourth of July show includes a firework spectacular timed to music.
Getty Center
One of the best date spots in the city is this art museum which houses an impressive collection of European historic and contemporary art, as well as has unparallel views of the LA basin. Get there after 3 pm to walk around for a few hours, before being treated to a spectacular sunset. Famous pieces include Vincent Van Gogh's Irises and Rembrandt's self-portrait Rembrandt Laughing. Center of Photographs is not to be missed, which features some of the earliest photography up to modern-day photos.
Outside, the Central Garden is a tranquil space to get fresh air and its plants change with the seasons. The Cactus Garden is a great place to take in views of the city.
Admission is free but requires a timed-entry ticket. Closed on Mondays. Parking is $20 per vehicle ($15 after 3 pm). Park underground and then take the tram up to the museum.
Getty Villa
Located near Malibu in Pacific Palisades, this art museum boasts spectacular views of the Pacific Ocean, stunning architecture, and peaceful gardens. This is a great alternative to the larger Getty Center in the city if you are pressed for time, but still want to go out on a museum date. The museum focuses on ancient art from Rome, Greece, and Etruria. Entrance is free, but you must purchase timed tickets ahead of time online. Parking is $15. A bonus is the drive along the Pacific Coast Highway to get there.
Mulholland Drive
For an adventurous date, cruise one of LA's most famed streets, which stretches across the eastern Santa Monica Mountains for 21 miles. Along the way, you will be treated to some breathtaking views, including the starting point of the Hollywood Bowl Overlook. Mulholland Drive ends at Leo Carillo State Beach in Malibu, where it meets Highway 1. Stop by the various outlooks for breathtaking views, including the following:
Universal City Overlook – built in 1984 for the Los Angeles Summer Olympics, this overlook is a great spot to view the San Fernando Valley, including Universal Studios Hollywood in the distance. One of the best (and busiest) times is at dusk when the lights in the valley are turning on and the setting sun is casting a soft glow. Get there early and bring some takeout and be treated to one of the best views in the area. There is parking on both sides of Mulholland.
Mulholland Scenic Overlook – this is another famous Mulholland Drive overlook that is one of the best places to pull over and take in the view of LA below, away from all the hustle and bustle. From this vantage point, you look out onto Laurel Canyon and all the way to Hollywood and Sunset Boulevard. If you do not want to drive the entirety of Mulholland Drive, you can always drive up the mountain from LA through Laurel Canyon. There is parking on both sides of Mulholland.
Jerome C. Daniel Overlook Above The Hollywood Bowl– if you are seeking the classic LA skyline shot, this Mulholland Drive overlook provides unforgettable views that include the Hollywood Bowl, the Griffith Observatory, Hollywood, and Capitol Records. This stop is the easternmost vista on Mulholland and you can start here and then continue on down the road to experience the others. Parking is relatively easy on the side of Mulholland.
Catalina Island
For a memorable day date, hop on a ferry and head to this dreamy island getaway that is only an hour away from the mainland and is often accompanied by dolphin and whale sightings. Explore the scenic towns of Avalon or Two Harbors, where there are plenty of outdoor (parasailing) and indoor (food tours) activities to fill your day.
For boat transportation, you have two different options: the Catalina Express which departs from ports in San Pedro, or Long Beach (the shortest trip). If you're prone to seasickness, the morning rides tend to be less choppy.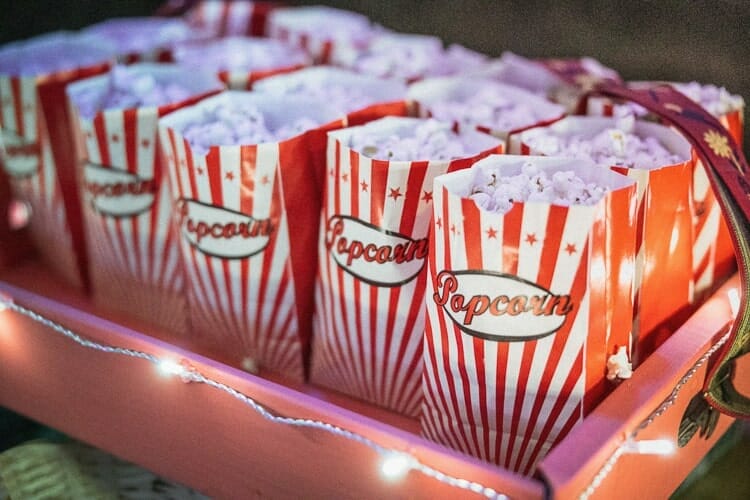 Rooftop Cinema Club
There is nothing more romantic in Los Angeles than watching a movie amid downtown's glowing skyscrapers. Personal headphones are provided, along with comfy deck chairs (including love seats that are perfect for date night). New releases and classics are both shown. A full food menu, as well as drinks and classic movie snacks, are available. There are venues also in the Arts District and El Segundo.
Another great outdoor movie option is Cinespia's movie nights in the Hollywood Forever Cemetary. Especially around Halloween, nothing beats a classic like Carrie as you picnic among the headstones of the rich and famous.
Manhattan Beach
Known for its iconic red-roofed Roundhouse Aquarium and turquoise railings, this pier is a great free date idea that offers views of the surrounding Pacific Ocean and South Bay shoreline. Built in the 1920s, it is the oldest concrete pier on the West Coast. The pier is located at the end of Manhattan Beach Boulevard, the city's main thoroughfare, making it easily accessible to visitors who are visiting downtown Manhattan Beach.
Street parking can be a little tricky, but there are public parking structures a few blocks away that is metered.
Dodger Stadium
There is not a more classic LA date than sitting in the stands at this beloved baseball park. Even if you are not a diehard fan, there is plenty to see and eat, including the iconic Dodger (hot) dogs and a cold beer. There are also themed days including Pups at the Park and concerts with big acts. Best of all there is plenty of parking and getting in and out of the lot is relatively easy compared to other stadiums.
Universal Studios Hollywood
If you cannot make it down to Disneyland in Orange County, this theme park is a great date alternative. Highlights include The Wizarding World of Harry Potter, the studio tour, and plenty of thrill rides, including Jurassic World-The Ride and the Simpsons Ride. For things that nightmares are made of, go during Halloween Horror Nights. Universal CityWalk is also a solid (free) option if you prefer to just walk around and grab a bite to eat outside of the park.
Immersive Van Gogh Exhibit Los Angeles
This unique experience allows visitors to immerse themselves in 300,000 cubic feet of art projections featuring Van Gogh's most famous works. The installation includes pieces such as the Nuit étoilée (Starry Night, 1889) and Les Tournesols (Sunflowers, 1888) set to a soundtrack. The show takes about 30 minutes to go through all the projections.
Tickets are $39.99/$54.99 for off-peak/on-peak. If you want to splurge on your special night, you can update to Date Night Tickets ($200) where you get a private viewing booth, along with a gift box.
Echo Park Lake
A vibrant city park in East LA that is known for its swan paddle boats (a popular romantic date idea) and view of Downtown LA in the distance. On weekends, the park is filled with locals BBQing and strolling along the lakefront. There are always vendors around the perimeter, where you can pick up elote to snack on as you people-watch on the lawn. Afterward, you can grab a bite to eat on Sunset Boulevard a few blocks away (try Greekman's for delicious tapa-style Greek-inspired food).
There is limited street parking in the surrounding residential neighborhoods. Reservations are required for the paddle boats. Rentals are $11 per adult. Night rides are also available from sunset to 10 pm (the last boats go out an hour before closing).
Photo sources: Immersive Van Gogh, Echo Lake