Miles and miles of stunning California coastline never gets old as you drive along the Pacific Coast Highway. From scenic seaside towns that hug the coast to majestic redwood groves that tower high above everything, there's no better way to explore California than to drive along the state's most iconic road. I've written about how to plan a 4-Day Pacific Coast Highway itinerary, but if you are looking for the best Pacific Coast Highway stops, this post will help you decide where to stop along the way.
The most important rule is: start your trip as early as humanly possible. You do not want to go on a Pacific Coast Highway road trip at night for numerous reasons. This road can be driven in one day, but it's ideal to break it up into 3-5 days to properly stop at the towns along the way. So grab your favorite snacks and road trip playlist, and let's map out where to stop along the PCH..
Best Pacific Coast Highway Stops
Let's get a bit technical for a moment, and discuss the name Pacific Coast Highway. This main stretch of coastal road is officially called California's Highway 1 (starting a bit north of San Francisco in Mendocino County), where the Pacific Coast Highway, is the portion that starts from roughly Oxnard all the way to the end in Dana Point in Southern California. Though Pacific Coast Highway and Highway 1 are often used interchangeably and will be done so in this post.
San Francisco
I may be a bit biased, but I highly recommend stopping to explore San Francisco for a few days, before heading out on the road. Wander around historic Chinatown and make sure to get shrimp dumplings and pork buns at Delicious Dim Sum. Walk along the picturesque coastline of Lands End that offers a hard-to-beat view of the Pacific Ocean and the Golden Gate Bridge. Spend the afternoon in Golden Gate Park, where you can museum hop between the Academy of Sciences and the de Young.
Half Moon Bay
Stop and stretch your legs besides the scenic ocean views at Mavericks Beach (of Mavericks surf competition fame), though you will probably not see the monster waves which make rare appearances. For breakfast, Granola's Coffee House is a solid choice for hearty and healthy breakfast options from egg sandwiches to freshly-made smoothies, as well as coffee that will serve as the perfect fuel for the long road ahead.
Santa Cruz
This college town is perfect for fueling up on coffee alongside all the local UCSC students and surfers. Stop at The Buttery for delicious pastries or Cafe Brasil for acai bowls that never disappoint. A great place in Santa Cruz to stretch your legs is the historic Santa Cruz Beach Boardwalk and the adjacent beach, which is a lot calmer than the boardwalk and a great break from the sensory overload.
Monterey
Breathe in that salty ocean air along Cannery Row, the city's main drag that used to be filled with sardine canneries back in the day. If time permits, take a detour on the 17-Mile Drive, where the often fog-shrouded coastal scenery always makes it worth it. Keep an eye out for The Ghost Tree, a gnarled, white cypress tree that looks like it came right from a Brother's Grimm fairytale.
Carmel
Monterey's swanky neighbor is known for its rich artistic community, where writers and artists live and work (director/actor Clint Eastwood was the mayor of Carmel at one time). Dogs are revered in this town, and there are plenty of places to cater to any pups in tow, including Diggidy Dog, for dog treats and toys. For humans, the Carmel Coffee & Cocoa Bar in downtown is worth stopping by for hot chocolate and hearty sandwiches.
Big Sur
This stretch of Highway 1 may be one of the most scenic routes, but make sure to take your motion sickness meds if you are prone to carsickness (those windy roads are no joke). Bixby Creek Bridge is as stunning in real life as it is in photographs and is one of the most iconic views in Big Sur. For excellent comfort food and equally good views, Nepenthe is a good place to stop nearby.
San Simeon
Hearst Castle is worth a afternoon side trip to get up close and personal with the insane wealth of William Randolph Hearst, a newspaper tycoon. The property boasts stunning Southern Spanish Renaissance, Revival and Mediterranean architecture, including the impressive Casa Grande centerpiece that was inspired by a Spanish church. My favorite part of the guided tour was hearing the stories of all the Hollywood stars and politicians that had frequented "the ranch" during the 1920s and 30s. Make sure to reserve tickets ahead of time, especially during the summer when it can get quite crowded.
Morro Bay
Nearby neighbor to San Simeon, this small fishing town is fun to walk around, browse the shops and pick up some treats at Carousel Taffy.  The town is known for the massive Morro Rock that juts out of the bay. Come at sunset and walk along the boardwalk  and witness a gorgeous finale to the day with the rock outlined against a sky on fire. For some fresh seafood, Giovanni's Fish Market has been serving the community for 30 years.
San Luis Obispo
This walkable college town is ideal to walk around for an hour or so, with a beautiful downtown area that has a creek running right through the middle of it. There are a number of delicious meal options in San Luis Obispo including gyros at Petra or tri-tip sandwiches at Old San Luis BBQ Company.
Solvang
This town was formed by a group of Danish settlers who were tired of Midwest winters and were looking for sunnier prospects out west, hence the name Solvang (sunny field). Stroll down Alisal Road to admire the Danish architecture and make sure to pick up aebelskivers (Danish pancakes puffs) at Solvang Restaurant's to-go window. Stop at Copenhagen Sausage Garden to counteract all that sugar with a cold beer and savory sausages.
Santa Barbara
This beach city is a must-stop along Highway 1, if only to swoon over the Monterey-style adobe on State Street and dream about living in one of the Mediterranean-style homes near the ocean. There are plenty of good dining options in Santa Barbara, but Mexican should be high on your list at a place like Los Agaves. The Funk Zone is a revitalized part of town that's a great spot to get a glass of wine from a local vineyard.
Carpinteria
This small beach city is a great alternative for those that want to avoid the tourists or the college student crowds of Santa Barbara. Take a walk on Carpinteria State Beach, and later head over to The Spot, a Carpinteria institution for hamburgers and fries. If you want to stay inland, Seaside Gardens, a nursery/botanical garden hybrid boasts an extensive and unusual plant selection.
Ventura
This coastal city has plenty to see and do, including the Ventura Pier, and a little ways down the San Buenaventura State Beach, which boasts less crowds with beautiful views. Afterward, grab a bite to eat at Cafe Nouveau, which serves both traditional American brunch items and those with a Creole twist, like their maple bacon beignets.
Malibu
This stunning stretch of coast is what California coastal dreams are made of. I always make it a priority to stop in Malibu and just soak in all the million dollar views. Stop at Vintage Grocers for snacks (and people watching), before heading to Point Dume Beach. For lunch, go to Malibu Seafood for fish and chips (just be prepared for a line) and ocean views from the provided picnic tables.
Pacific Palisades
Tucked in between Malibu and Santa Monica, this affluent seaside community is worth stopping at the Getty Villa for ancient art, rich architecture, and panoramic views of the Pacific Ocean. For some extra fuel, head over to the Palisades Village, a pristine outdoor shopping mall and get an ice coffee at Alfred's Coffee and make sure to check out the Instagram flower wall if that's your thing.
Santa Monica
Seeing that iconic Santa Monica Pier always feels like a small triumph every time you drive down the PCH from the north. Celebrate by dipping your feet in the warm California sand. Load up on delicious carbs at Milo and Olive, where their memorable pizza pies and garlic knots are worth the price tag. Afterward, head over to the Urth Caffe, to drink a pot of tea  on the cozy back patio.
Redondo Beach
If you love the poke as much as I do, at stop at Jus Poke is a must for some authentic Hawaiian poke. The shoyu-flavored one is my favorite, with a side of brown rice and seaweed salad. There are also a solid selection of Hawaiian Sun drinks. Redondo Beach Pier is nearby, which is fun to walk down and browse the shops for souvenirs and spot playful seals frolicking in the harbor below.
Long Beach
Take a tour of the Queen Mary, a historic ocean liner that is rumored to be haunted and also has a hotel, restaurants and bars to enjoy. Rent a kayak and leisurely float through Naples Island, which are similar to the Venice Canals in LA with envious waterfront homes. If you have more time, take the Catalina Express for a day trip to this popular island that always is reminisant of old Hollywood glamour.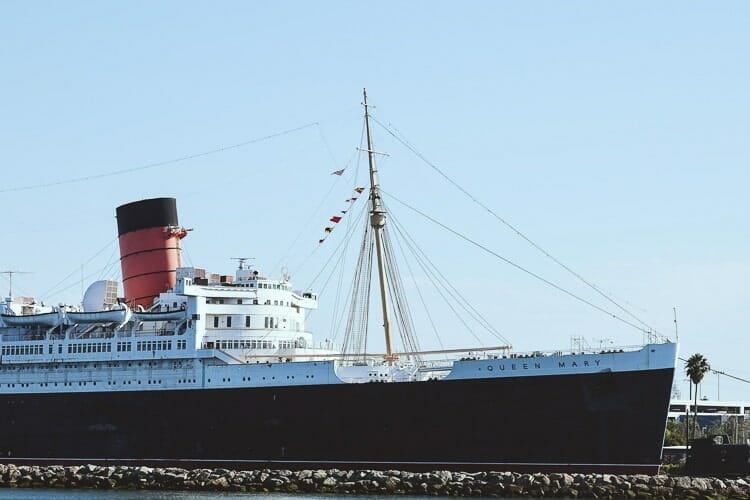 Huntington Beach

Your first stop in this surf-obsessed beach town should be to catch all the action and watch the surfers from the iconic Huntington Beach Pier. Afterward, learn all about why this town has been nicknamed Surf City, USA, at the International Surfing Museum and view the world's largest surfboard. For casual beach fare, Bunz for solid burgers and chili cheese tater tots never disappoints.
Newport Beach

Known for its picture perfect piers: Newport Beach Pier and Balboa Pier, there is no shortage of activities to fill your visit. For an adrenaline rush, head to the Wedge, where you can watch surfers ride up to 20 foot waves. Escape to Balboa Island on the ferry and walk around the town with a frozen banana in hand from Sugar 'N Spice. Head to Mama D's Italian Kitchen for homemade spinach ravioli and their famous pink sauce.
Laguna Beach

As a major art community, this town is home to many notable galleries like the Laguna Art Lounge. The Laguna Art Museum is worth visiting to view an impressive collection of art from around the state. Soak in the coastal beauty of Laguna Beach by heading to Main Beach, just steps away from the city center. Drop by Nick's Laguna Beach for a blackened fish sandwich or the grilled steakhouse salad.
Best time for a Pacific Coast Highway road trip
Contrary to popular belief it's not always sunny in California. The best time to go is in September or October, when the summer crowds have gone home, and the weather is still warm. If you do decide to plan a Pacific Coast Highway trip in the late spring/early summer there's a good chance the coastline will be foggy, especially in Southern California, which the locals lovingly refer to as June Gloom. Winter and spring can also be an option, if the weather is sunny, but be forewarned that if it's rainy there can be road closures due to dangers like mudslides.
Which Pacific Coast Highway route is the best?
Going from north to south is ideal, since you'll be in the lane closest to the ocean, and therefore have the best view without having a lane of traffic in the way. Of course, going the opposite way is not bad as well, and it all depends on what works best for your personal travel plans. This article goes north to south, with San Francisco as your ideal starting point.
There you have it, twenty of the best Pacific Coast Highway stops. You can mix and match depending on how much time you have and personal preference. And always give yourself more time than you think!
Where are the best Pacific Coast Highway stops on your list?
Photo sources: Carpinteria, Ventura, Pacific Palisades