Boston is a city worth stopping by for its history, notable higher educational institutions, and beautiful outdoor spaces. One of the things I miss most about the city as a former resident is the ease of getting around without a car, since public transportation is abundant. The city is also easily walkable in most parts where you can effortlessly go from neighborhood to neighborhood. Two days will give you a solid introduction to the city and its highlights. Here is a list of sight to cover in your 2 days in Boston.
This post contains affiliate links (with no extra cost to you). Read the full disclosure policy click here. Thank you for supporting Small World This Is.
2 Days in Boston-Day 1
Here's how to make the most of 2 days in Boston, starting in downtown with a good dose of history.
Morning

Boston has no shortage of history and the best place to start is downtown at the Boston Common, where the Freedom Trail begins at the Boston Common Visitors Center. The trail itself will take a good chunk of your  day, but you can visit an abbreviated version with sights like he Granary Burying Ground, the final resting place of famous figures like Samuel Adams), and the the gold-domed Massachusetts State House, where you can take a guided or self-guided tour on the weekdays, and The Old State House, one of the oldest buildings in the country. For an interactive map of the Freedom Trail, click here.
A personal favorite downtown is the Brattle Book Shop, which features rows of books in an alley, specializing in rare and used books.
Early Afternoon

You will find yourself at Fanueil Hall just in time for lunchtime, where you can take advantage of all the different casual food offerings. For a taste of Boston, try the Boston Chowda Co. where you can order clam chowder in bread bowls and lobster rolls. Regina Pizza is also a great local option if you're craving a solid slice of pizza.
Afterward walk around to stop and admire the numerous street performers and people-watch to your heart's content. For a dose of history, make sure to check out the Faneuil Hall Visitor Center on the first floor, as well as the Great Hall, which is on the second floor of Faneuil Hall and is where many significant political meetings and debates have been held throughout the city's history. Free tours of the Great Hall run every half hour from 9:30 am-5pm.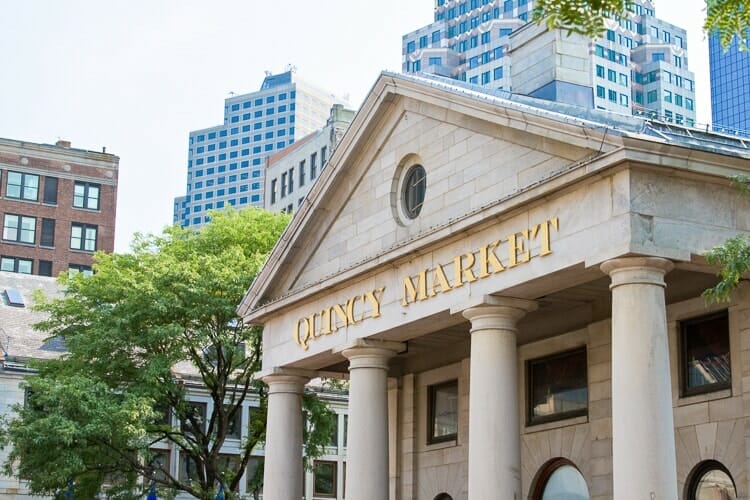 Late Afternoon
Head over to Beacon Hill, which boasts beautiful historical homes and narrow cobblestone streets. Spend a few hours wandering around the brick-lined streets just soaking it all in and watching residents go about their daily lives. Make sure to stop by Acorn Street, the popular sloped side street that you most likely have seen in numerous photos of the city.
The Charles River Esplanade is nearby if you fancy a stroll along the water afterward amid runners and bikers. This pathway is a personal favorite spot to watch the sailboat bob on the water and take in views of Cambridge and Back Bay.
Evening
The North End is Boston's oldest neighborhoods, and is worth stopping by to spend a few hours taking in historical landmarks like the Paul Revere house. A large part of the Freedom Trail also winds its way through the streets. Grab dinner at one of the many Italian restaurants and then head over to Hanover Street, where you grab a cannoli or two from Mike's Pastry or Modern Pastry across the street, which tends to be less of a mob scene.

2 Days in Boston-Day 2
Morning
MIT should definitely be on your itinerary, where you can spend an hour or two wandering the expansive campus. If you go when classes are still in session, it's fun to roam the halls amid the student shuffle. Make sure to stop by the Great Dome over Building 10 and the eccentric Stata Center, which is hard to miss with its odd angles and where A.I. fittingly has its labs.
Afternoon
Isabella Gardner Museum is a former home where you feel like you're inside a painting in the garden courtyard and it's so captivating. I love also how you can view the garden from the various levels within the home. The art exhibits in the various rooms are also very interesting, including a restoration of a sarcophagus that was taking place in the middle of the garden.
The surrounding area is also nice to walk around and explore and you can easily walk through the Back Bay Fens to Fenway Park or walk down street to the excellent Museum of Fine Art if you feel in a museum mood.
Late Afternoon
It never gets old walking through Harvard Yard, especially in autumn when it's ablaze with color against the brick buildings. You can wander around on your own, but there is also a great Cambridge tour led by Free Tours by Foot which is pay-as-you-wish, and gives you an informative tour of the campus and the surrounding area.
Make sure to stop by Harvard Book Store in Harvard Square to browse the impressive multi-level collection of books. Note that if you're looking for Harvard University merchandise that it's sold across the street.
Take a detour across the Charles River, back to Boston via the Harvard Bridge, with the ideal time during sunset with all the evening runners. With the MIT sailboats drifting on the water, the greenery of the Esplanade around the edges and the lights of downtown Boston in the distance, it's hard to find a better view to end the day with. The Harvard Bridge is located right next to the front of MIT and conveniently connects with Back Bay.
Evening

After crossing the Harvard Bridge, make your way through the tree-lined streets of Back Bay and make your way down Commonwealth Avenue. Walk down until you hit Dartmouth Street and turn right, and a few blocks later you should be at Copley Square.
One of the main public squares in the city that is located in the Back Bay and has several significant buildings worth checking out including the Trinity Church, the John Hancock Tower, and the Old South Church. Copley Square is located right next to the picturesque Newbury Street, which is worth window-shopping amid the picturesque brownstones.
A place that was like a second home to me was the Boston Public Library, one of the oldest and largest libraries in the U.S. The BPL is a great place to wander around for an hour or two to admire the beautiful interior and exterior. Make sure to stop by Bates Hall (aka the large study room with the sea of green lamps) and the courtyard that is perfect for getting a bit of fresh air in one of the city's most stunning outdoor spaces.
Other Activities For One Day In Boston
If you have more than 2 days in Boston, here are some additional activities to add to your itinerary.
Fenway Park – if you want to see a true Boston institution, this baseball park is it. To get the full experience, go for a game during baseball season that runs from late March to late October. There are also summer concerts held in the park that are worth attending. Year-round public tours are given as well, check out the schedule

here

.
South End – this neighborhood is historically known for its large Irish population, and is home of the lively St. Patrick's Day Parade. It is a great area to walk around and admire the Victorian homes and residential tree-lined streets. It's also an ideal spot to come for a meal or a drink, since there's a high concentration of excellent restaurants and bars in this area.
Boston Public Gardens -this has always been my favorite downtown park, since it's both calmer and prettier than the adjacent Boston Commons. I love how it's a serene outdoor space literally in the middle of the city. There are always wedding photo shoots taking places, and if you go during the warmer months you can ride the Swan Boats.
Best Time To Visit Boston

Located in the Northeastern corner of the country, Boston gets its fair share of four seasons. Winter is not the ideal time to come unless you don't mind freezing temperatures and the occasional snow storm where the city shuts down and you are stuck inside.
Summertime is when the city comes alive and there are plenty of outdoor activities to enjoy, though it can get quite humid and hot. That being said the best time to come is during late spring to see the city in full bloom or in mid to late autumn when fall foliage is at its peak.
Getting Around Boston
Boston has the MBTA, an excellent public transportation system, including the T, a wide-reaching subway that you can catch at the airport and ride to downtown Boston. All main sights in this itinerary can be reached by the T. Renting a car can be a lot more hassle than it's worth, since parking is difficult and the city's layout can be confusing for visitors. Ride sharing like Uber and Lyft are plentiful as well if you want to get somewhere quicker.
Where to Stay in Boston
Boston is an easy city to navigate with public transportation and your own two feet, but it's always good to stay somewhere central like Back Bay, which is one of the city's most scenic neighborhoods with Newbury Street and Copley Square. Hotel rates can be pricey in this area, but there are some excellent mid-range options available as well.
This South End boutique hotel is a great value for the central location and comfortable rooms that feature quirky touches (think lots of pineapple decor) and beds with double duvet European bedding (think clouds). Amenities include beach cruisers, and the Trophy Room, a beloved local restaurant with a full bar. Copley Square and Newbury Street are a 10-minute walk away.
Check out reviews on TripAdvisor | Book your stay on Booking.com
Located directly on Newbury Street, this hotel gives you a feel of what it would be like to be a local living in the historically beautiful Back Bay neighborhood. Some of the city's best restaurants are a quick walk from the hotel, as well as La Voille, an excellent restaurant located in the hotel's ground floor. A complementary hot breakfast is included. Copley station is only a short walk away.
Check out reviews on TripAdvisor | Book your stay on Booking.com
This four-star hotel is all about location, being centrally located in Back Bay, just a few blocks from Boston Public Garden, Boston Common, Copley Square, and Newbury Street. The interior is stunning, with 2 restaurants and 3 bars on property, as well as an impressive fitness center that puts those dingy hotel gyms to shame. A subway station is conveniently just across the street.
Check out reviews on TripAdvisor | Book your stay on Booking.com
What would you do with 2 days in Boston?
Photo sources: Faneuil Hall, North End