Compared to neighboring Hawaiian islands like Kauai and Maui, the Big Island of Hawaii feels like a different world with its striking landscape of jet-black lava rocks and its contrasting climates spread across its massive landscape. Here's a complete Big Island itinerary for 5 days that will help you best maximize your time on this beautiful island.
This post contains affiliate links (with no extra cost to you). Thank you for supporting Small World This Is.
Big Island Orientation
The Big Island is the largest island in the Hawaiian Islands. There are six major regions on the island:
Kona – Kailua-Kona is the most popular town on the west side of the island with sprawling resorts and historical sights aplenty
Kohala – known for its abundance of golf courses (the Big Island has a reputation for being a golfing haven)
Hamakua Coast – stunning drive where you can stop at roadside towns and taro farms
Hilo – located on the east side of the island, this city boasts dramatic waterfalls and its famous farmers' market
Puna – spend an afternoon in Lava Trees State Park and take a dip in tide pools that are heated by volcanic activity
Kau – visit active volcanos and learn more about the history of the island at Hawaii Volcano National Park
Highlights of the Big Island
Hawaii Volcano National Park
Kona
Hilo
Rainbow Falls
City of Refuge/Two Step
Punaluʻu Black Sand Beach
Waipio Valley
Hapuna Beach
Should I take a guided tour of the Big Island?
One of the best ways to sample the best of what the Big Island has to offer is to take an all-inclusive day tour. Add this tour to the first day of your itinerary and then go back to the sights that you prefer to spend more time at later in your stay.
Big Island Circle Tour is an excellent all-day tour that takes visitors to a coffee farm, Waipio Valley, Punaluʻu Black Sand Beach, and Rainbow Falls and includes lunch and hotel pick-up.
When is the best time to visit the Big Island?
Shoulder seasons between April-June, and September-early November, are ideal when the weather is mild and there aren't peak crowds. The busiest time of year is during the summertime when schools are out, and during holidays like Christmas and New Year's.
The weather is pleasant year-round (it's Hawaii after all), but the winter can bring some rainstorms, especially on the east side. One of the upsides of the winter season besides fewer crowds is that you might be able to see humpback whales migrating from Alaska-a special treat in itself.
Getting To and Around the Big Island
There are two airports that are located in Kona and Hilo. Kona International Airport (KOA) is the main airport and will most likely be where you will be coming in if you are coming from the mainland or from abroad, as well as interisland connections. Hilo International Airport (ITO) does mostly interisland flights.
Booking a rental car beforehand is your best bet since the Big Island can take an hour or more to get from one spot to another. A 4-wheel drive is a good choice if you are planning to drive to Green Sand Beach, to the bottom of Waipio Valley, and/or the summit of Mauna Kea. Driving on the Big Island is not without traffic, especially in cities like Kailua-Kona and spots where there are one-lane roads
For rental cars, I usually do a search on this site that sorts through the top companies like Hertz, Enterprise, and Avis to get the best deal.
Where To Stay On the Big Island
The Big Island is double the size of all the other islands combined, and choosing where to stay is an important decision that depends on what sights you want to be near.
Popular towns are Kailua-Kona on the west coast where you'll be in the center of cultural attractions, beaches, and Pololu and Waipio Valleys.
Quieter (and wetter) Hilo on the east side is where you'll be in closer proximity to places like Hawaii Volcanoes National Park, Akaka Falls, and the lava fields.
A reasonably-priced hotel in a central location that allows for an easy drive to either the north or south of the island. Downtown is within walking distance from the hotel, as well as sights like Hulihee Palace. Amenities include an outdoor pool and a free breakfast.
This mid-range hotel is a great spot for those who want to be centrally located, but are looking for reasonably priced lodging with no resort fees. The hotel is close to tons of great shopping and dining options, including a restaurant on the property. Best of all it's a block from the ocean.
5 Days on the Big Island
Day 1 – City of Refuge, Two Step and Night Swimming with Manta Rays

Pu'uhoua o Honaunau National Historical Park (City of Refuge) is home to an ancient sacred site and a great spot to learn more about Hawaii's rich history at the informative Visitor's Center. When I drove down to the park, we went through several climates, passing overcast roadside towns, and closer to the beach it was completely sunny.
Pro tip: go as early as possible to beat both the crowds and the heat. The park is open from 7 am to 15 minutes after sunset. There are also some picnic tables in the area to eat a picnic lunch at before heading on over to your next stop.
A short walk from the City of Refuge is Two Step, one of the best snorkeling spots on the island. Get up close and personal with the dolphins, reef sharks, and numerous species of tropical fish. The coast is made up of lava rock and offers a jumping-off point into the waters below.
This place is called Two Step because of the natural rock staircase where snorkelers can ease themselves slowly into the water. Make sure to wear protective footgear like aquatic socks that protect your feet against sharp rocks. The water can often be rough, so take the proper precautions and opt for calmer days if possible.
At night, snorkel with the manta rays after watching a stunning Hawaiian sunset aboard the boat. Check out this highly-rated tour in Kona that is 2.5 hours long and includes light refreshments, gear rental, and a guarantee to see the manta rays or you get another chance free of charge.
Day 2 – Akaka Falls State Park, Hawaii Volcano National Park and Punaluʻu Black Sand Beach

Akaka Falls State Park has a short loop hike surrounded by lush greenery that makes you feel as if you've been transported to a tropical wonderland. Admire the lush foliage and mini-waterfalls along the paved pathway before reaching the highlight of the hike: the 442-foot Akaka Falls.
There are two trail options: the easier one with 50 steps and the more challenging one with 400 steps if you want to feel the burn. The entire hike takes 30-35 minutes to complete. The park is located about 11-miles from Hilo, right off Hwy 220. Parking is $5.
About an hour south,  Hawaii Volcano National Park is worth braving the crowds for to learn more about the two active volcanoes, Kīlauea and Mauna Loa at the Kilauea Visitor Center, where you can also learn what is worth seeing that day.
Make your way along the Crater Rim Drive and stop at the different lookouts and witness things like steam rising from the Kilauea Caldera. The Thurston Lava Tube is a personal favorite, where you can hike through a subterranean cave that was carved out by lava flows and see firsthand how the volcanic activity helped shaped the island.
The Chain of Craters Road is a winding 19-mile road that can be a great addition to your trip to the national park, with spectacular views of lava fields high above the ocean. Make sure to give a least 2.5 hours roundtrip to account for stops.
On your way home, stop at Punaluʻu Black Sand Beach, one of Hawaii's most famous black sand beaches formed with the lava from nearby volcanos. This beach is a bit rocky and is not the best spot to snorkel or swim, but people still do so when the water is calm. Make sure to wear water shoes if you go in the water to protect your feet.
Keep your eyes open for the giant green sea turtles sunning themselves on the shore, amid the black sand.
Day 3 – Kailua-Kona and Hapuna Beach
Start your day out in Kailua-Kona, the biggest city on the Gold Coast, walking around Ali'i Drive, the main seaside thoroughfare in Kailua. Afterward head over to Manini'owali Beach (better known as Kua Bay), with its dreamy turquoise waters and white sand beach.
Stop at the Kona Farmers Market, for some fresh fruit, produce, and souvenirs. If you love coffee, the trek up to Mountain Thunder Coffee Plantation is worth the winding roads to the top of Hualalai Volcano in the middle of the "Cloud Forest," where you can go on a free tour to learn about what makes Kona coffee so world-famous.
Drive down Highway 11, where city life gives way to fertile coffee farmland. In and around Captain Cook, there are plenty of more coffee farms to tour and sample delicious Kona coffee. Hala Tree Coffee is highly recommended, with free one-hour tours, samples of their organic coffee, and hard-to-beat views of the Kona Coast.
Less than half an hour away is Hapuna Beach, one of the island's top white sand beaches that is ideal for bringing a good book and soaking up some tropical sun. The waves are a perfect size for boogie boarding, and the waters are home to some excellent snorkeling. An alternative is stunning Kealakekua Bay, for excellent snorkeling.
Rental gear is available next to the snack shack right on the beach, as well as nearby resorts shops. There are lifeguards on duty, as well as clean restrooms that round out a memorable beach day. Parking is $5.
Day 4 – Pepe'ekeo Scenic Drive, Honoka'a and

Waipi'o Valley
Take a day trip to the northeastern area of the island, starting with Pepe'ekeo Scenic Drive, a scenic stretch of narrow road along the Old Mamalahoa Hwy that passes through lush jungle landscape (and sometimes occasional downpours). On the way, you'll pass one-lane bridges spanning over waterfalls and bubbling streams.
The cherry on the top is the spectacular view of Onomea Bay. Although this road meets Highway 19 at both ends, starting your trip from Hilo will make things much easier, since there are signposts between mile markers 7 and 8 directing you where to go.
Honoka'a is a tiny charming town (and the only one on the Hamakua Coast) that's a great stopping spot before going onto the Waipi'o Valley. Historically, this town was the third largest of the entire Hawaiian Islands when it was at the peak of its cattle and sugar industries.
After the last sugar harvest was processed in 1933, the town slowly reinvented itself and became known for its crops like mushrooms, vanilla, tea, and coffee grown by local farmers. Join a guided tour on one of the farms, including the Kahi Ola Mau Farm for all things chocolate.
Its rugged character is especially apparent in events like Honoka'a Western Week, which celebrates all things paniolo (Hawaiian cowboys).
Translating to "curved water" in Hawaiian, Waipi'o Valley is a stunning coastal valley that has historical significance being home to Hawaiian royalty until the fifteenth century.
There are two ways to get to the valley floor from the lookout, either you can hike the 4.2-mile round trip route to the bottom via the Waimanu or Muliwai Trail, (which is not for the faint of heart since there's a steep incline), or drive down a winding paved road that only allows 4 wheel drive vehicles.
There is a black sand beach at the shoreline that is a popular surf spot.
Day 5 – Hilo

On your last day, drive over to Hilo and explore one of the island's largest cities on the east side. Make sure to bring a raincoat, since rainfall is frequent on the Hilo side and accounts for the more tropical rainforest vibe.
One of the top things to do is explore the waterfalls, including the easily accessible Rainbow Falls – located in Wailuku River State Park. This scenic natural wonder is worth stopping by, as well as nearby Boiling Pots, which are beautiful but deadly if visitors are not careful around the rushing waters.
The Kaumana Caves is a 25-mile long lava tube that you can explore for free. The cave on the right is easily more accessible. To get to the caves you need to descend steep stairs 20 feet into the mouth and then you can continue about 2 miles before it becomes private property. Make sure to bring a flashlight and shoes with tread if you plan to go into the caves.
Hilo Farmers' Market is a great spot to experience local Hawaiian culture and pick up seasonal produce as well as handmade craft gifts and delicious food like loco moco. The market is open 7 days a week, but the best time to go is on big market days on Wednesdays and Saturdays from 7 a.m. to 3 p.m.
Additional Things To Do On The Big Island
whale watching – the season runs between November and April, here's a

detailed post

that includes the best tours to book and where you can witness these majestic mammals from the land
botanical gardens – a favorite is Hawaii Tropical Botanical Gardens in Hilo which features over 2,000 tropical plants on 40-acres
helicopter tours – one of the best ways to see the Big Island is from above. A popular aerial tour is Mauna Loa Helicopter Tours, which gives

30-minutes tours of the stunning Kona Coast

.
horseback riding – there are tours, especially around Waimea, like Paniolo Adventures, where you can tour scenic ranches with ocean views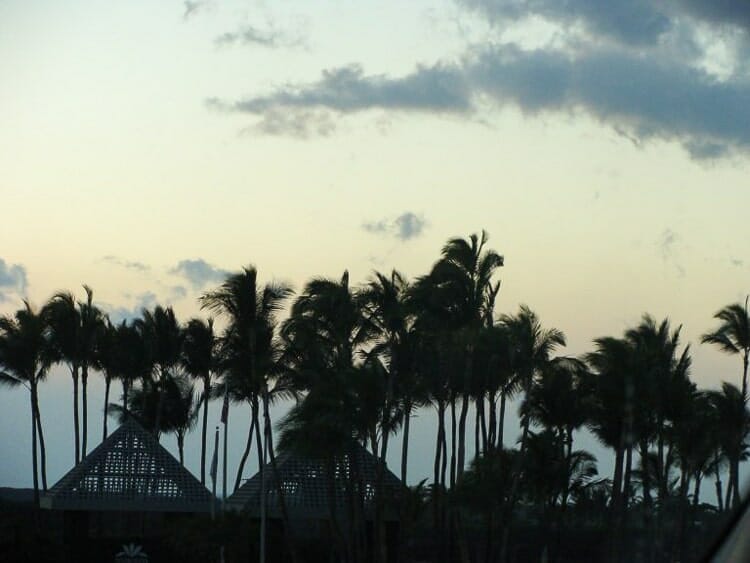 Photo sources: Waipi'o Valley
Updated: 3/10/22