From the rugged bluffs of La Jolla to the panoramic views of Mount Soledad, San Diego sunsets are hard to beat. There are plenty of beautiful places to view the sun setting into the Pacific, whether you prefer a natural setting or a spot amid the skyscrapers in downtown. Here are the best sunset spots in San Diego to add to your list.
When is the best time to see the sunset in San Diego?
During the summer from June to July, the marine layer off the Pacific can roll in during the evening and obstruct any sunset views. During the winter and spring, there is the occasional rain storm that will prevent clear viewing, but if you are able to catch the sunset after a storm this can provide some of the most dramatic views.
Late summer into early fall is a great time for witnessing spectacular sunsets because the weather is warm and there is usually no rain in the forecast.
Top Sunset Spots in San Diego
Windansea Beach
Location: La Jolla
Known as a prime surf spot, this small beach is equally known for its spectacular sunsets as well. Get there early since parking can be limited and find a spot among the other sunset viewers on the sandstone bluffs above the surf.
Make sure to spot the Surf Shack, with its thatched roof made out of palm fronds that was deemed a historic landmark in 1998 by the San Diego Historical Resources Board.
There is a beach parking lot, but it's very small (20 spots) so residential parking is more likely. There are no public facilities like restrooms available.
Mount Soledad
Location: La Jolla
Mt. Soledad National Veterans Memorial and the adjacent park boast great views of surrounding neighborhoods and the ocean beyond on a clear day. You'll recognize the memorial from its giant white cross that honors U.S. veterans from various wars.
There are plenty of areas to sit and watch the sun sink into the Pacific, whether you choose a spot on the grass (don't forget a picnic blanket), snag a bench, or sit on the memorial steps.
There's plenty of residential parking, especially on weekdays.
Black's Beach
Location: La Jolla
Officially part of Torrey Pines State Beach, this secluded beach boasts bluffs on which to watch the sun go down as paragliders float overhead. This beach is known locally as having some of the best winter swells for surfing but may be better known as San Diego's nude beach.
There is free parking available in the Torrey Pines Gliderport parking lot located right above the beach.
Getting to the beach itself it's a bit tricky, but find the trail on the left of the parking lot, past the no beach access sign, and the fork in the path. Continue onward until you reach man-made stairs that go down to the water. This hike is strenuous going back up, so prepare accordingly.
La Jolla Shores Park (Kellogg Park)

Location: La Jolla
With some of the best sunset views in the area, this park is a great place to head to during dusk. Grab a picnic blanket and spread out on the lawn with all the other spectators as you watch the sun set behind La Jolla Shores Beach. There is also a playground that will keep younger kids entertained with a jungle gym and swings.
Another great lookout spot a short drive down the coast is La Jolla Cove, which is a popular spot to swim, snorkel, and scuba dive. Close by adorable (and smelly) sea lions frolic in the Children's Pool, which features a concrete breakwater that is ideal for kids to safely play in the water.
For parking, there is a good-sized La Jolla Shores Beach parking lot, but it fills up quickly. Additional parking can be found usually in the surrounding residential neighborhoods a bit further inland.
Sunset Cliffs Natural Park
Location: Ocean Beach
With sunset in the name, this viewing spot is one of the best places for watching the sun sink into the ocean during golden hour. The rugged cliffs give a scenic backdrop, but can be unstable so be careful where you step.
There are several lookout points including Sunset Cliffs Park at Ladera Street, Sunset Cliffs at Osprey, and Sunset Cliffs at Luscomb Point. Sunset Cliffs Beach located below the cliffs is accessible by stairs.
Street parking is available on Sunset Cliffs Boulevard, but be sure to get there early since spaces fill up.
Crystal Pier
Location: Pacific Beach
Head to the end of this historic wooden pier for one of the best San Diego sunset spots and watch the sun dip into the Pacific Ocean. Fun fact: you can stay on the pier in one of the scenic cottages.
Afterward, walk head to Mission Beach Boardwalk bordering Pacific Beach to soak in the lively nighttime atmosphere and then make your way to one of the many restaurants or bars in the area.
Parking can be tough, but street parking in the surrounding residential neighborhoods is the best option.
Kate Sessions Park
Location: Pacific Beach
This dog-friendly park is located on Mount Soledad and is a popular place to watch the sunset amid sweeping hillside views of Mission Bay and downtown San Diego.
There are two sections to this park: the grassy slope where you can picnic, barbeque, and watch dogs frolic in the grass, and the other section is a natural habitat that is ideal for short hikes.
There is a parking lot as well as residential parking available. Restrooms are also available.
Belmont Park
Location: Mission Bay
Built in 1925, this historical beachfront amusement park is a perfect spot for a colorful sunset against the outline of the Big Dipper roller coaster (the park's original wooden coaster). There is Mission Beach, where you can stake out a spot or if you prefer to be in motion, there's the Mission Beach Boardwalk that will take you along the waterfront.
Afterward, stop by Draft on the boardwalk for cold brews, delicious food, and views of the ocean from their outdoor patio. The games and attractions in Belmont Park are open until 11 pm (12 pm on Fridays and Saturdays), where you can play laser tag or ride the bumper cars late into the night.
The park has free admission, where you pay as you play for the games and attractions, as well as free parking in the surrounding lots.
Sunset Cruise on San Diego Bay
For the ultimate evening activity, sunset cruises on San Diego Bay are popular with locals and visitors alike. The most popular cruises go around San Diego Bay, though there are some that circle around Mission Bay.
Flagship is a highly recommended company that does prime rib dinner cruises as well as weekend sunset cocktail cruises. Hornblower Cruises is also an excellent choice with its popular summertime Sights & Sips Sunset Cruise, every Friday and Saturday night that offers appetizers, live DJ entertainment, and spectacular views of San Diego Bay and Coronado Bridge.
Make sure to book your cruise well in advance, especially during the summertime.
Mister A's
Location: Banker's Hill
If you want spectacular dining sunset views, this iconic steakhouse restaurant does not disappoint. The menu offers indulgent choices like Kurobuta Pork Chop and Roasted Rack of Lamb. For warmer nights, the outdoor dining allows for a fully immersive experience of the sights and sounds of the city.
Pro tip: make your reservation a little bit before sunset so you can enjoy the full experience and request a window seat (though not guaranteed).
Valet parking is available for $10-$12 on the ground floor garage. The dress code is business casual.
Altitude Sky Lounge
Location: Gaslamp Quarter
Situated in the downtown Marriott, this rooftop bar provides stunning city views, including an aerial view of nearby Petco Park. Sunset happy hour is Monday – Friday, 5-7 pm, where you can get $7 well cocktails and $5 draft beers. You have the option of ordering food from the restaurant downstairs.
There is also complimentary access to City Sights, an adjacent area that offers panoramic views, a bar menu, and lounge seating.
The Altitude Sky Lounge is open daily from 5 pm – 12 am and also opens earlier on days that the Padres have home games. Get there early to beat the line! If you drive there the nearby 6th and K public parking lot has reasonable pricing.
Petco Park
Location: Downtown
Located next to the water, the home of the San Diego Padres provides the perfect setting for sunset views during a game. Any evening games are prime time for these views, but August and September allow for an earlier sunset versus waiting until the end of the game. Besides baseball games, Petco Park hosts concerts and other sporting events.
Parking can be hard and pricey during games and taking a rideshare option or the Trolley is a great alternative to driving.
If you do drive your best bet is the surrounding lots that are a bit cheaper than stadium parking and include the Convention Center lot (across from the stadium) and 6th & K lot (across from the main gate).
Cowles Mountain
Location: Mission Trails Regional Park
This popular hike brings visitors to the highest point in San Diego at its 1,593-foot summit. The hike up is mildly difficult since it requires a 1,000-foot elevation gain and sturdy hiking boots are necessary.
The hike itself is 5 miles round-trip and takes about 2-3 hours depending on how long you stop and how quickly you ascend/descend the mountain.
The Cowles Mountain trailhead (Golfcrest Drive) is the most popular, but there is also the Mesa Road trailhead which is less congested. There is a small parking lot at Cowles Mountain trailhead, but it fills up quickly so your best bet for both trailheads is street parking.
Balboa Park
Location: Balboa Park
This park shines at any time of day, but especially at sunset against the backdrop of the beautiful historical buildings, including the iconic California Tower. Stop by the Botanical Building and the adjacent Lily Pond for a prime photo opp.
Other great places for pics are the Cabrillo Bridge and the Plaza de Panama. The Prado at Balboa Park is a great spot to grab dinner (reservations are recommended).
Parking in the Balboa Park lots are free. There is also a free tram that is an efficient way to zip around the park.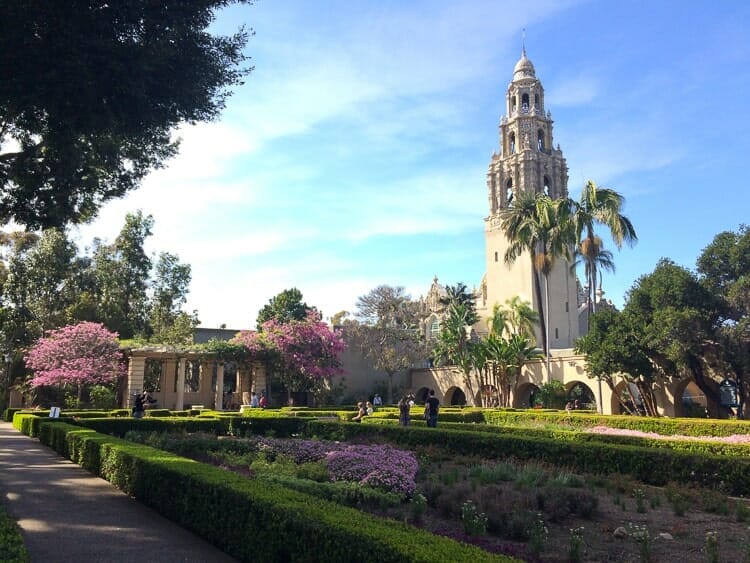 Coronado Island
Location: Coronado Island
This picturesque island has breathtaking sunsets from the famed Hotel Del Coronado and the adjacent Coronado Beach. It's also fun to wander around the neighborhoods adjacent to the beach and admire the dreamy historical homes. Grab a happy hour drink and a bite to eat at Sun Deck Bar & Grill in the hotel.
Afterward, walk along Ocean Avenue, where you can grab dinner at one of the many excellent restaurants.
If you are coming by car, you will take the towering Coronado Bridge from San Diego proper which provides panoramic views of both the city and the San Diego Bay.
Residential parking can usually be found near the beach/hotel. If you are coming by ferry, you can reach the hotel by walking down Orange Avenue from the pier or taking a rideshare vehicle. Public restrooms/showers are available.
Cabrillo National Monument
Location: Point Loma Penisula
Located on the furthest point of the Point Loma Penisula, this national park offers unparalleled sunset views of downtown San Diego, San Diego Bay, and on a clear day Tijuana. Get here well before sunset and explore areas like the visitor center, the tide pools (low tide usually occurs during the fall and winter months), and The Old Point Loma Lighthouse.
Keep your eyes open for whales during the winter months. There are also a few easy hiking trails, including the 2-mile Bayside trail.
Parking is $20 per vehicle for a 7-day pass or if you plan on visiting more than once in a year the $35 Cabrillo National Monument Annual Pass is well worth it.
Photo sources: Mount Soledad, Kate Sessions Park, Cowles Mountain