Izmir is Istanbul's chill cousin, known for its café culture and general laid-back attitude towards life. This scenic Aegean city is known for its ideal climate, where the winters are mild and the summers are dry and hot. Most restaurants and cafes in the city have outdoor patios, perfect for sitting outside, eating platters of fresh seafood or roasted meat, and drinking ice-cold Efes. Here are the best restaurants in Izmir that should be on your list.
Getting Around Izmir
Izmir is the third-largest city in Turkey and it is quite spread out, but thankfully there are many options for getting around on public transportation. The İzmirim Kart is a pay-as-you-go option that you can use on the metro, ferry, bus, and to rent bicycles. The disposible version is called Bilet35 and can be used for 3, 5 or 10 trips. Here is more info on how to get the cards.
Izmir Metro – with a

network of lines

that are constantly being expanded, this is a convenient option to take to central stations like Alsancak, Konak, and Bostanli
Bus – there is also an

extensive bus network

that takes you around the city, including to the ferry terminals and subway stations
Ferry – a scenic way to get across the water, with

terminals in popular areas

like Bostanli, Alsancak, and Konak
Domus  – a shared minibus that has a designated route (where you can get off anywhere along the way) with the start and end destinations on the front, and has a fixed price depending on your destination
Taxi – for a reliable, English-speaking service Izmir Taxi Service is a great company with reasonable prices
Bicycle – Bisim bikes for rent are plentiful, especially around the kordon area
Guide to the different types of restaurants in Izmir
With its close proximity to the Aegean Sea, seafood is plentiful and delicious. If you are a fan of fish, octopus, mussels, and shrimp make sure to take advantage of the many excellent restaurants, both casual and upscale. The meyhanes (restaurants that serve alcohol, including the beloved raki) around the city serve fresh fish and other assortments of seafood, as well as meze (small dishes both hot and cold).
If meat is more your thing, there are casual kebabçi that specialize in meat (chicken, beef, and occasionally lamb) and serve simple salads and ayran (salty yogurt drink). A variation of that is a köfteci, which specializes in grilled meatballs. These shops are usually casual sit-down affairs or sometimes there are just stands where you can get takeaway, including doner.
There are also more formal sit-down meat-centric restaurants that come with complementary fruit and tea and top-tier meat cuts in places like Alsancak and Bostanli to name a few.
Another traditional restaurant, lokantas are a great budget option, where there is homemade food laid out and you point to what looks good and pay by weight.
Another quick food option is pideci where you can pick-up pide (open-faced cheese and meat oval-shapped flatbread) and lahmacun (thin circular flatbread with ground meat). There are also veggie pide options as well if you ask, with options like bell pepper and tomatoes.
Börekçi are bakeries that serve börek (savory baked goods) that make a great grab-and-go breakfast or snack. These popular baked goods are usually sold out midday, so get there early.
Tatlıcı are bakeries that filled with sweet treats like baklava, helva and lokum (Turkish delights). Pastanesi are more European-style dessert cafes that have cakes, coffee, and ice cream aplenty.
Top Restaurants in Izmir

Most of these restaurants are in Alsancak (the city center), neighboring Konak or Bostanli. All of these neighborhoods are easily accessible by public transportation, including a scenic ferry ride.
Alsancak Restaurants
Deniz Restaurant
If you want to treat yourself, this longtime favorite seafood restaurant is the place to go for a fancy night out on the town. Expect elegant seaside dining, top-notch service, and all guests on their best behavior. Highlights from the menu include an array of delicious mezes (small dishes) and seasonal fishes from the nearby Aegean and Black Sea. If possible, go on a weekday to avoid waiting for a table.
Getting there: Located on the southern end of Alsancak Kordon, the closest ferry terminal is Passport.
Tavacı Recep Usta
This restaurant specializes in succulent lamb prepared various ways, from skewered to baked. Lamb is the star of the show, but there is also notable alternatives like beef meatballs and chicken kebabs.  The meal comes with complementary appetizers as well as dessert and tea afterwards. The atmosphere is as equally memorable as the food, with a spacious outdoor patio as the perfect place to linger on hot summer nights.
Getting there: The restaurant is located at the northern end of the Alsancak Kordon, walking distance from the Asancak ferry terminal.
Damla Restaurant
This traditional meyhane (restaurant that serves alcohol) down a quiet side street is where you can get Turkish meze and high-quality meat (think big juicy steaks) and fresh local fish. This restaurant feels more like eating at someone's home where the raki is flowing freely. There's no menu and hardly any English is spoken, but you just need to trust everything they suggest will be delicious.
Getting there: located down an unassuming side street, away from Alsancak's main throughfare, it's walking distance from the Alsancak ferry station.
Ristorante Pizzeria Venedik
One of the oldest pizzerias in the city, this is the place to get a taste of Italy. Pies options include the indulgent Pizza Al Quattro Formaggi that is a must for cheese lovers. Their extensive wine list includes numerous reds that come from both Turkey and Italy. There are also pasta dishes and chicken entrees for those who prefer something else, but the pizza is what really shines at this restaurant.
Getting there: both the Alsancak and Passport ferry terminals are about a 10-12 minute walk away.
Bostanli Restaurants
Etci Ahmet
For top quality meat, this spot is an excellent choice. Like a traditional mayhane, you get to choose your meze from an extensive selection. Our waiter even brought us back to the meze display case to give us a visual tour of all the choices. The main dishes come in options like kofte (get the ones stuffed with cheese), grilled chicken, and perfectly grilled cuts of steak. Make sure to take your time after the meal to sip on tea and savor the impressive complementary fruit plate that is gifted to your table.
Getting there: this restaurant is a 10-minute walk from the Bostanli ferry terminal.
Mavra Restaurant
Find a seat in this lively mehane that serves up a dizzying array of delicious meze for starters and then unbelievably fresh seafood as the main course. There is no menu, instead you point to the appetizers and the fish you want. Raki, the ubiqous  anise-flavored liquor of Turkish mehanes is free-flowing and guests are encouraged to linger. The meal is not cheap, but definitely memorable.
Getting there: the Bostanli ferry terminal is a quick 10-minute walk to the restaurant.

Izmir Restaurants Farther Away
Akin'in Yeri

Located a bit outside of the city center, this waterfront restaurant is worth the trek for some of the freshest seafood in the area. Dine with locals who come here for the plentiful local fish options, which are cooked to your liking. Before your main entree, choose from a delicious array of meze both cold and hot. The large outdoor dining area is an excellent choice during the warmer months.
Getting there: the restaurant is located in Ozbek, about a 45-minute drive from Alsancak. Taking a taxi will be your best bet.
Yengec Restaurant
Also located further outside of the city, this restaurant is a longtime favorite with locals for its impeccable seafood dishes and seaside locale next to the harbor. Start with an impressive array of meze choices from pureed eggplant to cucumber in yogurt. Choose from daily catches of local fish, octopus, squid, and prawns. The atmosphere is cozy and warm inside, with additional outdoor seating as well for a more lively scene.
Getting there: the restaurant is located in Urla, which is about 40 minutes outside of Izmir's city center.
Casual Dining Restaurants in Izmir
Kofteci Remzi
This casual restaurant is one of my all-time favorites in Izmir since I first visited over a decade ago. It is open 24 hours, so it makes a great late night stop for a steaming bowl of lentil soup before heading home. It has been serving complementary cheesy bread and an assortment of kebabs (try the kofte) since 1965 in a scenic outdoor setting. The efficient and extra attentive service is the cherry on the top. A waiter charged Mustafa's card twice and when we went back the next day they had a bundle of cash waiting for him down to the exact cent.
Getting there: it's about a 10-minute walk to the Bostanli ferry terminal.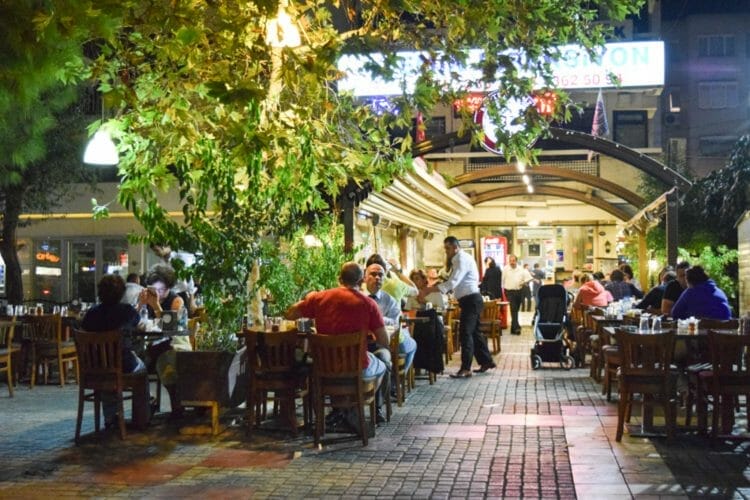 Kircicegi
A 24-hour fast-casual restaurant that serves up delicious pide at all hours. Depending on the time, you will see a wide cast of characters grabbing a late night bite: from a bride and groom after their wedding to families snacking on pide. There are other dishes like kebabs available, but the pide is where it is at including vegetarian options like spinach and cheese.
For dessert, try the kunefe, a traditional Turkish treat with dough, cheese, and sugar-based syrup. There are many branches around the city, including a spacious one in Alsancak.
Friends & Burgers
For those craving beef beyond the ubiquitous kebab and are near the Agora shopping mall in Balcova, this is a great fast food option that is a step up from the typical mall burger joint. The interior is inviting and the ingredients are high quality, homemade, and delicious. They have inventive flavors like the Mexican burger with hot sauce and a healthier FitFun burger piled high with veggies. There are also salad options for a healthy side. My all-time favorite is the garlic mushroom burger with a side of potato wedges and plenty of ketchup.
Leman Kultur
This cartoon-centric restaurant is a great casual spot to grab lunch or dinner. Decorated after the political cartoon publication Leman Kultur, there is no shortage of cheeky touches from the novel-sized menu to its life-sized cartoon cutouts. The food is not not too memorable-with an offering of global cuisine (Mexican, Italian, American), as well as traditional Turkish dishes with a modern twist, but it's worth going just for the atmosphere.
Beer, wine and cocktails are also available. There are several branches around the city, including locations in Asancak, and Bostanli.
Top Izmir Cafes
Reyhan Pastanesi
For some memorable desserts, this historical cafe is the place to indulge in Izmir. If you're looking for a cake the Rokoko is always a solid choice. There are also plenty of other sweet treats if you are looking for something other than cake, from rich chocolate truffles to macrons. There are also special gift boxes that contain an assortment of cookies or chocolates that make the perfect gift or souvenir for friends and family back home.
Sir Winston's Tea House
In the mega mall that is MaviBahce, this is a solid cafe to stop at (then make sure to stop at OzSut for dessert). There is a wide selection of sandwiches, salads, pizza, and traditional Turkish entrees like kofte. If you come for breakfast, you can get a massive Turkish breakfast spread for two. There's a large outdoor patio and a smaller air-conditioned interior that is ideal for escaping the summer heat. For drinks there's anything from ubiquitous Turkish tea to specialty cocktails.
There are also branches in Alsancak, Bornova, and Konak.
Starbucks
True you can find Starbucks everywhere in the world, but here in Turkey they tend to be more upscale and this huge one in Bostanli is no exception. There's a spacious patio out front with plenty of seating and it is always crowded especially at night. The drinks are standard Starbucks beverages, but they serve coffee in mini cups if you order a small, (similar to the size of a Turkish coffee cup) if you just want a tiny bit of caffeine. It's a great place to pick up a drink and a snack, and rest your feet if you find yourself in the area.
Kahve Dunaysi
There are a few branches of this coffee shop, but my favorite is in Konak, which is central, and spacious with plenty of indoor and outdoor seating. This branch has a great selection of drinks, small bites, and a wide selection of desserts. Grab a strong Turkish coffee and find a seat among the international business clientele that are staying in one of the many nearby luxury hotels. There are also chocolate-covered nuts and other pre-packaged treats that are worth picking up on your way out.
Tugba
For an assortment of delicious lokum (Turkish delights), this is the spot to go for sweet treats. A personal favorite is the rose flavored ones. Do as the Turks do and stock up on nuts and dried fruit in bulk that serve as healthy snacks that go along with tea. There are also spices, roasted coffee, and boxed treats in the form of nuts and lokum, that make a great gift to bring back to your friends and family at home.
There are many branches around the city, including one in Konak.
Ozsut
This beloved Turkish cafe is where all your dessert dreams come true. Dessert is taken so seriously that there are several menus filled with an overwhelming amount of decadent cakes, hot/cold drinks, ice cream, and other treats. There are also traditional Turkish desserts as well as strong cups of Turkish coffee and tea. They also have great Turkish breakfast offerings, sandwiches, soups, and salads for those who want something savory.
There are a few branches around the city, including one in Alsancak.

Fistik Baklavalari
More of a shop, than a cafe, but I couldn't leave out some of the best baklava in the city. I didn't know about this baklava shop until my most recent trip, and realized I was seriously missing out. The shop specializes in baklava and it is made with real sugar (instead of the fake sweeteners) so it has an addictive caramel flavor.  It's a simple shop, with several different mouth-watering flavors displayed in the window and behind the glass inside. The prices are higher than other bakeries, but worth every bite.
It's located a bit further away from the city center in Cigli, but worth a stop if you're in the area.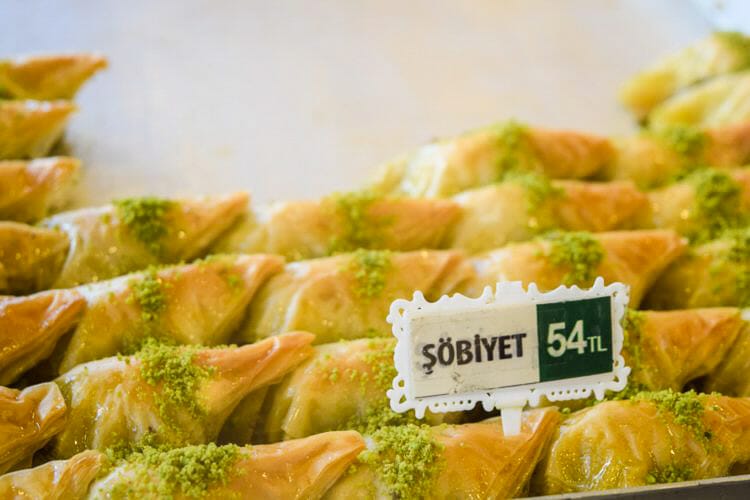 Getting Around Izmir
There is an extensive public transportation system throughout the city that includes buses, Izmir Metro and ferries. There are also dolmus, smaller shared vans which can be ideal for traveling shorter distances.
 What are your favorite Izmir restaurants?
Photo sources: feature photo, pide, turkish breakfast
Save
Save
Save
Save
Save
Save
Save
Save
Save
Save
Save
Save