When it comes to cities California has it all. From tiny beachside cities that hug the coast to metropolises that are known for their diversity when it comes to food and culture. There is truly something for everyone. Below is a list that runs from north to south and describes the best cities to visit in California that should be on your Golden State bucket list.
Top Cities To Visit In California
Sacramento
The capital of California is a lot more than its political roots (though a visit to the California State Capitol Museum is well worth a visit). There's trendy Midtown with its tree-lined streets and the beautiful homes of  East Sacramento. My favorite corner of Sacramento is Curtis Park, a picturesque residential neighborhood that is home to Gunther's Ice Cream (if you know you know) and Pangaea Bier Cafe.
For a bit of nostalgia, the Tower Theater and the adjacent Tower Cafe are fun to visit for a movie and a bit to eat afterward.
Napa
For everything indulgent, this Northern California city is the best place to go for wine, food, and relaxation. Visit the historic Downtown Riverfront Promenade and make sure not to miss the Napa River Inn and the surrounding beautiful artwork including Alan Shepp's Mosaic Fountain in Riverbend Plaza. Rent a bike and head out on the Napa River Trail, which winds its way along the river for 4.2 miles.
Stop by the Cooking Classes at The Culinary Institute of America at Copia, where you can perfect your cooking skills under the guidance of professionals. Afterward, wander around the stunning campus that includes gardens and a restaurant/bar.
Sonoma
Sonoma may not have the world-renown fame of its larger neighbor, but it definitely has more charm. The walkable downtown is centered around Sonoma Plaza with wineries, cafes (try the Sunflower Caffe for brunch), and boutiques to browse. One of my favorite things to do is to walk around the neighborhoods surrounding downtown and admire the homes and sometimes even see land with horses.
Stop in Vella Cheese Co for samples to decide between the creamy brie or the more unusual lavender jack. Drop by Readers' Books, a used book store that has a wide selection of novels and knowledgeable staff.
San Francisco
I may be a bit biased, but my hometown of San Francisco is a small, but mighty city. It has a lot of culture and delicious food within its 7×7 mile perimeter. Favorite views of the Golden Gate Bridge are from Crissy Field (East Beach) for views from the bayside and Lands End, which gives a view of the bridge from the ocean side.
Head into the Inner Richmond for some dim sum (get takeaway at Wing Lee Bakery on Clement Street) before heading to Golden Gate Park and visiting either the de Young Museum or the Academy of Sciences, depending on your personal preference of art or science.
Oakland
Across the bay is perpetually sunny Oakland that has a food scene that rivals San Francisco. Start in downtown Oakland, where you can wander around Old Town Oakland and admire the Victorian homes. For lunch, Rio California serves up traditional Brazilian dishes like feijoada and entrees with Caribbean roots like their famous jerk chicken. The restaurant is located in the Preservation Park, which is a collection of Victorian houses that were relocated to their current location.
Head to Lake Merrit, where a walk around the water is the perfect way to slow down and take in the local scene. Oakland's Chinatown is one of my favorite neighborhoods to explore and eat my way through. Drop-in Ruby King Bakery for freshly baked egg tarts.
Berkeley
As Oakland's East Bay neighbor, this university town is quite walkable. Start your visit at UC Berkeley, where you can wander around the beautiful campus. If open, make your way to The Campanile, the bell tower where you can get panoramic views of the East Bay and beyond. For lunch, head to North Berkeley's Shattuck Street for the daily pizza flavor at The Cheeseboard.
For boba, try Asha Tea House (their Matcha Latte is popular), which sources ingredients responsibly and makes everything from scratch.
San Jose
Located in the heart of Silicon Valley, this South Bay city has a lot of interesting sights related to tech and culture. Tech Interactive is a fun place to experience hands-on activities, especially for kids. The Winchester Mystery House is also a worthwhile experience, but is not for the faint of heart, especially during Halloween.
Shop and eat in Santana Row, an upscale outdoor mall that has great restaurants and a movie theater.
Monterey
Visit Cannery Row, the city's main drag that used to be filled with sardine canneries back in the day, and stop by the educational Monterey Bay Aquarium. Take a drive on the 17-Mile Drive, where the often fog-shrouded coastal landscape always makes it worth it. Be on the lookout for The Ghost Tree, a gnarled, white cypress tree that looks like it came right out of a Brother's Grimm fairytale.
Carmel-By-The-Sea
Monterey's swanky neighbor is known for its rich art community, where writers and artists live and work (director/actor Clint Eastwood was the mayor of Carmel at one time). Dogs are revered in this small beach city and there are plenty of places to cater to any four-legged travel companions, including Diggidy Dog. For humans, the Carmel Coffee & Cocoa Bar in downtown is worth stopping by for ramen or sandwiches.
Walk to the end of Ocean Avenue, where you will find windswept Carmel Beach.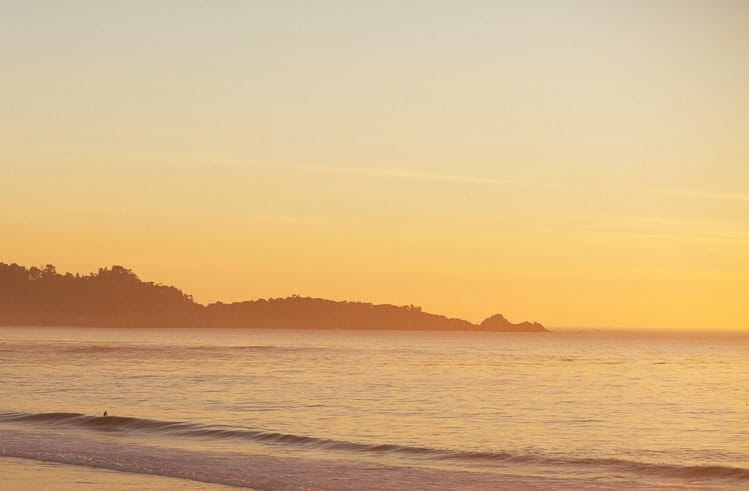 San Luis Obispo
One of my favorite cities on California's Central Coast, with its embraced slower pace of living (SLO is a common slogan around town). Home to California Polytechnic State University, there is no shortage of good places to eat, including Firestone Grill where you can smell the BBQ a block away.
The Madonna Inn is a historic hotel with themed rooms and is over-the-top in the best way possible. It's worth a stop to explore the festive grounds, including the bathrooms below the main restaurant/bar area(next to the gift shop).
Santa Barbara
Known for its Mediterranean-style buildings and wineries, Santa Barbara is a great getaway from Los Angeles or an ideal stopping point during a road trip along Highway 1. Start your day on State Street, where a few blocks away you can walk to the Santa Barbara Courthouse and admire its Spanish-Colonial-style building and gardens. Make sure to stop at McConnell's for ice cream and try one of their unique flavors like Turkish Coffee.
The Funk Zone is a great place to grab a bite to eat and embark on one of the largest parts of the Urban Wine Trail, stopping in working wineries like Whitcraft Winery, where you can sample small-production chardonnays and pinot noirs.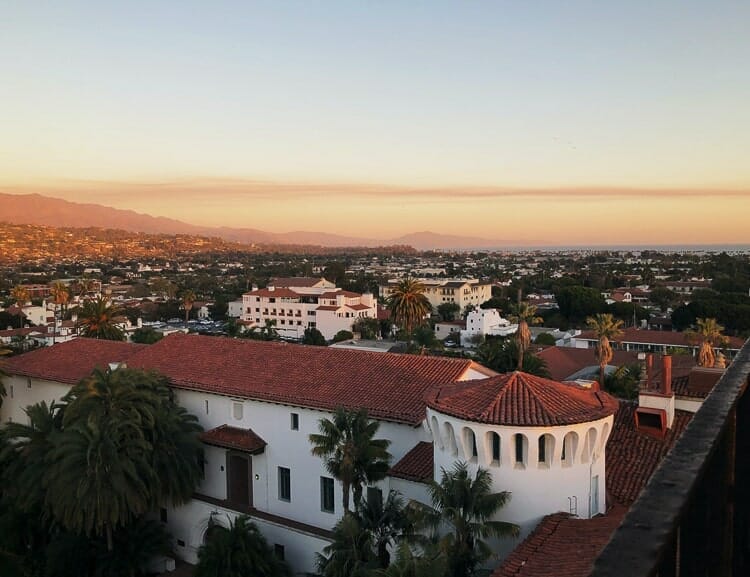 Ventura
Located half an hour from Santa Barbara, this coastal city has plenty to see including the Ventura Pier, and a little way down the San Buenaventura State Beach, which is a bit less crowded. Grab something to eat at Cafe Nouveau, which serves both a California-inspired brunch menu including breakfast burritos, as well as Creole items, like their French Quarter Beignets. There is also access to Channel Island National Parks via Island Packers from the Channel Island Harbor, where you can go visit the park for a day or stay overnight.
Los Angeles
California's largest city is more than just its stereotypes of sun, sand, and Hollywood (though there are plenty of those too). Take in the views at Griffith Observatory and see how truly sprawling Los Angeles really is. If you are there during the summertime, watch a movie in the Hollywood Forever Cemetery (it's not as weird as it sounds). Get away from all the bustle and head to the Venice Canals, which were modeled after the original ones in Italy.
For food, head to the Grand Central Market downtown, where the options are plentiful.
Burbank
For a bit of movie-making magic, head up to the San Fernando Valley, where you can tour the Warner Bro. Studios. There is also Universal Studios Hollywood right next door in Universal City, which provides plenty of thrills like the new Jurassic Park River Adventure ride and the Universal Studio Tour. Porto's Bakery and Cafe is a beloved local favorite with treats like their guava and cheese strudel and potato balls.
If you're looking for a place to stay, the Safari Inn is an iconic remodeled motel that has made a guest appearance in many films.
Malibu
Half an hour from Los Angeles, this popular beach city is an ideal day trip from LA that feels a world away with its rugged beaches and windswept Pacific Coast Highway. Grab an early lunch at Malibu Seafood for fish and chips that offer a view of the Pacific with your meal. Afterward, drive to Point Dume Beach and watch the surfers do their thing.
If you prefer a more remote beach experience, El Matador Beach down the road wows with its towering rock formations (just be warned of the steep hike up and down and the pricey parking ticket).
Laguna Beach
Out of all the Orange County beach cities, Laguna is my favorite. It feels more like a small, artsy town, similar to something I would find in Marin County back in the Bay Area. Take in the views from the Top of the World hiking trails, where on a clear day you can see all the way to the ocean. In downtown Laguna, walk along Heisler Park, where the clifts overlook the ocean. For breakfast, The Zinc Cafe serves up healthy grain bowls, including plenty of vegetarian options.
Anaheim
Disneyland is often the first thing people associate with this city, but there's a lot more to see than theme parks (though that is a worthwhile thing to do too). The Packing House is a multi-story food hall that was once a Sunkist warehouse. The iconic Roscoe House of Chicken and Waffles has a local branch if you would rather avoid the trek up to the original in Hollywood. Angel Stadium is a great place to catch a game and cheer on a local team.
Center Street Promenade is a lively street in downtown Anaheim that is packed with restaurants, bars, and shops.
Palm Springs
This popular desert getaway is two hours or less from major Southern California cities like Los Angeles and San Diego but feels worlds away. Rent a bicycle and ride through the Vista Las Palmas neighborhood where you can view mid-century modern homes like Elvis Honeymoon Hideaway. Get a day pass for the pool at the trendy Arrive Hotel and make sure to get some date ice cream at the Ice Cream Shop(pe) on the property. For dinner, The Tropicale is known for its retro tropics vibe and wide selection of global cuisine, and strong drinks.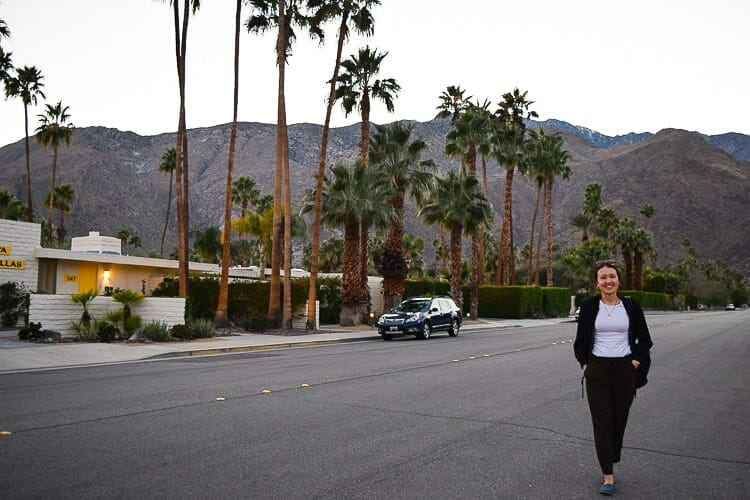 San Diego
California's southernmost city is known for its many stunning beaches, delicious food, and laid-back attitude. Start your day out at Balboa Park, where you can go to one of the many museums including the San Diego Museum of Art and the San Diego Space and Air Museum. Afterward, go to La Jolla where you can explore tide pools or just walk along the ocean and watch playful seals and sea lions. For dinner (and dessert) head to Little Italy, where you can find anything from breweries to traditional Italian.
What are your favorite cities in California?