California is a state that is synonymous with road trips. Whether you want to explore the high desert, get lost in groves of redwood trees or wind along the picturesque coast, hitting the road is your best bet to get front row views. I never tire of the classic Pacific Coast Highway road trip, but I am also partial to historical routes like Highway 49 that weaves through tiny Gold Rush towns and scenic byways like Highway 395 that puts the beauty of the Eastern Sierras on full display. Here are the best California road trips, from the sea to the mountains and everything in between.
Top California Road Trips
Highway 1 (Northern California)
This iconic road trip begins in Leggett and ends in Dana Point (if you want to get technical). Driving north to south is usually recommended because you get an unobstructed view of the ocean on the two-lane highway.
The northernmost portion passes coastal communities like Mendocino, where you can spend the day admiring historical homes and rugged seaside views. A few hours south, the vibrant city of San Francisco awaits, where you can indulge in a dim sum brunch, walk along Lands End to take in unobstructed views of the Golden Gate Bridge and immerse yourself in the street art of the Mission District.
Heading even further down the coast, beach towns like Pacifica, Half Moon Bay, and Pescadero are worthwhile to stop by and dip your toes in the chilly surf before continuing on to Santa Cruz. This university town is known for its counterculture and plentiful outdoor activities. Walk along the boardwalk and then head downtown to get some coffee and a curry chicken salad sandwich at The Buttery.
Monterey is not to be missed for its historic Cannery Row and aquarium teeming with local critters like playful sea otters, as well as 17-Mile Drive that hugs the coast. Next door Carmel is a bit quieter, with a small town feel that is known for its art community and fairy tale cottages. Walk down  Ocean Avenue and pop into Caramel Valley Roasting Co. for a warm beverage.
Big Sur is just down the road and is one of the most stunning stretches of California coast. Notable stops include the dramatic Bixby Bridge, McWays Falls in Julia Pfeiffer Burns State Park that empties out into the ocean and Pfeiffer Beach that has lavender-colored sand and keyhole rock formations rising out of the Pacific.
End your road trip in the beautiful Mediterranean-style city of Santa Barbara, where you can spend a day wandering around State Street, walking along East Beach at sunset and making your way along the Urban Wine Trail.
Suggested itinerary
A solid week is a good amount of time to see everything and not feel rushed: Mendocino (1 day), San Francisco (2 days), Santa Cruz (1 day), Monterey and Carmel (1 day), Big Sur (1 day) and Santa Barbara (1 day). If you have more time, you can always devote more days to places like Big Sur and Santa Barbara.
Pacific Coast Highway (Southern California)
The PCH is the portion of Highway 1 that starts in roughly Oxnard and goes all the way south to Dana Point. This portion of the highway is known for its idyllic beach towns (and cities) and winding roads that pass right next to the ocean. If you have more time, stay a few days in the Ventura/Oxnard area, where you can hop on a boat for a day trip to the Channel Islands National Park or wander down the lengthy Ventura Pier.
Continue on to Malibu, a ritzy seaside town that in my personal opinion is one of the most scenic stretches of the PCH with the Pacific so close you can almost reach out and touch it. Stop by one of the pristine beaches, including Point Dume, where you can pick up snacks at Vintage Grocers nearby. For some fresh seafood, head to Malibu Seafood further down the road, where you can eat fish and chips with a sea view on one of the outdoor picnic tables.
Neighboring Pacific Palisades is as equally as glamorous, with its Palisades Village outdoor mall where you can grab Alfred Coffee and take a photo with the flower wall. The real reason to stop though is the Getty Villa, a former-estate-turned-art-museum high on a hill.
Park your car in one of the many lots near the beach in Santa Monica and walk around the iconic pier. Go inland for shopping and restaurants on the Third Street Promenade and Ocean Avenue.  Next door in Venice, window-shop at Abbot Kinney and then walk along the Venice Canals that are a peaceful respite from the bustle of the city.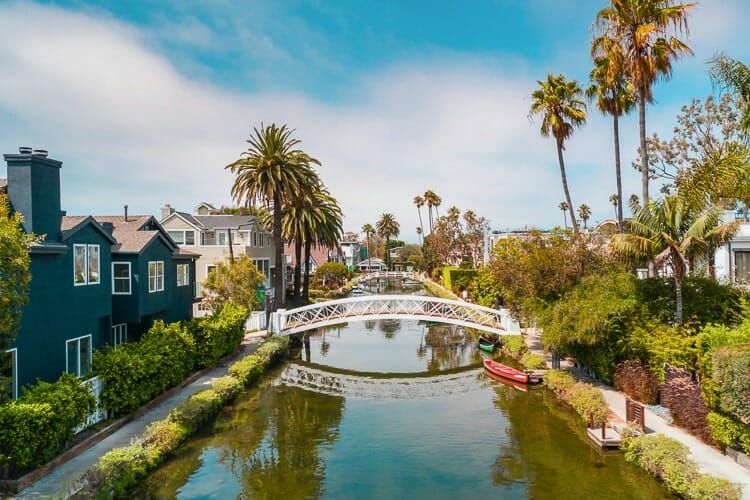 Afterward, stop in beach towns like Redondo Beach for some of the freshest poke on the mainland at Jus' Poke or explore Huntington Beach and walk along the pier or visit the International Surf Museum to learn a bit of history about this surf-centric beach town.
A little ways down, take the ferry to Balboa Island in Newport Beach, where you can wander around the multi-million dollar homes and get a frozen banana at Sugar N 'Spice. Laguna Beach has a decidedly different feel, with its many beautiful beaches (stop at Treasure Island in the southern region) and its art community feel with numerous galleries downtown and the Sawdust Art Festival during the winter and summer.
End your trip at Dana Point, where you can walk along the harbor all the way to Dana Cove Park near the Ocean Institute. Afterward, grab a bit at Shwack Beach Grill, that offers a delicious assortment of burgers, tacos and beer. San Clemente is also worth a short drive down to see its pier and stop by Casa Romanica Cultural Center and Gardens for museum exhibitions on local history and a hard-to-beat view.
Suggested itinerary
The southern leg of Highway 1 is much shorter than its northern counterpart, so 4 days will suffice, 5 if you really want to stretch it: Ventura/Oxnard (Day 1), Malibu, Pacific Palisades, Santa Monica/Venice (Day 2), and Redondo Beach, Huntington Beach, and Newport Beach (Day 3), Laguna Beach, Dana Point and San Clemente (Day 4). If you have an extra day, spend it in Malibu or Laguna.
San Diego (North County to San Diego)
If you want to continue on from the PCH, driving from North County to San Diego is a short, but highly recommended route that has plenty more memorable beach towns, good food and craft beer.
The northmost city is Oceanside, where you can explore the lively Oceanside Pier and pop into the California Surf Museum, to learn about the history and culture surrounding this popular South California sport. If you are in Carlsbad during the spring (starting early March) head over to the Flower Fields where there are colorful blooms as far as the eye can see. If you have kids (or are a kid at heart), spend a day at LEGOLAND California, where you can view miniature landmarks from all around the U.S. made entirely out of LEGOS.
Encinitas is known for its beautiful beaches, including Swami's and Moonlight State Beach. Go further inland to the San Diego Botanical Garden, which has over 4,000 different types of plants from around the world. Fletcher Cove in Solana Beach is worth stopping by for its dramatic cliffs that rise high above the sea. Afterward, stop by the Cedros Avenue Design Center, which boast a well-curated collection of shops, cafes and art galleries. Powerhouse Beach in Del Mar is a well-kept beach that is a great place to spend the afternoon after picking up a sandwich from Board and Brew on Camino Del Mar.
Spend a day (or two) in San Diego. Walk along the La Jolla Cove and spot the sea lions bathing themselves on the rocks. Meander through Balboa Park, where you can visit one of the many museums like the San Diego Museum of Art and the Botanical Building with its adjacent Lily Pond. Stop in Hillcrest at Oscar's Mexican Seafood for fish tacos.
Suggested itinerary
Two to three days is an ideal amount for this short road trip. Spend a day driving down through North County beach towns and then spend 1-2 days exploring San Diego.
Highway 395 (Eastern Sierra)
To get a fuller understanding of California's diverse landscape (and history), a trip to the mountains is a necessity. Winding your way through small mountain towns, stunning geological features and historical locations of early settlers will help you understand the significant (and sometimes devastating) events that helped shape the Golden State.
Start in the old mining town of Lone Pine (about a 3 hour drive from Los Angeles).  Take a detour off the highway to hike at nearby Alabama Hills, which is known for its otherworldly rock formations with their jagged peaks and soaring arches. If you're looking for brunch, the Alabama Hills Cafe & Bakery serves up hearty omelets, sandwiches and excellent pie.
To educate yourself on a dark time in California's history, head to Manzanar, where Japanese-Americans were interned in local camps during World War II. Pay a visit to the Manzanar National Historic Site, to remember the 110,000 citizens who were held against their will far from home. Rangers offer tours of the park for those who want to learn more in-depth history.
Just down the road the town of Independence has an historical courthouse that is still in use today and the Eastern Sierra Museum that is worth stopping by to learn about those who first called this area home, including Native American tribes.
Stop in Big Pine, where the popular Copper Top BBQ is a great alternative for a later lunch. Take a 45-minute detour to the Ancient Bristlecone Forest, where some of the earth's oldest trees reside. Make sure to give yourself at least half a day to explore.  Once past Bishop, be on the lookout for Wild Willy's Hot Springs, where you can soak in a natural hot springs with a view of the mountains in the background.
Mammoth, a popular ski resort is up ahead and is worthwhile to stop during the off-season and hop on the Mammoth Mountain Gondola for panoramic views. The Devil's Postpile National Monument is a 45-minute drive from Mammoth, but is a fun stop if you have time to view this quirky geological wander.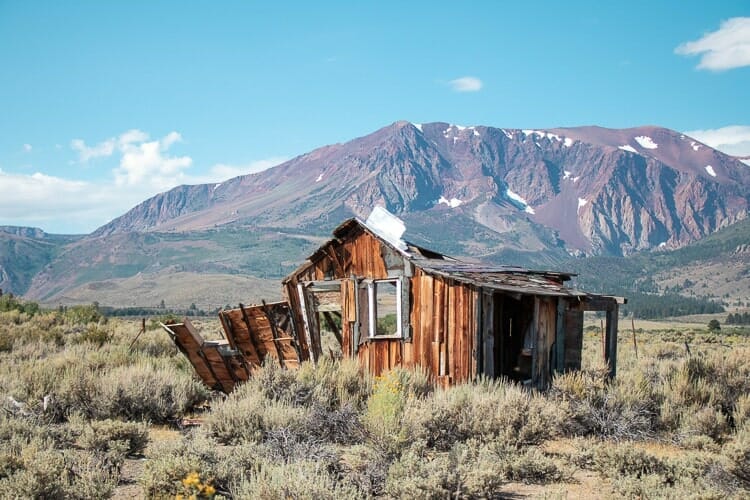 Back on the highway, turn off onto the June Lake loop, a beautiful 2-hour scenic drive that is 12-miles of stunning mountain scenery. This road especially comes to live during autumn with its fall foliage. Mono Lake is another popular stop, with it towering limestone towers that rise out of its salty waters.
Entering Lee Vining, the town where you would turn off the 395 to take the 120 to Yosemite. If you want just a taste of the state's most popular national park, drive along the 120 to Tioga Pass, where you will drive over a 10,000 foot pass and can catch a glimpse of the backside of Half Dome and Tuolumne Meadows.
Bodie is one of my personal favorites, since it's a well-preserved ghost town where you can easily imagine what life was like before it was abandoned. Rumor has it that if you take anything from the town, bad luck will follow you home. To get to Bodie you will have to turn off onto Highway 270 and beware that the unpaved road is quite bumpy.
Continue driving alongside the California/Nevada border and eventually over into Nevada. South Lake Tahoe will greet you with it flashy hotels, casinos and bars, but if you want to go to a quieter area, head up to the North Shore that tends to be less touristy.
Suggested itinerary
Three to four days is recommended for this trip, especially if you plan to stop for hiking or soaking in the natural hot springs: Lone Pine, Manzanar, Independence, Big Pine, and Bishop (Day 1), Mammoth, June Lake loop, Mono Lake, Lee Vining and Bodie (Day 2) and Lake Tahoe (Day 3 and 4).
Highway 49 (Gold Rush Route)
Begin your trip in Oakhurst, which lies just 14 miles south of the entrance to Yosemite National Park. Make your way north to Mariposa, where you can visit the California State Mining and Mineral Museum. Up the road Coulterville's Hotel Jeffery is rumored to be haunted and has been frequented by famous guests like John Muir and Theodore Roosevelt.
Head to Jamestown for more history, where you can explore Railtown 1897 Historic State Park and strike it rich panning for gold in the South Fork of the American River. Shops in town like Gold Prospering Adventures, have gold pans available and can advise you on technique. Sonora, is a neighboring well-preserved Gold Rush town, where you can wander through the historic downtown and grab a bite to eat at the Diamondback Grill.
Stop by Columbia State Historical Park for it original Gold Rush buildings. In Calaveritas County, if you are around during the third week of May, stop by one of the longest running fairs in the state: the Calaveritas County Fair and Frog Jump Jubilee in Angel's Landing. If you are up for an adventure, Angel's Landing Moaning Cavern boasts the single largest cave chamber in the state and offers zip lining and rock climbing, as well as cave tours.
In Amador County, the main streets of Jackson and Sutter's Creek feel like traveling back in time. They are especially festive during the holidays, with Christmas carols being played on the streets and the 19th century buildings decked out in colorful lights. The Amador County Museum in Jackson is a great introduction to local history with plenty of intriguing artifacts. In Sutter's Creek make sure to stop at Gold Rush Pizza, which offers delicious pies and an outdoor patio overlooking the creek.
Placerville, offers up adventure on the South Fork of the American River with river rafting, whether you prefer baby rapids or class 4 ones. Hangtown's Gold Bug Park has a mining museum and opportunities to pan for gold.  A little ways up in Coloma, there is Marshall Gold Discovery State Historical Park, where you can visit a replica of Sutter's Mill, where the first gold in California was found.
Auburn Old Town is one of my top Gold Rush towns to visit, where you can view the stately Placer County Courthouse and then wander down to the historical center of town. Auburn State Recreation Area is close by and has plenty of scenic hiking trails. Nevada City, feels like something straight out of a history book with Victorian-era style homes and picturesque downtown area on a hill. Make sure to stop at Three Forks Bakery & Brewery, where you get get wood-fired pizza and craft beer. The Empire Mine in nearby Grass Valley is worth exploring to see one of the state's oldest mines.
End your trip stopping at Tahoe National Forest for a day of hiking and then drive up to the town of Vinton to complete your road trip.
Suggested itinerary
Five days is recommended for this route, to fully immerse yourself in everything Gold Country : Oakhurst, Mariposa, Coulterville, Jamestown and Sonora (Day 1), Columbia, Angel's Landing, Jackson and Sutter's Creek (Day 2), Placerville, Hangtown and Colma (Day 3), Auburn, Nevada City, and Grass Valley (Day 4), Tahoe National Forest and Vinton (Day 5).
State Highway 18 (Rim of the World Highway)
Southern California is often associated with picturesque beaches, but the San Bernadino Mountains are worth taking a trip through to soak in some of that crispy mountain air and stunning vistas. The Rim of the World Scenic Byway is a shorter drive that takes about an hour and a half to complete, thought give yourself plenty of time in order to truly take it all in.
Start at Cajon Pass, an hour outside of Los Angeles, via Highway 138. Take a detour on Route 173 to Lake Arrowhead, a popular local getaway from LA. Hike on the local trails (there is a portion of the Pacific Crest Trail here), jump on the Lake Arrowhead Queen steamboat for a tour of the lake and a glimpse of celebrities summer homes. Back on the road, take a 5-mile hike to Keller Peak Fire Lookout in the town of Running Springs, where on a clear day you can see the Pacific Ocean.
End your trip in Big Bear, a popular ski town that is just as lively in the warmer months. Wander around Big Bear Lake Village, where you can find restaurants, boutiques and gift shops. Spend the day at Big Bear Lake, where you can enjoy water sports or just soak in some sunshine on the lakeshore.
Suggest itinerary
This road trip can be done in one day, but if you have the time you can always break it up into two and spend more time at Lake Arrowhead.
Southern California Desert Road Trip
Start your trip in sunny San Diego, where you can spend a day or two exploring the city. Wander through Balboa Park and stop in to a museum or two. Eat your weight in tacos at places like The Taco Shop in La Jolla. Spend a day on Coronado Island.
Make your way to Palm Springs,  a few hours away inland. Buy a Arrive Hotel day pass and spend the day at the pool, taking a much-needed ice cream break at the Ice Cream & Shopp(e) a few feet away that offers unique flavors like The Coachella Valley Date. Afterward, take a tour of the mid-century modern homes in the Vista Las Palmas neighborhood that includes Elvis' Honeymoon Hideaway.
Joshua Tree is about a 45-minute drive away and needs at least a day or two for proper exploration. Start out with a easy hike like popular Skull Rock, a rock formation that from centuries of erosion formed two sockets that make the rock look like a skull. For a harder hike, Fortynine Palms Oasis is a 3-mile loop that takes you past barrel cacti, up a rocky ridge and then down to a palm oasis for the grand finale.
Mojave National Preserve is a few hours northwest of Joshua Tree. The Kelso Depot Visitor Center is an excellent place to get your bearings. Nearby Kelso Dunes is a popular place to catch the sunrise or sunset. Hike up the dune to get a rewarding view of the desert. Take a guided tour through the stunning Mitchell Caverns, which are limestone caves located in the Providence Mountains State Recreation Area.
Death Valley, the final stop in your journey does not disappoint. Learn about the area from experts at the Furnace Creek Visitor Center. View the lowest point of the valley by driving to Badwater Road and hiking around the area. Take in the arid landscape at Dante's View, that rises 5,475 feet above the desert. Drive through Artist's Drive in the late afternoon, where a 9-mile one-way road takes you alongside colorful rock formations.
Suggested itinerary
Five days is also recommended for this trip, where you spend a day per each destination: San Diego (Day 1), Palm Springs (Day 2), Joshua Tree (Day 3), Mojave National Preserve (Day 4), Death Valley (Day 5).
Northern California Road Trip
Start your Northern CA road trip out in Mendocino, a stunning coastal town. Wander around town to admire the colorful Victorian homes. Begin your tour at the Kelley House Museum to get oriented. Afterward, make your way to Mendocino Headlands State Park where you can enjoy the many hiking trails along the coastline and maybe even see a gray whale or two. The Mendocino Headlands State Park offers an impressive 47 acres of plants. Glass Beach, filled with colorful glass smoothed over by decades of surf is a fun destination on the way to Fort Bragg.
Redwood National and State Parks is a 4-hour drive away and home to some of the tallest trees on the planet. There's too much to see in a day and it is recommended you stay at least a few. Drive down Howland Hill Road, where a ten-mile road takes you past redwood trees that feel only a few inches away from your car. Hike to Trillium Falls, a family-friendly trail, where the falls is a mere 1/2 mile hike from the trailhead. For a hike made famous by film, the Fern Canyon Loop Trail is a popular trail where you get your feet wet amid lush greenery.
On your way to Lassen, stop by the town of Redding to walk across the pedestrian glass Sundial Bridge, which spans the Sacramento River.  Afterward, wander around adjacent Turtle Bay Exploration Park, where you can visit the botanical gardens, arboretum, and museum with natural history exhibits.
Once in Lassen Volcanic National Park, your last stop of the road trip, you can explore this active volcano park, either by foot or by car. Learn where to go in either the Loomis Museum or the Kohm Yah-mah-nee Visitor's Center. Make sure to stop by the hydrothermal spots in the park like the Sulphur Works, which is one of the easiest areas to access steam vents alongside a sidewalk pathway. Bumpass Hell, a popular 2.7-mile hike round-trip, also passes boiling sulfur springs.
Suggested itinerary
Three solid days is recommended for this trip, which includes a lot of winding roads: Mendocino (Day 1), Redwood National and State Parks (Day 2), and Redding and Lassen (Day 3).
What is your favorite California road trip?