Orange County is the stretch of land between Los Angeles and San Diego, and is known as having some of the state's best beaches. From lively waterfronts with historical piers to isolated rugged coastal spots there are plenty of seaside escapes to explore. If you're new to the area, make sure to check out the central beach in a town (usually where the pier is) and then explore lesser populated beaches with less crowds and equally stunning views. Here are the best beaches in Orange County, organized by city.
Best OC Beaches

Let's start at the north and go right down the coast. This is not by any means an extensive list, just a mix of well-known to lesser known spots that I would recommend visiting.
Seal Beach
Seal Beach Pier
Head to this lesser frequented main beach that gives off small town vibes and boasts a historic pier to stroll down. The center of town is walking distance from the beach, where there are plenty of restaurants and shops to explore.
Additional Activities
Stop by Brita's Old Town Gardens, where you can peruse the impressive selection of plants, including succulents.
Make reservations at Walt's Wharf for fresh seafood dishes.
Visit the Seal Beach National Wildlife Refuge located in the Naval Weapons Station, that is open the last Saturday of the month from 8:30-11:30am.

Reservations required

.
Huntington Beach
Huntington City Beach
This should be your first stop in this surf-obsessed beach town, where you can get a front row seat to all the action and  watch the surfers from the iconic Huntington Beach Pier. Bike or walk along the Huntington Beach Bike Trail, which runs alongside the beach.
Huntington Dog Beach
Head to the north end of the city beach from 21st street to Seaport Street, where you can get your fill of pups frolicking in the sand. Most dogs will be off-leash, even through it says that dogs require to be on-leash. Parking can be a pain, so get there early.
Huntington State Beach
Located directly south of the City Beach from Beach Boulevard, this has picnic tables, volleyball courts, lifeguards, and fire pits. It's a bit more well maintained since it's a state beach. It's also a bit less rowdy, since there's a charge for parking ($15 for an entire day). There is plenty of parking that runs parallel to the beach and the lot has four separate entrances. The beach is open daily 6am-10pm, with gates closing at 9pm. Get there early to snag the best spots and get a fire pit!
Sunset Beach
A peaceful alternative to City Beach, this spot is located in the Sunset Beach area of Huntington Beach and you will not have to fight for your own space. The views are stunning (stay for sunset) and there's plenty of seashells and sea glass for those interested in that sort of thing. Best of all there's free parking.
Additional Activities
Learn all about why this town has been nicknamed Surf City, USA at the International Surfing Museum and view the world's largest surfboard.
For casual beach fare, go to Bunz for solid burgers and chili cheese tater tots.
Check out this helpful

3-Day Huntington Beach itinerary

from Valerie & Valise.
Newport Beach

Balboa Pier Beach
Take a stroll on the popular Balboa Pier, amid regulars fishing and surfers catching the perfect wave below. The Newport-Balboa Bike Trail runs parallel to the beach, and you can either walk or bike all the way to Newport Municipal Beach. There's fee parking on the north side of Balboa Pier, which fills up quickly, so get there early to snag a spot.
Newport Municipal Beach
Located just two miles from Balboa Pier, Newport Pier is the other municipal pier within Newport Beach. It's a great place for prime people-watching. There is a small farmers market on Sunday that is worth checking out if you're in the area. Keep your eyes out for dolphin and whale sightings.
The Wedge
Located at the very eastern end of the Balboa Peninsula ( 2172 E. Ocean Front), this popular surfing spot is named after the wedge-shaped waves that can reach up to 20 feet high in the summer and fall months. It's a great spot to relax and watch experienced surfers. There is only residential parking, which is plentiful during the off-season months, but can be a bit trickier when the crowds arrive and summer rentals are occupied.
Corona Del Mar State Beach
This family-friendly spot is excellent to go for plentiful parking and a clean, sandy beach. The waves here are ideal for boogie boarding and wading since there are no rocks on the shore. There are fire pits available for BBQ-ing, clean bathrooms and a cafe for buying snacks. Walk to nearby Pirate's Cove, a protected beach that has a lifeguard. There's street parking as well as paid parking.
Additional Activities
Escape to Balboa Island on the ferry and walk around the town with a frozen banana in hand from Sugar 'N Spice.
Head to Mama D's Italian Kitchen for homemade spinach ravioli and their famous pink sauce.
Laguna Beach

Main Beach
Soak in the coastal beauty of the town by heading to the central beach, just steps away from the city center. Laguna Beach famously has some of the best beaches in Orange County. The beach can get crowded on the weekends, especially during the summer so make sure to get there early for a prime spot. Parking tip: park in the residential neighborhoods located directly above the city center and then walk down the staircase that starts at Jahraus Park.
Aliso Beach
Quieter than Main Beach, this is a great spot to go for the entire family where you can set-up camp near one of the fire pits. Highlights include a small playground for the kids, a restaurant where you can rent chairs/towels, and miles of clean, smooth sand. Best of all parking is plentiful and cheap.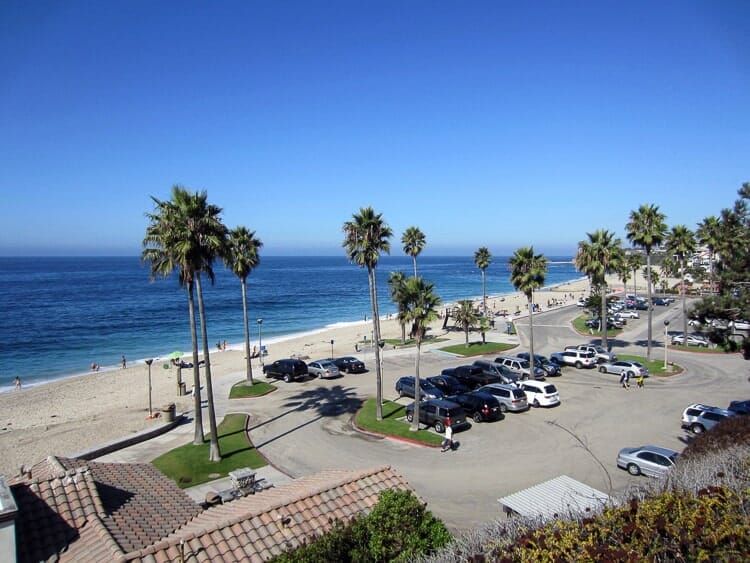 Crystal Cove State Park
This state park boasts 3.2 miles of shoreline, where there's 18 miles of hiking trails with stunning ocean views or explore the many tide pools in the northern area of the park there are park ranger led natures walks and star-gazing tours. Camping is available with advance reservations. Parking is $15 since the beach is located inside a state park.
Thousand Steps Beach
Get your daily workout with the 200+ steps that led down to the beach (it's not 1000 steps, but you'll feel the burn on the way up). There's plenty of activities to do including exploring tide pools and nearby caves. There are is large cave tunnels in the southern and northern ends that you can actually walk through if the tide is low.
Additional Activities
Check out the Pacific Mammal Rescue Center to learn about rehabilitating local sea mammals.
The Laguna Art Museum is worth visiting to view an impressive collection of art from around the state.
Make a reservation at Nick's Laguna Beach for a blackened fish sandwich or the grilled steakhouse salad.
Cool off with a homemade cone of gelato from Gelato Paradiso (the wait is worth it).
Dana Point
Dana Point Harbor Beach
Nicknamed "Baby Beach,"this is a great beach for all ages with soft sand, and a roped-off area with gentle surf. The sand is a perfect spot for launching kayaks or paddle boards. There's free parking, but if you come on a busy weekend park off Del Prado and Violet Lantern, and then hop on the trolley that goes down to the harbor.
Doheny State Beach
One of the most popular state beaches, this beach attracts around a million visitors a year. In the northern area there's a surfing beach as well as spacious lawn with picnic tables and volleyball courts. In the southern end there are the uber-popular campgrounds that are right on the beach. There are also tide pools to explore and a visitor's center with aquariums filled with local critters.
Additional Activities
Take the Catalina Express (with year-round service) from the harbor to Catalina Island.
Get an excellent view of the harbor from Doris Walker Overlook. Perfect for picnics too.
Stop at Coastal Kitchen for delicious seafood and classic upscale Dana Point atmosphere.
San Clemente
San Clemente State Beach
This is a great option if you're seeking a quieter beach scene in San Clemente, with less crowds. This beach is great for swimming and surfing. There is camping options, including RV hook-ups. Park hours are 6am-10pm. Paid parking is available. Bring a jacket, since it can get windy.
T-Street Beach
A popular beach for local surfers of all levels, but it s especially good for beginners. The beach itself is very pristine and a great place to watch surfers do their thing. There isn't a ton of nearby metered parking, but there's usually residential parking. It's an easy walk to the San Clemente Pier.
Additional Activities
Drop by the Casa Romantica Cultural Center and Garden for a dose of local culture and stunning ocean views.
Grab a bite to eat at Pierside Kitchen & Bar (steps away from the pier).
Check out the Surfing Heritage and Culture Center to get a better understanding of the role surfing has played locally.
What are the best OC beaches in your opinion?
Photo source: Newport Beach, Thousand Steps Beach, Doheny State Beach
Updated: 2/18/21