San Francisco is a small city that packs a lot into its 7×7 square miles. It's a city of neighborhoods, where going from one to the next can feel like entering a different world. Born and raised in the City By The Bay, I'm a big advocate for visiting this city when in California, and seeing how different it's than Los Angeles, culturally, and weather-wise (it's no joke that you need a warm jacket in the summer). There are the popular tourist sights like Fisherman's Wharf, Chinatown, and Alcatraz, but there are also many other destinations to see beyond these well-known spots. Here's a San Francisco itinerary that will give you a mix of the iconic tourist sights and lesser-visited places that deserve equal attention.
This post contains affiliate links (with no extra cost to you). Read the full disclosure policy click here. Thank you for supporting Small World This Is.
3 Days In San Francisco

Day 1
Start your San Francisco trip in the heart of it all in downtown San Francisco, where you can shop in the department stores, admire the view of Union Square from Macy's, and eat in an upscale food court that offers plenty of different cuisines.
Downtown
Let's start in the center of it all: Union Square. There's always something going on in and around this central shopping area depending on the time of year. Places worthy of visiting are iconic stores like Neiman Marcus and Macy's, which takes up an entire block and is a great place to get a view of Union Square from above from one of its many oversized windows. If you happen to be in SF during late March-early April the Flower Show is worth checking out when the store is transformed into a floral wonderland.
If you have an extra hour or two, spend time at one of the nearby museums. The SF MOMA is always a solid choice, but the Museum of African Diaspora and the Contemporary Jewish Museum are also highly recommended.
Food notes: there's not a lot of noteworthy places to eat around downtown, but the Westfield Mall has a subterranean food court that is a step up from the usual mall food courts.
Chinatown
Make your way to historic Chinatown, through the Dragon's Gate that connects downtown to Chinatown. There is so much history within this neighborhood that is the oldest Chinatown in North America and the largest Chinese community outside Asia. Grant Avenue is the main thoroughfare, with souvenir, jewelry and antique shops aplenty, though make sure to wander down the side streets to admire the historical buildings and get away from the crowds.
Learn about the rich cultural past of Chinatown through a free walking tour by San Francisco City Guides or a culinary tour with Sidewalk Food Tours of San Francisco.
Food notes: In my humble opinion, there's much better Chinese food in the Sunset and Richmond neighborhoods, but Eastern Bakery and Delicious Dim Sum are memorable places to pick up baked goods and dim sum.
North Beach
North Beach is another historic neighborhood that is filled with Italian culture and cultural landmarks from the Beatnik era. City Lights Bookstore is an important first stop, where Allen Ginsberg's controversial Howl was first published. This bookstore continues to be an important independent bookstore that focuses on progressive politics, world lit, and the arts.
Food notes: There are overpriced touristy spots, but there are also some solid places if you know where to go. Some places to get you started on your carb-loading are Mama's On Washington Square for brunch (go on off hours because there will be a line), Tommaso's Ristorante Italiano for pizza, Stella Pastry & Café for a dizzying array of Italian desserts, and Caffe Trieste or Caffe Greco for a caffeinated pick-me-up.

Day 2
Alcatraz
Head over to Pier 33 bright and early for the Early Bird Alcatraz Tour that promises the island sans crowds. The tour is a self-guided audio tour that typically lasts about 3 hours (though you can stay on the island as long as you like). For night owls (brave souls you are), there's a Night Tour.
Food notes: There is a small café on Pier 33, but there is no food on the island, so make sure to bring your own snacks.
Fisherman's Wharf
Yes this is the touristy part of the city, but there's plenty to see and do. Pier 30 is worth wandering around if you've never been, especially to see those smelly, yet lovable sea lions. For history buffs, Maritime National Park offers an educational recap of the city's seafaring ways, which included a maritime museum, a visitor center, and historical ships.
For a different kind of history lesson, head over to the Musee Mecanique for some old fashion games. For kids (or kids at heart) the Exploratorium is a great hands-on science museum at Pier 15. They also have After Dark on Thursday nights, which is 18+ and includes exhibits and a cash bar.
Transportation notes: Fisherman's Wharf is quite spread out, and there's the option of hopping on one of the city's historic streetcars if you want to give your feet a rest.
Food notes: Avoid the mediocre overpriced restaurants and go to In-N-Out instead. For under $10 it's the area's best budget meal. Word to the wise: avoid the crowds, take it to go and eat it at the Aquatic Park Bleachers, which includes a panoramic view of the Bay. For dessert the Ghirardelli Square is a must for chocolate lovers, but be sure to split the ice cream sundae, since they're huge. For dinner if you want to go all out the Fog Harbor Fish House doesn't disappoint.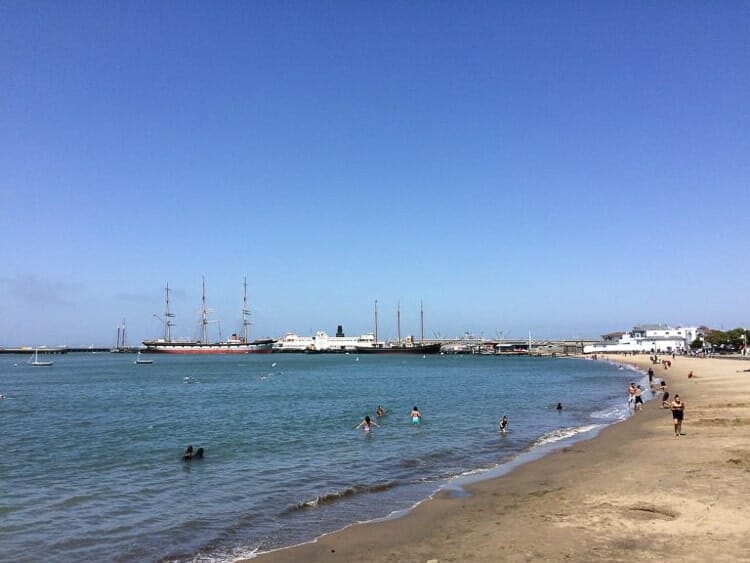 Day 3
Mission
Mission has a rich Hispanic history and this is present in the extensive taquerias and the vibrant murals. Balmy Alley is a good spot to see examples of local artwork, as well Clarion Alley. Make sure to stop at Dolores Park where you'll be treated to excellent views of the city.
A worthwhile stop is the Valencia 826 Pirate Supply Store, which supports a non-profit organization that has writing workshops for local high school students.
Food notes: For a light breakfast (you want fuel for your mural walk, but need to save room for lunch) head over to either Tartine Bakery or Arizmendi for delicious carbs that come in both sweet and savory options. For lunch, make your way to either La Taqueria or El Farolito for a massive SF mission burrito. For dessert, Anthony's Cookies on Valencia Street that boasts homemade flavors like Cookies and Creme.
Transportation notes: Hop on the BART at either 16th and Mission or 24th and Mission to zip up to the Castro.
Castro
In the afternoon, head over to the Castro, and walk along the rainbow flag streets that make up one of the largest LGBT neighborhood in the country. Stop by significant landmarks like the Castro Theater (worth stopping by for a sing-along movie or performance by the SF Gay Men's Chorus) and Harvey Milk's House.
Food notes: For dinner Sushi Time is a tiny underground restaurant that serves consistently good rolls, including the Barbie roll (salmon with lemon slices on top). For American comfort food, Starbelly is a sure hit. La Mediterranee is solid for Mediterranean.
Additional Day
Golden Gate Park
Rent a paddleboat at Stow Lake and make your way around this scenic spot and get some exercise while you're at it. On land, you can rent bikes or surrey bikes for a few hours behind the bandshell at the Music Concourse near the DeYoung Museum and Academy of Science (both museums worth a stop on their own). Golden Gate Park is closed on Sundays to cars, which makes it the best time to rent a bike and use all the main roads. If you still have time (and stamina), the Botanical Gardens and Japanese Tea Garden are worth checking out as well.
Food notes: Start your day out with a classic SF dim sum brunch. There are many spots close to GGP that are worth stopping by including Dragon Beaux. If you don't feel like doing the sit-down dim sum thing, get some take-out dim sum at Wing Lee's Bakery and eat it picnic-style a few blocks away in the park.
Sutro Baths/Lands End
In the late afternoon, head over to Lands End, where you can start out at the Sutro Baths ruins and a spectacular view of the Pacific Ocean. Follow the trail along the coast, with an unparalleled views of the Golden Gate Bridge and the Pacific Ocean. If you're lucky you can see the sun set into the ocean without too much fog to block your view.
Food notes: Eat dinner somewhere in the Inner Richmond (Café Europa for Eastern European or Mandalay for Burmese) or on 9th and Irving (Manna for Korean comfort food).
Additional SF Sights
Pacific Heights
If you are a sucker for beautiful homes, wandering around some of the city's finest architecture with views of the Bay. Places like the Flood Mansion, the Victorian Haas-Lilienthal House that is open as a museum, and various consulates call this neighborhood home.
If you interested in the history, San Francisco City Guides, gives a free walking tour. For another spectacular view of the Bay, head over to the Lyon Street Steps, and try to keep up with the regulars who are sprinting up and down the steps.
Food notes: Lower Pacific Heights has plenty of places for morning fuel, including B Patisserie for baked goods or Sweet Maple for a heavier brunch. Whatever you do get Miyako Old Fashioned Ice Cream nearby for dessert (get the ube) at this longtime local favorite ice cream shop. Cash only.
The Presidio/Palace of Fine Arts
A former U.S. military fort turned National Park, this serene wooded area is great for strolling through and admiring the preserved structures. The Walt Disney Museum is worth a stop, as well as the Presidio Visitor Center. Make your way to Crissy Field, a restored marshland that sits along the Bay and is a favorite spot for local dogs to frolic on the beach.
Nearby, the Roman-inspired Palace of Fine Arts is not to be missed, which was built in 1915 for the Panama-Pacific Exposition and is a favorite spot for wedding photos.
Food notes: There's not a lot of food choices, but head over to nearby Marina/Cow Hollow for tapas at Alegrias, or Pacific Catch for fresh seafood.
Road Trips From San Francisco
For your additional day, if you're itching to go outside of the city, there are plenty of notable places to go in the Greater Bay Area. Here's some destinations that are within two hours or less.
Napa/Sonoma
Head up north to wine country to soak in the beautiful scenery, delicious food, and memorable Cabernet Sauvignons. Napa Valley has destinations like the Culinary Institute of America at Graystone, where you can take classes or eat at their restaurant.
Downtown Sonoma is worth stopping by for it quaint downtown, tasting rooms, cheese shops, and historical sights like the local mission.
Oakland/Berkeley
Located right across the Bay Bridge, these adjacent cities are worth exploring for their culture and excellent food scene. In Oakland, wander around Jack London Square, and walk along the waterfront. For food, head inland to Oakland's Chinatown for its bakeries, or a bit further in to downtown, or trendy Uptown to a brewery like Drake's Dealership, a auto repair shop converted into a brewery.
In Berkeley, walk around downtown and the scenic UC Berkeley campus. Afterward, head to North Berkeley where you can grab dinner at Cha-Ya for Japanese vegetarian food or the Cheese Board Collective for pizza.
West Marin
This rural area of Marin Country is a great place to completely escape city life. Drive through small coastal towns like Point Reyes Station, where you pick up some food at Cowgirl Creamery for a picnic at the Point Reyes National Seashore.
Get some fresh local oysters at Hog Island Oyster Co. in Marshall, CA, where you can shuck your own (reservations required). Nick's Cove also in Marshall is worth stopping by for dinning and drinking.
Pacifica
If you're looking for more fog-covered coastal landscapes, this town is a quick drive from SF. Stop by Pacifica State Beach where you can watch the surfers do their thing. Stop by Colombo's Deli, an old school Italian deli that serves up massive sandwiches (get the Godfather). Drive along the Devil's Slide, which despite its name has some of the area's most scenic views of Highway 1.
Palo Alto/Mountain View

Drive down to the South Bay, and take in all things Silicon Valley. First stop: Stanford, one of the country's top universities, where you can wander around the beautiful campus. Afterward, visit Google Headquarters in Mountain View, where you cannot go inside the buildings, but can still walk around the property. Stop by Esther's German Bakery, which is known for their traditional German dishes, freshly baked goods, and a biergarden.
Getting Around San Francisco
The main public transportation systems in the city are Muni and BART. Muni has an extensive bus and street car system, where BART has only a few stops in the city. Renting a car in San Francisco is usually much more of a headache than it's worth, especially if you plan to just stay within the city. That being said having a car is nice for road trips to destinations in the Greater Bay Area, especially in the North Bay where Bart and Caltrain do not go.
Since San Francisco is a small city, ride share companies like Uber and Lyft are great ways to zip around the city carless. San Francisco is also an easy city to walk around, just be prepared for those steep hills.
Here's how to get around the different regions of the Bay Area via public transportation:
San Francisco – BART, Muni buses, cable cars
Peninsula – Caltrain, limited BART
South Bay – Caltrain
East Bay – BART, San Francisco Bay Ferry
North Bay – Golden Gate Transit buses and ferries
Note: all of these transportation systems are separate and require different passes, though you can get a Clipper card for both the BART and Muni.
San Francisco Airports
There are three major airports in the Bay Area. You will most likely be flying out of SFO, the main international airport located 13 miles south of downtown San Francisco. BART is the cheapest way to get into the city, where you can go directly from the airport to downtown.
Oakland International Airport is another option that is right across the Bay, and can provide a more sane experience andis easily reachable by BART.
The third airport is San Jose International, which is the furthest from San Francisco (an hour or more) and only makes sense if you're staying in the South Bay.
Weather in San Francisco

Bring a warm jacket no matter the time of the year. Typical seasons? SF doesn't follow the rules. It can be sunny in the morning, but then the fog can roll on in during the afternoon. Or it can be foggy all day. Karl The Fog seriously has a mind of his own (and his own Twitter account). The general rule through is that the closer to the ocean you are the foggier it will be. It can be warm in the Mission, but freezing in the Sunset. True story.
Money Saving Tips
San Francisco is an expensive city to visit, but CityPASS is a great way to save a lot of money on some of the main attractions like Alcatraz, SF Museum of Modern Art, Exploratorium, California Academy of Sciences and an hour boat tour around the Bay, as well as an unlimited Muni (including cable cars) 3-day pass.
Another way to save on attractions, tours and performances is by becoming a member of Goldstar (it's free to sign up) and see what they have to offer in San Francisco (my family has used it even as locals living in SF).
Homeless in SF

Homelessness throughout the city is unfortunately a major issue and can be quite disheartening to witness. You'll encounter the largest homeless populations in downtown, SOMA, Civic Center and adjacent neighborhoods. Many homeless individuals struggle with mental issues, and/or drug addictions. The best thing to do is give and respect their space.
If you're curious about organizations that help the homeless, St. Anthony's, Glide Memorial, and Raphael House are a few great places to start.
How safe is San Francisco?

Another common concern visitors have when they come to SF is how safe is the city. Like any mid-sized city there are parts that you should be extra vigilant in, especially during the night, including the following areas: Tenderloin, Civic Center, parts of the Mission (stay west of Mission Street), Western Addition, and areas of SOMA (around 6th and Mission). If you do rent a car, one of the most common petty crimes is car break-ins, so be extra careful to not leave even a jacket in your rental car.
Where To Stay In San Francisco

San Francisco can be quite pricey when it comes to finding accommodations, especially if there's a huge tech conference or concert (Outside Lands) that takes over the city. That being said, there are reasonable options, especially if you go in the spring or late fall.
It's harder to get more central than this, with Pier 39, Fisherman's Wharf, Ghiradelli's Square, and the Alcatraz ferry within walking distance of your room. A quick cable car ride away is Union Square and Chinatown. Amenities include: clean, spacious rooms and a twenty-four hour diner on-site.
Check out reviews on TripAdvisor | Book your stay on Booking.com
Great downtown location that is a 15-minute walk to Union Square and a 20-minute walk to the Embarcadero and the waterfront. Other nearby highlights include the SF MOMA and Yerba Buena Gardens. This hotel is less than a 10-minute walk to the Montgomery BART station, which goes straight to the airport and other popular destinations.
Check out reviews on TripAdvisor | Book your stay on Booking.com
For the ultimate SF getaway, stay in this historic hotel located in Nob Hill, right on the edge of downtown. The property is walking distance to Union Square, Chinatown, and a quick cable car ride to Pier 39. Whether you're a guest or not, drop by the legendary Tonga Room and the life-sized gingerbread house if you're there for the holidays.
Check out reviews on TripAdvisor | Book your stay on Booking.com
Where are your favorite places in San Francisco to visit?
Photo source: SF skyline, North Beach
Updated 1/22/21