Apple Hill is an hour away from Sacramento in the scenic El Dorado Hills, and is made up of 50+ farms, most of them with apple orchards. After Labor Day, this area becomes a popular fall destination to visit for locals from the surrounding area to pick apples, taste freshly baked pie, and admire the stunning country landscape decorated with fall colors. It can be overwhelming to know which farms to visit, so here's a list of some of the best Apple Hill farms to go to for apple picking, and where to find the best homemade treats.
The Best Apple Hill Farms
Below are my favorite Apple Hills farms that we stopped at. Start early and give yourself plenty of time to make your way through the farms. I would say plan on visiting about 4-5 farms, depending on the activities at each farm. Apple picking usually is the longest stop and can take easily 30 minutes depending on how full you want your bucket. Make sure to double check the official Apple Hill website for each farm's hours, since they can change depending on crops and other factors.
Denver Dan's Apple Patch
A U-pick farm that has a large variety of apples in their fields (make sure to snap a photo of the apple map photo at the main store), where you can pick as many apples as you want at $2.00/per pound. Call in ahead of time to double check on which apples are in season. The orchard is hilly and can get quite hot, so be sure to come with the proper sun protection (I learned the hard way).
Down at the main store there are plenty of baked goods in the form of take-home apple pies, apple dumplings, and apple turnovers. There is also a lunch menu that includes chicken pasties, beef pasties, and corn dogs and there are a handful of picnic tables scattered around the property.
Denver Dan's Apple Patch
4354 Bumble Bee Lane
Camino CA 95709
Hours: open from August 30 to December 15 from 9-5 every day.
Rainbow Orchards
Home of the hot apple cider donut, this orchard is known for its variety of good things to eat. Beyond its famous donuts, there's vegan apple pie, an assortment of apples to buy as well as an impressive pumpkin/gourd selection. They sell pre-packaged cold apple cider to bring home, as well as hard cider too. They also have wines, jellies/jams, sauces, and syrups. To balance out all the sweetness there are decent corn dogs to eat at one of their numerous picnic tables located right next to the main barn.
Rainbow Orchards has one of my favorite shaded picnic areas to eat a snack (or a picnic lunch) and take a breather before heading on to the next farm. There are also clean, flush toilets on the grounds too, which is an added bonus, since some farms only have outhouses. Travel tip: be sure to follow the road you entered on and make a loop to the exit since it's a one-way street.
Rainbow Orchards
2569 Larsen Drive
Camino CA 95709
Hours: open from September 6 to November 2 daily from 9-5pm.
Larsen Apple Barn
Known as one of the oldest family-owned farms in the area going all the way back to the 1860s. This farm has an apple packing area/store where you can buy their famous apples in bulk, a bakeshop, and a museum. This is one of the more popular farms in the area, and it's a bit touristy, but worth stopping in for the history and their delicious apples. It's also fun to watch the staff in action as they sort and pack apples.
There is an extensive menu in the bakeshop, where you can get pie and other baked goods, as well as sandwiches and enjoy them on the back porch or head across the street where there's a soothing waterfall creek and a grassy picnic area (bring your own blanket).
2461 Larsen Drive
Camino CA 95709
(530) 644-1415 (Barn); (530) 644-8166 (Bakeshop)
Hours: September 1-December 1 on Sunday-Friday 8-5pm. Museum 10-4pm. Closed on Saturdays.
Apple Pantry Farm
This tiny farm is a bit further out from the more popular farms and as a result is not as crowded. It is known for its homemade pie, where there are usually a few flavors that you can get by the slice with a scoop of ice cream or whole pies for the road. Dutch crunch is the most popular, but my personal favorite was the blackberry apple.
Sometimes they have tamales, which are a welcome alternative to the often mediocre lunch items sold at other farms. Get a cup of cider to wash it all down. There are a few picnic tables out front that look out into a nearby farm and serve as a great spot to enjoy the scenic surroundings without the crowds.
2310 Hidden Valley Lane
Camino CA 95709
(530) 318-2834
Hours: Sept. 20- Sept 30 (Fri – Sun) and October 1-31 (Thur – Sun), 10-4pm
24 Carrot Farm
A farm that grows organic produce, including apples, cherry tomatoes, and pumpkins that visitors can pick themselves. There's also a farm stand where you can purchase organic fruits and veggies and is open from the end of April all the way into the end of November. If you're coming to pick apples, make sure to call ahead and see if they're still in season/available. This farm is a lot less touristy than the other farms and the fields are open so you can see the workers in progress.
2731 Jacquier Road
Placerville, CA 95667
(530) 391-8582
Hours: Monday-Friday 12-6pm, Saturday-Sunday 10-5pm.
Other noteworthy Apple Hill farms
Apple Hill has other offerings besides apple picking and apple-baked everything. Here are some alternative stops to add to your fall itinerary:
North Canyon Cider Company – freshly-pressed hard apple cider made on property. Free tastings.
High Hill Ranch – popular family-friendly spot with pony and hayrides, craft fair, and baked goods, including delicious apple donuts.
Fudge Factory Farm – extensive collection of sweet treats including fudge, caramel, candy apples and numerous other candy, as well as baked goods.
Boeger Winery -a peaceful winery with reasonably-priced tastings and plenty of shaded picnic table areas. Dog-friendly.
Essential Info
When is the best time to visit Apple Hill?
October is the busiest time of the year for this area, especially on the weekends when the traffic surges with all the families coming to visit. This month is popular because the weather is a bit cooler, and the fall foliage is at its peak. If you decide to go during October, either go early on a weekend morning to beat the crowds or on a weekday when it's significantly less crowded.
If you are looking for prime apple picking season, going in early September is recommended, when it's still early in the season and there are plenty of apples to pick. Though be aware that certain types of apples are harvested at different times throughout the season, so you can check out this handy Apple Hill guide to see when your favorite type is available.
What should you bring to Apple Hill?
Apple Hill can reach the 80s and even the 90s early in the season, so make sure to bring a hat to protect yourself from the country sun. If you're planning to pick apples, wear sturdy close-toed shoes that you don't mind getting dirty (aka covered in a thick layer of dust). Bring plenty of water, since the apple orchards are not usually flat and can be quite a workout walking through the hills. Most larger orchards take credit cards, but bring cash for smaller farms.
Lastly, bring a cooler if you're planning to buy a whole pie or a quart of cold apple cider to take home.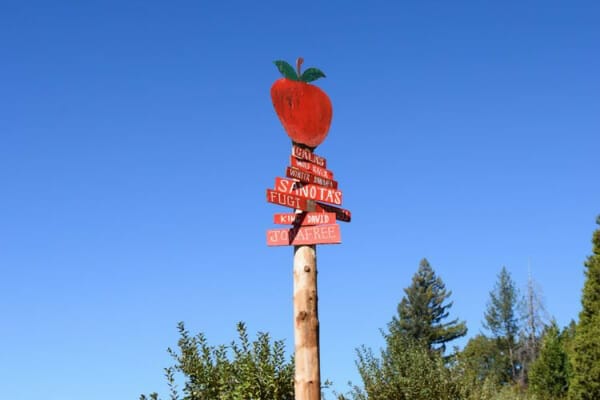 Apple Hill App
One of the most helpful things to do before going to Apple Hill is to download the official app for free. It gives you details on each of the farms, as well as which products are available and directions/hours. Best of all you can save all of the farms you want to visit to favorites and have easy access to them in one place.
What are your favorite Apple Hill farms to visit?
Updated 9/9/19