San Francisco is a compact city that is ideal for a 3 day visit. From the fog-covered Golden Gate Bridge to eating your way through the Mission, this city has a lot of memorable things to see and do. As a San Francisco native, the biggest piece of advice I have to give visitors coming to see my home city is bring good walking shoes. The hills here are no joke. Without further ado, here are some suggestions on how to make the most of your 3 days in San Francisco.
This post contains affiliate links (with no extra cost to you). Read the full disclosure policy click here. Thank you for supporting Small World This Is.
3 Days In San Francisco

This itinerary includes both well-known spots around the city, and lesser-known gems that are worth exploring.
Day 1
Start your first day out at the Embarcadero Ferry Building, where you can fuel your morning with a very San Francisco breakfast: pour over coffee at Blue Bottle Coffee and a vegan donut at Donut Farm. Savor your local treats on the pier overlooking the Bay and under the shadow of the Bay Bridge.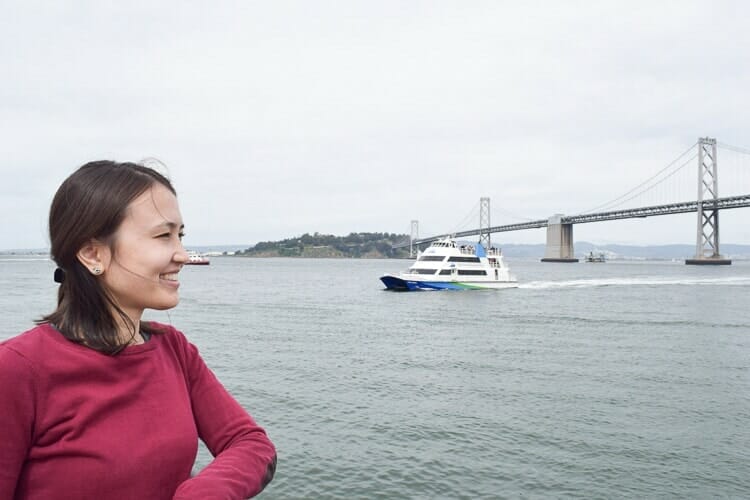 Morning
Afterward, hop on the historic F Market streetcar that takes you directly into the heart of Fisherman's Wharf and Pier 39. This area may be touristy, but there is also a lot of history along these streets from the city's seafaring days. Notable stops include:
Pier 39 – worth stopping by to browse the souvenir shops, and watch the California sea lions.
Musée Mécanique – over 200 antique penny arcade games that you can play. A personal favorite from my childhood.
Hyde Street Pier – part of the San Francisco Maritime National Historic Park, explore the historical boats now docked on this pier.
Maritime Museum – located in Aquatic Park, this is also part of the SF Maritime National Historic Park, and has excellent exhibits on the city's nautical past.
Ghirardelli Ice Cream and Chocolate Shop – stop by the classic ice cream parlor where you can indulge in giant sharable ice cream sundaes.
Alcatraz – this island prison is not to be missed. Plan for at least 3 hours to complete the transport to and from the island via ferry and taking the self-guided tour.
Afternoon
In the afternoon, head over to one of the oldest neighborhoods in the city. Walk through the Dragon's Gate and along Grant Avenue, which is the neighborhood's main thoroughfare, with its souvenir and antique shops. Afterward, get away from the crowds and walk along the side streets to admire the colorful buildings and tiny stores selling everything from medicinal herbs to fresh produce.
Learn more about the Chinese-American experience by stopping by the Chinese Historical Society of America Museum, which is small, but has informative exhibits. If you want to get more insight into the oldest Chinatown in the U.S., San Francisco City Guides offers free afternoon walking tours in Chinatown.
Landmarks worth stopping by include the Tien How Temple, the oldest Taoist temple in the U.S. that is still in operation. The Chinatown Telephone Exchange, which was housed in an elaborate pagoda-shaped building, is also worth checking out and now is home to a bank.
For a cheap and filling midday meal, stop by Delicious Dim Sum, where you can get to-go shrimp dumplings, steamed pork buns, and potstickers. Take your delicious bounty to nearby Portsmouth Square, which is the perfect spot for people-watching, listening to local musicians, and watching intense afternoon chess games.
Evening
For dinner, walk over to the historic Italian district, which neighbors Chinatown. There are many options, some ranging from local to uber touristy. Tommaso's Ristorante Italiano is a safe bet for delicious Neapolitan-style pizza at a San Francisco institution. Afterward, Stella Pastry & Café has a dizzying array of traditional Italian desserts, and Caffe Trieste or Caffe Greco are great for a caffeinated pick-me-up.
An essential stop is City Lights Bookstore, where Allen Ginsberg's controversial Howl was first published. This bookstore continues to be an important independent bookstore that focuses on progressive politics, world lit, and the arts. Open daily until midnight.
Day 2
If day one was all about the history and culture of San Francisco, today is all about the great outdoors. The city is spoiled with lots of excellent outdoor spaces, just be sure to bring a jacket in case the fog rolls in.
Morning
Since you are near the Richmond neighborhood, treat yourself to a local brunch favorite: dim sum. Dragon Beaux is a popular spot (read get there before they open at 10 on weekends), where you can order both traditional and creative dim sum options.
Mid-Morning
Head over to Crissy Field to walk off your brunch along the waterfront, with a panoramic view of the Golden Gate Bridge and Bay. East Beach is a great place to start your walk towards the bridge along the marshes, where you're bound to see some very happy dogs frolicking in the surf.
Afternoon
Afterward, make your way to the city's largest park, where you can easily spend the whole day wandering around its grounds. Here are some tops places to explore:
Stow Lake – rent a paddle boat and make your way slowly around Strawberry Island or just walk the lake's perimeter.
de Young Museum – art museum that showcases American art throughout the decades as well as contemporary international art. Check out the free admission Hamon Observation Tower for 360 views of the park and beyond.
Academy of Sciences – national history museum that is worth checking out for its indoor rainforest and green roof.
San Francisco Botanical Garden – an impressive collection of nearly 9000 different types of plants from around the world.
Japanese Tea Garden -a tranquil garden that is the oldest Japanese garden in the country and includes a tea house where you can sip on green tea.
Golden Gate Park is closed on Sundays to cars, which makes it the best time to rent a bike and use all the main roads. You can rent bikes or surrey bikes for a few hours behind the bandshell at the Music Concourse, that's located between the DeYoung and Academy of Sciences.
Early Evening
Make your way to Lands End and the Sutro Baths ruins, which overlook the Pacific Ocean. Hike along the Lands End trail, where you get a view of the Golden Gate Bridge from its other side. The coastal trail is 3.4 miles round-trip and you can keep walking through the Sea Cliff neighborhood and all the way to the Presidio if you're feeling ambitious.
For dinner,

Inner Richmond restaurants

are plentiful with
solid dinning options

, from Burmese to Eastern European.
Day 3

For your final day, choose one or two neighborhoods to explore and get to know the city better. Here's some recommendations to round out your 3 Days in San Francisco itinerary:
Mission -admire the colorful murals and make sure to save room for a Mission burrito that can easily serve as two meals.
Hayes Valley – hip neighborhood near downtown with lots of great restaurants, bars, and cafes.
Japantown – lots of good food, from quick bites to sit-down ramen shops. Great gift stores too.
Haight -prime thrift shopping area and site of the Haight Ashbury, which played a major role in the summer of love.
Noe Valley -quiet family-oriented neighborhood that has unique shops and restaurants.
Castro -LGBT district with the historic Castro Theater and the GLBT History Museum.
Alamo Square – where the iconic Victorian homes are.
If you're inching to get outside of the city, the following day trips are a great escape to explore the greater Bay Area. Head north to Marin where you can visit Sausalito (accessible via ferry), Muir Woods, Sonoma or Napa. Across the Bay Bridge in the East Bay is Oakland, Berkeley or Alameda (a personal favorite).
San Francisco Weather

The one thing about San Francisco weather is that it's unpredictable. Bring a warm jacket no matter the time of the year. It can be sunny in the morning, but then the fog can roll on in during the afternoon. Or it can be foggy all day. The general rule through is that the closer to the ocean you are the foggier it will be. It can be warm in the Mission, but freezing in the Sunset.
Summer tends to be the coldest months in the city, with early autumn an ideal time to visit with mild sunny weather and less crowds.
Safety in San Francisco

Another common concern visitors have when they come to SF is how safe is the city. Like any mid-sized city there are parts that you should be extra vigilant in, especially during the night, including the following areas: Tenderloin, Civic Center, parts of the Mission (stay west of Mission Street), Western Addition, and areas of SOMA (around 6th and Mission). If you do rent a car, one of the most common petty crimes is car break-ins, so be extra careful to not leave even a jacket in your rental car.
Getting Around San Francisco
The main public transportation systems in the city are Muni and BART. Muni has an extensive bus and street car system, where BART has only a few stops in the city. Renting a car in San Francisco is usually much more of a headache than it's worth, especially if you plan to just stay within the city. That being said having a car is nice for road trips to destinations in the Greater Bay Area, especially in the North Bay where Bart and Caltrain do not go.
Since San Francisco is a small city, ride share companies like Uber and Lyft are great ways to zip around the city carless. San Francisco is also an easy city to walk around, just be prepared for those steep hills.
Here's how to get around the different regions of the Bay Area via public transportation:
San Francisco – BART, Muni buses, cable cars
Peninsula – Caltrain, limited BART
South Bay – Caltrain
East Bay – BART, San Francisco Bay Ferry
North Bay – Golden Gate Transit buses and ferries
Note: all of these transportation systems are separate and require different passes, though you can get a Clipper card for both the BART and Muni.
San Francisco Airports
There are three major airports in the Bay Area. You will most likely be flying out of SFO, the main international airport located 13 miles south of downtown San Francisco. BART is the cheapest way to get into the city, where you can go directly from the airport to downtown.
Oakland International Airport is another option that is right across the Bay, and can provide a more sane experience andis easily reachable by BART.
The third airport is San Jose International, which is the furthest from San Francisco (an hour or more) and only makes sense if you're staying in the South Bay.
Where To Stay In San Francisco

San Francisco can be quite pricey when it comes to finding accommodations, especially if there's a huge tech conference or concert (Outside Lands) that takes over the city. That being said, there are reasonable options that can be reasonable for a 2 days in San Francisco stay, especially if you go in the spring or late fall.
It's harder to get more central than this, with Pier 39, Fisherman's Wharf, Ghiradelli's Square, and the Alcatraz ferry within walking distance of your room. A quick cable car ride away is Union Square and Chinatown. Amenities include: clean, spacious rooms and a twenty-four hour diner on-site.
Check out reviews on TripAdvisor | Book your stay on Booking.com
Great downtown location that is a 15-minute walk to Union Square and a 20-minute walk to the Embarcadero and the waterfront. Other nearby highlights include the SF MOMA and Yerba Buena Gardens. This hotel is less than a 10-minute walk to the Montgomery BART station, which goes straight to the airport and other popular destinations.
Check out reviews on TripAdvisor | Book your stay on Booking.com
For the ultimate SF getaway, stay in this historic hotel located in Nob Hill, right on the edge of downtown. The property is walking distance to Union Square, Chinatown, and a quick cable car ride to Pier 39. Whether you're a guest or not, drop by the legendary Tonga Room and the life-sized gingerbread house if you're there for the holidays.
Check out reviews on TripAdvisor | Book your stay on Booking.com
What is on your itinerary for 3 days in San Francisco?